Sara Ebner is still pinching herself at the thought of it.
Yorkville's senior shortstop believed as soon as the season started that the Foxes would make it this far. It was the expectation the girls set for themselves.
But now that it's been done? Yes, it's a little surreal.
"I believe that this team will be a team that makes history – we already have," said Ebner, a Wisconsin-Green Bay recruit. "This season has definitely been very special, especially for us seniors."
[ Read more: How to watch, directions, tickets to the state tournament ]
Yorkville (35-2), making its first state tournament appearance in program history, is set to play Oak Park-River Forest (30-7) in a Class 4A state semifinal at 3 p.m. Friday at the Louisville Slugger Complex in Peoria. Marist will face Barrington in the second semifinal, with the championship and third-place games Saturday.
Yes, it will be a new experience for Ebner and the rest of the Foxes. She has never been to the state tournament, even as a spectator. Yorkville is the lone softball program in the Class 4A semifinals to be making its state debut.
But as one of seven seniors who were part of the 2021 team that reached supersectionals, Ebner doesn't believe they'll get overwhelmed by the moment.
She cited Yorkville's spring break trip to Alabama as preparation for an event like this.
"We've already talked about this a little bit that what separates us in big moments is we focus pitch by pitch," Ebner said. "A lot of teams get overwhelmed in a state tournament. We have been on big stages, been on little ones, living with each other for a week in Alabama bonded us. It helps us prepare for the situation."
That Alabama trip was where Yorkville senior pitcher Madi Reeves took her only loss of the season. The Miami of Ohio recruit has been simply sensational during the playoff run.
Reeves has allowed just one run over five postseason starts. She recorded her 900th career strikeout in the sectional final, and struck out 16 in the 2-0 supersectional win over Bradley-Bourbonnais.
On the season Reeves is 24-1 with a 0.61 ERA and 326 strikeouts, with just 57 hits allowed over 161 innings.
Yorkville coach Jory Regnier has seen her senior ace ascend to another level in her third varsity season from not just a physical standpoint, but as a leader.
"As seniors, especially with Madi, we talk about the mental game, how to lead from the mound, what to expect, how to handle a moment like giving up a home run – all those little things she has grown in," Regnier said. "Her being able to handle those, that is such a huge thing for our team and the girls that play around her. She knows that she needs her teammates and we need her. She's always been a talented pitcher but her leadership and mental game have taken off."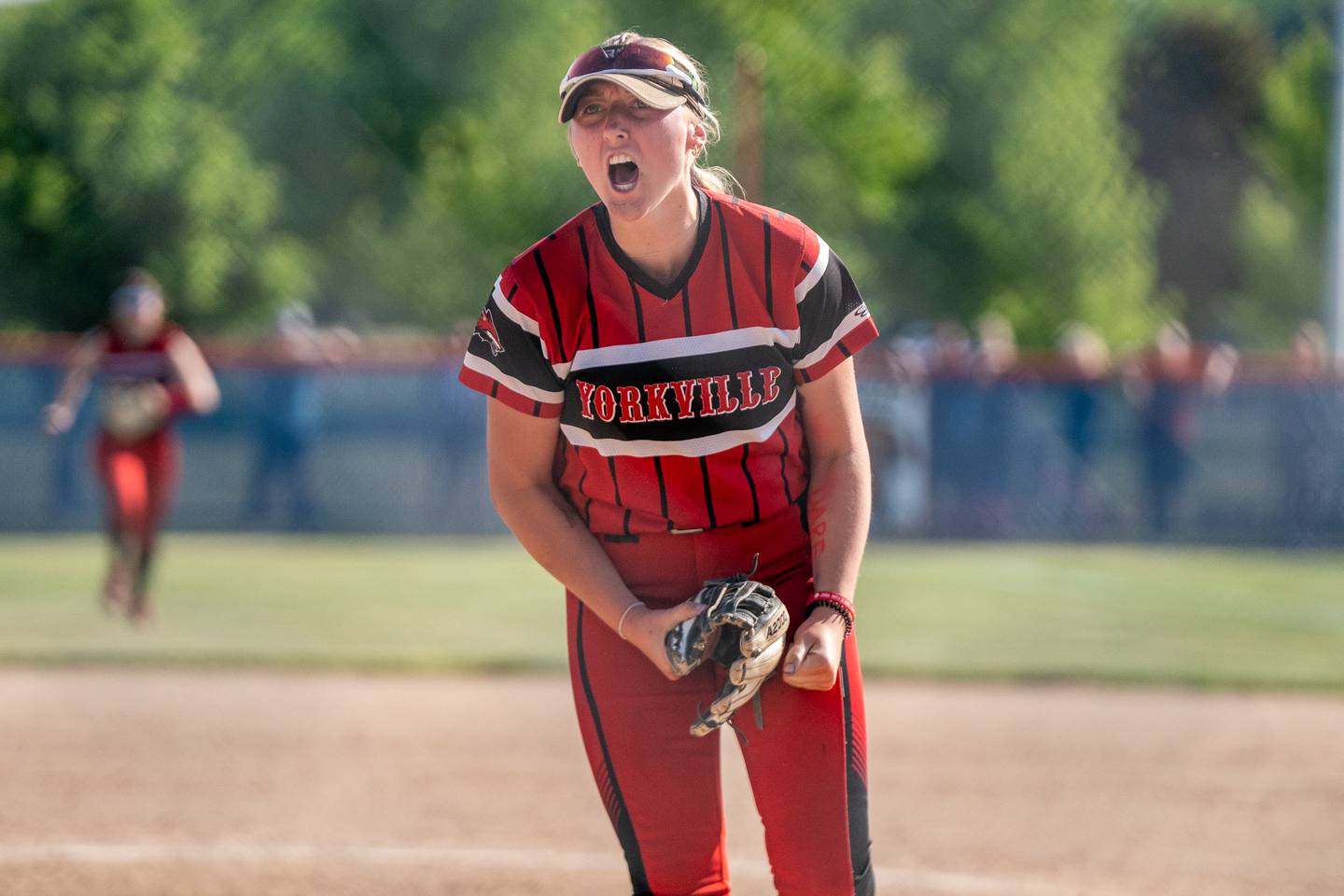 Reeves is supported by a Foxes' lineup that's shown the ability to strike from anywhere, one through nine, throughout the season and playoffs.
Yorkville is batting .356 as a team for the season, and has scored just under seven runs per game during the playoffs. Ebner leads the way, batting .509 with 14 doubles, seven homers, 34 runs scored and 45 runs batted in. Freshman catcher Kayla Kersting is hitting .472 with 10 doubles, six homers, 38 runs scored and 27 RBIs. Senior center fielder Kaitlyn Roberts, a UW-Stevens Point commit, is batting .385 with nine doubles, five homers, 38 runs scored and 31 RBIs and Benedictine commit Sam Davidowski is batting .400.
Juniors Kenzie Sweeney and Regan Bishop are batting just under .300 on the season, but both have had key hits throughout the postseason to spark rallies.
"It helps the whole lineup be more comfortable, when you're not relying on one person to do the heavy lifting. It's a huge deal," Regnier said. "The compliments come when other coaches are like 'they all can hit.' As a pitcher you are relying on some part of the lineup to give you a little break, a safe inning. When people look at our lineup it's hard to pick a spot. Nothing is guaranteed."
Yorkville's semifinal opponent, Oak Park-River Forest, will be making its 14th state tournament appearance, first since winning back-to-back Class 4A titles in 2016 and 2017. The Huskies finished the regular season on an eight-game winning streak and have not lost to an Illinois team since dropping back-to-back games to Downers Grove North and Downers Grove South April 21-22.
Sophomore shortstop Elyssa Hasapis is the biggest threat in the Huskies' lineup, batting .583 on the season with 14 homers, 18 doubles, 45 RBIs and 50 runs scored. She homered twice in OPRF's sectional final win. Senior pitcher Bella Morales is 12-4 with a 2.26 ERA and 97 strikeouts in 99 innings.
It's been quite a turnaround season for the Huskies, who were 11-17 in 2022.
"They're in the final four, just like us," Regnier said. "Every team has earned their way here."
Yorkville, which prepared to play on the turf field in Peoria by practicing at Romeoville's facility Wednesday, is worrying about itself more than dwelling on the opponent.
"We got an inside scoop on what their team is like. Their pitcher is more of a pitch to contact type. The way our bats are working I think we will be OK," Ebner said. "We're all just trying to focus on our game and what we need to do better at. No matter the competition we just want to do our own thing."