Kayla Linden's earliest basketball memories of Liz Griswold as a fifth grader were of a player so fast that she'd steal the ball all the time and go to the basket with so much power that she'd brick layups.
"I told her 'Liz, you need to master your layups. If you master your layups, you're going to be golden,''" said Linden, Parkview Christian's girls basketball coach. "From then on we called her 'layup Liz.'"
Parkview Christian can now call Griswold by a new title – its first 1,000-point scorer.
Griswold, a senior forward, reached the milestone during Parkview's home game with Kankakee Trinity Academy Feb. 3. Teammate Gracie Lambes got a rebound, Griswold ran up the court and Lambes delivered a long pass for a left-handed layup to put Griswold at 1,001 career points.
"It was breathtaking; I've never had something like this happen before," Griswold said. "Just to see so much joy from the crowd, it was so overwhelming. I feel very accomplished in reaching that goal."
Griswold needed 18 points to reach 1,000 heading into the game, and with her 19th point the home crowd went crazy, the buzzer went off and the referees presented Griswold with the game ball. The Kankakee coach called timeout to allow more time for the celebration, and Griswold presented the game ball to her mom and dad in the stands.
"He took a timeout for my team and I to celebrate; I'm very grateful because he didn't have to do that," Griswold said. "I got the ball and I gave it back to the ref – I thought we were still using it. After that I ran and gave it to my mom and gave her a big hug."
Griswold plans to have have everyone who has influenced her – teammates, parents, coaches and teachers – sign the ball and put it in a glass box.
What makes Griswold's achievement even more impressive is she did it in just three seasons. Her freshman year, Parkview did not have a girls team, so she played with the JV boys team and scored maybe 20 points. Since then she's been a cornerstone of a Parkview girls team that is 46-3 over the last two seasons.
And she's likely the first of two Parkview girls to reach 1,000 points this season. Lambes was 101 points away entering this week.
"We talk about it a lot, that this team is our foundation of the girls program," Linden said. "They will leave a legacy."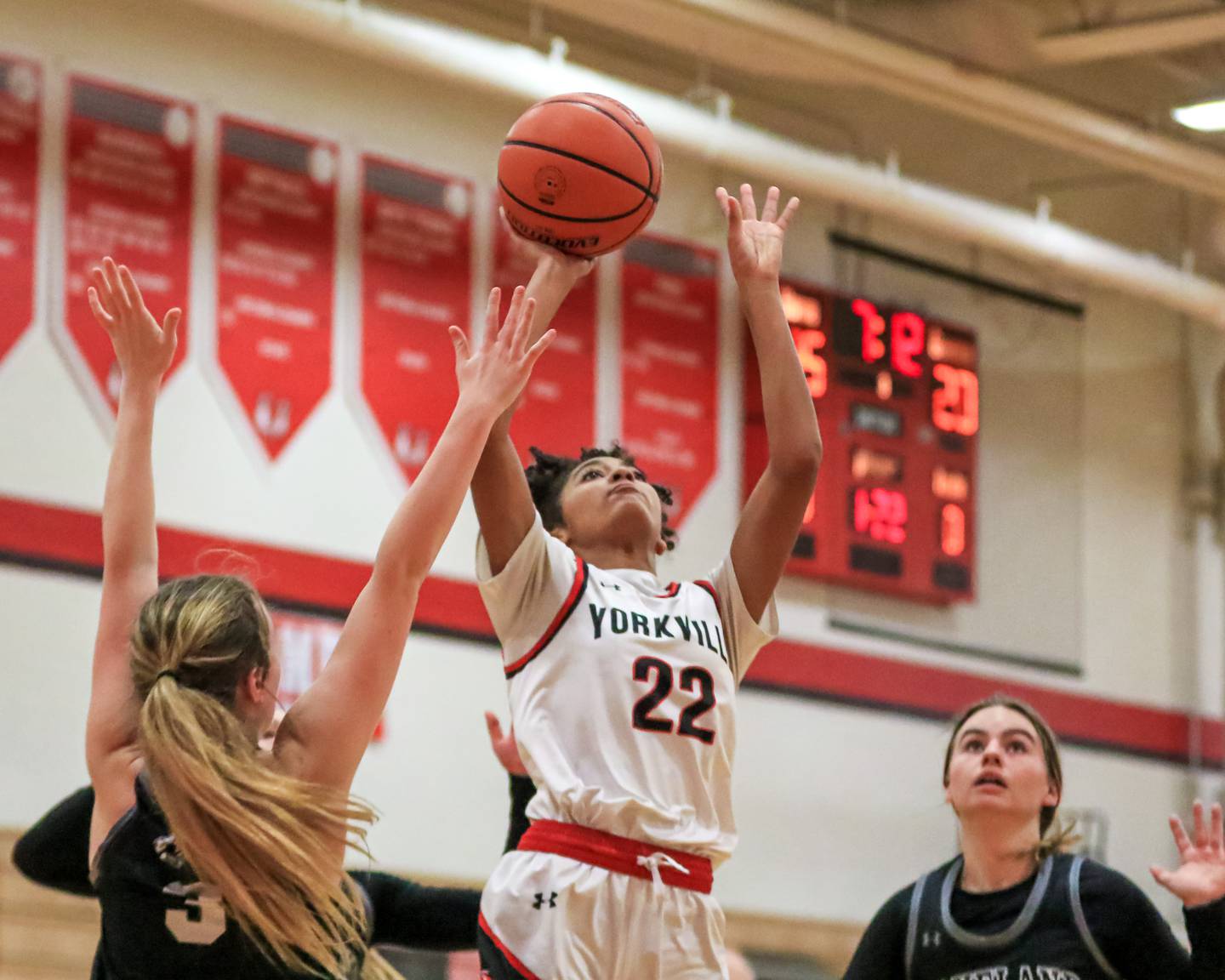 We meet again
Yorkville coach Kim Wensits could be forgiven if she felt a sense of deja vu when playoff pairings were released last Friday.
For the second consecutive season, Wensits' Foxes are matched up with conference rival Plainfield North for a first-round playoff game.
"Here we go again," Wensits said was her reaction. "It was the same scenario last year. We lost to them twice during the regular season and played them again in regionals. The difference is we are a better team than we were last year. We have had time to mature, time to grow. We are a better team."
Indeed, Yorkville (17-11, 9-5) is in second place in the SPC West. The Foxes' two losses to West champ Plainfield North have come by a total of five points. The first meeting, in Yorkville, led the entire game until the end, by as many as 15 points.
"We didn't freeze but we definitely played to not lose instead of playing to win," Wensits said. "I look at it that it had been a long time since we had been in close games. You have to figure out how to win close games. Since then we've been in close games, and won close games."
The Foxes have done a lot of winning period, their 17 wins the most since 2017-2018, Wensits' second season as head coach. A senior-laden group has reversed a string of four consecutive seasons under .500 that in part coincided with Yorkville's move to the SPC.
"You have to have players who can make plays, and we have that this year and we had to get used to playing in a new conference," Wensits said. "It's definitely a difference. We went from being the biggest fish to one of the smallest fish. It has taken time, it really has, and you really have to put in the work year-round. Let's be realistic – these kids don't get a lot of time off."
Playoff pairings
Yorkville, seeded 10th, plays eight-seeded Plainfield North in a regional semifinal at 7:30 p.m. Feb. 14 at Yorkville, with the winner likely getting top-seeded Benet in a regional final. 16th-seeded Oswego hosts 17th-seeded Plainfield South on Feb. 11, and 13th-seeded Oswego plays fourth-seeded Neuqua Valley on Feb. 13 at Downers Grove South.
In Class 3A, eighth-seeded Plano plays at third-seeded Burlington Central Feb. 14, in Class 2A Sandwich hosts Mendota Feb. 11 and in Class 1A Newark plays Henry-Senachwine vs. Varna Midland winner on Feb. 13 at Putnam County and Yorkville Christian plays Harvest Christian on Feb. 13 at Hinckley-Big Rock.