Kyle Clabough has already made his mark in Yorkville track and field history.
Twice would be nice.
The Foxes' senior and Wisconsin commit last spring became just Yorkville's second individual state champion, taking the shot put title. Now Clabough is headed back to Charleston going for a repeat with the state's No. 1 throw this season from sectionals.
The Class 2A and Class 3A preliminaries are Friday at Eastern Illinois University, with finals for all classes set for Saturday.
"It would mean a lot to win state again," Clabough said. "When I first started throwing my goal was to win state. I got that done. A sign that says two-time state champion would look even better."
Clabough brings momentum into the weekend with his season-best throw of 19.14 meters (62 feet, 9.5 inches) from sectionals.
"I'm feeling pretty good, had a good week of practice," said Clabough, also a discus qualifier. "I finally started to figure out what would get me at max power. I'm hitting some pretty big throws consistently. There is a good shot at a good throw coming up."
Clabough also brings the experience of winning outdoor state last season, and the Top Times indoor state championship in March. And he's familiar with his closest competitor, Normal Community's Alex Sohn, who has the second-best throw from sectionals of 18.58 meters.
"The biggest thing I'm focusing on is making sure I'm not falling back in the ring, getting my right foot down, forward push, finding balance and pushing forward and pushing up," Clabough said. "A lot of it comes down to experience. I've been in a lot of big meets and had a fair share of close competition. I'm going to do walkthroughs the day before, not going to throw just to make sure I have enough energy to blast one."
On the track, Yorkville teammate Josh Pugh posted the third-best 400-meter dash time of 49.21 seconds in sectionals. Pugh has broke 50 seconds in back-to-back meets, his 49.18 PR at conference breaking a 33-year-old Yorkville record.
"I'm excited, ready for state," said Pugh, also a qualifier in the 200. "There is a whole bunch of people who have run in the 49s. That's definitely going to push me. I think I can break that milestone."
Pugh is especially grateful to be back on the big stage.
He was a state qualifier in middle school, but this will be his first appearance in high school. He was bothered by a shin injury from triple jumping at sectionals last year.
"This means a lot to me, actually," Pugh said. "I got injured at sectionals so to have redemption for that feels great. It's a big race. I'm going to try to look at it as a means by which to put my all out there, but not stress over it as much as I did in middle school."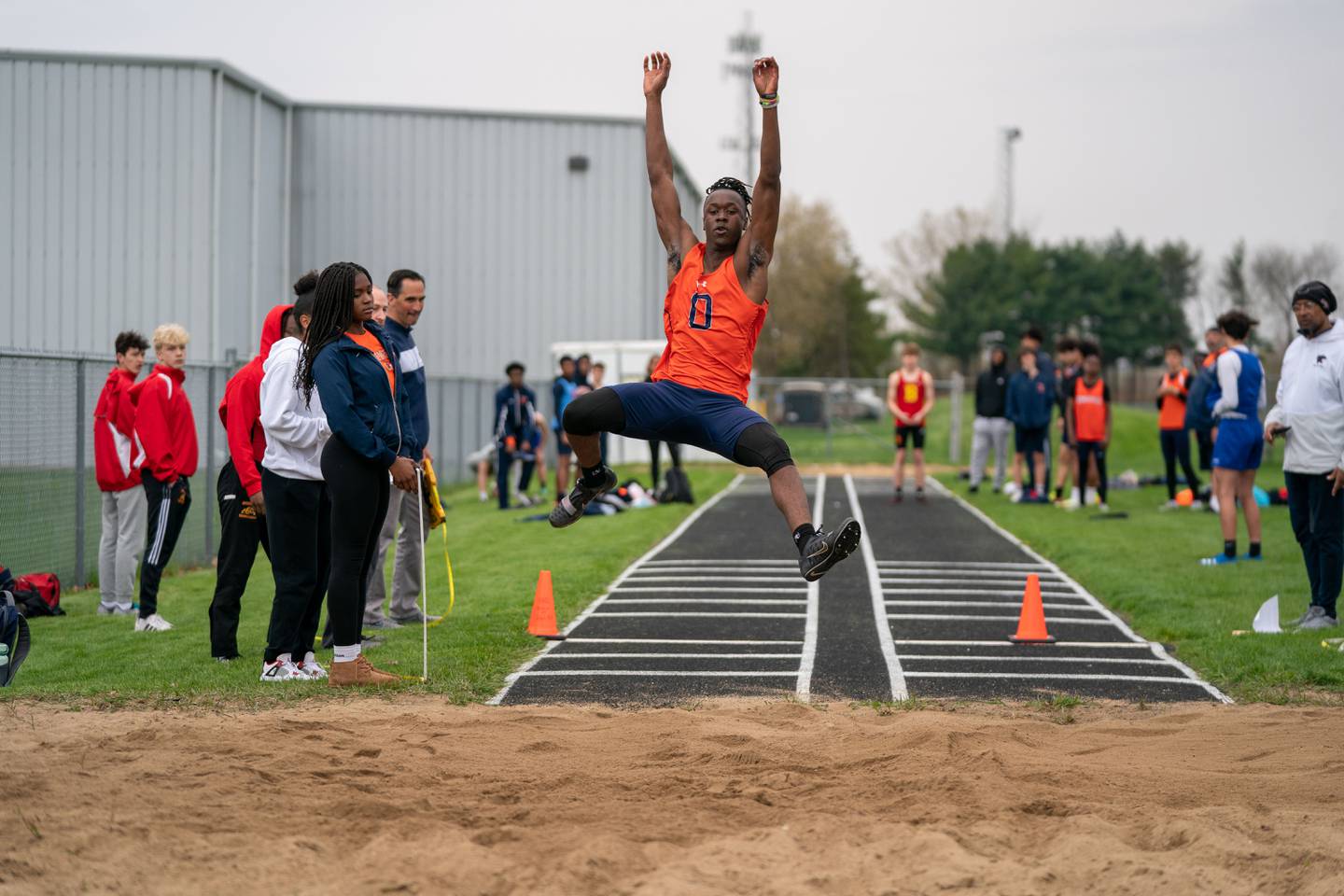 Oswego senior Caleb Wright, fourth in both the Class 3A long jump and triple jump, is back in Charleston in both events.
Wright is seeded 11th in the long jump (6.98 meters, 22 feet, 10.75 inches) and ninth in the triple jump (13.74 meters, 45 feet, 1 inches) based off his sectional marks, but in the triple jump in particular he posted a better mark the week before at conference. Unlike at sectionals, Wright also can concentrate solely on his jumps with no running responsibilities.
"Tomorrow I have to go out and prove that I'm capable of winning the whole thing," Wright said. "I have to go in with the mindset to do my best I can and go out and handle my business."
He also anticipates his experience from last season will hopefully benefit him.
"I feel a lot more confident, will be used to the atmosphere," Wright said. "I'll still get the pre-jump jitters but I'm acclimated to the atmosphere. I'm just taking care of my body this week, getting my body the rest it deserves, practicing my technique but not overworking myself to where I get tired in the legs."
Fellow Oswego senior Christian Sobecki likewise is making a return to state, and aspiring for a different outcome. Sobecki no-heighted in the pole vault last year, but this year brings the third-best pole vault mark of 4.47 meters (14 feet, 8 inches) from sectionals.
"Last year I was very much in my head about it. I was basically overthinking it and making it a bigger meet than it is. It's just another track meet," Sobecki said. "I just need to do what I know how to do and make sure my step is on. That is kind of what killed me last year. I've had the state experience now so hopefully that will keep the nerves down."
Other area qualifiers include Oswego's Balin Doud, seeded third in the 1,600 (4:17.23), Oswego East's Alexander Das, seeded eighth in the 1,600 (4:18.32), Oswego East's Parker Nold, seeded 11th in the 1,600 (4:19.37), Oswego's Brady Nelson, seeded 32nd in the 1,600 (4:23.65), Oswego's Ethan Forsell, seeded sixth in the 3,200 (9:25.25), Oswego's 4x800 relay (fifth, 7:55.20), Oswego East's 4x800 relay (20th, 8:01.49) and in Class 2A Sandwich's 4x800 relay (19th, 8:44.05).