Jayden Green is a true sportsman.
The Sandwich senior lives for the opportunity to compete in track and field with his peers, to chat with them, to get to know them and along the way do battle with them to see who is better. If the other guy wins, he'll tip his hat to him; and if he wins, he expects the same in return.
Just don't cross him. If you do, he's likely to show that he has no peers, not where the jumps are concerned.
On the final triple jump of his high school career, Green already had the Class 2A first-place medal won thanks to a 47-feet, 6-inch effort in his earlier jumps – but he wanted to go out with a bang.
To maximize that leap, he asked the crowd to support him by rhythmically clapping their hands, and most did — with the exception of two coaches standing near the runway. They refused and told him so, so he put his head down, punched the ground twice and said to himself, "They don't want to show any love, let's do this."
"When I jumped, it didn't feel special, but when I landed in the pit and saw where I had landed, I knew it was over 47, maybe closer to 48," Green said. "I knew that was a PR, so I walked back down to change my shoes and the number, 47-9 ¾, got called. I heard that, but I had no reaction, no expression. I was like, 'I did that. That was me. You didn't want to help. I didn't need your help.' Those coaches just rolled their eyes and walked away.
"Track is a very gentlemanly sport. There's no spite in it. When an athlete does well, I freak out for them because I love the competition. Some are silent and alone, but I'm not. I'm very chatty, and if you want to be mean to me, meet me on the runway and I'll show you what's up."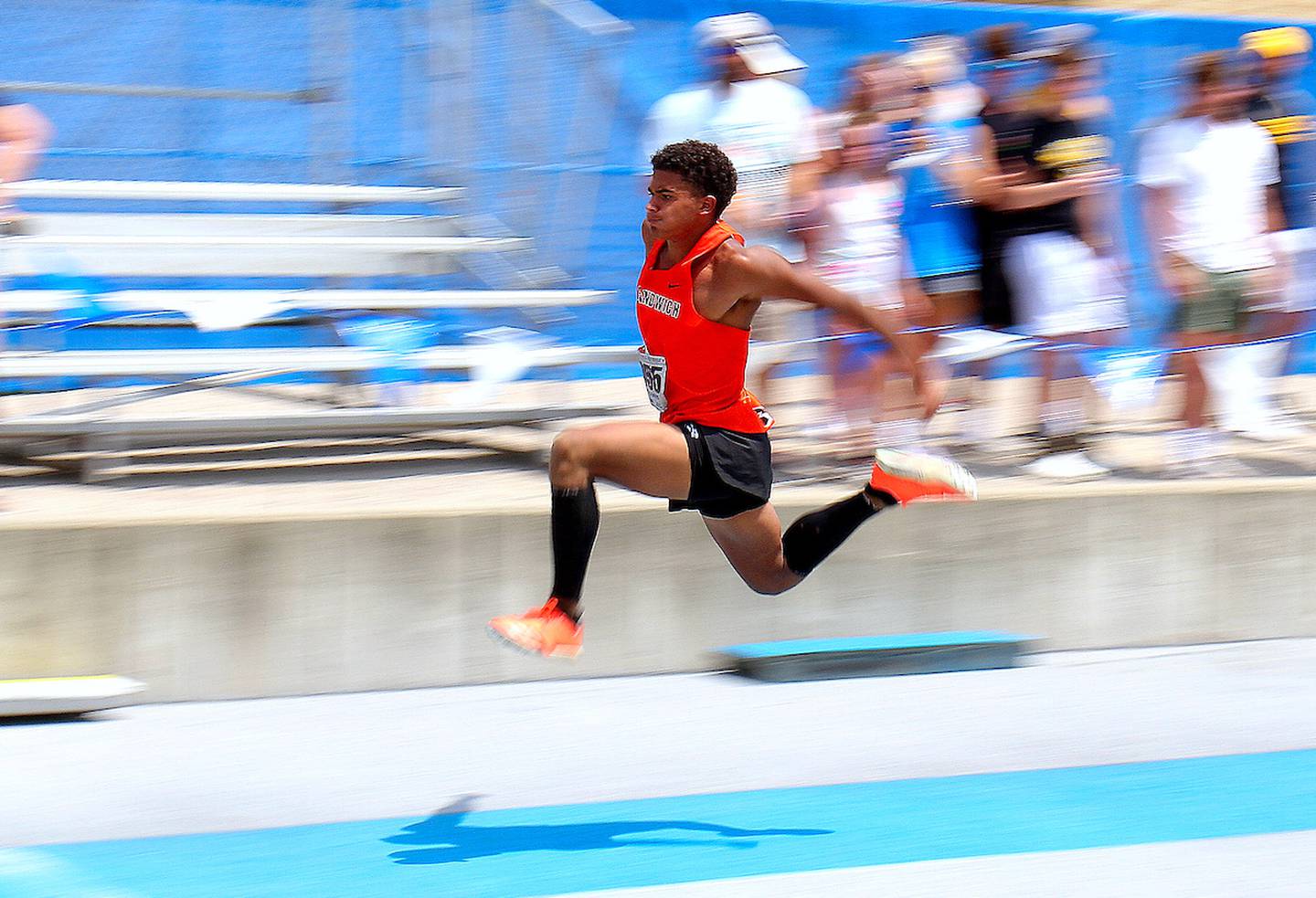 Green showed everyone in Eastern Illinois University's O'Brien Stadium what's up that day. He not only won the triple jump for Sandwich's first state title since Ryan Njegovan won the discus in 2013, but also placed second in the long jump with a leap of 22-8 ¾ — just centimeters behind the winning mark by Daniel Mboyo of Urbana — despite having run all over the field participating in four events.
Green was also in the high jump and a part of the 800 relay with teammates Noah Klossing, Ethan Weeks and Michael Marss.
It was a dream realized for Green, who placed second in the triple jump and seventh in the long jump as a sophomore in 2019. Confident he'd win the triple jump and make the top five in the long jump as a junior, Green was "heartbroken" and "felt like the one thing that made me happy was being taken away from me" when the pandemic cancelled the 2020 spring season. He fell into an unmotivated funk for a while last summer, but eventually came to realize he was lucky to have one season left and to have had such a great sophomore season recruiters could see.
Proof of that came with his ride to the University of South Dakota, helped by summer AAU marks of 46-0 and 22-2 despite a broken toe on his jump foot.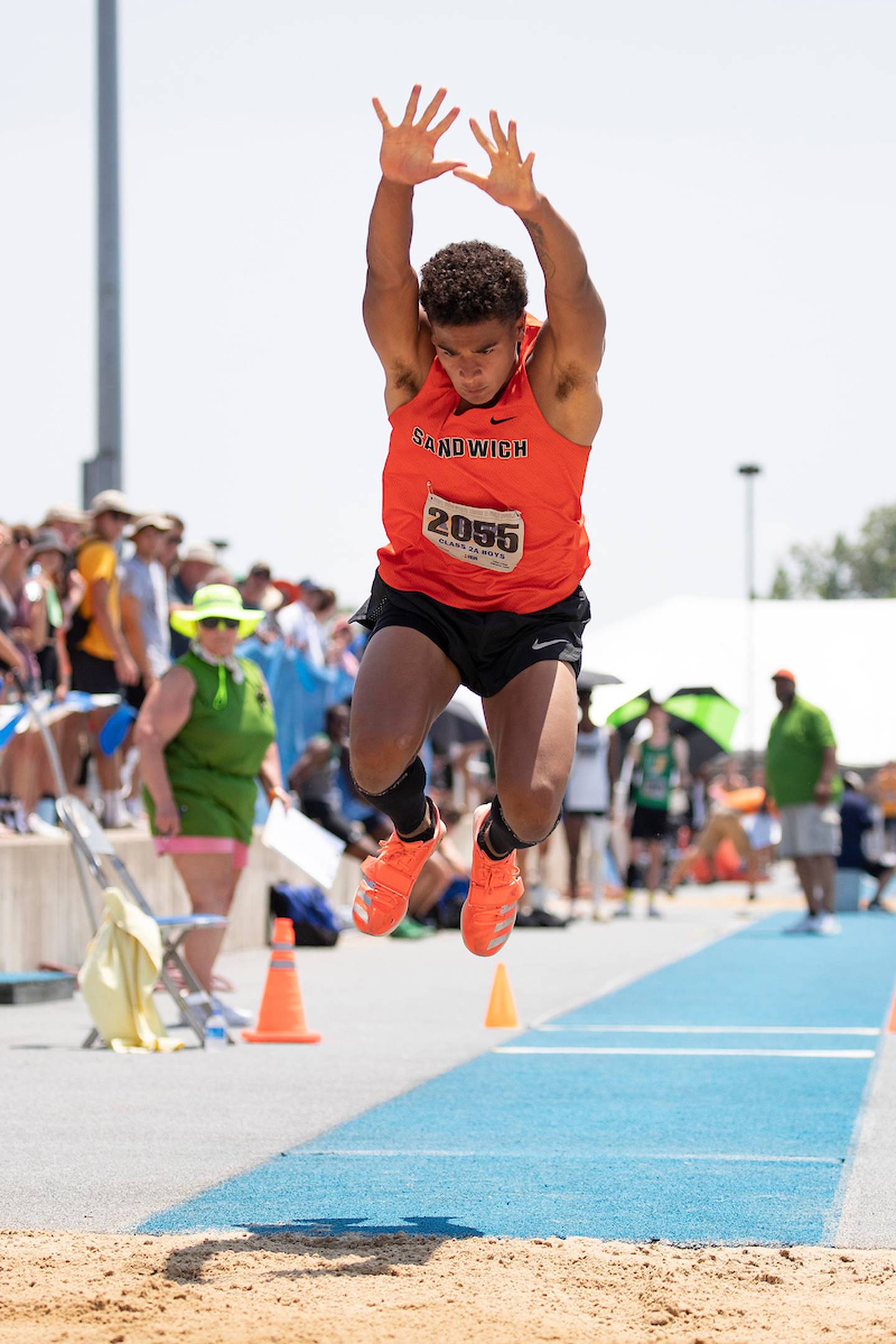 In a way, this season was a taxing one for the Sandwich star in that he had little time to focus solely on his jumps. Even though he posted what felt like his best jump of the year, a 47-5, the day after his birthday at a meet in Antioch and was nationally ranked in his specialties several times over the season, doing four events per meet drained his legs, which didn't allow him to come close to that mark very often.
"This was a year when we knew we had a good senior group and we wanted to get as many of us down to state as possible," said Green. "If it meant sacrificing a jump or taking part in relays to do that, I was happy to. I was very happy to be a part of a relay here.... I'm all about the team. That's most important to me.
"Track is an individual sport, but at the end of the day, everyone's wearing the same color jersey and we all have one goal: work together to win meets."
And win they did, with their sixth-place team performance at state counting as such for the program. Green leaves Sandwich with three school records and a tie for a fourth, crediting his AAU coach Tom Boatright and the staff at Sandwich for his success. The coaching staff at South Dakota will be tasked with helping him achieve his next goals: to hit 53 feet in college, then jump in the Olympics for Team Jamaica (Green is half Jamaican).
"I'd say my career was successful, but I'm really excited about the future," he said. "It's weird. Sometimes it didn't feel like it could be me. The last time I looked, I was ranked something like 37th or 38th in the nation, and I was like, 'How is that me?'
"I don't get it, but that's how it is, I guess. I just have to realize it and try to get better."
Boys Track and Field All-Area team
Alex Aagesen, Oswego, senior; Kacey Battle, Oswego East, junior; Kyle Clabough, Yorkville, junior; Martin Diaz, Plano, senior; Alexander Das, Oswego East, sophomore; Balin Doud, Oswego, senior; Matthew Egly, Oswego, senior; Ethan Forsell, Oswego, junior; Jayden Green, Sandwich, senior; Michael Marrs, Sandwich, senior; Steve Martin, Newark, senior; Erik Neidlein, Oswego, senior; Austin Popplewell, Yorkville, senior; Jaden Schutt, Yorkville Christian, junior; Christian Sobecki, Oswego, junior; Ivan Westcott, Yorkville, senior; Caleb Wright, Oswego, junior.