CAROL STREAM – Aiden Mayer's choice to wear jersey No. 23 isn't for the reason one initially would think.
Michael Jordan? Hardly.
Mayer, a Geneva senior, originally was No. 32, but going into the season, that uniform was a size too large.
"I'm not a large player, so I flipped to 23," Mayer said after Geneva's 14-4 victory over Glenbard North on April 11.
The 5-foot-10, 155-pounder might not be extraordinarily imposing on the field, but his bat certainly can be. Mayer had three hits and three RBIs on a busy afternoon to help Geneva secure its second consecutive win in the series.
"He's stellar. So consistent this whole year."

—  Geneva's Nate Stempowski, on Aiden Mayer
The right-handed hitting Mayer employs a particularly wide batting stance, stationing his left leg toward the top-middle of the box and his toes angled toward first base.
It wasn't always that way.
"A couple years ago, it wasn't always as open," Mayer said. "My brother [Ethan] used to bat with it pretty open. I tried it out, tried it in practice and felt really comfortable. I feel like it helps me with contact and to put the ball in play. Just let it do the work, just find the gaps and [keep going]."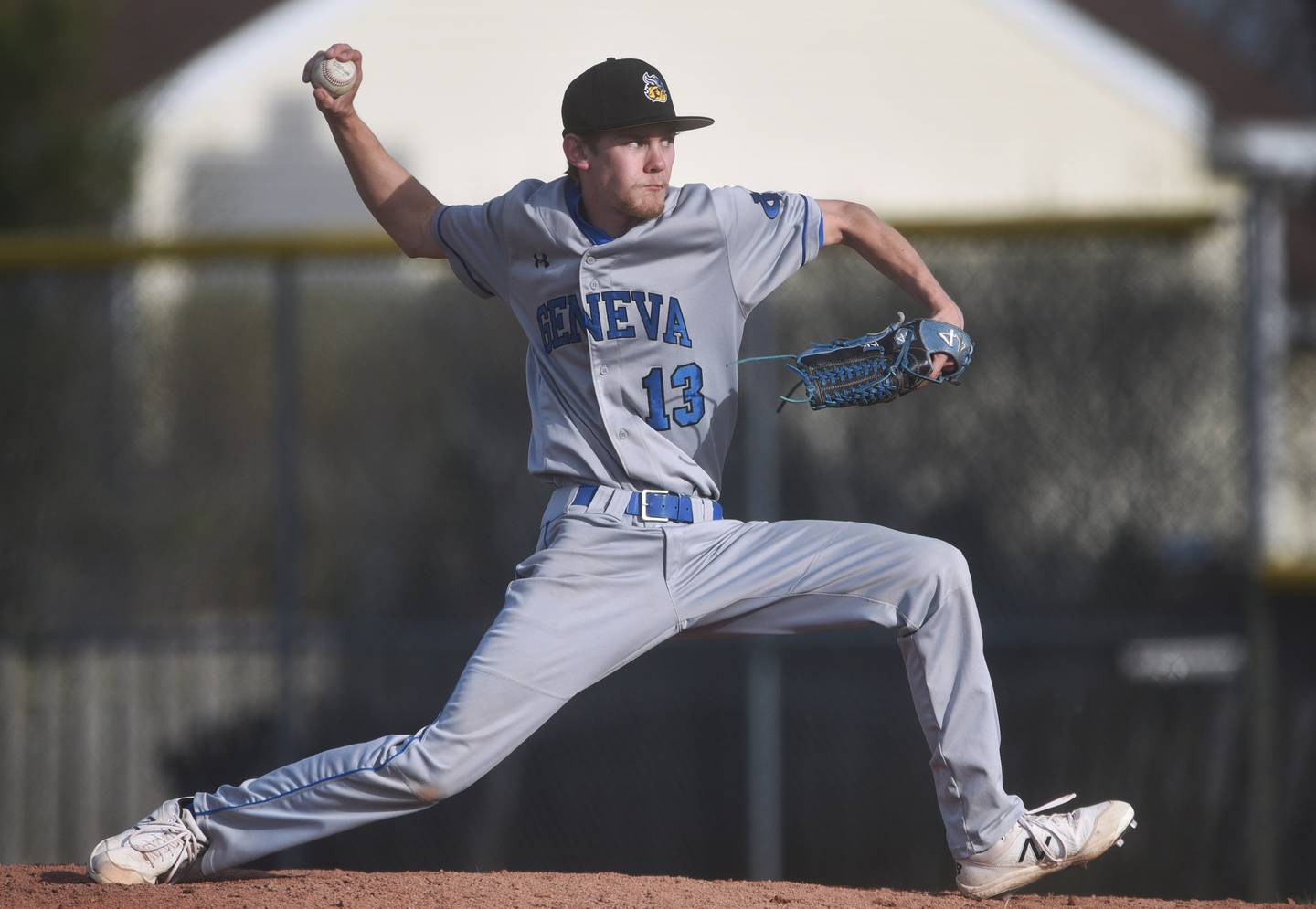 The April 11 performance is just another example of the consistency Mayer has shown in his lone varsity season.
"He's stellar. So consistent this whole year," Geneva junior Nate Stempowski said. "It feels like he's been [up] for two years. We didn't expect [much] out of him [initially] and boom, out of nowhere during the first couple ABs, he's hitting the ball consistently. We're all confident [when] he's going up to the plate and hitting the ball.
"He was a grinder. He's in the gym, weight room. When we were in the cages inside, he was just putting great contact on the ball. ... He likes outside pitches, so he's hitting it opposite [field]. He puts the ball in play hard, anywhere it goes, and it'll find a hole for you."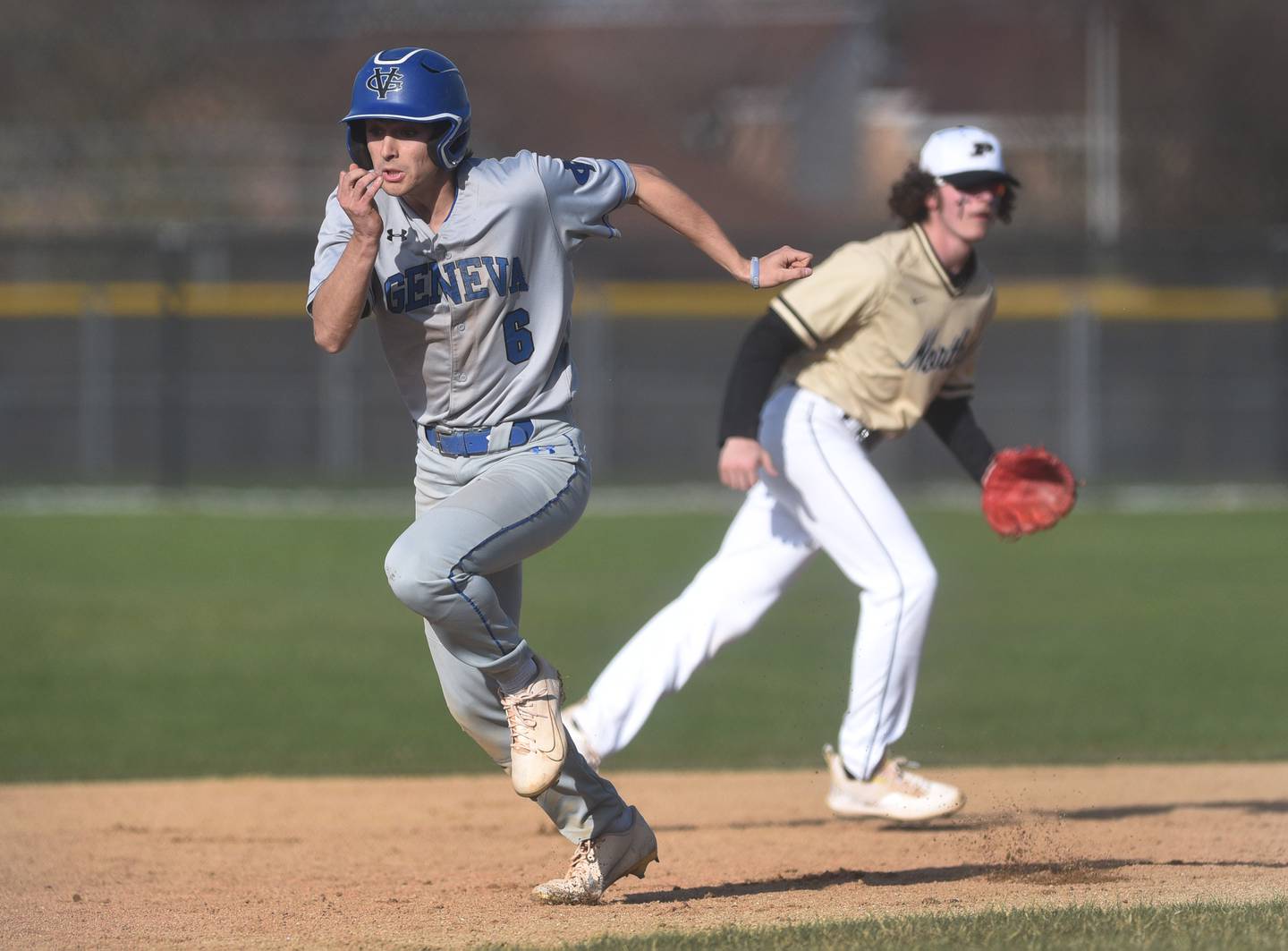 The Vikings (5-4, 2-0) and Panthers (3-6-1, 0-2) traded leads through three innings.
In the first inning, Panthers starting pitcher Steve Hobbs reached on a fielder's choice with two on. Sam Palmer, who singled to lead off the game, scored on a throwing error to first for a 1-0 Glenbard North lead.
The Vikings responded with an RBI single from Kollin Mickelsen.
In the second, Glenbard North's Raul Ceja reached on an error and Nick Schenkel singled to advance Ceja to third. Lorenzo Filice grounded into a double play, but it pushed across Ceja for a 2-1 Panthers lead.
The Vikings scored two runs in the third, and the Panthers answered by scoring on an error to tie the game at three.
Geneva broke the game open with a six-run fifth inning, highlighted by Tommy Maynard's two-run single. With the bases loaded, Bryce Breon reached on an error after lifting a pitch deep to left field. The Panthers player dropped the ball, allowing three runs to score for a 12-3 Geneva lead.
Josh Christman had an RBI single in the fifth for the Panthers, but the Vikings scored two more runs in the seventh.
Geneva starter Seth Kisner lasted 4 2/3 innings, allowing four hits. He had four strikeouts.
Glenbard North's Hobbs was lifted after four innings, allowing six runs on five hits and striking out four.
"Steve is a three-year starter for us. Today wasn't his day on the mound," Glenbard North coach Rich Smelko said. "He gave up a lot of walks [six], but we battled. The walks kind of hurt us a little bit. Early in the game, it might've been a walk, then a wild pitch or a passed ball and then a base hit. They're a good hitting team, so we can't give these guys free bases."