BURLINGTON – AJ Payton is making up for lost time the best way he can.
Payton, a Burlington Central junior, views his third varsity season as a bounce-back opportunity.
"Freshman year, I didn't play great, and sophomore year, I was hurt half the year and I didn't play all summer because I was hurt," Payton said after the Rockets' 15-3 victory over Larkin in five innings March 23. "So I'm really just trying to come out here and make up for that lost time."
Payton suffered a broken right hand last year, but now looks plenty healthy. Payton smacked a three-run home run in the bottom of the fifth inning to secure the mercy rule victory and finished 2-for-4 with a single.
"I think what he's finally started to do is think at-bats a little bit more instead of just going up there and trying to swing at a pitch he sees," Rockets coach Kyle Nelson said. "He's trying to think through his at-bats a little more. And he's had a better two-strike approach in the cage. He's just developing physically. I mean, he's 6-foot-5, and physically, he's starting to develop more.
"His bat speed is up from last year. He's a little quicker to the ball than he was last year, so those are all things he's changed in the last year."
The Rockets (1-2) got a strong performance from sophomore Chase Powrozek in his first start of the season. Powrozek struck out two in the first inning, and the bats took over from there.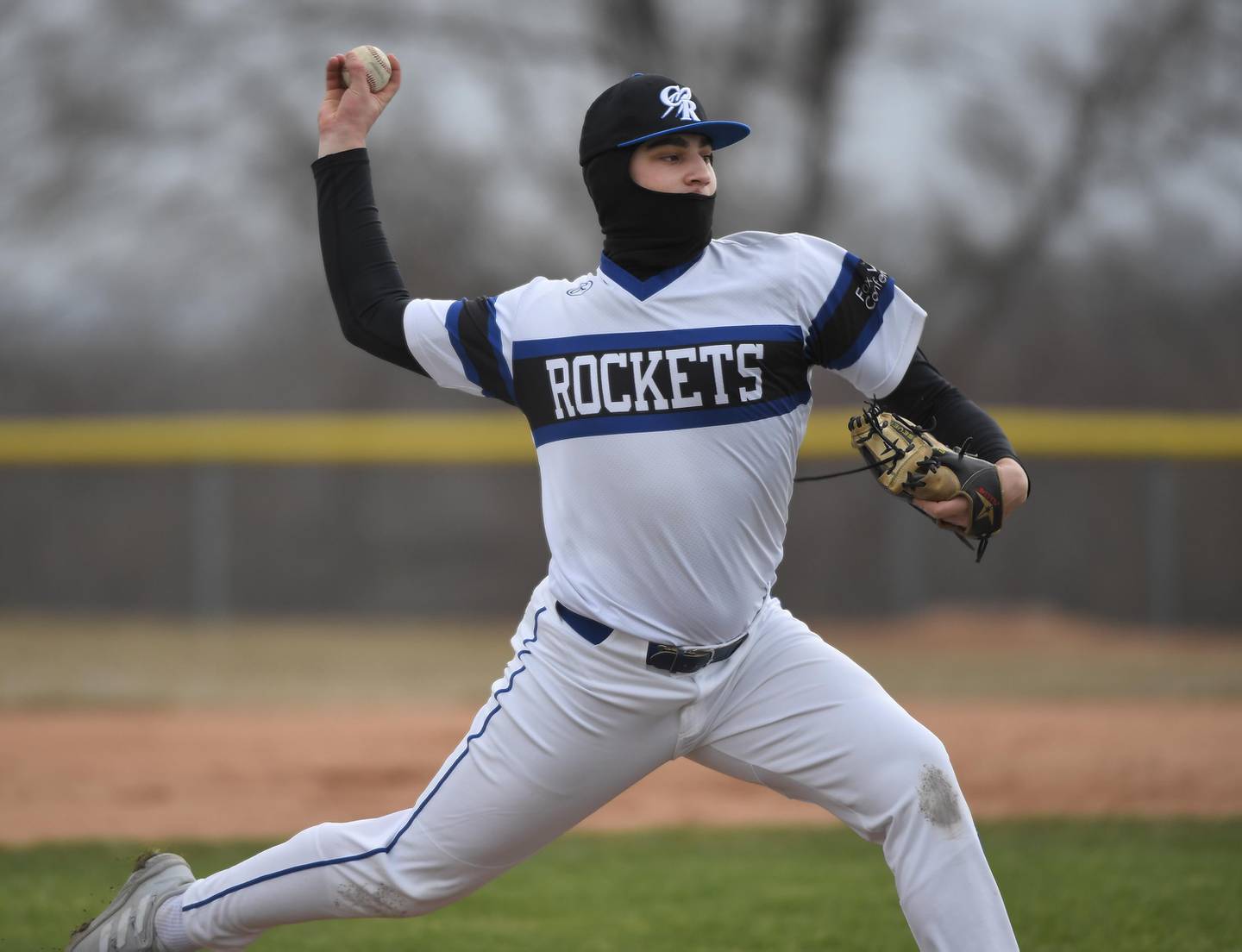 The Rockets ripped six runs in the bottom half of the inning, all with two outs. After Mitchell Pedrigi reached on a walk, Payton singled. A passed ball allowed Pedrigi to motor home with Jake Johnson at the plate for a 1-0 Central lead. Johnson reached on a throwing error to first and two more runs scored to make it 3-0. Braden Lowitzki smashed a two-run double and Mason Rosborough added an RBI single for a six-run advantage.
Larkin (0-4) got a run on a groundout by Carter Novelli, but the Rockets kept the heat on. Brady Gilroy smashed the first of his two home runs, a solo shot, in the second to make it 7-1. In the third inning, the Rockets grabbed four more runs, highlighted by Gilroy's two-run blast for an 11-1 lead to chase Larkin starting pitcher Logan Leaver.
The Royals answered with two runs in the fourth, thanks to an RBI double from Peyton Wemken and a bases-loaded walk.
The Rockets added a run in the fourth, and Payton's three-run shot ended the game in the fifth.
In 3.1 innings, Powrozek surrendered two runs, four hits and a walk and struck out three.
"Last year, I didn't pitch as much, so the plan is just do my best out there obviously," Powrozek said. "Try to learn from every game and grow. Trust myself, attack every hitter I face and just go after them. I know I have what it takes."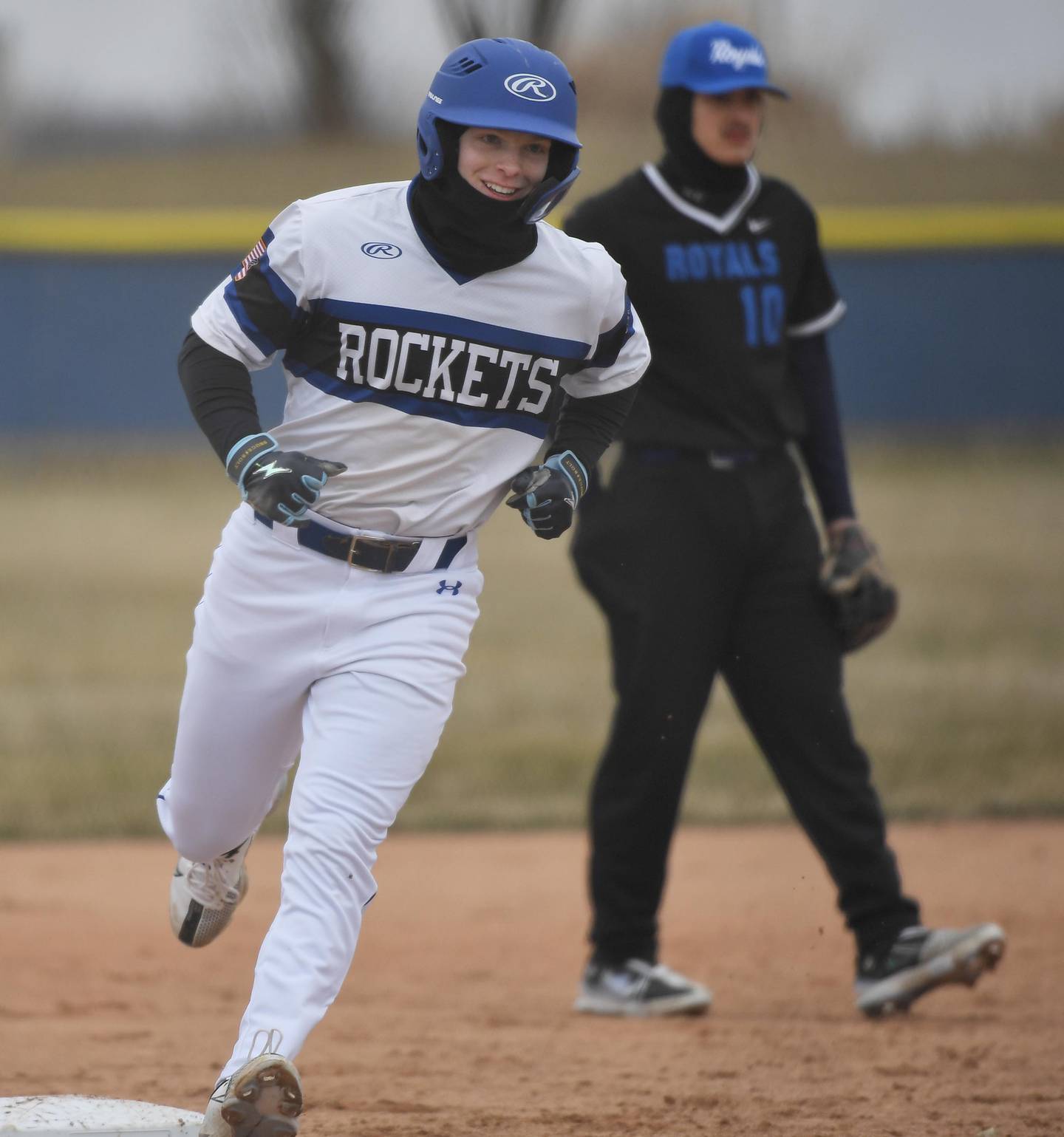 Larkin is returning a fairly experienced group, bringing back all but one senior from last year.
"This is a group where we're still working through a few kinks," Larkin coach Niko Morado said. "But we're hoping that we're up a little bit, and as juniors, be able to come out, compete in our conference and put some games together."
Leaver, who took the loss, is expected to be one of their leaders moving forward.
"Leaver pitches to contact," Morado said. "As long as we're making plays behind him, he's going to be a guy who isn't going to strike a ton out, but gets a lot of ground balls and fly balls. He's got a good curveball and a good changeup that kind of disappears, so he gets a lot of swings and misses and weak contact on that."