WHEATON – The field seemed tilted.
The St. Charles East girls soccer team dominated action against Wheaton North in the Class 3A Wheaton North Regional title game May 20, controlling possession in both halves.
While the scoreboard only reflected a one-goal advantage for the Saints with 15 minutes to go, St. Charles East scored three goals before the end of the match to cruise to a 4-0 victory over Wheaton North to advance to play Batavia on Wednesday in the St. Charles East Sectional semifinal.
The victory clinched the Saints' eighth straight regional title for the girls soccer program.
[ Photos: St. Charles East vs. Wheaton North, Class 3A Wheaton North Regional final ]
Goals by Ella Stehman, Mia Raschke, Grace Williams and Libby Thomas did not overshadow a dominant defensive effort from front to back for the Saints (18-4-2).
"I think we obviously have some really good girls in the back who always win the ball," said Williams, who also contributed two assists in the win. "But I also think as a team we possess the ball really well. When teams are chasing us to get the ball back, they're tired once they get it."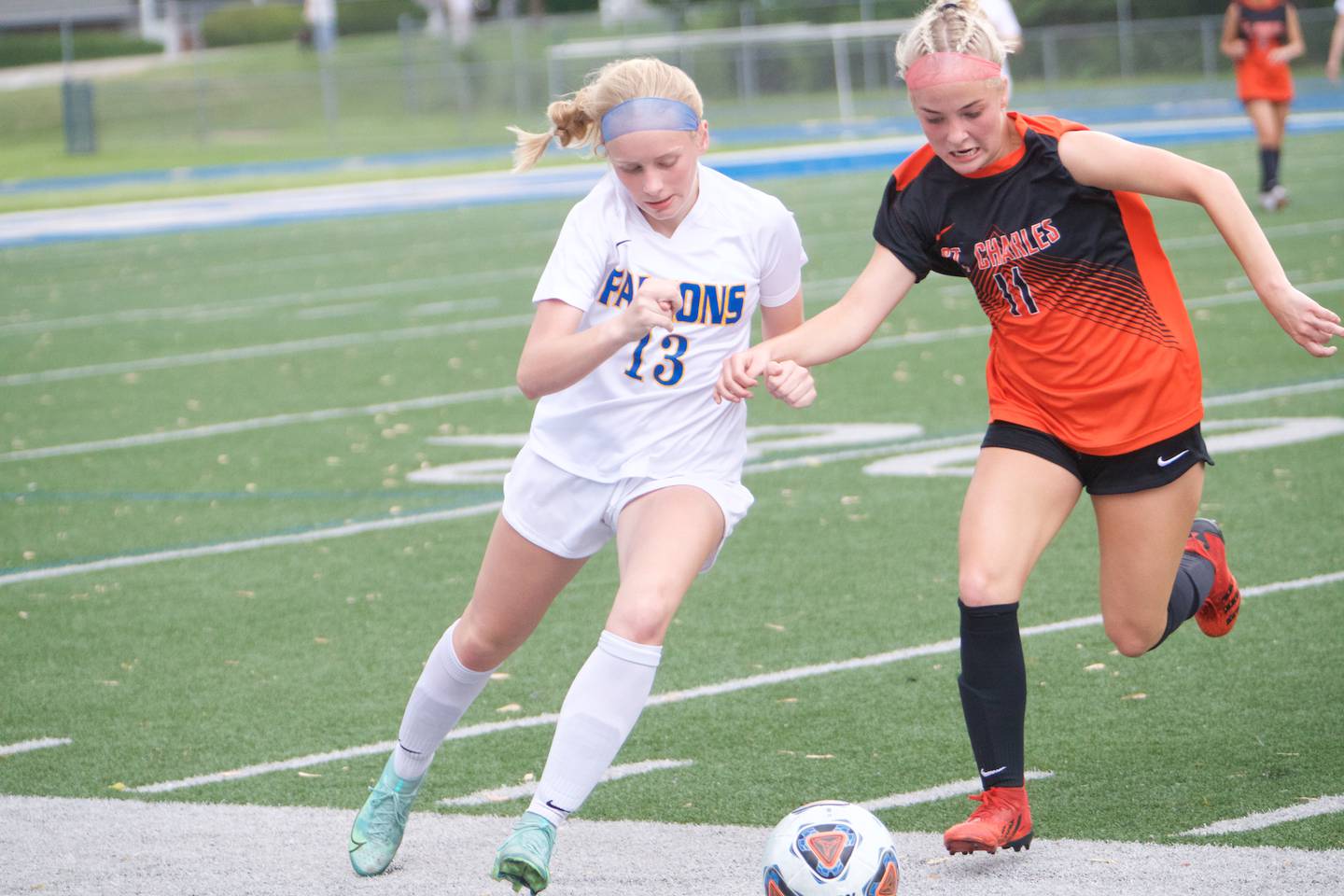 Despite controlling a majority of the action, Stehman's tally in the eighth minute was the game's lone goal until Williams rallied the Saints.
Williams took on her defender on the right side, beating her into the box to slot a pass across to Raschke, whose one-timer beat Wheaton North goalkeeper Zoey Bohmer.
Though it increased the Saints' advantage to only 2-0, it seemed like an insurmountable deficit for the Falcons (9-10) with 15 minutes to play.
"We knew a second goal would give us a little more comfort," Saints coach Vince DiNuzzo said. "We came out like it was still 0-0 because anything can happen in these kinds of games. I thought we did a great job of playing with that mindset and really limiting their chances tonight."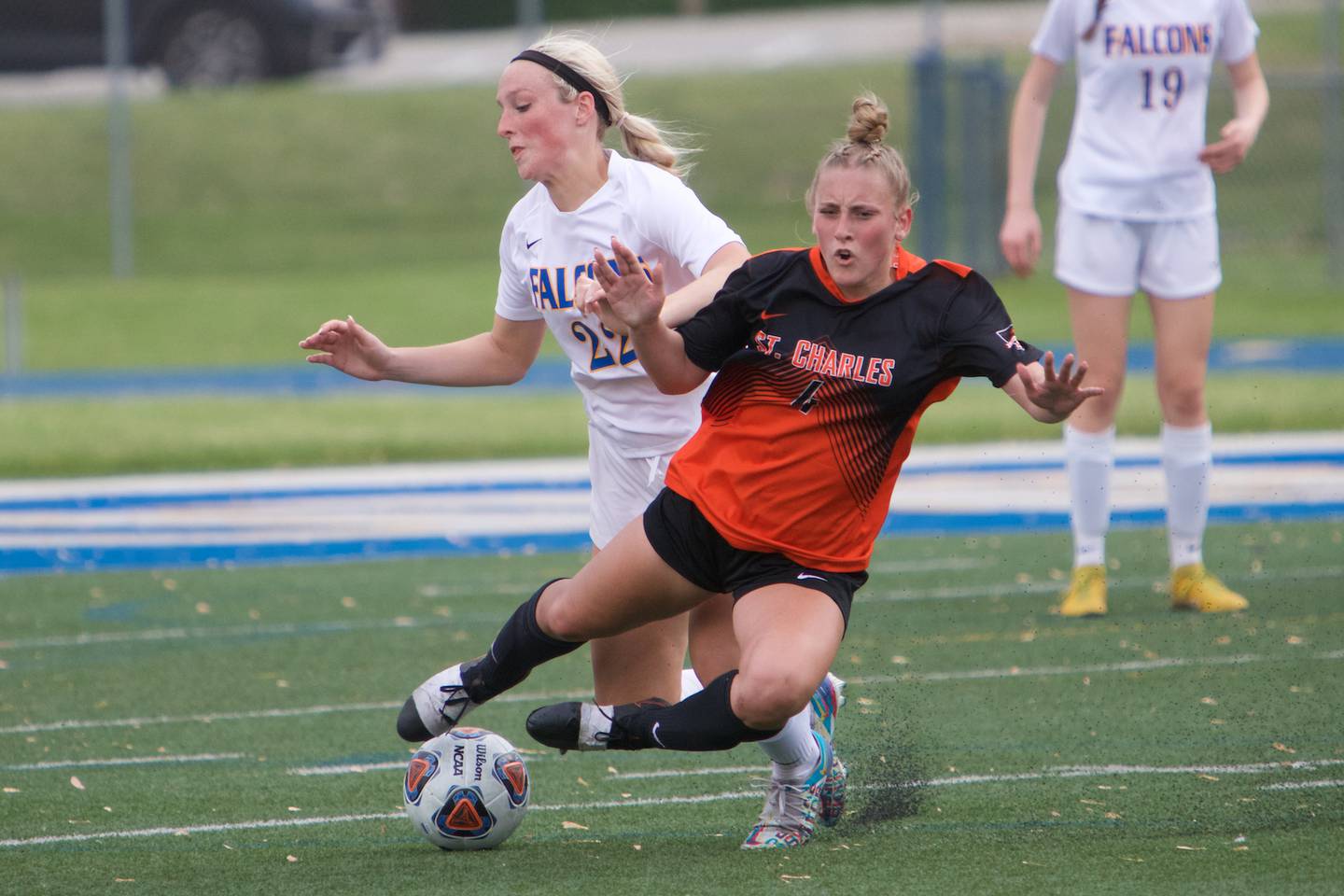 The shots on target were level at two apiece at the halftime break, but the game ended 12-3 in shots in St. Charles East's advantage. Bohmer made several in-close saves to keep the Falcons afloat, but Wheaton North coach Tim McEvilly knew his team just didn't play with the urgency it needed from the opening kickoff.
"We did not come out with a great deal of confidence tonight," McEvilly said. "I think my girls were a little psyched out for some reason. I just felt like we were playing slow, which you just can't do with [St. Charles East]. With players like [St. Charles East senior defender Anna Champine] and others back there, you're just not going to exploit them at the speed of play we played at."
Champine was an instrumental piece of the back line for St. Charles East, which limited Wheaton North to just one shot attempt in the second half – a shot that came from well outside the box for a comfortable save from goalkeeper Sidney Lazenby.
"I think it's an 11-player effort," Champine said of her team's defensive success in the game. "We work extremely hard to get the ball back when we lose it and really try to give our opponent as little time as possible. I think no matter what age anyone is, we just have such a great deal of composure in any situation."