GENEVA – Bella Lins hasn't forgotten what a club soccer coach once told her.
"You're the middle of the wheel on a bike," Lins said after Batavia's 3-1 victory over Geneva at the Tri-City Soccer Night on April 26 at Geneva. "That has stuck with me since third grade because I've always played in the middle."
[ Photos: Batavia vs. Geneva soccer ]
The Batavia attack evidently is finding some room with Lins helping facilitate up the middle of the field. She later capitalized on a scoring chance of her own to give the Bulldogs a 3-0 lead with 21:18 left in the second half.
The Bulldogs (9-3-2, 4-1 DuKane Conference) also received goals from Lily Figueras and Kailey Hansen, who connected on a penalty kick chance preceding Lins' goal.
"It's movement off the ball. We've talked about it with Bella," Batavia coach Mark Gianfrancesco said. "Finding the ball [in space] and just continuing to do that. When she does that, she's very productive."
Lins, who scored her first goal of the season, has worked her way back from a concussion that caused her to miss about a week and a half.
"With that, you lose your touch. You lose your positioning. You lose your chemistry with your teammates," Gianfrancesco said. "Working her way back in, tonight, we rode her … she hit the goal. We rode her and Lily up top and just kept going with that because the chemistry was working."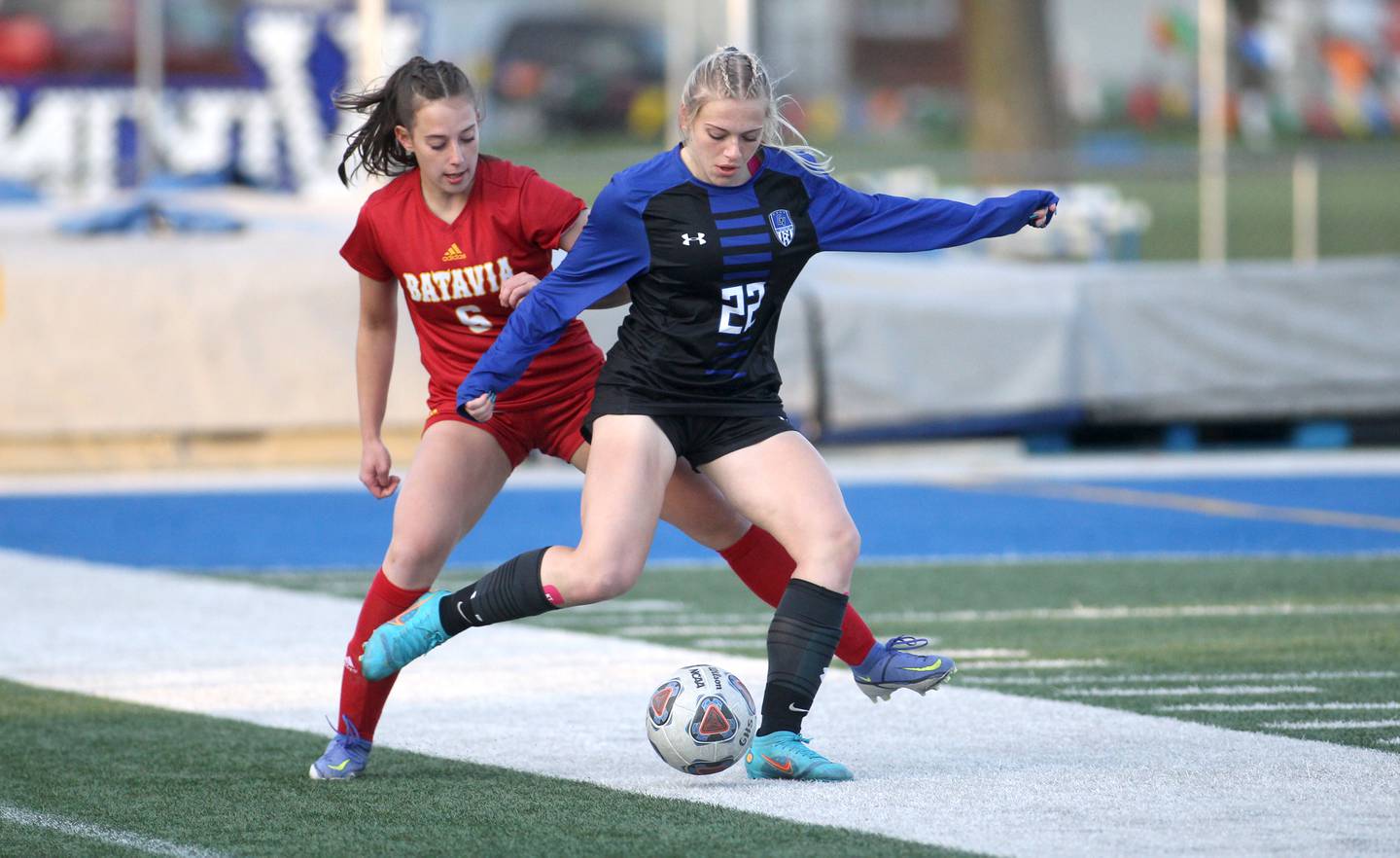 Geneva (10-5, 1-2 DuKane Conference) got on the scoreboard on a beautiful scoring chance by Olivia Rawls with more than 10 minutes left in the second half, but the Bulldogs' defense shut down some chances in the final minutes.
Geneva sophomore midfielder Caroline Madden took a number of hard falls on the turf and evidently brings a toughness to the Vikings' attack.
"I think definitely going for the ball in the air is one of my strengths," Madden said. "I try to utilize that to get the ball up the field and there's usually a lot of contact in that, but I do what I can to win the ball in the air.
"I think this week and last week I've stepped up a lot. We've had some injuries in the midfield, which has made me step up more. I think it's helped me be more aggressive in the midfield and be more of an asset on the team."