GENEVA – Since Scott Ney became director of operations for Geneva District 304 on Aug. 14, 2012, more than 90 employees who worked under him resigned or retired, several of them saying they and others left because of the harassing way he treated them and other employees under his leadership.
The list of employees was made available through a Freedom of Information Act request and a review of school board meeting agendas and minutes. Those who work under Ney are custodians, custodial support and custodial tech support, groundskeepers, maintenance personnel, security staff, building services coordinators and his department secretaries.
Among more than a dozen employees who spoke to the Kane County Chronicle was former maintenance supervisor Richard Dickerson, 70. He started at the district on March 8, 1988, and said he retired on March 8, 2016, "to get away from Ney."
"I worked for the district 28 years. I enjoyed the job. I enjoyed the people," Dickerson said, speaking from his farm in northeastern Missouri. "The last four years under him were pure hell. … I remember him coming into the office, yelling and screaming at me … and then he's sweet as pie another day."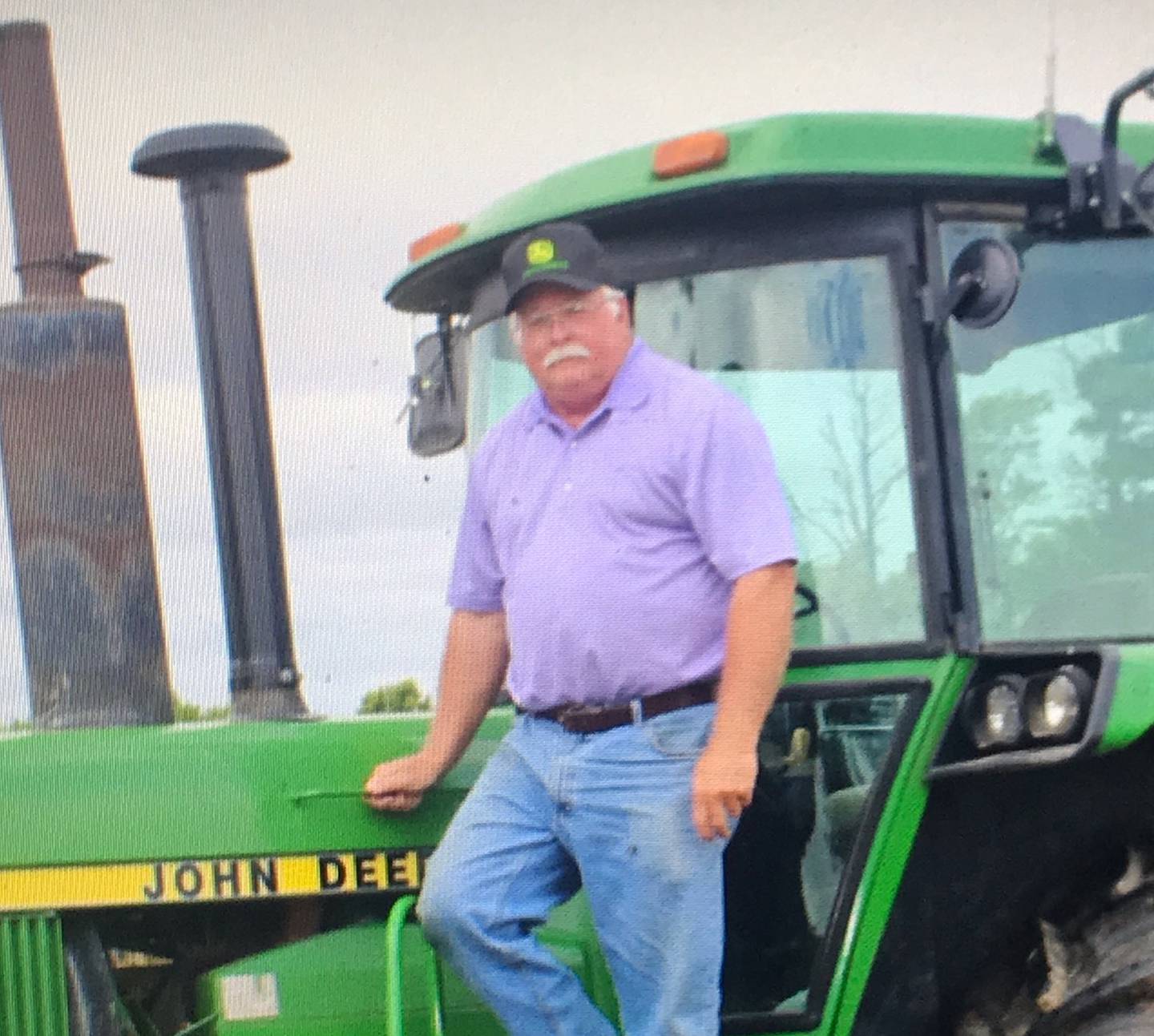 Dickerson said he went to Assistant Superintendent for Human Resources Adam Law to complain about the way Ney treated him.
Dickerson said Law did not put any of his concerns in writing – and nothing changed – so he resigned.
"On my birthday at 66, I was out," Dickerson said.
The district has a policy against workplace harassment that states, "the school district expects the workplace environment to be productive, respectful and free of unlawful discrimination, including harassment."
The Equal Employment Opportunity Commission defines harassment as "petty slights, annoyances, and isolated incidents (unless extremely serious) will not rise to the level of illegality. To be unlawful, the conduct must create a work environment that would be intimidating, hostile or offensive to reasonable people.
"Offensive conduct may include, but is not limited to, offensive jokes, slurs, epithets or name calling, physical assaults or threats, intimidation, ridicule or mockery, insults or put-downs, offensive objects or pictures, and interference with work performance," according to the EEOC.
None of the former employees who spoke to the Kane County Chronicle filed lawsuits nor complained of unlawful discrimination, but several complained to the district's Human Resources Department. According to a response to an open records request, there was one formal grievance filed against Ney, but the department was not legally required to release that document because no disciplinary action was taken.
Several former employees said in interviews with the Kane County Chronicle that Ney routinely bullied them and others.
Building Services Coordinator Tim Jones, who worked there from March 24, 2014, until he resigned on Dec. 3, 2018, said, "I had to leave my pension of 15 years to get away from him."
Jones said he went to Law at Human Resources – several times, with witnesses – to back up his concerns about Ney's behavior.
"This only led to retaliation against me and those that I managed," Jones wrote in an email. "Allowing the facilities director to terrorize a department and ruin people's careers while creating a hostile work environment is unacceptable."
On March 23, 2017, Jones wrote in a work diary he kept that after he had been out sick and was catching up on filing invoices, Ney came into his office and used profanity in yelling at him about the number of invoices in his inbox.
"I was doing my job ... preparing invoices for the director of operations," Jones wrote. "I had to split out two different bulk invoices into separate invoice(s) per school that generated an additional 24 invoices."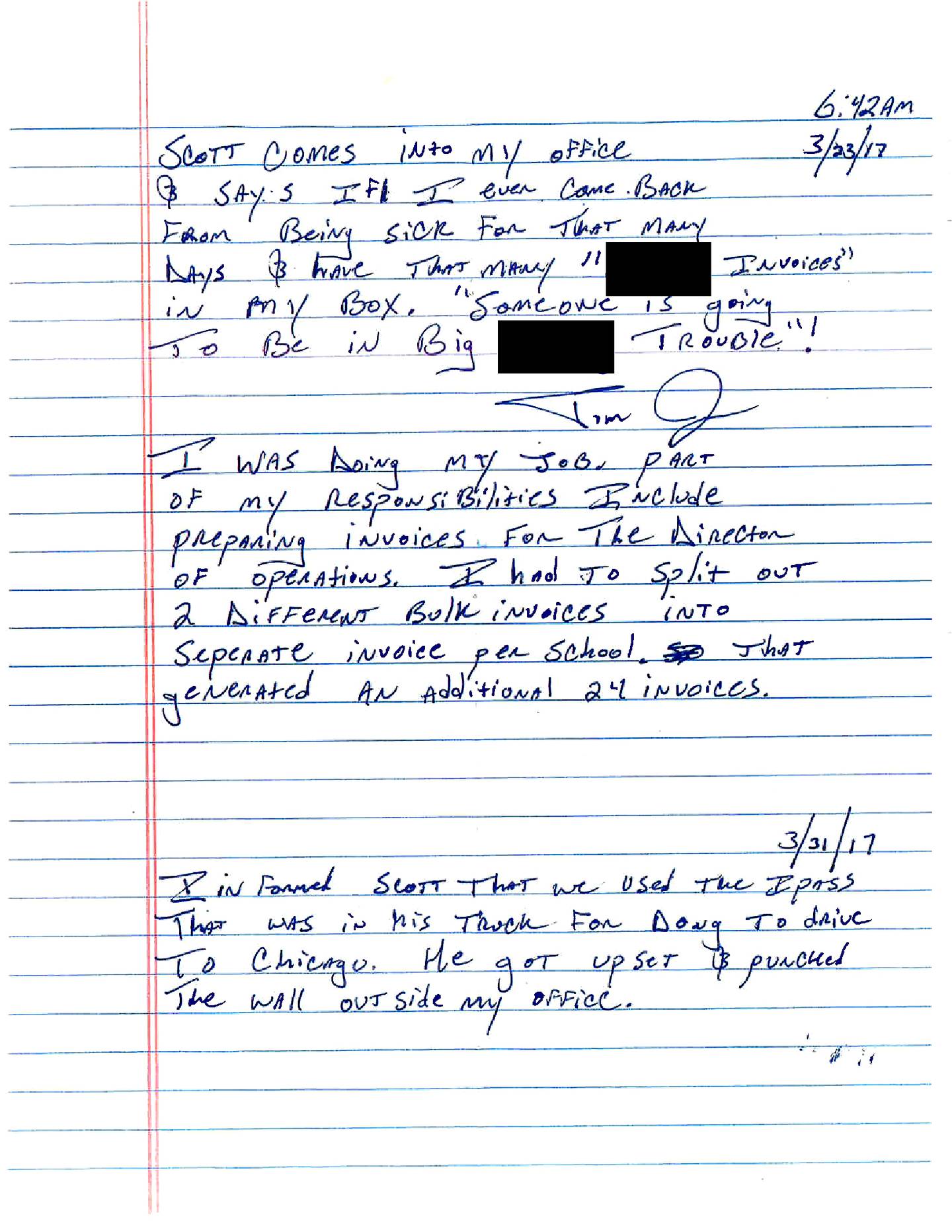 On March 31, 2017, Jones wrote that Ney became so enraged that an employee used the I-Pass in Ney's truck to go to Chicago, "He punched the wall outside my office."
Jones provided documentation of his job evaluations. In 2014, 2015, 2016 and 2017, Jones met all the expectations.
"Tim has effectively implemented ideas on how to increase the efficiency of the operations and maintenance department," Ney wrote in all four evaluations. "Tim has excelled at learning his new job responsibilities as first shift building services coordinator and understands what is expected of him."
Jones and Ney both signed those job reviews.
In Jones' 2018 job evaluation, after he complained to Law, Ney wrote that Jones did not meet expectations in the areas of productivity, communication and teamwork.
"Tim struggles to manage his time well and complete what is requested of him," Ney wrote. "Tim needs to better balance the time he spends socializing during the workday with the time he spends focusing on work completion. ... Tim's job performance, at times, has hindered the efficiency of the O and M (Operations and Maintenance) Department."
Ney and Law signed the 2018 evaluation. Jones refused.
Jones said the bad review cost him a pay raise that year.
After reviewing his personnel file, Jones wrote a letter to Law, stating, "There was no implication or trace of declining job performance brought to my attention until after I made my concerns aware to human resources," Jones wrote.
Rather than allow a live interview with Ney and other district officials, Superintendent Kent Mutchler responded to questions in an email stating: "I have reviewed the personnel matters described here with other administrators of District 304, and we wholly disagree with the characterization of these events."
"We cannot comment on specific employee situations other than to say that we have appropriate and thorough policies and procedures for dealing with the concerns of employees. These procedures have several steps and involve a high degree of review for employees," Mutchler stated in the email. "We investigate all complaints fully and take necessary action when appropriate."
School Board President Taylor Egan said nothing regarding Ney has reached the board level at this point.
"Many personnel issues are dealt with at the administrative level at our district," Egan said. "Very few reach board level. This, to date, has not yet come to the board."
'You need to do this or you can leave'
Ney was hired as a custodian on July 1, 2005, and worked in that role and as an HVAC mechanic until April 28, 2006, with a salary of $20,846.77, according to District 304 records.
Ney was reclassified to director of facility operations on Aug. 14, 2012, and his annual salary was $84,552.96.
Currently, Ney's annual salary is $124,680.36, officials said.
Another whose resignation was tied to Ney – but not because of alleged abuse – was School Safety and Security Coordinator Raymond Adkins, who started Jan. 14, 2019, and resigned effective March 2, 2020.
Adkins came to District 304 with 25 years in law enforcement, 10 of them involved with schools.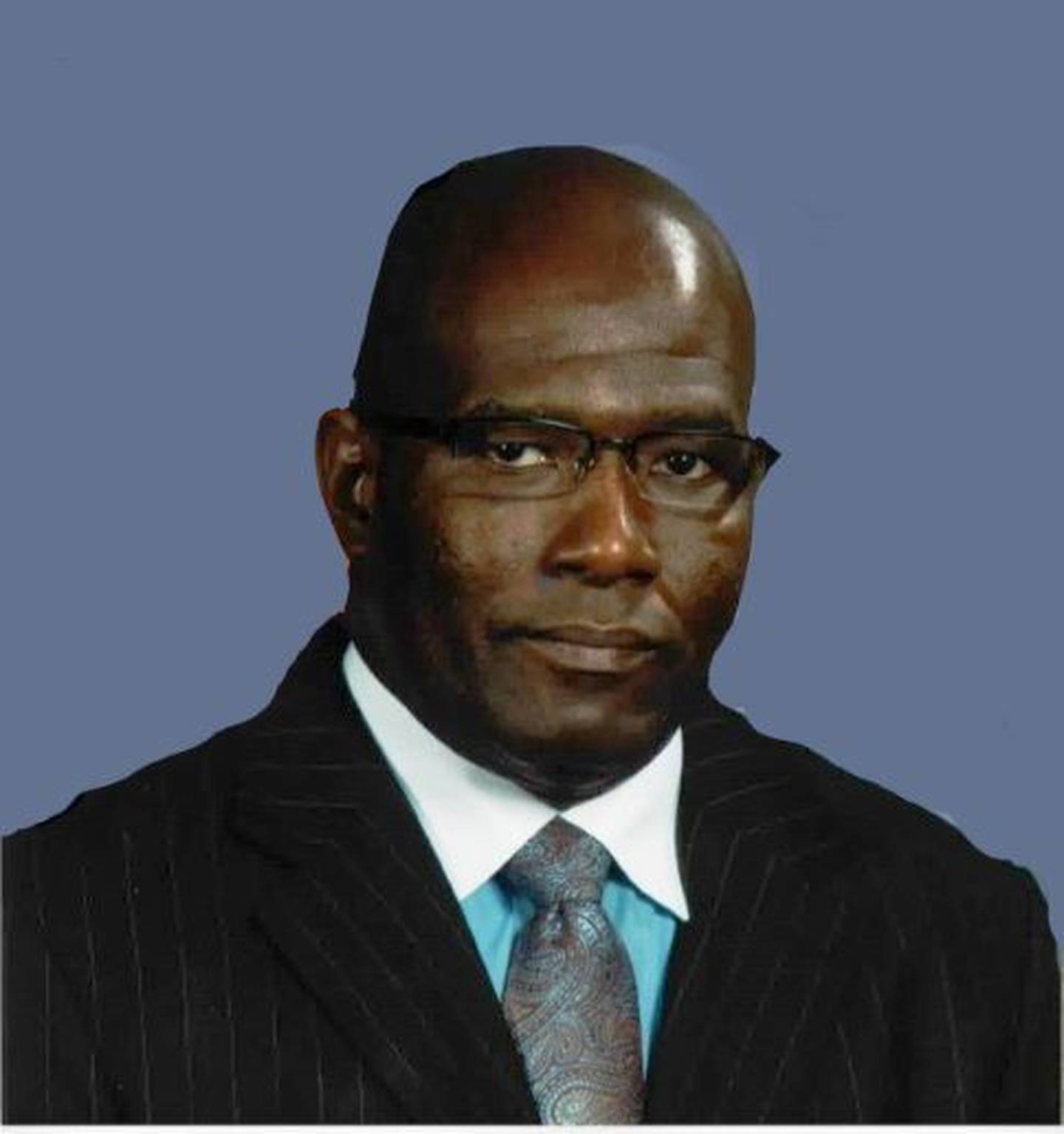 His resignation letter states his position "does not allow for a development of a vital component of a comprehensive school safety plan."
Though Adkins said he had a good working relationship with Ney – school safety employees are also under Ney's leadership – he left after he defied Ney's order to change a battery.
One of the priorities Ney placed upon Adkins was the maintenance of external defibrillators, portable devices that restore a normal heartbeat by sending an electric pulse or shock to the heart. The housing of each one has an alarm that goes off to let officials know that it was being taken out of the box and possibly being activated, Adkins said.
The battery for the housing of one at the high school was defective and had been put on a work list.
Ney sent Adkins a notice that he needed to make it a priority.
"I told him I would complete a work order to change the battery. 'Here is your work order and that is as far as it goes with me,'" Adkins said he told Ney.
"You need to do this or you can leave," Adkins said Ney told him.
As Adkins continued to refuse, Ney said, "You need to leave."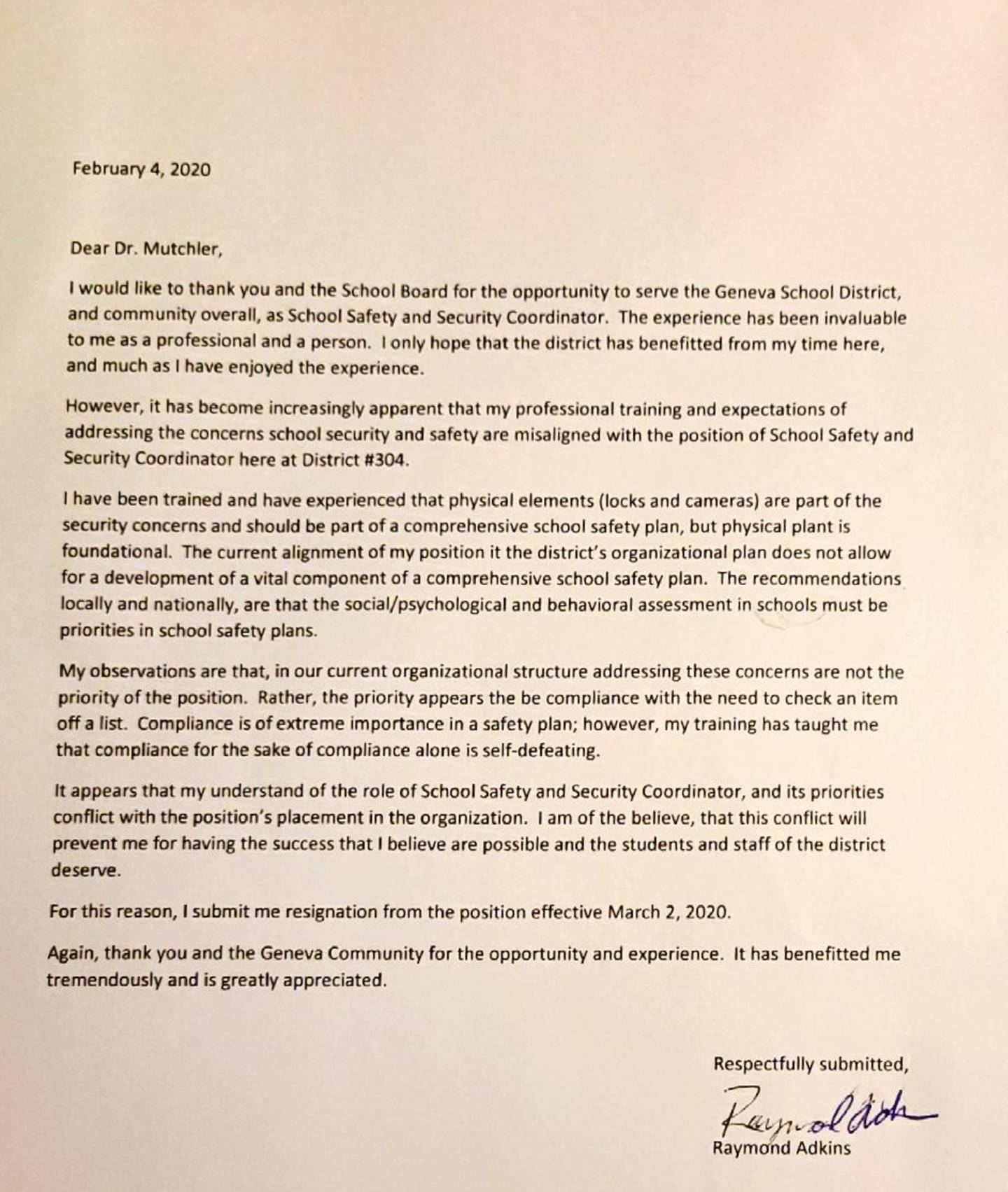 Adkins said he went upstairs at the Coultrap Educational Services Center and asked to speak directly to Law "to ask if he was aware I was asked to leave. He confirmed it and then I left. … I was escorted off the property."
Adkins said he understood Ney's priorities.
"I respected and appreciated that, but he did not respect my priorities and he had never been supportive," Adkins said.
"I can't emphasize enough the working relationship, from my perspective, that I had with Scott Ney was a positive relationship. … I enjoyed the work and the people immensely, but I could not attain my objective," Adkins said. "They would not allow me to do the job they hired me to do."
However, Adkins said he did not understand how District 304 officials did not take school security as seriously as other districts he had worked for.
"In the year I was there [at District 304] I never had an opportunity to talk about a district emergency plan," Adkins said. "I never met the staff, the administrators – collectively – with input from every building on coming up with a comprehensive district response."
Mutchler's email response countered Adkins' assessment.
"At Geneva School District 304, our top priority is protecting the safety of our students and staff," Mutchler stated in the email.
"Our school system has spent considerable time and effort planning and practicing safety and security measures appropriate for dealing with major critical incidents. We continually work to have close relationships and strong lines of communication with our local emergency responders so that we are prepared to respond to a crisis," Mutchler stated in the email.
"Every school has an emergency/crisis response plan, and these plans are reviewed and approved annually. In general, each plan involves the designation of a crisis management team, development of evacuation, shelter-in-place and secure building procedures, designation of one or more evacuation sites, provisions for updating the plan, and resources for external assistance before, during and after an event," Mutchler wrote in the email.
He then referred to the district's online information about schools safety and security at www.geneva304.org.
Charlie Wiggins
Charlie Wiggins, who worked for the district from 1990 to February 2020 as a custodian, said he retired earlier than he planned to get away from Ney.
"I retired due to harassment," Wiggins said. "It affected my family life and financial stability."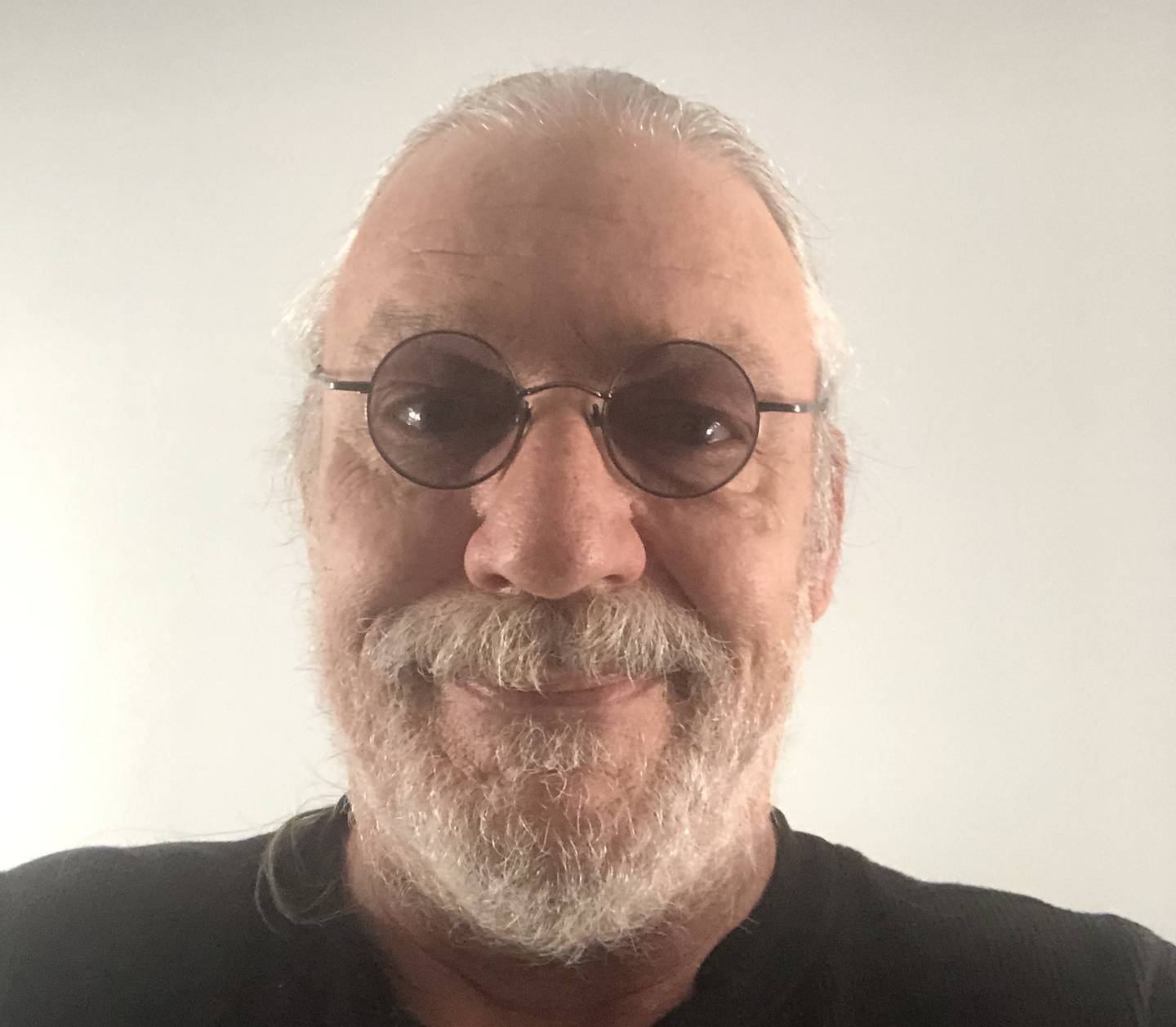 Wiggins recounted an incident at Harrison Street School on Aug. 19, 2019, when he was moving ceramic floor tile to a secure location two days before the start of school.
"He [Ney] came into the building and sees what I'm doing. He just starts jumping down my throat, 'Who told you you could do that? I don't give you permission to do that.' He went off three minutes on me," Wiggins said. "I said, 'Fine, Scott.' "
Wiggins said he began moving 60-pound boxes of tiles back to where Ney wanted them, but one slipped and hit a block of tiles below.
"He comes rolling downstairs … and accused me of throwing cases of tiles around," Wiggins said. "I said, 'Why would I do that?' He says, 'Leave immediately.' "
Wiggins said he went to his office to get his personal things, including his keys, and then went out of the building to get in his truck.
"I see him almost running," Wiggins said of Ney. "I get back in my truck. He says, 'I told you to leave. You are not allowed on this property.' I'm a basket case. He's kicked me out of the property for something he went ballistic over."
Wiggins left. Later, he said he drove past the school to take his mother-in-law to shop at Aldi, then to Walmart.
"I turned in my driveway and three cops come flying up to my house and surround me," Wiggins said. "I said, 'Are you kidding me?' "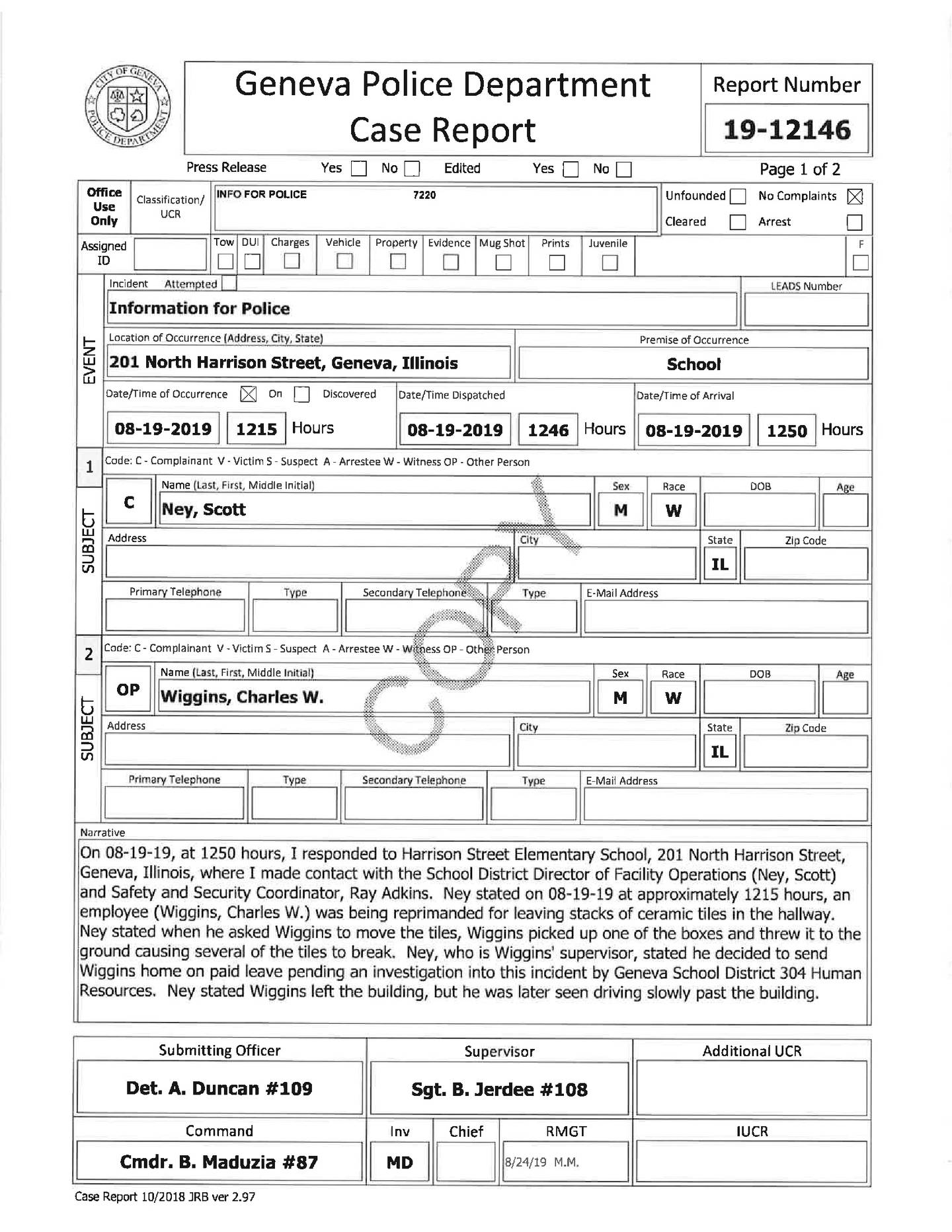 According to the police report, Ney told police that Wiggins was being reprimanded for leaving stacks of ceramic tiles in the hallway and when he asked Wiggins to move them, "Wiggins picked up one of the boxes and threw it to the ground causing several of the tiles to break."
Ney told police Wiggins "has had violent outbursts in the past and he considers Wiggins 'unpredictable,' " the report stated.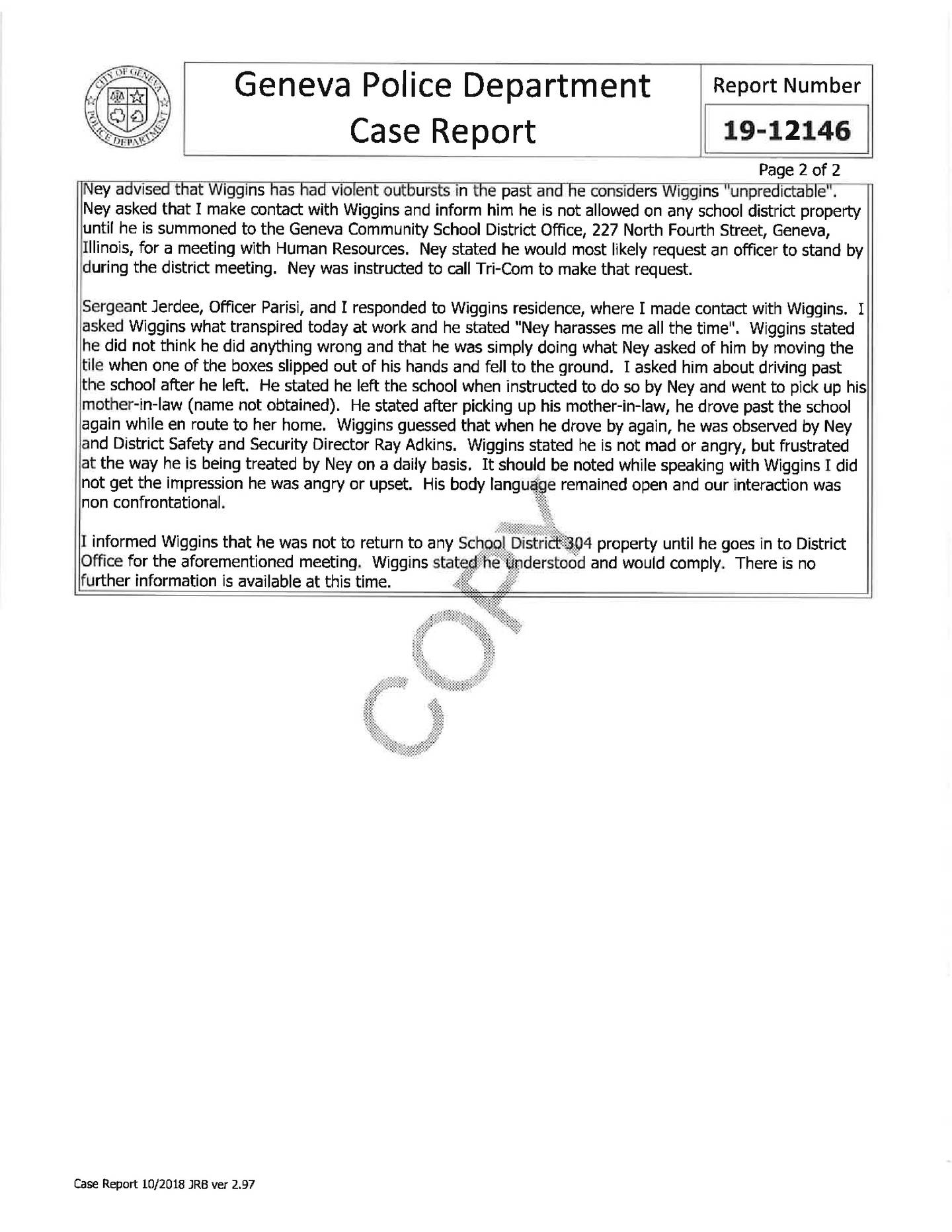 Wiggins told police he was not mad or angry but "frustrated at the way he is being treated by Ney on a daily basis," the report stated. "Ney harasses me all the time."
"It should be noted that while speaking with Wiggins, I did not get the impression [that] he was angry or upset. His body language remained open and our interaction was nonconfrontational," the report stated.
Wiggins was suspended for three days and he paid $200 for the broken box of tiles.
"I don't have a problem paying for them. It was an accident," Wiggins said.
After that, Wiggins started having disciplinary write-ups and bad work reviews from Ney.
"Charlie is responsible every morning to check the building and all mechanical spaces to ensure all systems are operating properly," according to an Aug. 21, 2019, disciplinary report. "He failed to do his building inspections and notify his supervisors, causing a safety hazard. … Charlie has failed to follow several safety issues after direct instruction from his supervisors."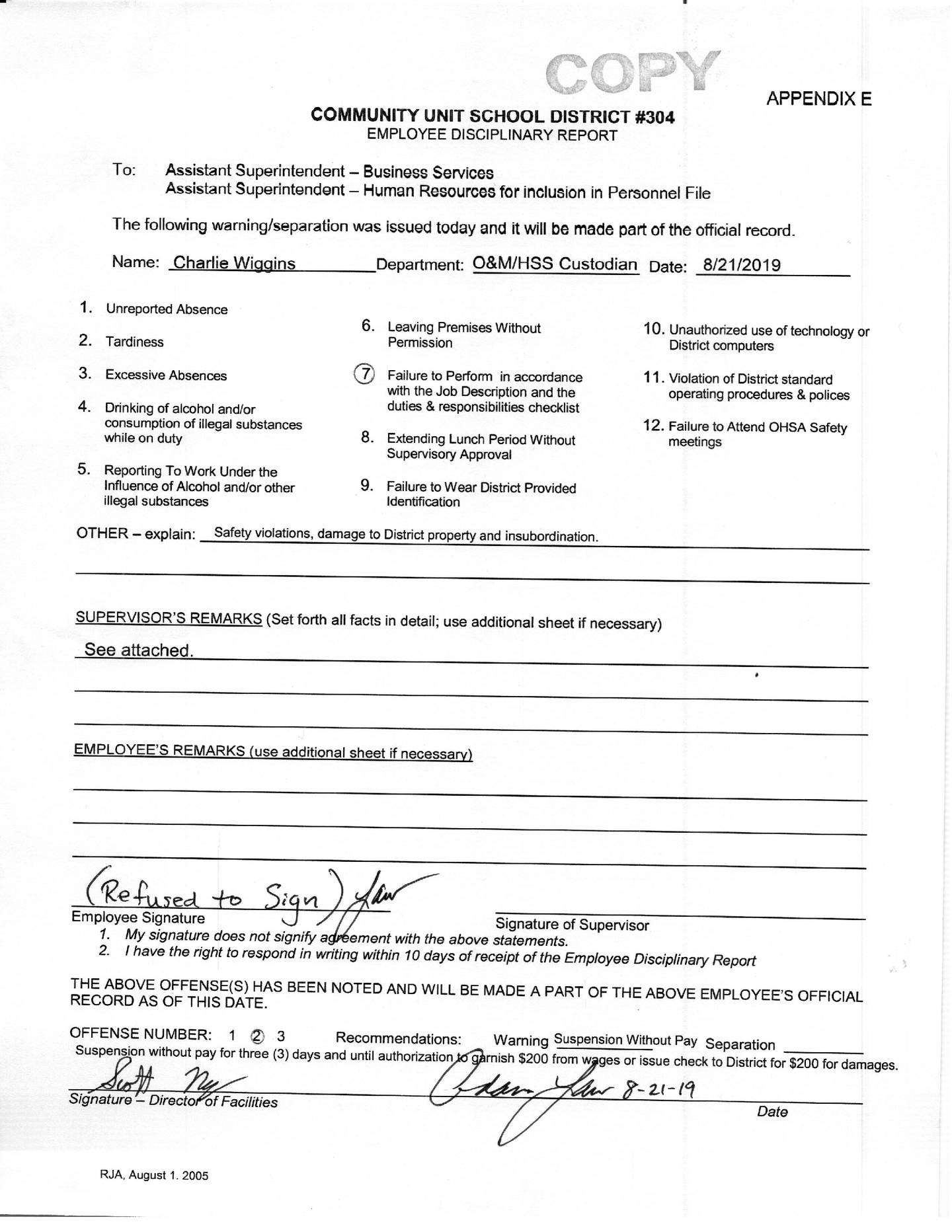 Wiggins wrote a letter about his almost 30 years with the district with "only two minor flaws" in his personnel record in all that time.
"I, along with many others, have taken abuse and bullying by [Ney] … way too many times," Wiggins wrote. "My desire for me to provide a safe, clean learning environment has been compromised by ongoing harassment. … No one speaks up due to fear of retaliation. … I love my job and the people I work with … but I will not be treated unjust or harassed almost on a daily basis. If it's not me, it's someone else."
Mutchler in his email response defended Ney's standards for the district's school buildings.
"The Geneva community expects our school buildings and grounds to be maintained in excellent condition and as a welcoming learning environment for students and staff. Mr. Ney does an excellent job in making this happen, as he leads 100 employees in working as a team to accomplish it," Mutchler wrote.
"Our expectations for productive work are high among this group in supporting educating our students, and we appreciate the hard work that they do. Our district also values preventive maintenance to keep facilities in good working condition and avoid higher costs of replacement," Mutchler wrote.
Fred Davis
Not only longtime employees left, citing Ney's style of leadership as the reason, but some short-term workers checked out quickly.
Fred Davis, a painter in the maintenance department, was hired July 22, 2019, and left less than a year later on June 19, 2020.
"I just quit because of Scott," Davis said.
Davis was in charge of replacing numbered five-by-seven signs over every door.
When they were down to the last two signs at Geneva Middle School North in the receiving area in back of the building, there was a problem, Davis said.
In the middle of the two signs was a buzzer to contact either the front office or the kitchen. The signs were a little smaller and didn't cover the four existing holes from the previous sign. Davis said he filled in the holes so the signs would match.
Ney accused Davis of making a mistake that would cost the district money, Davis said.
"I'm not all right. He's talking to me like I'm a piece of [expletive]," Davis said. "It was not my mistake. He approved the signs. … I had my own construction company for 17 years. Mistakes are made by everybody, I can tell you this."
Davis said he told a school official that he was the 64th person under Ney's supervision to leave since Ney was in charge.
"I didn't want to quit," Davis said. "This is a great district, but I cannot be treated like that."
As he walked up to his truck to leave, Davis said he told another employee whom Ney had just yelled at, "You have to get away from this guy. He's going to kill you."
Tom Kenney
Day shift custodian and warehouse manager Tom Kenney started with the district on July 9, 2007, and retired Aug. 11, 2020, "because in a nutshell, I've had enough of Scott Ney."
What put him over the top was his first bad mark on his evaluation in 13 years, Kenney said.
"It was the first time I was written up for anything," Kenney said.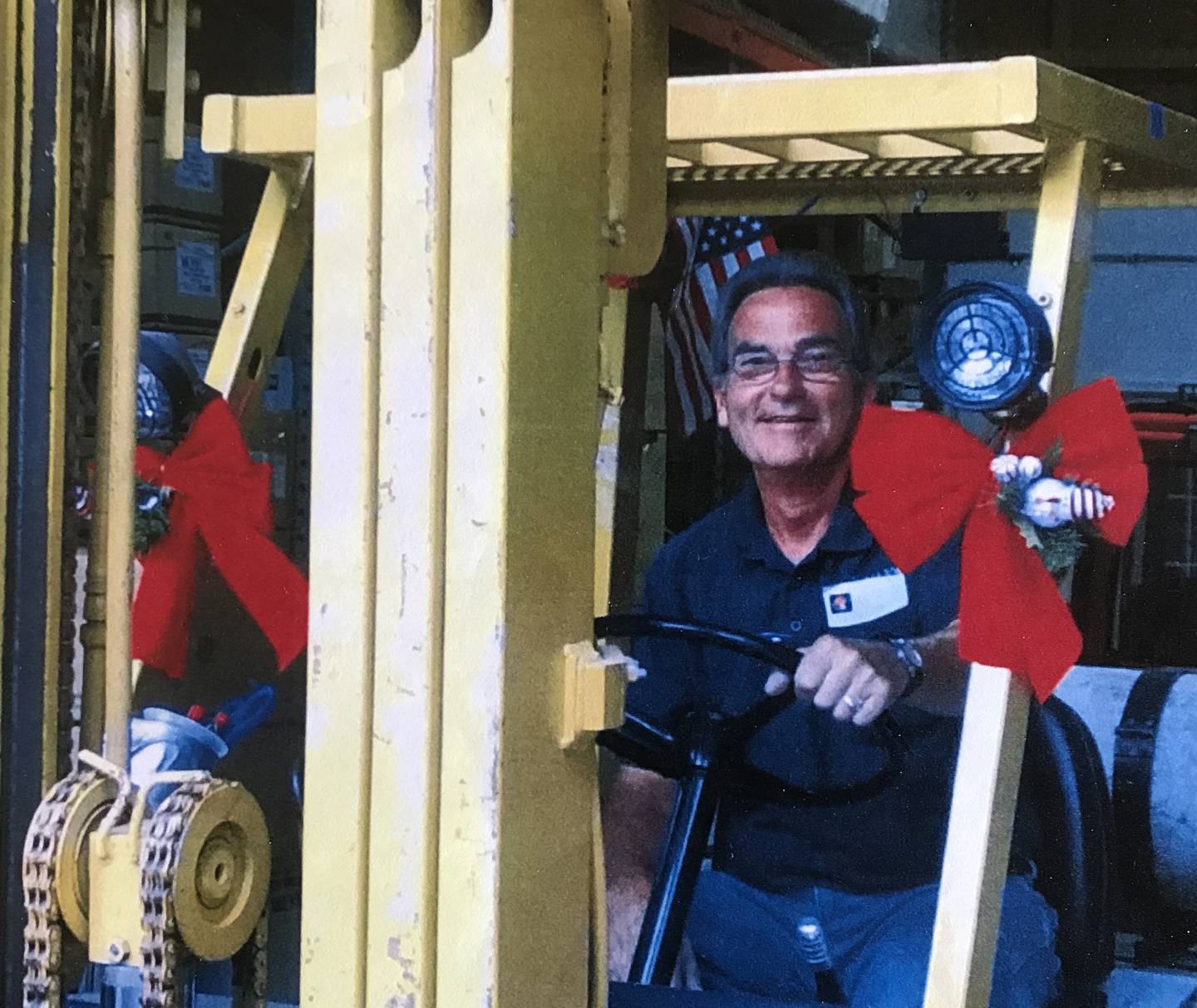 The issue was failing to make timely entries to the shared Operations and Maintenance calendar. Kenney believes his entry June 16 had been deleted by someone else.
In his July 29 resignation letter to Law, Kenney wrote, "It's best for me to call 'game over' now."
"I can no longer deal with the culture which Scott Ney has created in the O and M Dept.," Kenney's letter stated.
Kenney detailed he had been wrongly accused – by Ney – of stealing a coach's jacket at Burgess Field.
When the true culprit was found, Kenney said he did not receive an apology or even an acknowledgment from Ney.
"I've decided that in my own interests, both mentally and as a result, physically, I must say goodbye to a LOT of great people not only at 4th St. (the central office at Coultrap) but throughout the district," Kenney wrote. "I will truly miss so many."
Ryan Brown
Groundskeeper Ryan Brown, who started on Aug. 12, 2019, was fired June 11, 2020.
"He fired me, as I didn't hold up to their quality of work," Brown said of Ney. "Nobody there knows how to trim trees. … I trimmed 225 trees in 14 days all around Burgess Field. The [outside] bid was for $52,000 and I did it in-house. … I did all those trees. We were in COVID time, and he was working me 12-hour days … to make him [Ney] look good."
Brown said he had 14 years of experience in grounds maintenance and when he spoke up that "we were doing stuff the wrong way … Scott called me in and threatened me. … He basically put me on probation and he could fire me any time he wants."
Brown went to Law to report Ney's threats.
"The next thing I knew, I was in a meeting. He pulled me in. 'It's not working out,' " Brown said. "I knew I was under the gun, knowing I was going to be fired. Seven days later, I walked in at 2 p.m. and he told me I was fired. … I never got written up or anything."
Brown said he witnessed Ney's harassment of other workers.
"I've watched Scott yell at a woman. Make her bawl, cry. And she was not the first one," Brown said. "I watched [another man] get screamed at and go into nervous breakdowns. … Scott screamed at Adkins and escorted him out of the building. … It's miserable in this district because of one man. He kills the morale. It's his way or no way."
Alleged black mold
Bob DeRosa was hired in the Maintenance Department for all buildings on Nov. 11, 2018, and resigned Oct. 19, 2020, in a dispute over a knee injury that required surgery and time off from work.
DeRosa said in his brief time working under Ney, he learned never to say there was black mold in any of the schools.
DeRosa was referring to a type of toxic mold that can cause breathing and other health problems in people who are sensitive to it. There is no documentation related to black mold being in school district buildings.
"There are black mold issues in some of the schools and we are not allowed to use the words 'black mold.' He made us call black mold 'dirt,' " DeRosa said. "If you put 'black mold' on a work order, he made you change it in the computer. You only do it a couple of times and get screamed at. You learn you are writing 'dirt' now."
DeRosa said he once wrote in a work order that, "Ceiling tiles need to be replaced because the roof leaked and we get black mold."
"I thought we set off a nuclear bomb," DeRosa said, describing Ney's reaction. "We would all lose our jobs if we wrote 'black mold.' I tried to do whatever he wanted me to. I wrote 'dirt' instead of 'mold.' "
The district did not respond to DeRosa's allegation that Ney's directive was that black mold should be called dirt – or that any schools have black mold.
Instead, in an email, Mutchler praised Ney's leadership.
"Mr. Ney brings to our district an important knowledge and skill set that saves the district and taxpayers a lot of money by bringing work in-house as much as possible, rather than paying outside contractors for maintenance work. All of our buildings undergo regular maintenance, repairs and improvements," Mutchler wrote in his email. "Whenever water intrusions have been discovered, these have been repaired in a timely and thorough manner."
'A dynamic workforce'
None of the employees who left and were interviewed by the Kane County Chronicle gave exit interviews with the district. However, none of the employees were aware that an exit interview was an option.
In an email, Assistant Superintendent for Human Resources Law stated that employees are granted an exit interview – if they request it.
"The District 304 Human Resources Department strives to ensure that the work environment for its employees is safe and positive," Law's email stated.
"Geneva CUSD (Community Unit School District) 304 has a dynamic workforce of over one thousand employees. While the employee retention rate in Geneva 304 is very high, there are staff members of all employee groups who retire or resign each year," Law's email stated.
"While employees who are leaving the district are granted an exit interview with Human Resources upon request, it is not standard practice at the district level to automatically conduct exit interviews when an employee resigns or retires," Law wrote in the email.
As the District 304 school board was preparing to fire a maintenance employee Feb. 8, Kenney spoke out during the public comments portion of the meeting – without naming the employee – to ask for that agenda item to be delayed.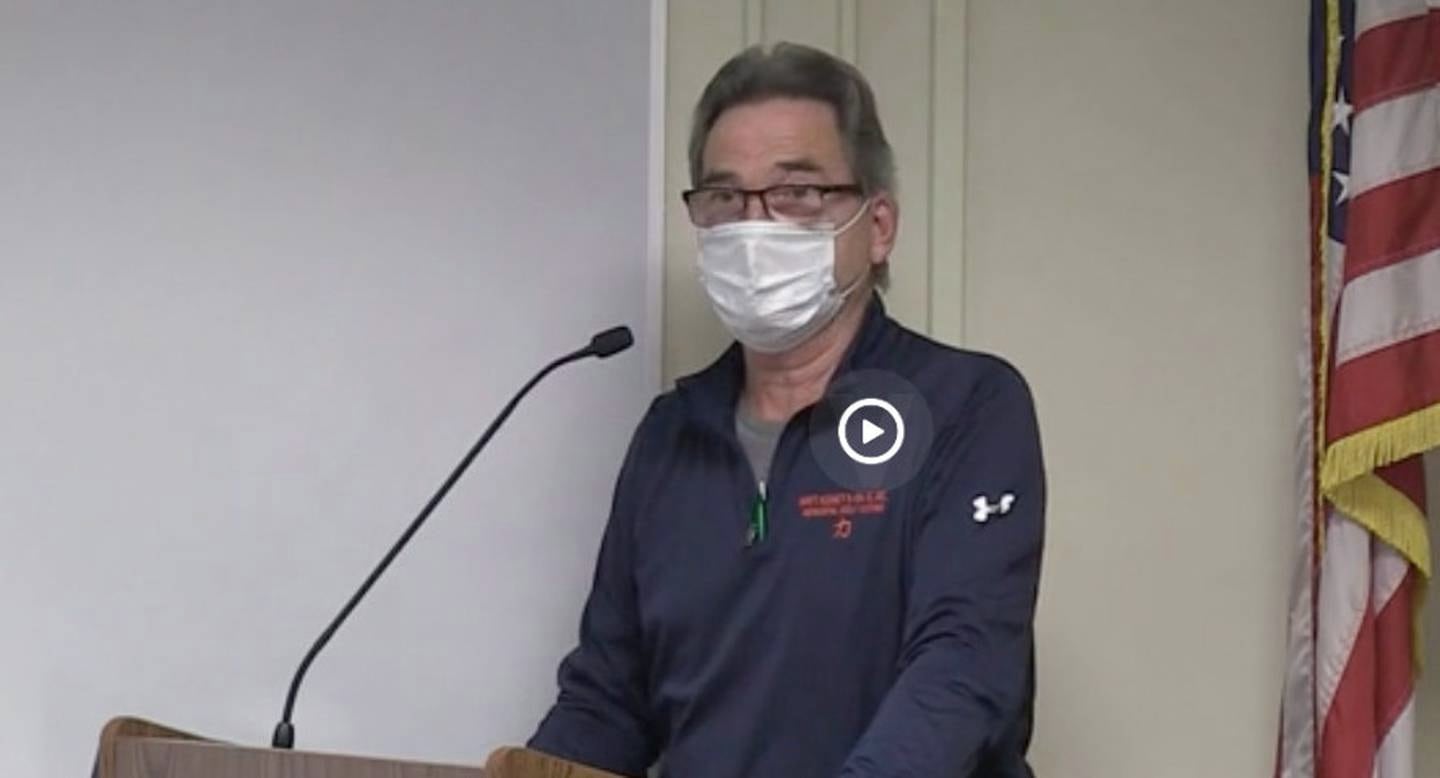 Board President Taylor Egan interrupted and stopped him from continuing.
"Mr. Kenney … if you have a concern regarding an individual student or a personnel issue, you are asked to bring it to the administration and are kindly asked not to address this during public comment," Egan said. "We cannot accept public comments that have a direct personnel issue."
"I have another request," Kenney said. "I just wonder if it would be possible to postpone [agenda] item 14 until we can schedule a meeting with some former O and M [Operations and Maintenance] employees and members of the school district."
According to minutes of the Feb. 8 meeting, the board went into closed session at 8:04 p.m. and returned to open session at 9 p.m. and voted unanimously to fire Matthew Walker, a maintenance employee.
Walker declined to comment about his firing or his work at the district.
Kenney filed a formal grievance and is awaiting a response. According to district policy, if Kenney is not satisfied with the administration's response to his grievance, he can then bring it to the school board.