Hannah Miller's playmaking ability and scoring prowess is a frequent example in postseason reviews for underclassmen on the St. Charles East varsity girls soccer team.
"As we go through these postseason reviews for our younger kids, 'How do you create space for yourself [and] 'How do you create scoring chances getting on the ball?' Hannah is the measuring stick," St. Charles East coach Vince DiNuzzo said. "When Hannah gets the ball, what is she doing? Well, she's looking to attack…she's looking to put opponents off balance. She does that with her movement."
Miller, a recent graduate of St. Charles East, was one of many standouts on a team that enjoyed one of the program's best seasons. The Saints went 22-1-1, going undefeated until a supersectional loss to Barrington, and won the DuKane Conference. St. Charles East also picked up the 600th win in program history.
Miller, an All-State selection, was also named the DuKane Conference Player of the Year and Golden Boot recipient with 19 goals and 18 assists. In a three-year varsity career with the 2020 season lost to the pandemic, Miller scored 45 goals with 33 assists.
For her outstanding play this season, Miller is the 2021 Chronicle Girls Soccer Player of the Year.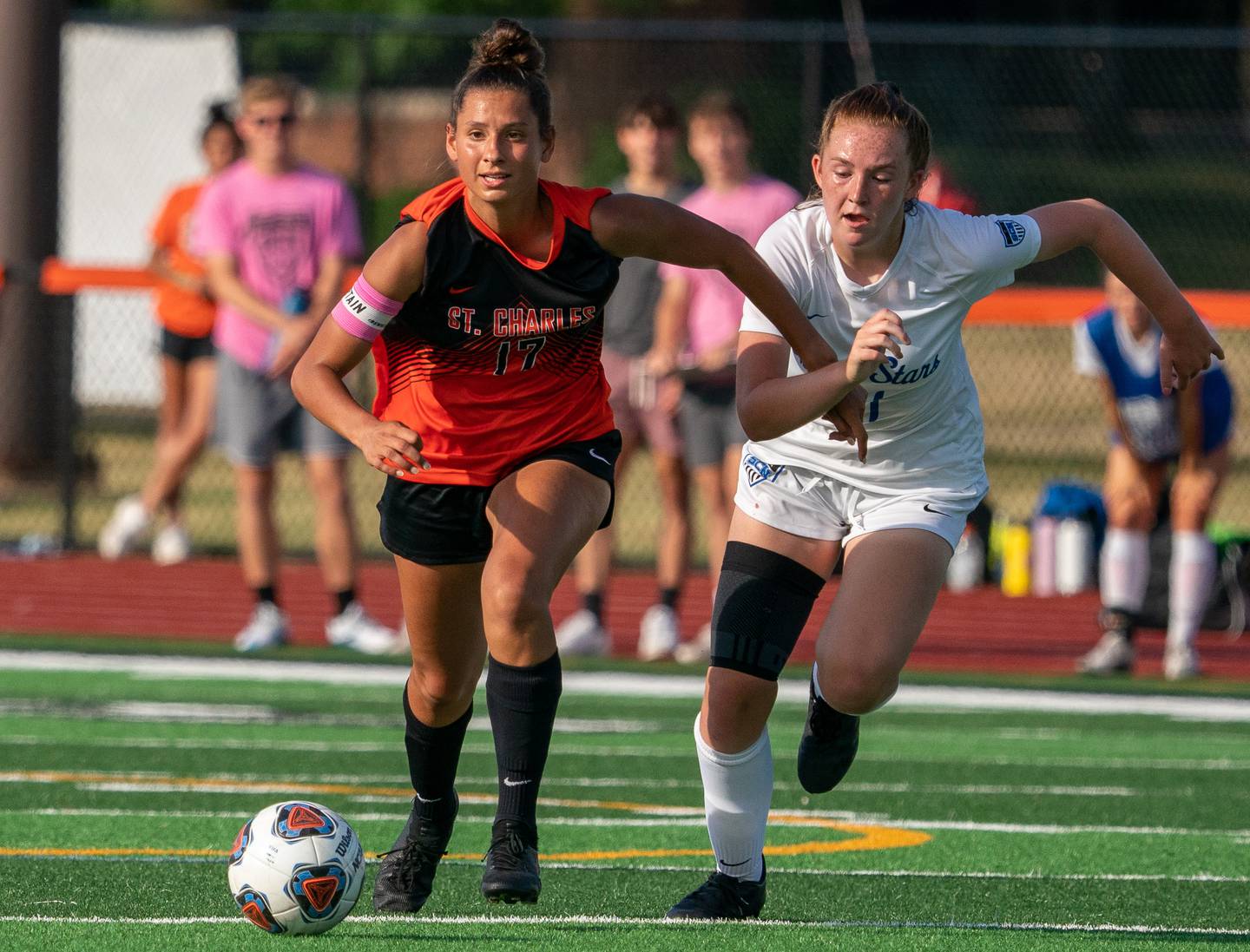 "She's someone who doesn't really care about the stats. She just wants to win," DiNuzzo said. "She showed that, even in the last [supersectional] game against Barrington. She'll do whatever she needs to to help the team win. That's all she cared about."
"She didn't really care about the stats or individual success," DiNuzzo continued. "She was more concerned if the team won. That's what I was impressed by: Her leadership; her growth as a leader. It's what you want in a kid, you know, coming into the program as a freshman, start on varsity as an outside back and grow into a role where [by] her senior year, some of the kids really looked up to and admired."
Miller will not go on to play soccer collegiately at Indiana University, but leaves behind a prep career and memories of the season that'll last for awhile.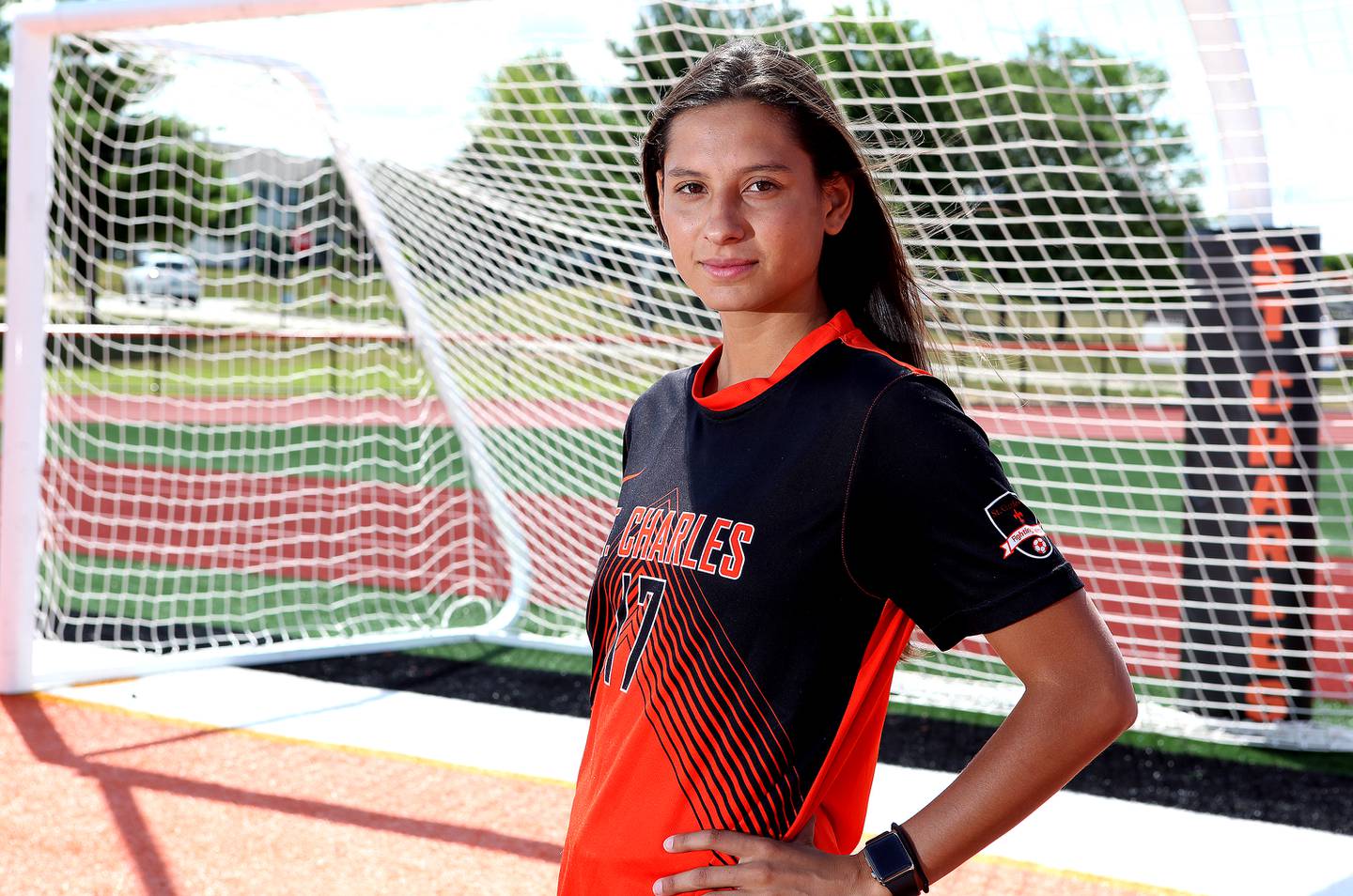 "I'm just happy in general that we were able to have a season because it was kind of hard. Junior year, we had a really good team, we were super excited," Miller said. "Then after preseason, found out that we weren't able to play at all…I took that as an opportunity to just show my best effort and put in my best work knowing that it could possibly be my last season playing soccer."
"Something that was really important to me was all the work and effort, not only our captains [and] seniors put in but every player put in," Milller continued. "At practice, everyone was always giving 110%."
One of Miller's goals as a player was to help defeat St. Charles North. The Saints won both regular season matches and a third meeting in the sectional final that came down to penalty kicks at St. Charles East.
"That was one of the most exciting moments of my life being able to play them in [the sectional]," Miller said. "I have a lot of friends on that team, so it was fun to play with them one last time. Obviously, it's exciting to get a win, but how the game went down [winning in penalty kicks], I think I will always remember that game as one of my favorite games because of all the hard work and dedication you can see on the field."
Playing soccer for the vast majority of her life shaped it "tremendously."
"Not only physically but also emotionally and how I choose to live my life," Miller said. "One of the biggest things is I have a love for the gym now and working out. My goal freshman year to senior year [was] I wanted to be a whole better player than I was as a freshman. That took not only going to practices, but going to working out on my own and working on what I felt like I needed to do to improve my own game. That will always be a big aspect of my life."