ST. CHARLES – Brooke Carlson was expecting high defensive pressure as the clock ticked closer to zero.
Down three with seven seconds left in regulation, the Batavia sophomore somehow found herself open for a three-point attempt.
She swished it to force overtime, and hit two free throws in the extra period to finish off a sensational 22-point, 11-rebound game in Batavia's 54-47 overtime win over St. Charles North.
[ Photos: Batavia vs. St. Charles North girls basketball ]
Carlson's performance under pressure is nothing new. She was coming off an excellent week in south Florida against Florida's third-ranked team on the team's recent trip.
"[Carlson] is at her best when the lights are the brightest," Batavia coach Kevin Jensen said. "It's not a knock on other times but she finds a way to make sure something happens."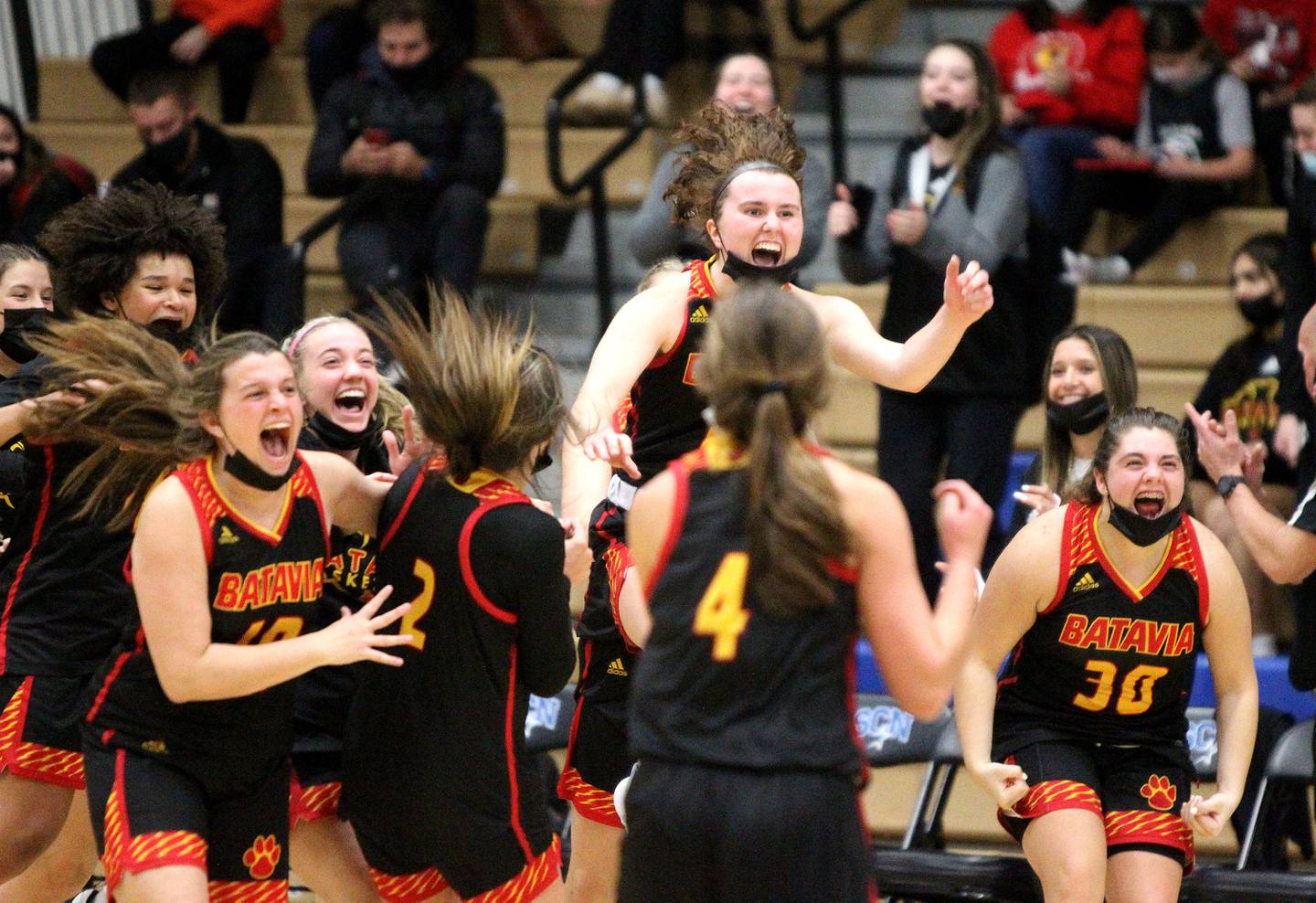 Carlson's big shot made amends for her missed layup with 12 seconds left in regulation that could've tied the game. St. Charles North senior Erin Stack split two free throws at the other end, setting the stage for Carlson's game-tying 3-pointer.
"I don't give up," Carlson said. "There was a lot of chances that I could've got down on myself, but I kept going and didn't let the misses take me down."
The North Stars had some options up three as regulation closed: foul and force Batavia (11-8, 3-2) to make shots at the free throw line, "but the way they rebound and [they've] got [Tessa] Towers in there, you don't want to gamble on an offensive rebound," North Stars coach Mike Tomczak said.
"So, in the end, percentage-wise, if you have a good defender with a hand in her face, you're asking a player [Carlson] to hit a pull-up three, in transition, with a hand on her face," Tomczak said. "That's a low percentage shot. I mean, the kid made a great shot. We didn't do ourselves favors; missing two out of three free throws [with] under 20 seconds. I thought we played well enough to win…"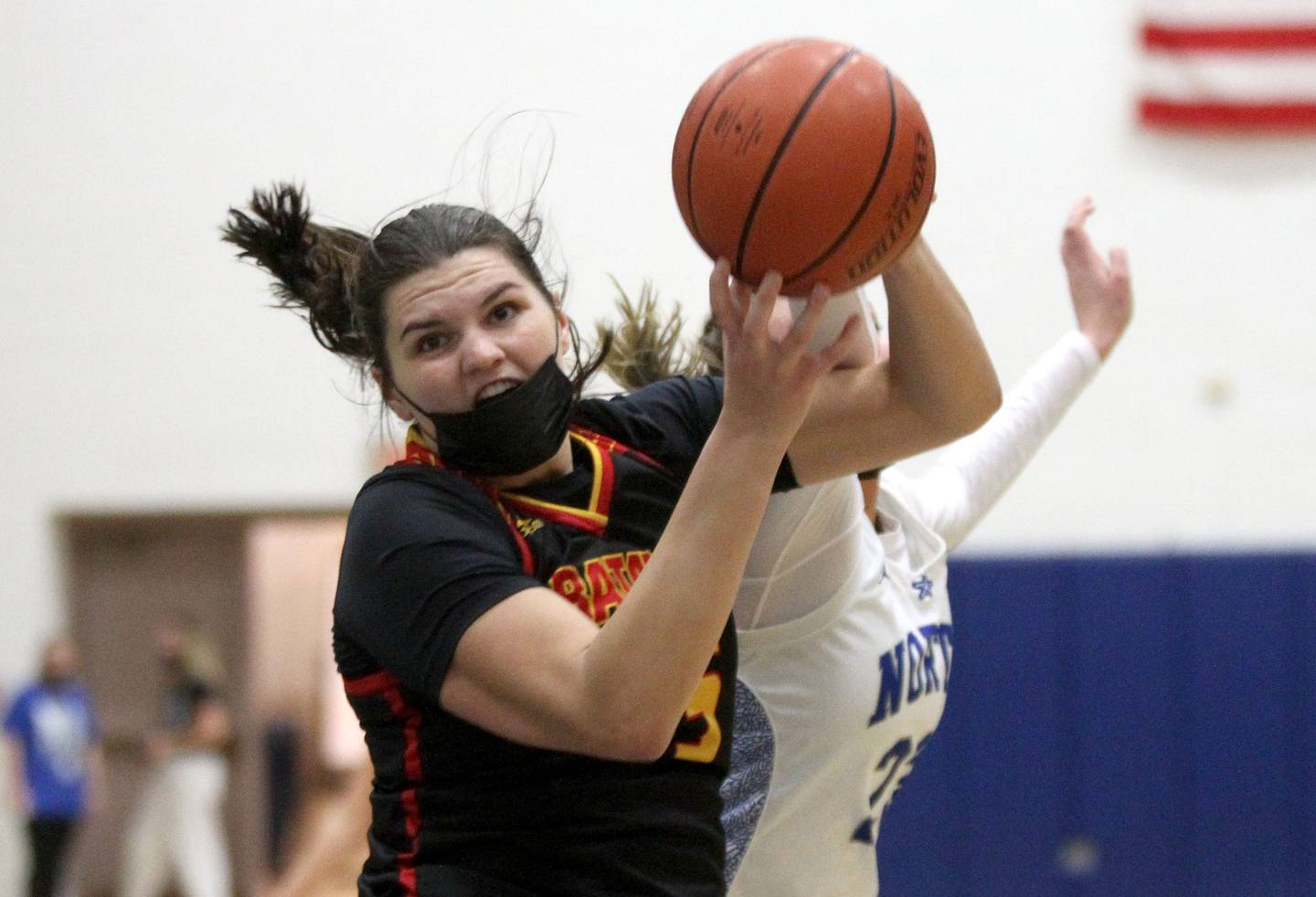 Towers, for her part, hit a pair of crucial layups and had a block in overtime, while the North Stars' only overtime points came from Alyssa Hughes' free throws. Towers, a Wisconsin recruit, finished with 17 points and six rebounds.
St. Charles North had a seven-point lead early in the fourth quarter, but Batavia found a way to close.
The North Stars (9-9, 2-4) were paced by Reagan Sipla's 17 points and nine rebounds. Stack had 14 points and 10 rebounds, while Hughes had five points.
North Stars junior guard Julia Larson played heavy minutes with Hughes battling foul trouble. Larson, who guarded Carlson for the majority of the game, hit a pair of crucial three-pointers in the second quarter to give them a lead. Larson also took a charge in the fourth quarter to force Carlson into her third foul.
Larson finished with six points and three rebounds.
"She's a tough kid," Tomczak said. "She's not afraid of anything. She loves the challenge. She's hard-nosed; she's physical. Her whole family has been that way. We pick up two [Hughes fouls] early and she came in and did the job. I thought our second quarter, we were outstanding. Largely, that had to do with her and her spark off the bench defensively."