PALATINE – Brooke Carlson was a marked player on Saturday.
The Batavia sophomore point guard is rapidly establishing herself as one of the top players to watch in Chicagoland.
After a strong but shortened freshman season, Carlson has joined forces with Batavia senior center Tessa Towers to form the ideal inside-outside duo.
But Carlson's growing reputation led to some tough moments against highly ranked Butler Prep in the Chicagoland Invitational Showcase at Fremd.
The 5-foot-6 Carlson was pushed around, shoved and tumbled to the floor many times against the aggressive and strong Lynx. She suffered an in-game injury to her shooting hand, but returned to the court after a few minutes.
[ Photos: Batavia vs. Butler Prep ]
Each time, Carlson responded by shrugging off the physical play with a smile — and a big play.
Carlson added another chapter to her expanding legacy, finishing with 24 points, six rebounds, five steals and five assists in a 57-54 victory in Palatine.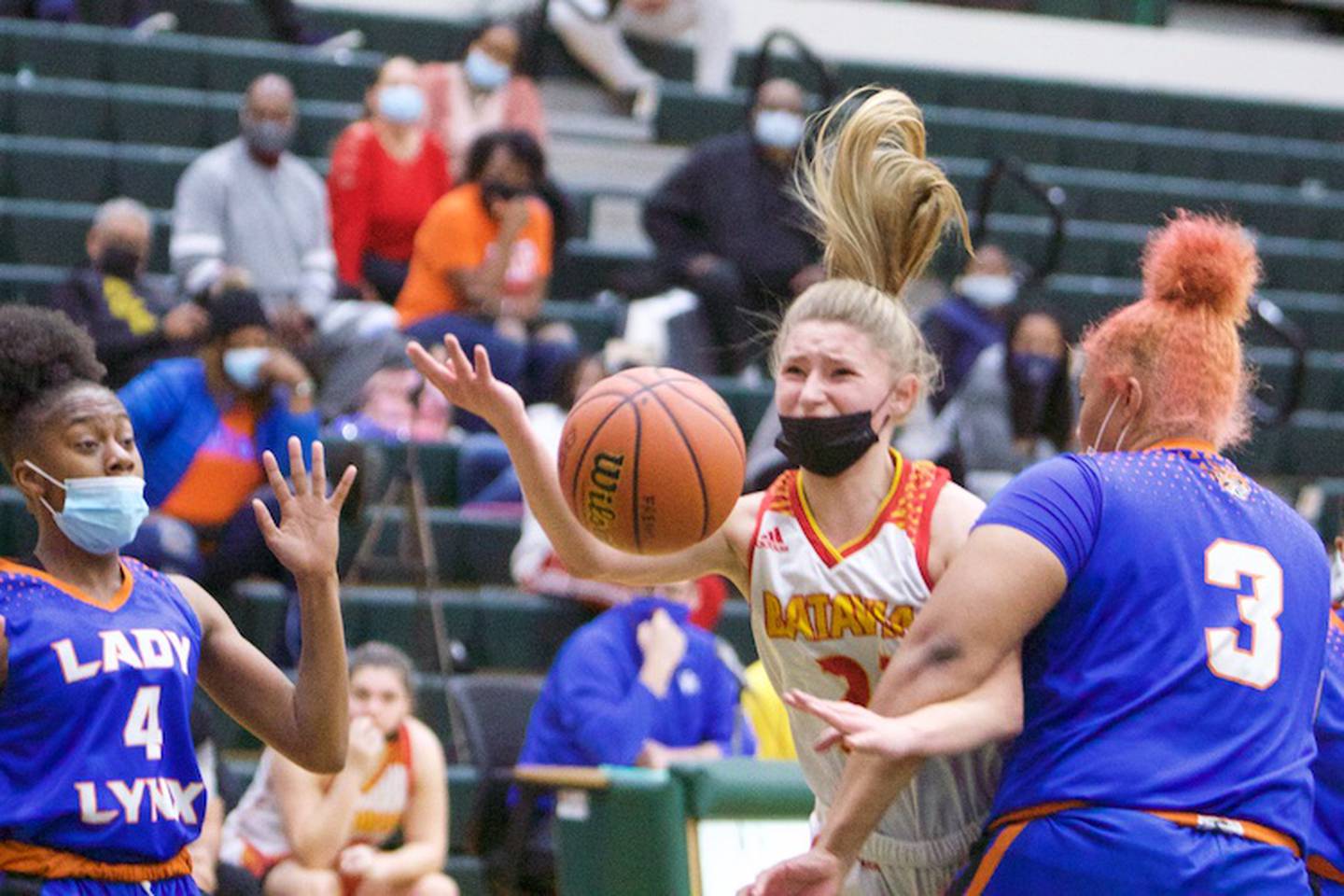 Sophomore Kylee Gehrt sparked the Bulldogs (6-1) with five straight points at the start of the fourth quarter to ignite the comeback. Gehrt scored 12 points and Towers added 10 points, nine rebounds and two blocks to offset a 29-point effort from Butler Prep's Xamiya Walton.
Carlson said it was one of the most physical games of her young career, with the Lynx (6-2) relying on inside players, Christin Brewer and Lanyra McGill, to clog up the paint.
"I learned a lot today," Carlson said. "I wanted to prove to them that I can do it. It was a really fun game, to play a team like that. I have a little bandage. The injury stung a bit."
Carlson sealed the comeback win with five free throws in the final 1:26, including hitting two with 12.7 seconds left. Her defense on Walton on the final possession was crucial, with Walton's potential game-tying shot clanging off the rim.
Carlson set the tone on the second possession of the game, attacking the basket and getting fouled by Brewer. Butler Prep's late foul problems were a crucial factor in its defeat.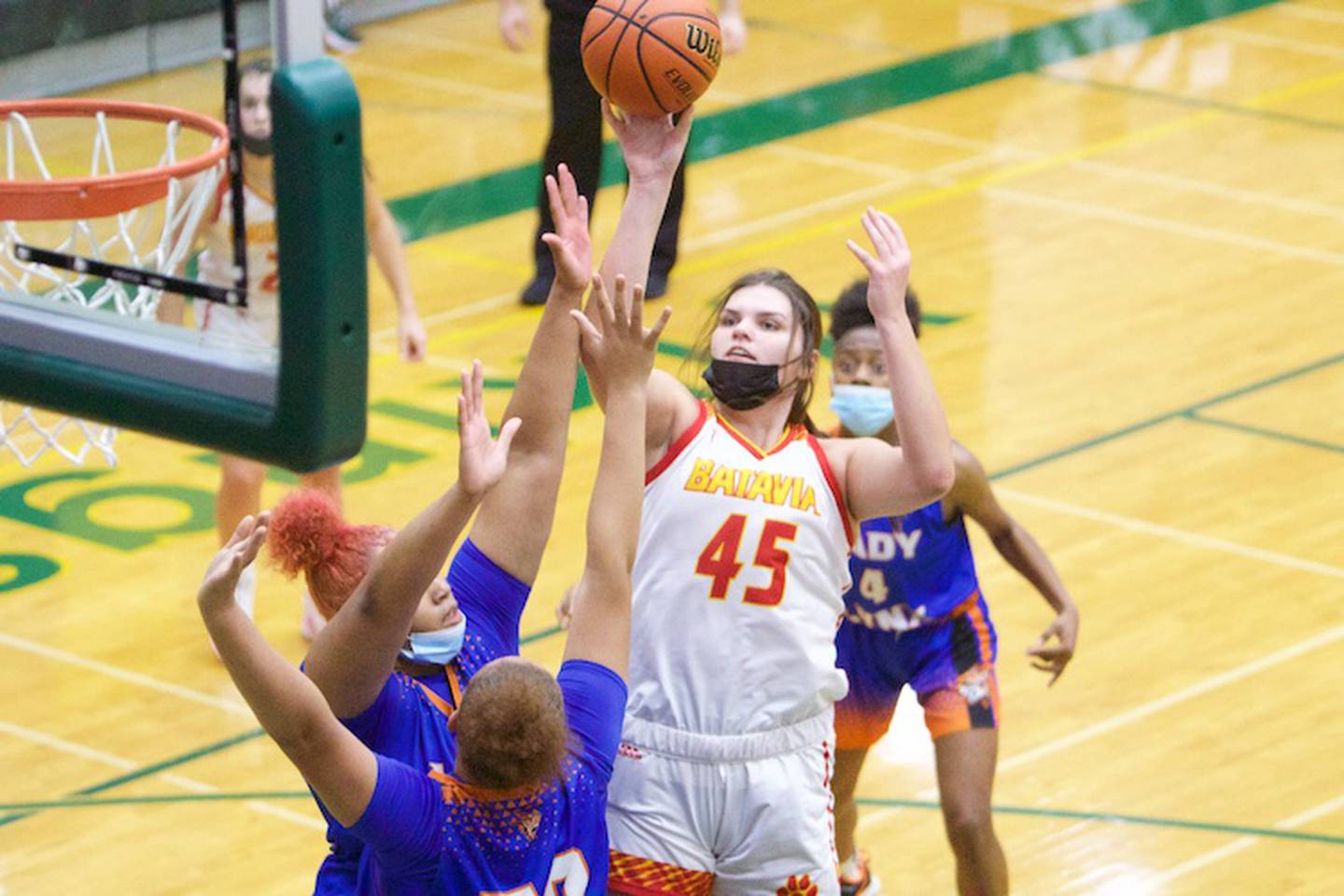 "We just had to keep working and going at them," Carlson said. "They were getting in foul trouble, so we kept taking it at them…We were really well prepared for them. It was really fun. (Xamiya) is a really good player. It was really fun going back and forth with her. She can drive, and she can shoot."
Batavia coach Kevin Jensen said he's no longer amazed by Carlson's ability to handle pressure or affect a game on both ends.
"The better talent Brooke sees against her, the better she looks," Jensen said. "It's almost like she wants to show she belongs, or surpass anything people think I'm going to do. She's going to be at her best when the lights are shining the brightest. She's a pretty special kid."
Towers, a Wisconsin recruit, said she benefitted from testing herself against Butler Prep's rugged post players.
"They had a bunch of players around my height and bigger than me," Towers said. "I learned I can play well against them pretty well. I didn't shoot that much because we all played good defense. This experience will only help me, to play players my size. It was a good challenge for me because I won't see anybody in my conference like them."