Burlington Central
Coach: Collin Kalamatas (third season)
Last season's record: 13-2, 7-0 FVC (FVC Tournament champions)
Top returners: Taylor Charles, sr., F, 6-2; Becca Carani, sr., G, 5-8; Rylie DuVal, sr., G, 5-7
Key newcomers: Emma Payton, so., F, 6-0
Worth noting: The Rockets didn't drop an FVC game last season, going 7-0 in the regular season and 3-0 in the FVC Tournament. Burlington has won its past 20 FVC games overall. … The Rockets won a Class 3A regional title in 2019-20 with a 29-5 record. … Gone is point guard Elana Wells, who was a Northwest Herald All-Area first-team selection after averaging 17.1 points, 4.1 rebounds, 2.1 assists and three steals a game. She is now at NCAA Division II Indianapolis, along with McHenry graduate Liz Alsot and Marengo graduate Marissa Knobloch. … Charles committed to D-I Princeton in June and has established herself as one of the FVC's top players after transferring from Montini last season. She earned All-Area second team honors and averaged 10.7 points, 10.3 rebounds and 3.3 blocks. … Burlington also returns solid scoring from Carani, who averaged 8.9 points a game and made 20 3s. Carani was named All-Area honorable mention. … "We're looking forward to another season of growth and competition," Kalamatas said. "This team is focused on getting better each day and not looking ahead. It's going to be a fun group to watch with a lot of athleticism on the court. We are looking forward to competing every night."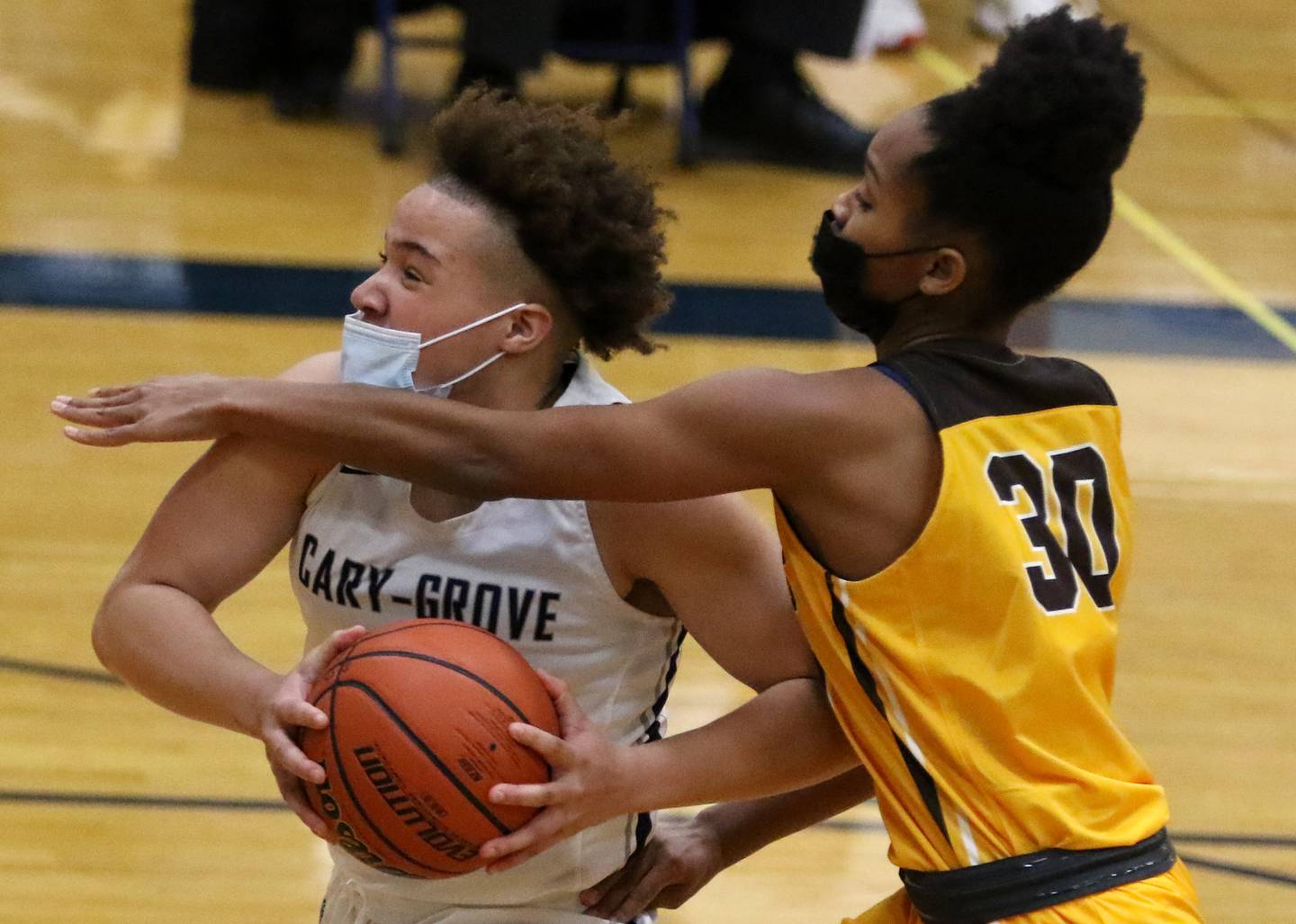 Cary-Grove
Coach: Tony Moretti (third season)
Last season's record: 7-3, 6-2 FVC
Top returners: Emily Lukowski, sr., G-F; Lilliana Kurth, sr., G-F; Avery Nielsen, sr., G; Maddie Scharrenberg, sr., F; Annika Nordin, jr., F
Key newcomers: Emily Larry, so. G-F; Morgan Haslow, so., G; Sam Skerl, fr., G
Worth noting: The Trojans had a six-game winning streak last season but lost two of their final three, including a FVC Tournament quarterfinal loss to Dundee-Crown. C-G ended the season with a win over Hampshire and made a big jump after going 3-15 in the FVC in 2019-20. … Lukowski was an All-Area first-team pick, averaging 15 points, 8.1 rebounds, 2.5 steals and 1.2 blocks a game. The talented senior should reach 1,000 career points this season. … C-G graduated a couple of top players in forward Lauren Passaglia (11.1 ppg, 8 rpg, four double-doubles) and guard Kate Larry, a defensive standout and 2021 Northwest Herald Female Athlete of the Year. … "We will be an athletic and physical team that is really looking to build off of last year's momentum," Moretti said. "We have experienced scorers and some tough young players."
Crystal Lake Central
Coach: Derek Crabill (sixth season)
Last season's record: 4-1, 3-1 FVC
Top returners: Paige Keller, sr., G; Katie Hamill, so., G
Key newcomers: Katie Barth, jr., G; Katie Svigelj, jr., F; Emily Morris, sr., G
Worth noting: The Tigers played only five games last season because of COVID-19 protocols but returned to win their last game over McHenry in the FVC Tournament. … Keller has led Central in scoring in each of the past two seasons and has a chance at reaching 1,000 career points. Last season, she averaged 14.2 points and five rebounds a game. … Hamill was a strong addition to the starting lineup, averaging 8.5 points and six rebounds a game. … A big loss to graduation was Nora Ryan (9 ppg, 7 rpg), who has been one of the team's top producers in recent seasons. Ryan is at Clemson on a rowing scholarship. … Barth is returning from an ankle injury that sidelined her last season. … Morris is a transfer from Hoffman Estates. … Svigelj, whose top sport is softball, brings a lot of defensive energy, Crabill said. … "After losing only two seniors last year, we hope to continue where we left off at the end of the COVID-19-shortened season," Crabill said.
Crystal Lake South
Coach: Mark Mucha (eighth season)
Last season's record: 4-6, 3-5 FVC
Top returners: Kree Nunnally, jr., G; Anna Wiggs, sr., F; Hanna Massie, jr., F; Jess Norwood, sr., G; Olivia Cabrera, sr., G
Key newcomers: Addison Alexander, jr., G.; Nicole Molgado, jr., F.; Amy Kobeluch, sr., F; Mackenzie Resch, so., G.; Carly Gorman, so. G
Worth noting: The Gators beat Jacobs, 53-42, in the FVC Tournament consolation bracket to end their season. South will look for its first winning record since 2014 and 2015, when it earned back-to-back Class 4A regional titles. … Nunnally was an All-Area honorable mention pick as a sophomore and led the team in scoring at 12.1 points a game, adding 7.1 rebounds, 1.5 steals and two assists a game. … The Gators graduated three starters, including forward Brooke Kuffel (5.5 ppg, 8 rpg, 3.5 apg, 2 spg), who went to Wisconsin for softball, as well as guards Ava Sevcik and Emily Rich. … "We lost some very important seniors, but have a good group of athletes with experience and youth ready to complete in the FVC," Mucha said.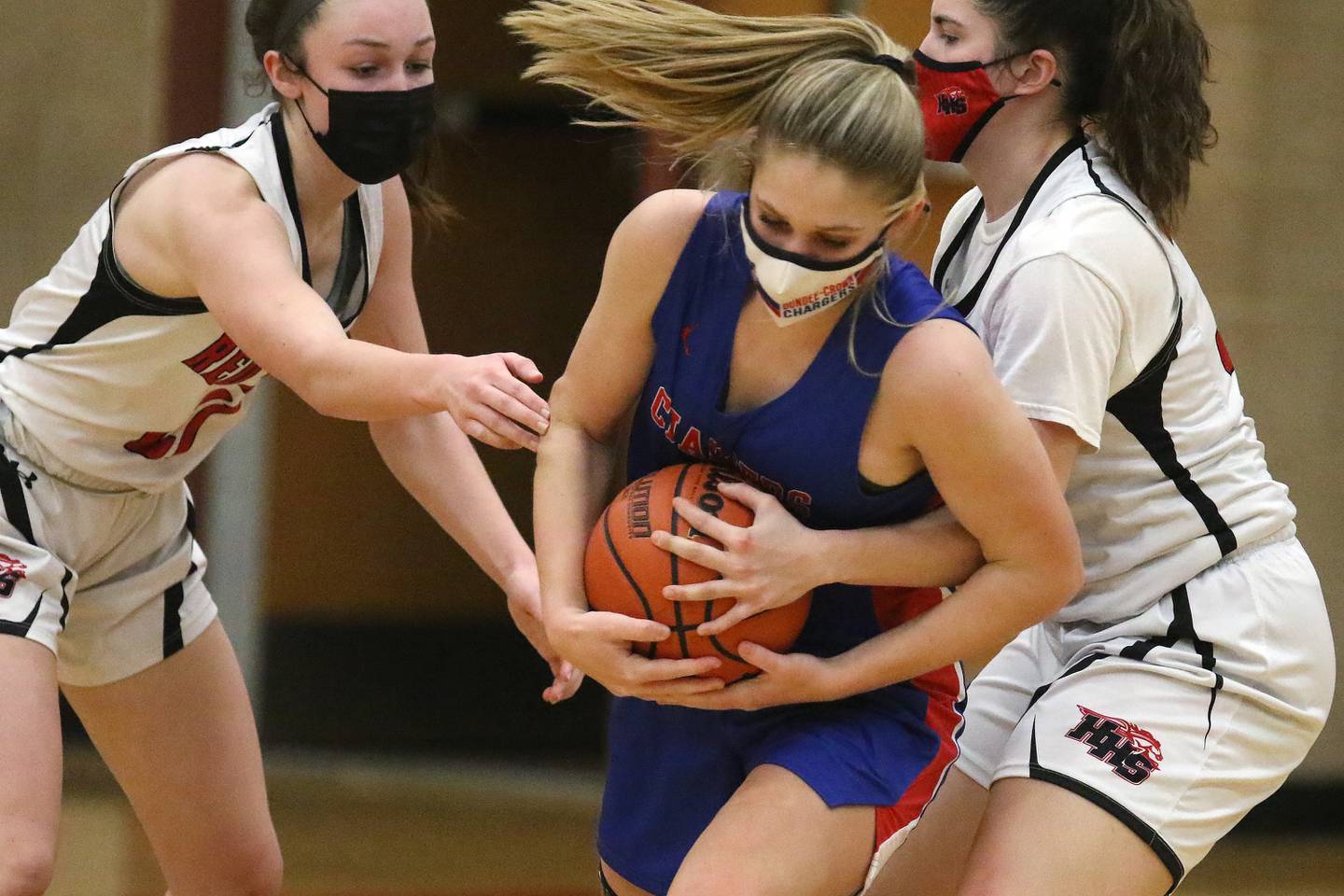 Dundee-Crown
Coach: Sarah Teipel (ninth season)
Last season's record: 6-6, 2-3 FVC
Top returners: Kate Raby, sr., G, 5-8; Marisol Gutierrez, sr., G, 5-6; Kendall Brents, jr., F, 5-9
Key newcomers: Monica Sierzputowski, so., F, 6-0; Erica Batad, sr., G, 4-11; Markasia Harthrone, sr., G-F, 5-3; Marrasia Harthrone, jr., G, 5-6; Anaya Hurdle, jr., G, 4-11; Mikayla Saas, so., F, 5-8; Thea Mercado, so., G, 5-3; Ava Gatenby, jr., G, 5-1; Eliza Olvera, sr., G, 5-0
Worth noting: D-C ended the last season with a win over Prairie Ridge to finish at .500 and take third in the FVC Tournament. ... Graduate Alyssa Crenshaw, an All-Area first-team pick, was among only a few of players to average a double-double at 15.6 points and 10.8 rebounds a game. She is now at NAIA St. Xavier University. Gianine Boado also graduated and was an All-Area second team pick. She averaged 14.9 points a game and sank 23 3s. Boado is at Morton College in Cicero. … "Excited for this upcoming season," Teipel said. "The girls have been working hard, and have been committed to a teamfirst attitude in all that we do. Looking forward to having a competitive year and lots of fun with this team."
Hampshire
Coach: Eric Samuelson (third season)
Last season's record: 2-10, 1-7 FVC
Top returners: Katie Heine, sr., F, 5-7; Kaitlyn Milison, jr., F, 5-10; Alex Montez, jr. PG, 5-0; Ceili Ramirez, jr., G-F, 5-3; Lia Saunders, jr., G-F, 5-4; Avery Cartee, so. G-F, 6-1; Ashley Herzing, so. G, 5-7
Key newcomers: Claudia Kuk, so., G, 5-5; Jaden Szymonik, so., G, 5-4; Whitney Thompson, so. G-F, 5-9; Chloe Van Horn, fr., F, 5-0
Worth noting: The Whip-Purs struggled to stay healthy last season and only had forward Kelby Bannerman, now at D-I Davidson, for five full games. She led the team at 14 points and 8.8 rebounds a game. Their other top scorer, Jessie Dumoulin (9.2 ppg), also graduated and is playing at Elgin Community College. … Herzing was second on the team with 10 3s. … Ramirez, who has been on varsity since her freshman year, will be out to start the season with a knee injury. … Samuleson said this is the most balanced team he has had in 11 years of coaching high school basketball. … "We're incredibly excited to watch this young team grow and come together," Samuelson said. "They are getting tougher each practice and are extremely coachable. Their passion for the game is evident in the amount of AAU and offseason work they've put in. Every single one of them wants to be a great teammate."
Huntley
Coach: Steve Raethz (23rd season)
Last season's record: 10-4, 7-1 FVC (FVC tournament runner-up)
Top returners: Jessie Ozzauto, jr., G, 5-10; Jori Heard, sr. F, 5-11; Sammi Campanelli, jr., G, 5-9; Nicole Flaherty, sr., G, 5-4; Ally Braaten, sr., F, 5-11; Carley Faulkner, jr., G-F, 6-1
Key newcomers: Ashlyn Horton, jr. F, 5-10; Morgan McCaughn, jr., G, 5-7; Mallory Winters, jr. F, 5-10; Alyssa Koop, jr., G, 5-8; Anna Campanelli, fr., G, 5-9
Worth noting: The Red Raiders were conference runner-up in both the regular season and FVC Tournament to Burlington Central. Huntley graduated its top scorer, Kamsi Nwogu (11.4 ppg), an All-Area second-team pick. ... Ozzauto can score from all over and was second on Huntley in scoring at 8.4 points a game. Faulkner was third at 8.2 points a game, but is out for the season with a torn ACL. She also suffered a torn ACL (to her other knee) in the summer before her sophomore season. Ozzauto and Faulkner were All-Area honorable mention picks. ... The Raiders won their 10th regional title in 2019, their first since 2016. ... "I think the opportunity is there for us to be a very competitive team this year and our players are excited for the chance to compete," Raethz said. "We will continue to focus on intangibles and playing solid defense and doing the little things to put us in a position to win."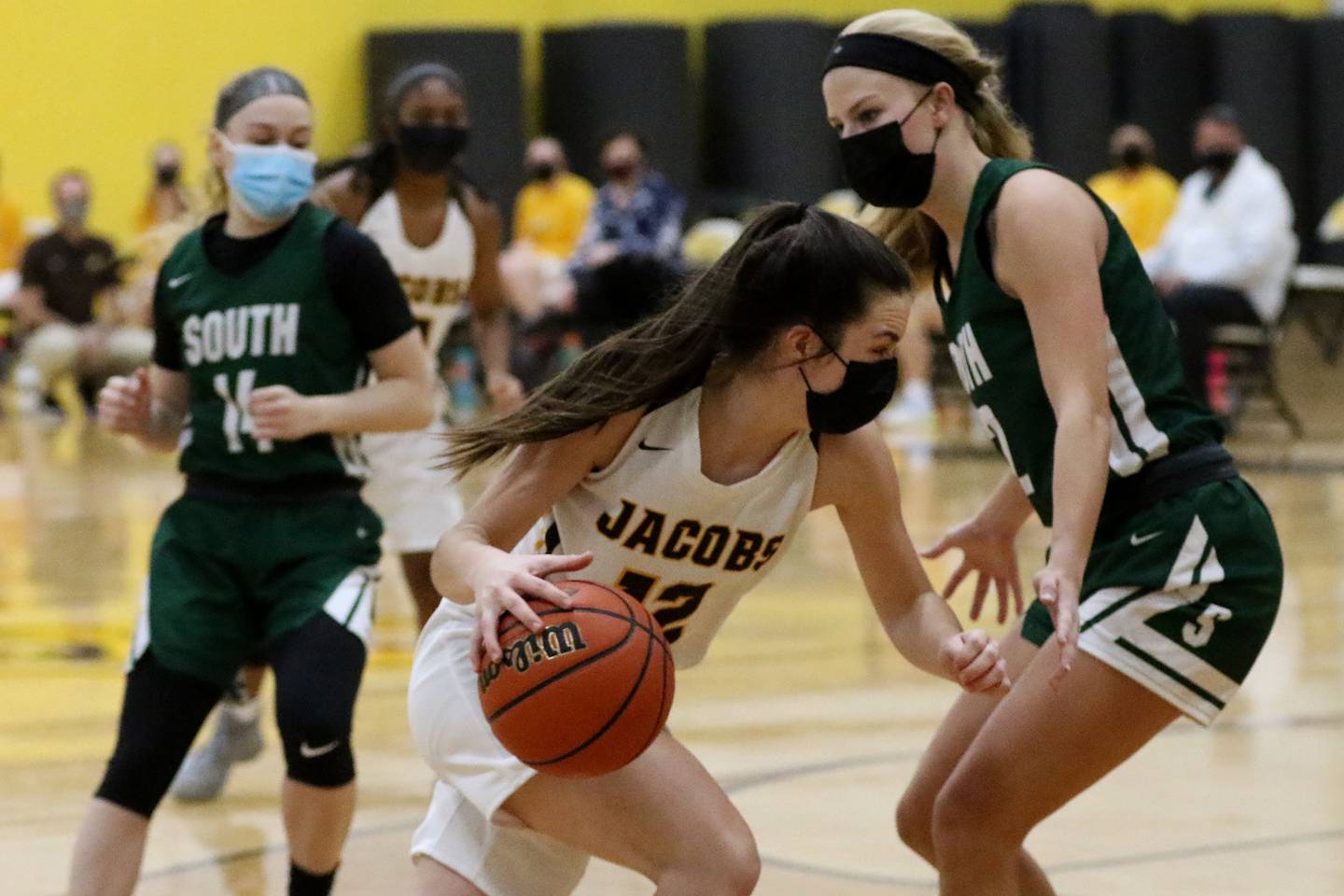 Jacobs
Coach: Jonathan Reibel (fourth season)
Last season's record: 1-9, 1-7 FVC
Top returners: Mackenzie Leahy, sr., G, 5-8; Bridget Grady, sr., G, 5-9; Arianna Corrado, jr., G, 5-7; Janae Gillus, jr., G, 5-3; Ella Tamburrino, sr., G, 5-8; Addison Gurney, sr., F, 5-8; Janaya Banks, sr., F, 5-7; Ariba Rasool, sr., F, 5-6; Leslie Argomaniz, sr., F, 5-6
Key newcomers: Ella Anderson jr., F, 5-11; Kylie Marbury-Savage, jr., G, 5-7; Brooke Farr, sr., G, 5-3; Anelise Rodriguez, jr., G, 5-4
Worth noting: The Golden Eagles have a lot of varsity experience back with only four graduated players from last season. … Leahy had her best season yet, averaging 13.9 points, 6.5 rebounds, three steals and two assists a game and earned All-Area second-team honors as a junior. She made 76.9% of her free throws and shot 40% from the field. Leahy and Grady will serve as team captains. … "We have a lot of returning players, which makes this one of the most experienced teams we have had in the last several years," Reibel said. "We also have more depth than we've had in the past, which allows us to play many different lineups. Mackenzie and Bridget have been great in terms of getting this team ready to compete for a conference and regional title."
McHenry
Coach: Rob Niemic (eighth season)
Last season's record: 4-9, 2-6 FVC
Top returners: Alyssa Franklin, sr., F, 5-11; Ana Gerstung, so., G, 5-6; Emerson Gasmann, jr., G, 5-9
Key newcomers: Maddi Friedle, jr., F, 5-11; Lynette Alsot, jr., F, 6-0
Worth noting: McHenry had its first losing season since 2015 after averaging 24 wins over the previous three seasons. … The Warriors graduated their top scorer, Ashley Wachter (Illinois-Springfield), who averaged 12.6 points a game and had an area-high 40 3s. … Franklin was tough inside and averaged 8.8 points and 7.9 rebounds a game and Gerstung had a standout freshman campaign at 7.8 points and 2.9 assists a game. … "This group is tight knit and fun," Niemic said. "Our depth is a question that could challenge us. The one tangible goal we always have is to never lose two in a row. Our big-picture goal is to be playing our best basketball in February and make a run at a regional championship."
Prairie Ridge
Coach: Tim Taege (fourth season)
Last season's record: 5-7, 4-4 FVC
Top returners: Kelly Gende, sr., F; Vanessa Holtz, sr., F; Karsen Karlblom, sr., G; Elani Nanos, sr., G; Breanna Pollack, sr., G
Key newcomers: Brooke Benjamin, jr., G-F; Gianna Bruggeman, jr., G; Makayla Dietz-Paolelli, jr., F; Abby Kay, jr., G-F; Grace Koeppen, jr., G; Amanda Mueller, sr., G; Mackenzie Nelson, sr., G; Izzy Pollastrini, jr., G; Molly Wacaser, sr., G
Worth noting: The Wolves had a losing record overall but made it to the FVC Tournament semifinals and took fourth, falling to Dundee-Crown, 43-41, in a competitive third-place game. … Karlblom led all area players last season at 19.4 points a game. She also had an area-best 88.9% free-throw percentage and was second with 39 3s. Karlblom was an All-Area first-team pick and will play next year at D-III Hope College in Michigan. … Graduate Emma Kay (5 ppg) was the next highest scorer. Prairie Ridge also graduated its top rebounder, Alani Mocchi (7.1 rpg). … Gende was second on the team in rebounds (6.7 rpg) and she also led in assists. … "We've never had a more productive summer and our team continues to grow stronger," Taege said. "Our group is hungry and will be ready to compete."