ST. CHARLES – Josh Duncan's final day of high school finished perhaps the only way he knew how.
With a literal bang.
Duncan, St. Charles North's senior sprinter, already owned the state's top 100-meter dash time – 10.52 seconds – entering the Class 3A St. Charles North Sectional on May 19.
[ Photos: Class 3A St. Charles North sectional boys track meet ]
Duncan ran so fast – a blistering 10.31 seconds – he toppled over the fence to stop his immense force in blazing glory. It tied as a top-21 time nationally for high school varsity male 100-meter times, according to Athletic.net.
"I'll tell you this: I couldn't have done it without my classmates," Duncan said. "It's [precious] because you never know when you're going to see these individuals again. For them to come out the way they did today and show up and support me, I give all the credit to them."
Wheaton Warrenville South's Reece Young was practically neck and neck with Duncan to finish second in 10.40 seconds, the state's second-fastest time. St. Charles East's Josh Evans (10.88) took third, North Stars sprinter Campbell Hughes (10.88 seconds) was fourth, and Dundee Crown's Henry Kennedy (10.89) rounded out the wild 100-meter dash qualifiers.
Duncan blazed again to a 200-meter dash title with a 21.24-second finish.
"I ran for [my teammates]," Duncan said. "I ran for my school. To come back from my injury [from last year], I just wanted to make a statement. Say, you know what, I was down, but I'm not out. Because I had a support system, my family, my teammates and classmates who said Otis, you got this. ... I give all the credit to them."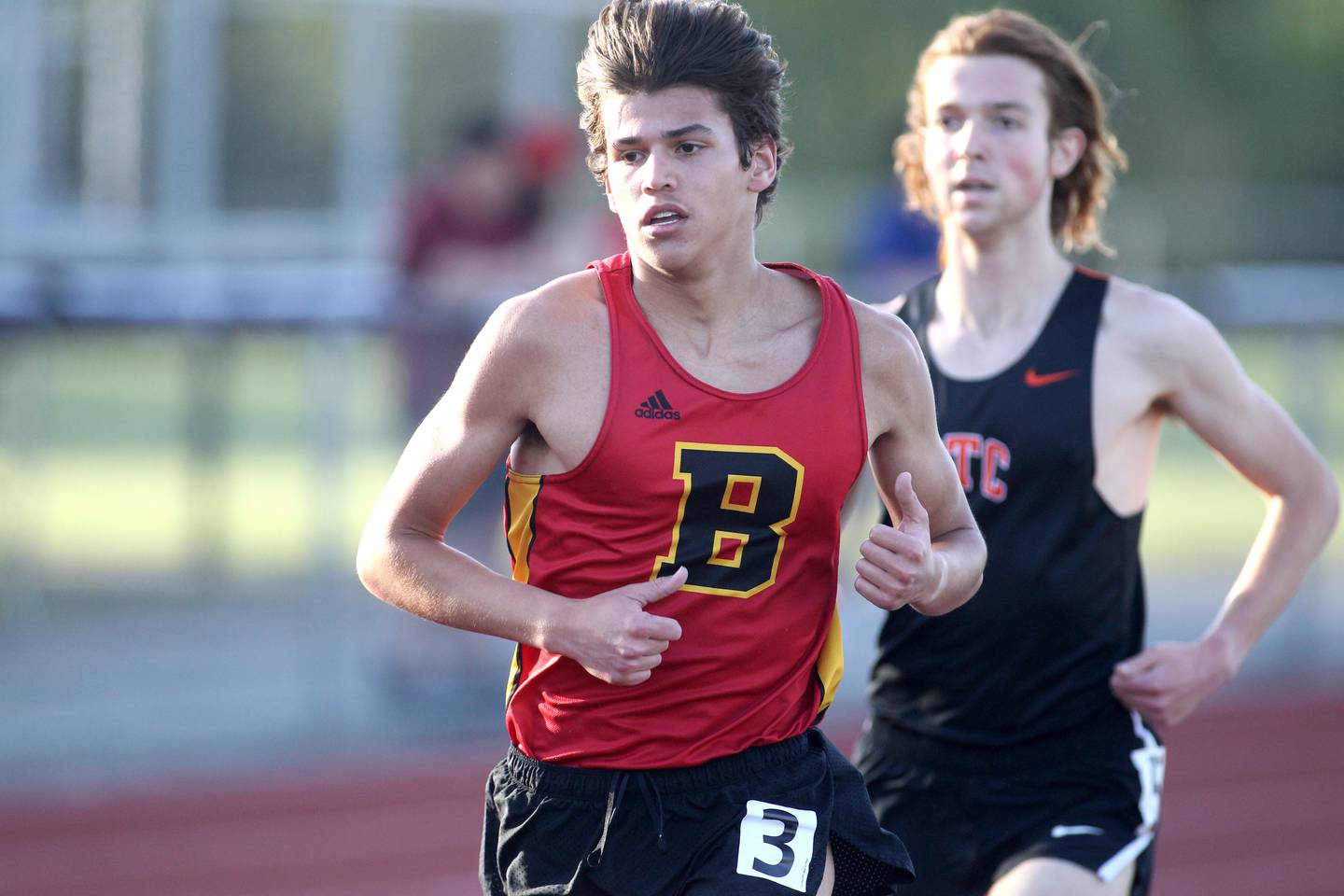 Batavia, an outdoor season juggernaut, turned in another dominating team performance.
The Bulldogs cleaned up in the relays, advancing the 4x100 (42.25 seconds), 4x200 (1 minute, 28.2 seconds) and 4x400 (3:22.55) to state to fly to a sectional team title.
Batavia also qualified numerous athletes – Scot Parker in the 200 (21.65 seconds), Alec Crum in high jump (1.80 meters), Quintin Lowe in the 3,200 (9:33.54), triple jumper Jalen Buckley (13.95 meters) and Spencer Prats (49.53 meters) in discus.
Jonah Fallon (48.97 seconds) and Jacob Hohmann (49.59 seconds) both qualified in the 800. Nick Fortino (4.73 meters) and Gabriel Benkers (4.17 meters) both qualified in pole vault.
"Everybody just goes out there every day and just works hard," said Lowe, an 800 state qualifier last year. "That's pretty much it."
Buckley also will be making a return trip to Charleston.
"It's just hard work, perseverance and having fun, honestly," Buckley said. "Every day in practice, we just go in with a positive mindset, have fun and all we do is work hard. I think, for us, [the team camaraderie] is more than just [about] track. It's friends that we're going to have for a long time. It's friends we're around every day in school and track is just a hangout spot, [an outlet]."
North Stars pole vaulters Logan Turney (4.24 meters) and Charles Alegra (4.16 meters) both qualified. Paolo Gennarelli qualified in discus (48.97 meters) and shot put (17.02 meters).
"It's really refreshing to know my whole season built up to this moment," said Alegra, a first-time qualifier. "And finishing on my third attempt, getting that and seeing everybody be happy is just insane."
"Last year, I PR'd at 13-6. Going to sectionals and missing it by two inches was pretty heartbreaking," Turney said. "But getting it here [on] the second attempt and getting it out of the way – PR'ing at 13-11 is [really fulfilling]."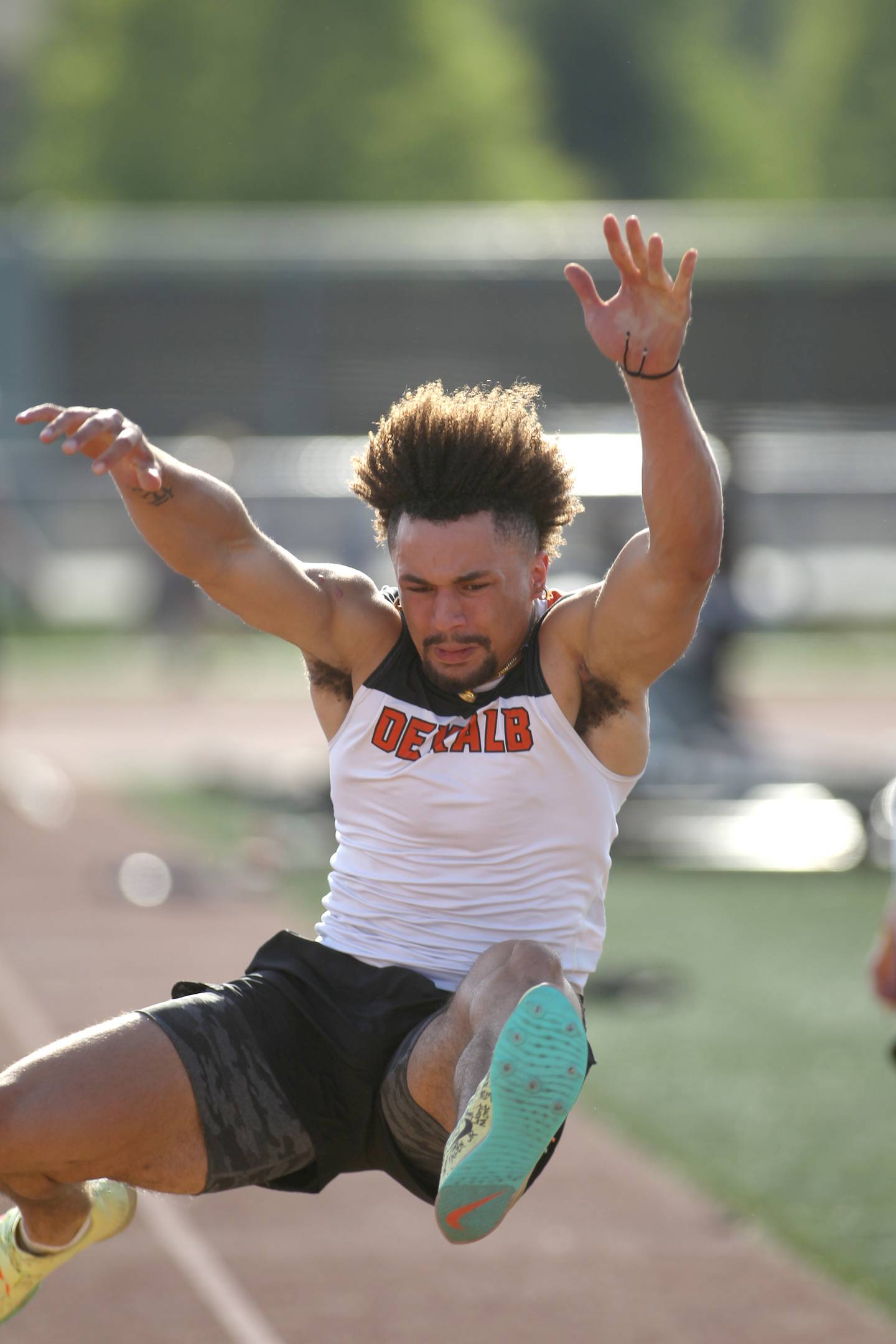 St. Charles East senior distance runner Micah Wilson will defend his state title in the 3,200 (9:18.44) and also compete at state in the 1,600 (4:24.28). Ethan Heilers qualified in high jump (1.85 meters), Joseph Xotla qualified in the 800 (1:59.54) and Josh Perry qualified in the pole vault (4.17 meters).
DeKalb long jumper Toriano Tate qualified for his second trip to state with a 7.01-meter leap. Tate previously beat his school record last week.
"It's kind of what was expected going in," Tate said. "Just making sure I'm on the board and hitting my mark and qualify. I scratched my first attempt, so I only did two. … I didn't really feel too good last week and I didn't feel too good this week [physically]. My leg got locked up a little bit in the 4x100 [relay] so I scratched 4x200. Hopefully, my teammates [get] down there so I can be in the 4x200 with them."
The Barbs will send Riley Newport in the 1,600 with a 4:22.00 finish and three relays: 4x100 (42.40), 4x200 (1:29.38) and 4x400 (3:24.36).
WW South's Zach Marisco finished first in discus (50.94 meters) and second in shot put (16.67 meters). Long jumper Owen Haas (6.87 meters) qualified for the state, and the Tigers also will send their 4x100 relay (42.21 seconds).