WHEATON – Jalen Buckley concedes that he first came out for track as a freshman just to stay in shape for football.
The Batavia senior and Western Michigan football recruit tried jumps his sophomore year and found he was pretty good at it. He stuck with it. Buckley took 10th in the state triple jump last spring, but it's been no overnight climb.
"It definitely took time. Freshman year, I didn't know what I was doing," Buckley said. "Sophomore year was a little better. Junior year, I was like, OK, got to state, didn't go as planned. This year I just wanted to come out and learn from the best."
Buckley clearly learned well.
He broke LaMarr Justice's 31-year-old school record in the triple jump May 13 at the DuKane Conference meet at Wheaton Warrenville South, soaring 47 feet, 1.75 inches (14.37 meters). Buckley's victory was one of four wins for team champion Batavia, which matched its indoor DuKane championship.
In besting the record previously held by Justice, who coincidentally helps coach him, Buckley beat last year's state triple jump runner-up Desmond Horton of Lake Park and posted the state's second-best mark this year. Buckley's state mark is behind only Horton, who won the long jump May 13.
"After a couple of not great weeks, I cleared my head space for this meet," Buckley said. "I said I had to go get it and went out and got it."
Batavia, which also won the 4x100 and 4x400 relays and got a win from Jacob Hohmann in the 400, scored 157 points to beat Wheaton Warrenville South (119). Wheaton North (112.5) was third and Lake Park (104) took fourth.
While the horizontal jumps featured two of the state's best jumpers, the showdown of perhaps the state's top two sprinters was delayed. St. Charles North's Joshua Duncan, owner of the state's top 100, didn't run in that race against fourth-ranked Reece Young of WW South.
With a blistering 21.10-second showing in the 200, Duncan ran the state's fastest time in the night's penultimate race. Duncan didn't run the 100 on May 13 because he wanted to put up a better seed time in the 200.
"It's humbling," Duncan said. "Last year I was in a dark place. I had a hamstring strain at state. I worked so hard and to get injured on the biggest stage was devastating. Coming in here, this run, I'm beyond grateful. Still have two meets left. I want to run to my potential."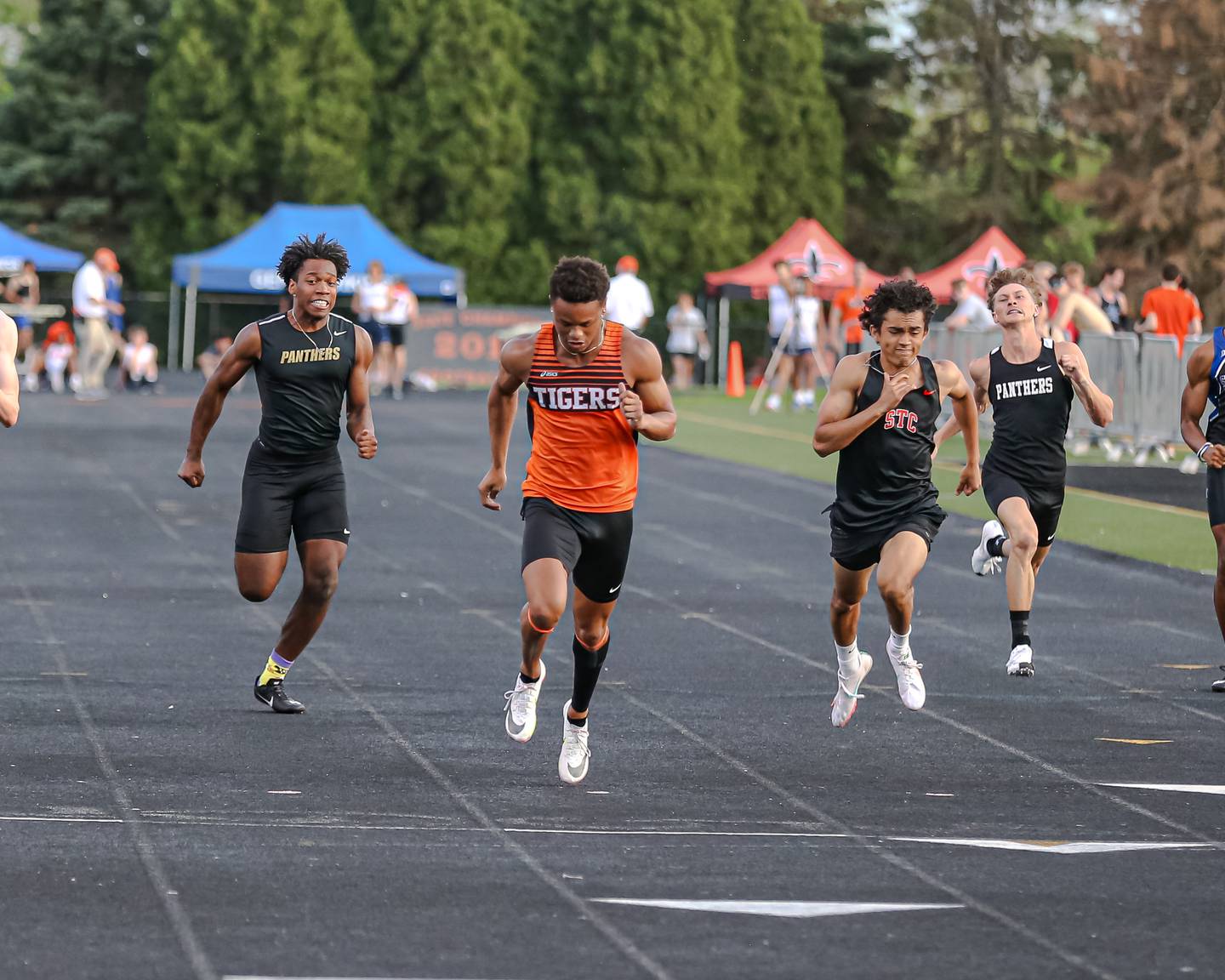 Young's 21.36 represents the state's second-best 200 time.
Without Duncan in the field, Young took the 100 in 10.75 seconds, two-hundredths of a second slower than his PR at county that is the state's fourth-best.
"200, I feel fine, I didn't run it clean, I needed a better start," Young said. "I was personally looking forward to racing him in the 100. We'll see it next week."
Horton could be poised for big things in the long jump. He soared to a mark of 7.13 meters (23 feet, 4.75 inches), fourth-best in the state, to win the event May 13. He's been bothered by knee soreness during the outdoor season, but feels he's back to where he was during the indoor season.
"Felt really great, knees were perfect, I liked my run through and I liked how I came off the board," Horton said. "The weather was nice, perfect for me to jump tonight. I loved it. I'm better and in perfectly fine condition. Body is used to going outdoors now."
Hohmann, who teamed with Scot Parker, Vincie Solano and Jonah Fallon to win the 4x100 relay in a personal record 42.57 seconds, later broke out fast in the 400 to beat teammate Fallon in a time of 49.30 seconds.
"I just really wanted to get out hard," Hohmann. "I've been training a lot of strengths. I'm usually a sprinter, but I've been doing a lot of 800s. The 400, it's my favorite even though it's a tough race. It's one of the only races that's almost more mental than physical."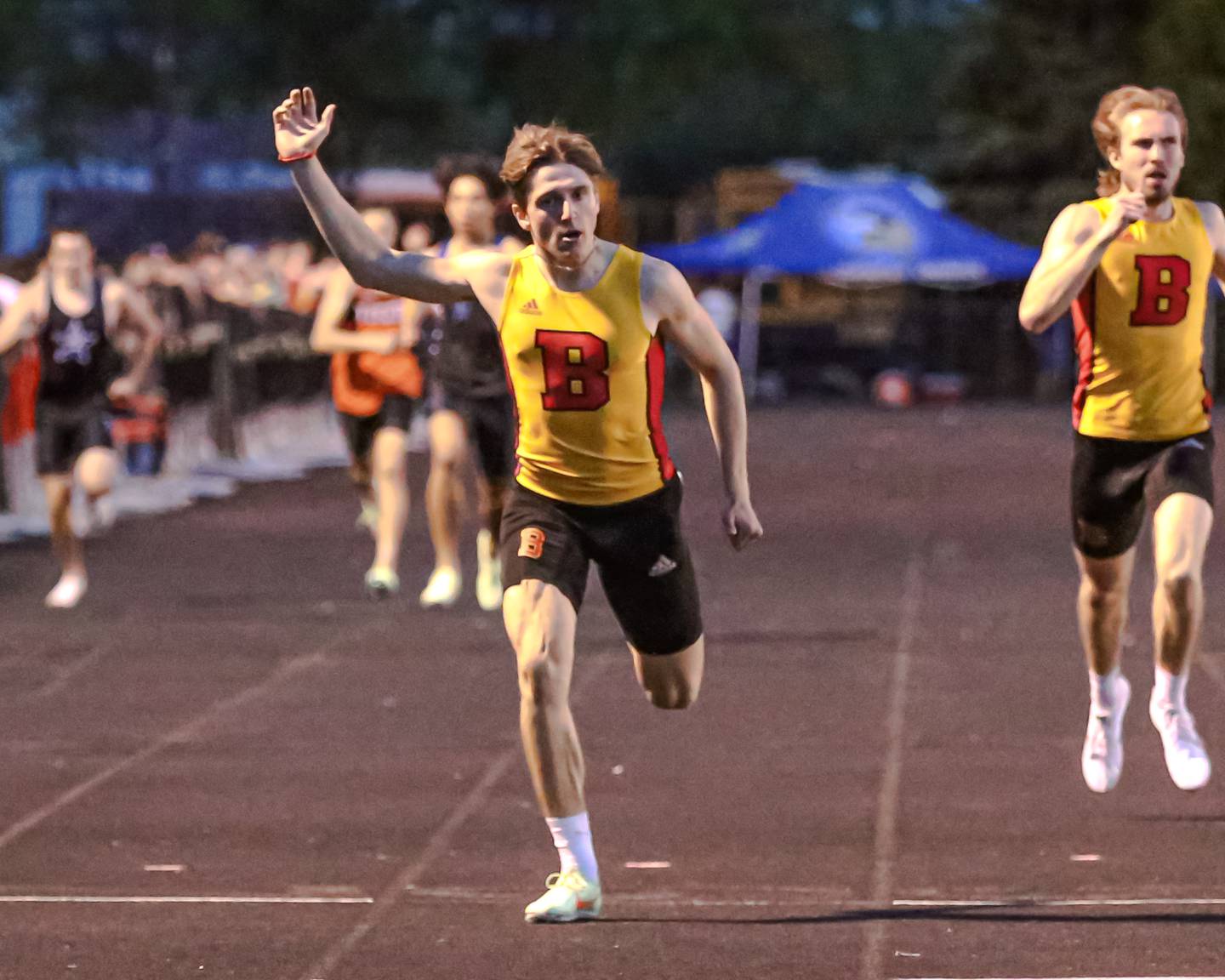 In the biggest runaway, Wisconsin recruit Micah Wilson of St. Charles East beat his closest pursuer in the 1,600 by more than 15 seconds. Wilson's 4:15.09, a three-second PR, just missed the school record of 4:12 held by former teammate Luke Schildmeyer.
"It's the fastest I've run this year – I'll take it," Wilson said. "I didn't get the school record but I have two more shots. I love Luke, he's a great guy and was a great teammate."
Wilson didn't run the 3,200 – he's run it sparingly outdoors this year – but plans to do the double at sectionals.
"It'll be tough, but I think I can get it," Wilson said.
Wheaton North's Ryan Schreiner, an Iowa commit, preceded his runner-up finish in the 1,600 by taking the 800, his specialty, in 1:56.15.
"The first 100 was pretty relaxed, but as soon as I saw the Batavia kid up there I said it's time to go," Schreiner said. "I had to make up some distance and had a little extra at the finish."
Other winners included the WW South 4x200 relay (1:31.78) and 4x800 relay (8:22.62), Batavia's 4x400 relay (3:27.86), Wheaton North's Daniel Lang in the 110 hurdles (15.24), Lake Park's Aidan Killmer in the 300 hurdles (40.44), Geneva's Brady Ahern in the 3,200 (9:39.78), Lake Park's Lucah Jones in the discus (54.30 meters), Lake Park's John Turner in the high jump (1.85 meters), St. Charles North's Paolo Gennarelli in the shot put (17.96 meters) and St. Charles East's Joshua Perry in the pole vault (4.32 meters).