GENEVA – For Lake Park, unselfish basketball means winning basketball.
Seemingly every offensive possession, all five Lancers get a few touches as they swing the ball around. Whether someone scores 30 or five points, the impact by all is still felt.
Combined with tenacious defense, it translated to a 41-30 win over Geneva on Wednesday night in the DuKane Conference.
[ Photos: Geneva vs. Lake Park boys basketball ]
In doing so the Lancers (12-3, 6-1), bounced back from a loss to Wheaton Warrenville South Saturday night.
"We feel like we have a lot of weapons that can score, so nobody needs to force anything," Lake Park coach Billy Pitcher said. "We can make that next pass, trust your teammate and give up what we think is a good shot for a great shot."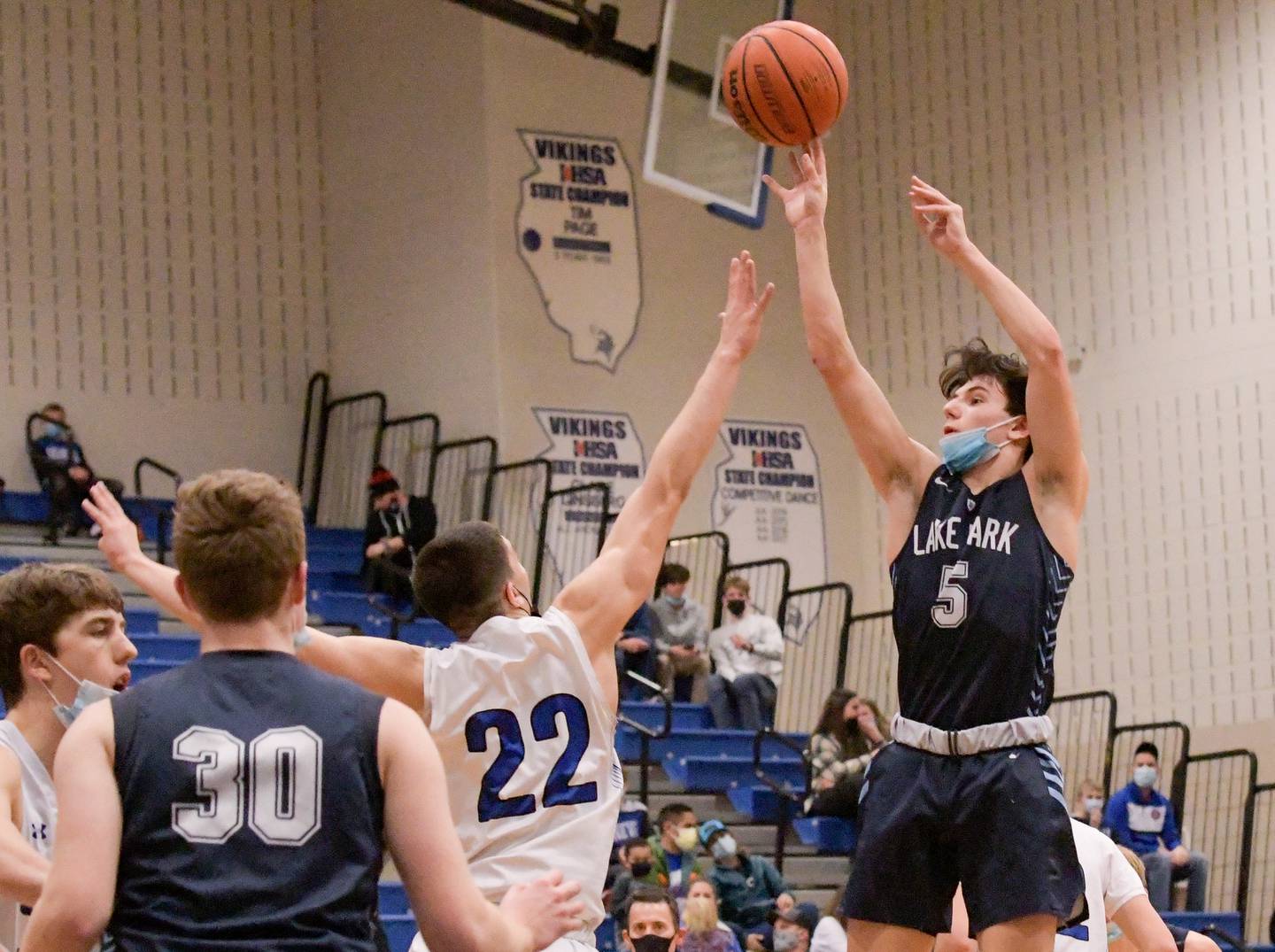 Lancers senior guard Vito Lagioia knows anyone is capable of scoring. On Wednesday, it was Sebastian Blachut's turn to lead with 12 points.
"I love my team. We're all unselfish," said Lagioia, who had 11 points and five rebounds. "We know what is a good and a bad shot. None of us care about how many points [individually] we score a game. We're here to play basketball. We're here to win."
Lagioia, a third-year varsity guard, handles his primary objective of running the offense, but it's evident defense and rebounding are areas he enjoys.
"I love to play defense, Lagioia said. "I'm going to do everything in my power to be aggressive. I love contact. I will do anything to go get that ball in my hands: set the offense, get everything going, get shots open. Just how I roll."
Lagioia has carried over his love to play defense in each season.
"He's always been a guy who just loves to play defense and loves to rebound," Pitcher said. "He's in great shape. He's quick, strong, athletic, can jump. All of those things really help. He loves contact…he's had some huge rebounds in his career. Just really gets up there and snares in rebounds. We're undersized, [so] having guards that are strong and can jump like that and have that tenacity [pays off]."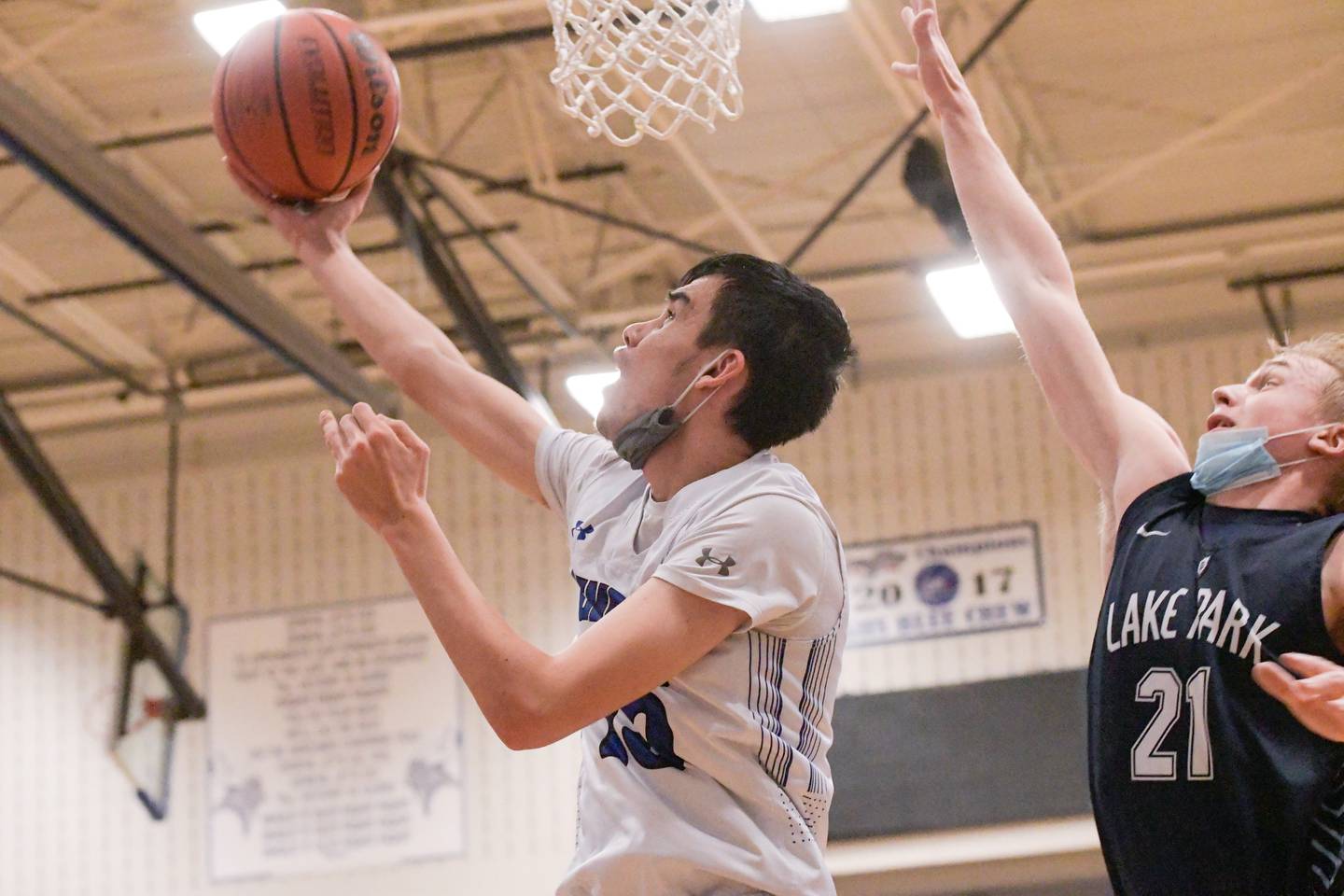 Geneva (9-7, 2-5) held Lake Park to its lowest point total in a victory this season, but was ultimately unable to claw past a six-point deficit with 1:20 left in the fourth quarter on Chris Suger's three-pointer.
"We didn't shoot it great. I thought defensively we did a nice job," Geneva coach Scott Hennig said. "I thought [Blachut] controlled the whole game. I thought he was really active defensively. I thought he was a lock-down defender. I thought he was able to attack gaps."
"…[Lake Park] is kind of like Wheaton South. They're the kind of the man [defense] version. The thing that I've always been impressed with with Lake Park and Billy's teams since he's been there: They don't beat themselves. They make their free throws, they rebound the ball. They turn it over a little bit, but I think they're a team that is so solid fundamentally. We just can't have those mistakes that we had."
Geneva was paced by Max Jensen's 15 points and five rebounds, while Mick Lawrence had five points.
"I thought we played really hard. I thought we dived on the floor. I thought Max Jensen was playing awesome," Hennig said. "I thought Ryan battled."