Nathan Valentine's performance on the court was never for his personal benefit.
The Geneva guard just wanted to win at any cost.
"It was never about me motivating myself to average 20 points. It was never about my stats. It was always [a] motivation to win," said Valentine, a senior. "Do whatever it took to win."
As a sophomore, Valentine watched Jack McDonald and Mitch Mascari guide the Vikings to a 32-2 season and a Class 4A sectional championship.
"Most of that year, we would lose on sophomore and they would go, 'Oh, yeah, we're undefeated. We're undefeated,' " Valentine said. "It was so motivating to watch them succeed at such a high level, and I didn't want to just average just 20 points. What I wanted to do was just to win.
"Whatever it took. If it took 20 points, if it took shooting a high percentage, sure, but for me, my motivation was always to win. That was my motivation why I worked so hard."
Valentine, the Kane County Chronicle Player of the Year, averaged 20 points a game this season and shot 42% from the 3-point line and 90% on free throws. He had a number of electrifying moments, including buzzer-beaters against Bartlett and St. Charles North in the first week of the season.
Before Valentine stunned the North Stars by pouring in 33 of Geneva's 40 points on Feb. 17, Valentine's father showed him a Kane County Chronicle article about the growth of St. Charles North standouts Ethan Marlowe and Max Love.
"My one motivation going into that game was I remember you did an interview with Marlowe and them," Valentine said. "My dad brought me the paper and was like, 'These guys think they're going undefeated.' I just remember reading that – and I think at that time we were undefeated, too – and I ... probably shouldn't have been mad about it, but I was pretty [ticked] off, I'm not going to lie."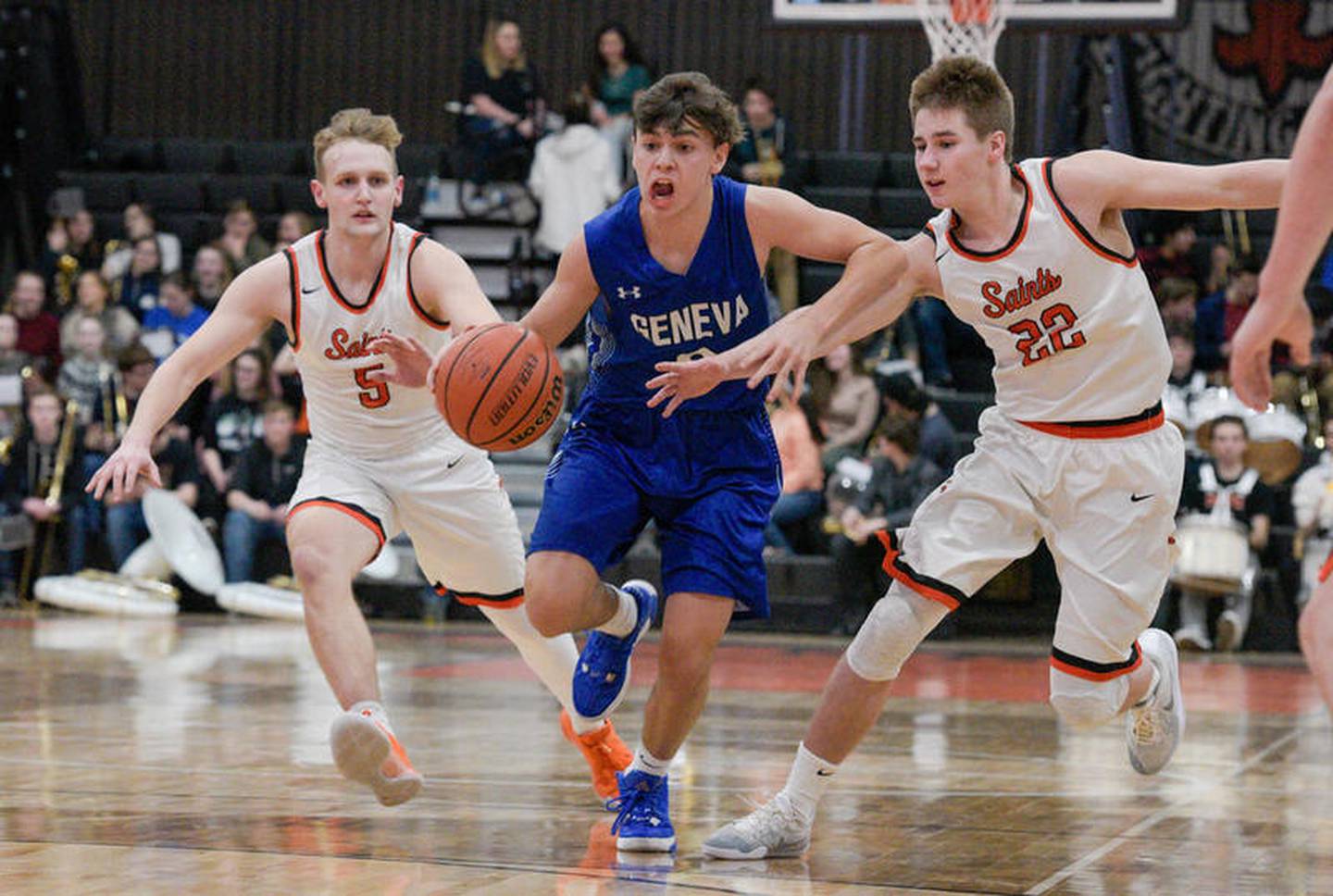 Valentine hit nine 3-pointers against the North Stars, just days after scoring 28 points and stunning Bartlett at the buzzer.
"I was a little mad that they thought they were going to go undefeated and they just looked right over us – and we were their next game," Valentine said. "I kind of took that to heart and I proved it ... for that reason alone, not because I hit a bunch of 3s [or] because I hit a game-winner, it was the proving them wrong factor that made it probably my favorite moment of the season."
Valentine's competitiveness was never lost on Geneva coach Scott Hennig.
"He hates to lose," Hennig said. "I don't care if it's a shooting drill or a free-throw competition or something as silly as knockout or when we're doing our line stuff, he just can't stand losing. It's just contagious among our guys for everyone to raise their level of play.
"What I always tell people, we asked him to bring up the ball against pretty good competition. We asked him to obviously play really good defense. He played [virtually] every minute. He barely came off the floor," Hennig continued. "I think sometimes that can get lost because people just see the game-winners and the 3-point shooting, which is obviously fantastic, but he did so many other things that, if he didn't do that, we might win only one or two games, especially when we got banged up at the end."
Valentine turns his sights to Illinois Wesleyan, where he will join the reigning College Conference of Illinois-Wisconsin champions. To no surprise, his goals aren't shifting.
"Again, I want to win. Illinois Wesleyan ... they're really good," Valentine said. "They have a chance to compete for a national championship. For me, going forward, I've got to work on a lot of stuff. I've got to get stronger. I've got to get in the weight room. But the one thing I want to do going into Wesleyan, I want to win."