ST. CHARLES – Nothing was going right for St. Charles North.
Until it was.
North Stars senior Alex Bardouniotis had her fingerprints all over a second-set comeback that saw St. Charles North rally from a 21-14 deficit against St. Charles East. Knotted 24-24, Bardouniotis had a kill and two aces to finish the job in grand style for her team's fifth consecutive win.
"It was definitely her night tonight," North Stars coach Lindsey Hawkins said after a 25-22, 27-25 victory over St. Charles East on Sept. 26. "When she went back [to the service line], I looked at my assistant coach and said, 'Bring it home, Alex,' and that's exactly what she did.
"I'm really proud of her and happy for her that she's been given a chance to shine. She did a great job tonight and [we] just had to keep feeding her the ball because she was unstoppable."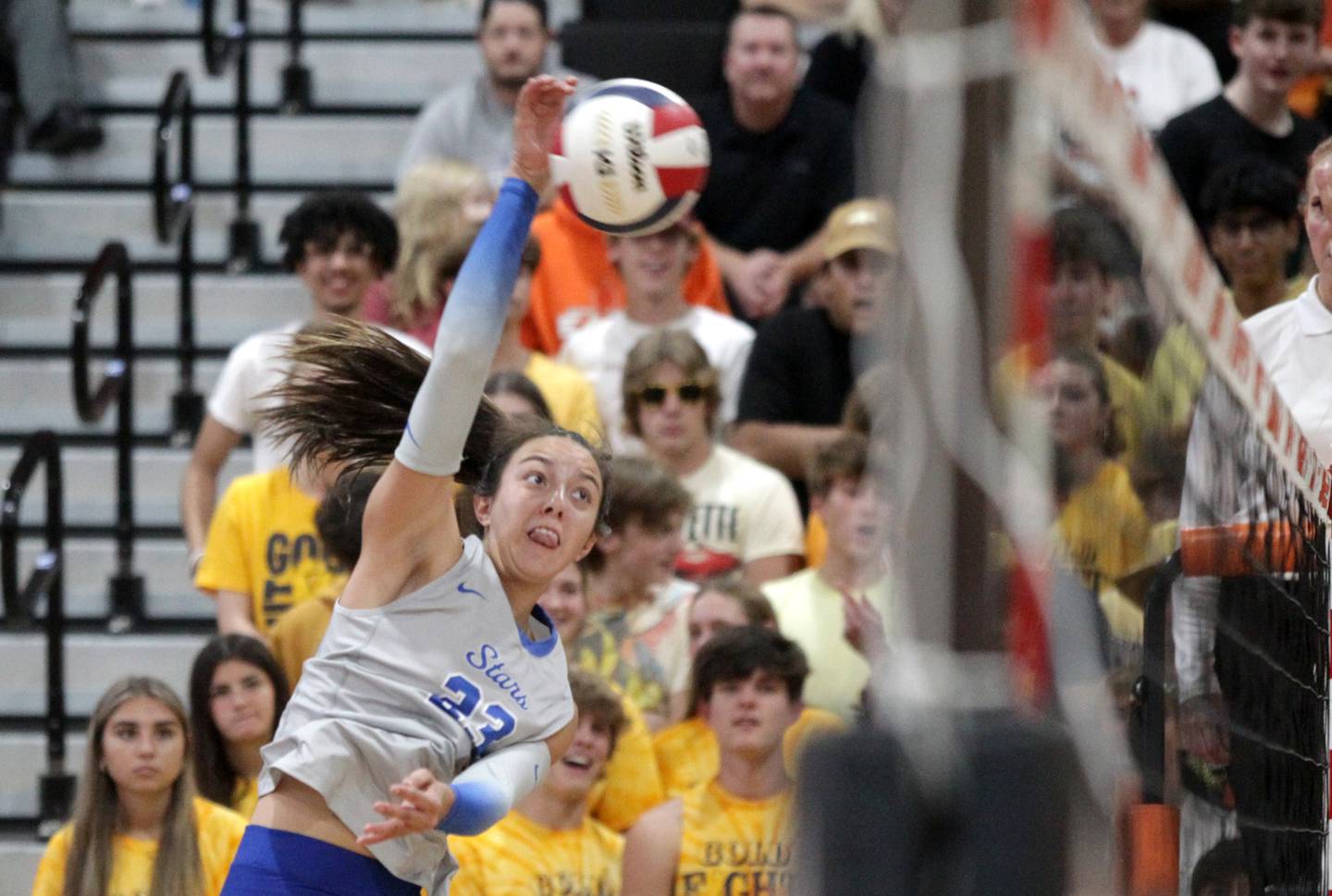 Bardouniotis, a typical top contributor for the North Stars, has had to assume an even bigger role with injuries to three starters – Katie Scherer (right arm), Jackie Ruder (leg) and Adrianna Huptych (leg) – forcing new lineup combinations the past several weeks.
"We've been trying to work [through it]. We're struggling through adversity, but we keep pushing," said Bardouniotis, who finished with eight kills and two aces. "We have each other. We have trust in our teammates. We have trust in ourselves. We know that we can do this and we just push."
After the 25-22 first-set loss, St. Charles East roared out to a sizable 9-3 lead. St. Charles North began to close the gap, but the Saints kept on pushing, increasing the advantage to 21-14 on successful swings from Tatum Ahrens and Kaylee McInnis.
The North Stars ripped off a 6-0 run powered by consecutive Haley Burgdorf kills, a Saints attack error, a Burgdorf ace, another error and Bardouniotis' second kill of the set. A North Stars service error killed the rally, but Bardouniotis added another kill and it was 22-21 in favor of St. Charles East.
McInnis and a North Stars error put the Saints in business at match point, but they couldn't close on a couple of attempts. A Bardouniotis kill tied it at 24. McInnis had a kill for a brief 25-24 Saints lead, but Bardouniotis had the golden hand to finish it off.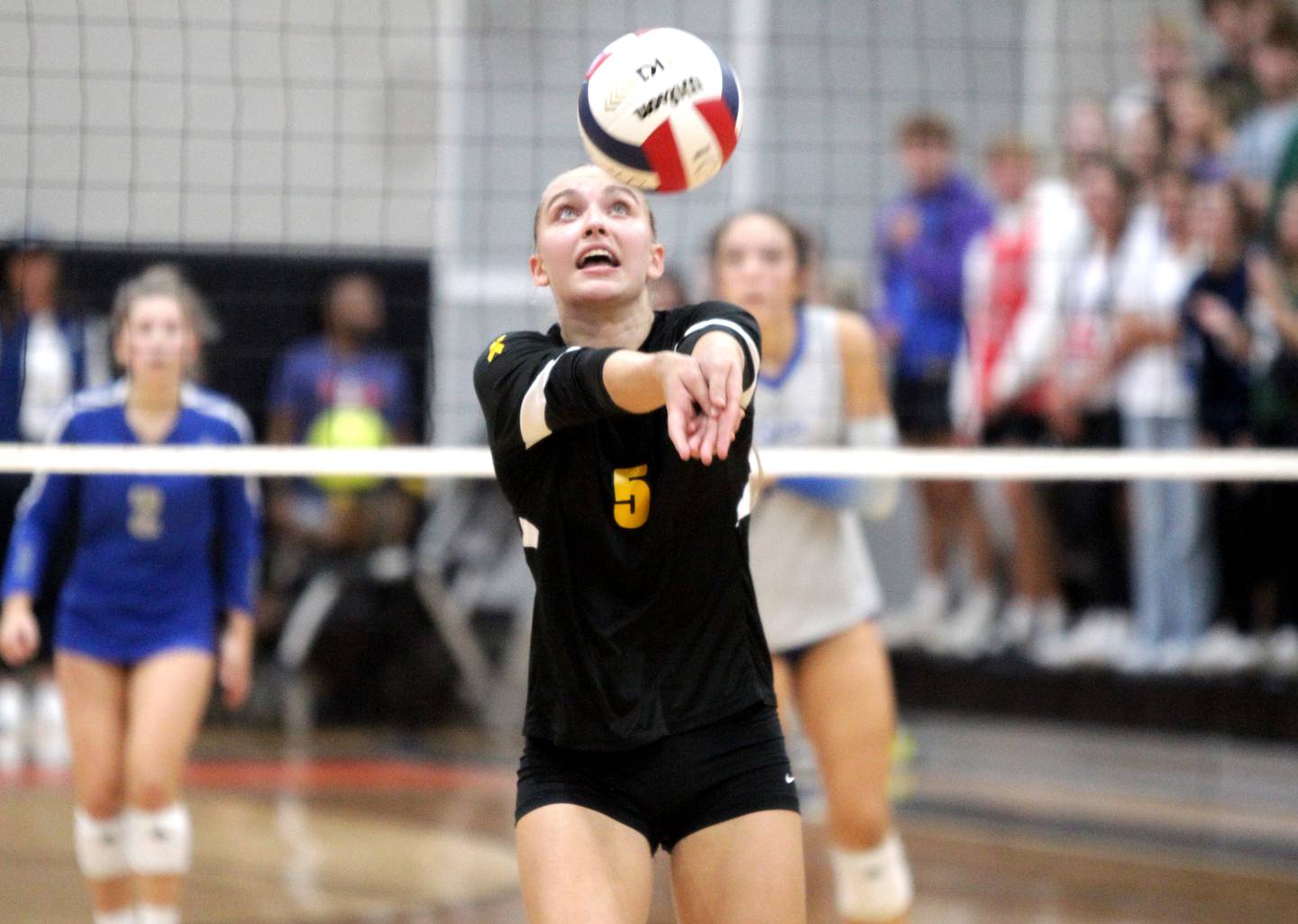 Burgdorf finished with seven kills. Julianna Ditusa impressed with four aces for St. Charles North (15-9, 3-1 DuKane Conference).
"Ditusa has come in and served. She's served really well," Bardouniotis said. "She's gotten a bunch of runs and she's been really good for our team."
"She's super versatile for us," Hawkins said of Ditusa. "There was a time at one point in the season when we didn't have our outsides, so Julianna had to step up and play outside. She's played some middle back for us. She's gone in there as a serving sub. You saw tonight, she got a couple aces, so she's just mentally solid and skill-wise she offers us so much because we can do so many things with her."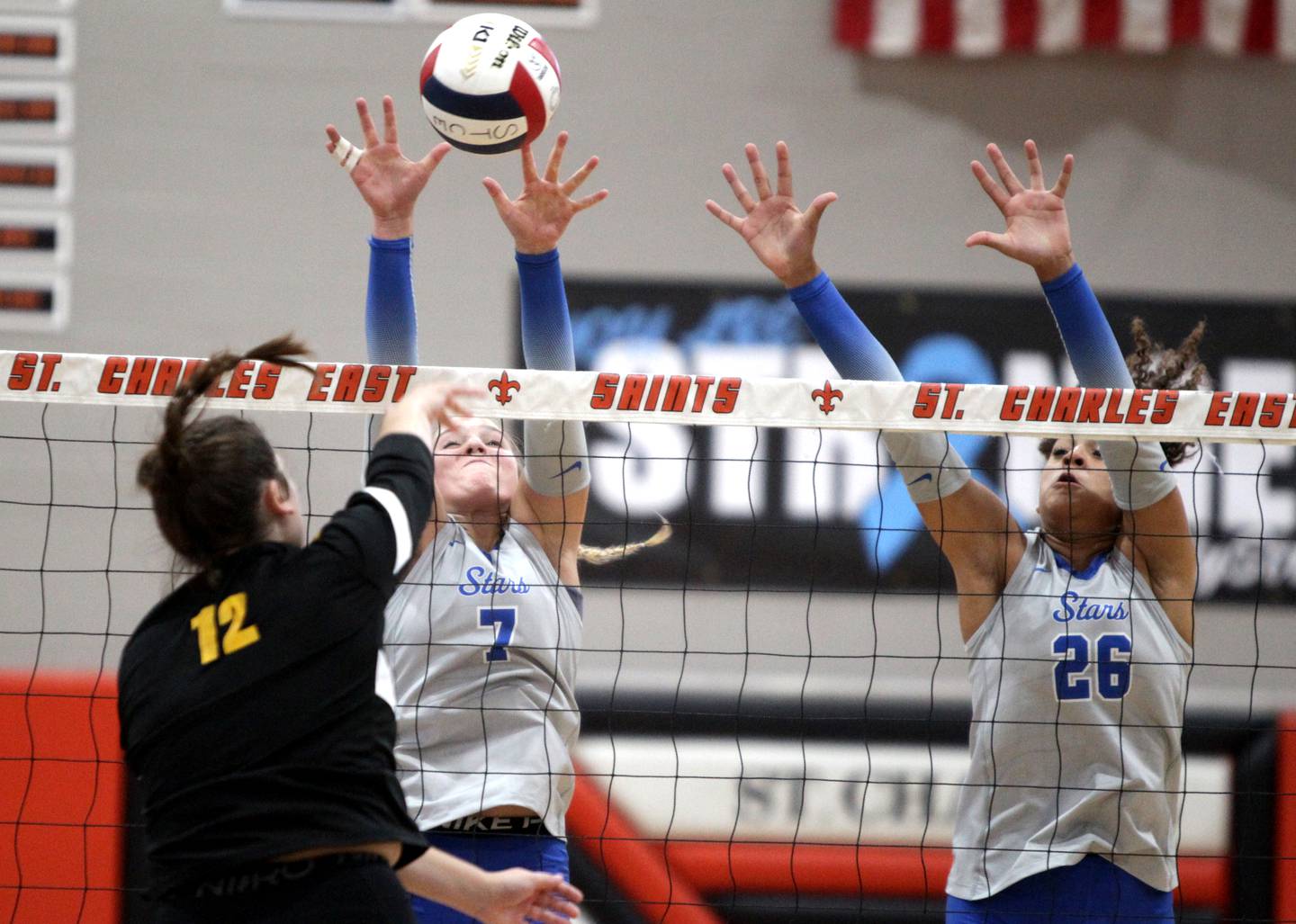 The Saints (3-10, 2-2) were powered by McInnis' eight kills and Ahrens' seven kills.
"Even at the end there it's hard because it hurts [to lose after holding a big lead]," Saints coach Kate McCullagh said. "At the same time, we've got to keep reminding each other of the growth we're making and the bright spots. There's things that were happening even though it wasn't successful that we've been working toward. [Just] a young team getting used to playing next to each other. That's getting better, so hard to measure that on a loss, but we know that it's there.
"[McInnis and Ahrens] are really working hard in practice to add shots [and] add tools to the arsenal – cutting balls, swinging, tipping, just getting a lot smarter with intentionally putting the ball in spots on the other side of the court."