ST. CHARLES – Benet had to dig deeper than initially expected.
St. Charles North had a potential upset on its mind.
The North Stars, who were missing three starters including star senior outside hitter Katie Scherer with a right arm injury for the remainder of the season, almost pulled it off. Aniya Warren and the Redwings outlasted St. Charles North 25-12, 21-25, 25-17 in a three-set thriller Sept. 20.
Benet, which hasn't lost since Aug. 26 – a span of 12 victories – sprinted to a dominant first-set victory with the North Stars finding little rhythm.
In a back-and-forth second set that was tied 18-18, the North Stars blasted ahead for a 22-18 lead behind a Mia McCall kill, an Ava Kashuba ace, a Benet attack error and a block from Sidney Wright. After a North Stars service error, St. Charles North survived a furious volley that ended with a side out, a kill from Alex Bardouniotis and another block by Wright for a 25-21 victory that staved off a sweep.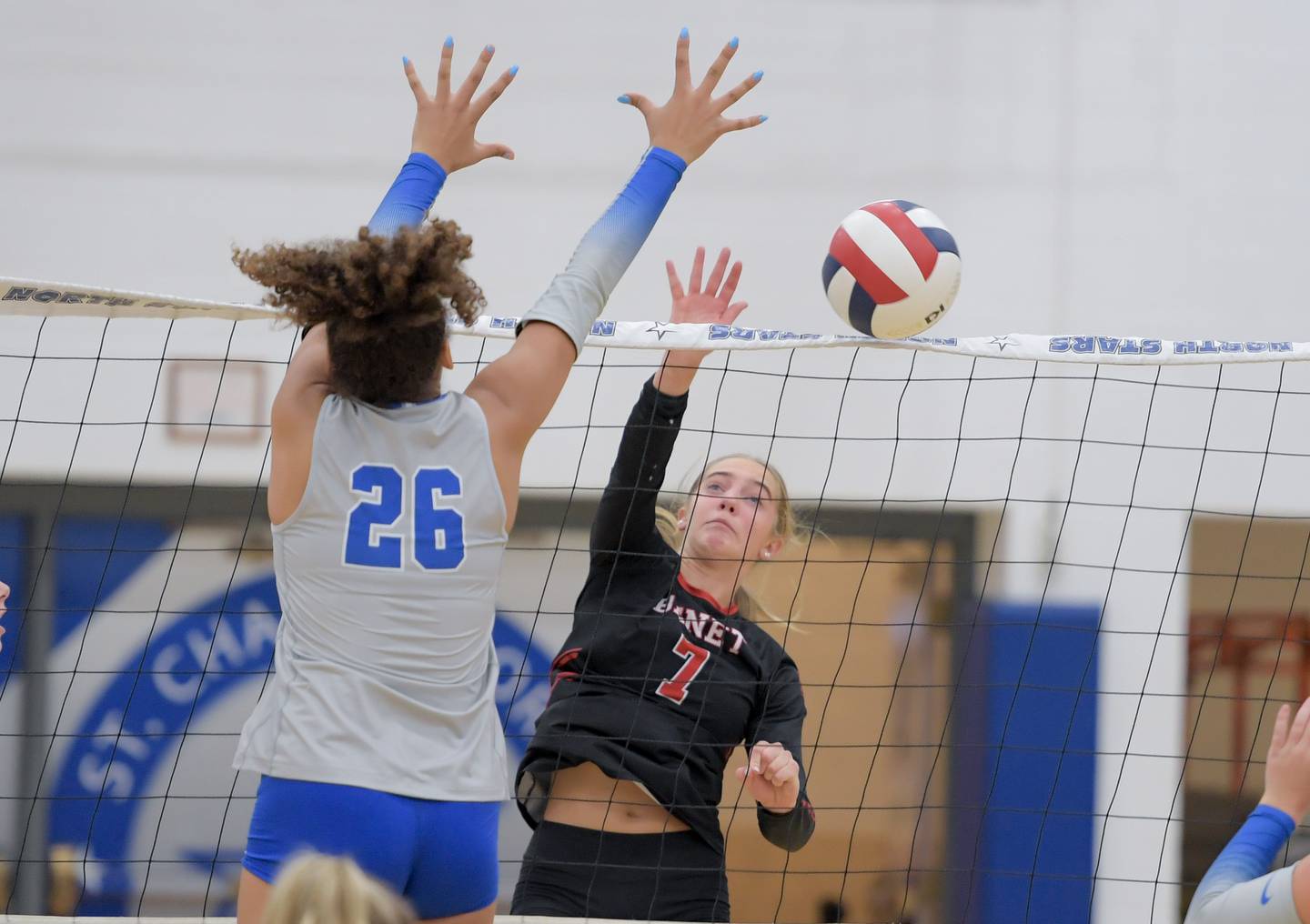 "There was a lull [in that second set]," said Warren, a junior libero and Indiana recruit. "I feel like when we come back, sometimes we're gonna have lulls. We're not a perfect team. We're never going to be perfect. So when we come back, we always have to fight back harder. ... If it's not one of our best games, we always have to find something that works and keep going and keep pushing."
"Because I feel if we're giving 100%, something is going to end up falling. If we're not giving up on anything ... it just could be a bad game then."
In set three, the North Stars (10-8) vaulted ahead 13-8, but the Redwings (16-1) punched back with an 8-0 run. From there, connecting on hits and tidy defense up front pushed Benet to the finish line.
"We started to find a rhythm with each other and playing," Warren said. "It was just like let's go focus on us. Let's not worry about what they're doing. Obviously, some good plays are going to come from a lot of their players. They might sail a ball on the 10-foot line or get a big kill, but at the end of the day, we have players that can do the same. It's all about confidence."
"We obviously have shown we can play better than what we did in the second," Benet coach Brad Baker said.
Benet was paced by six kills from Audrey Asleson. Ava Novak had four kills.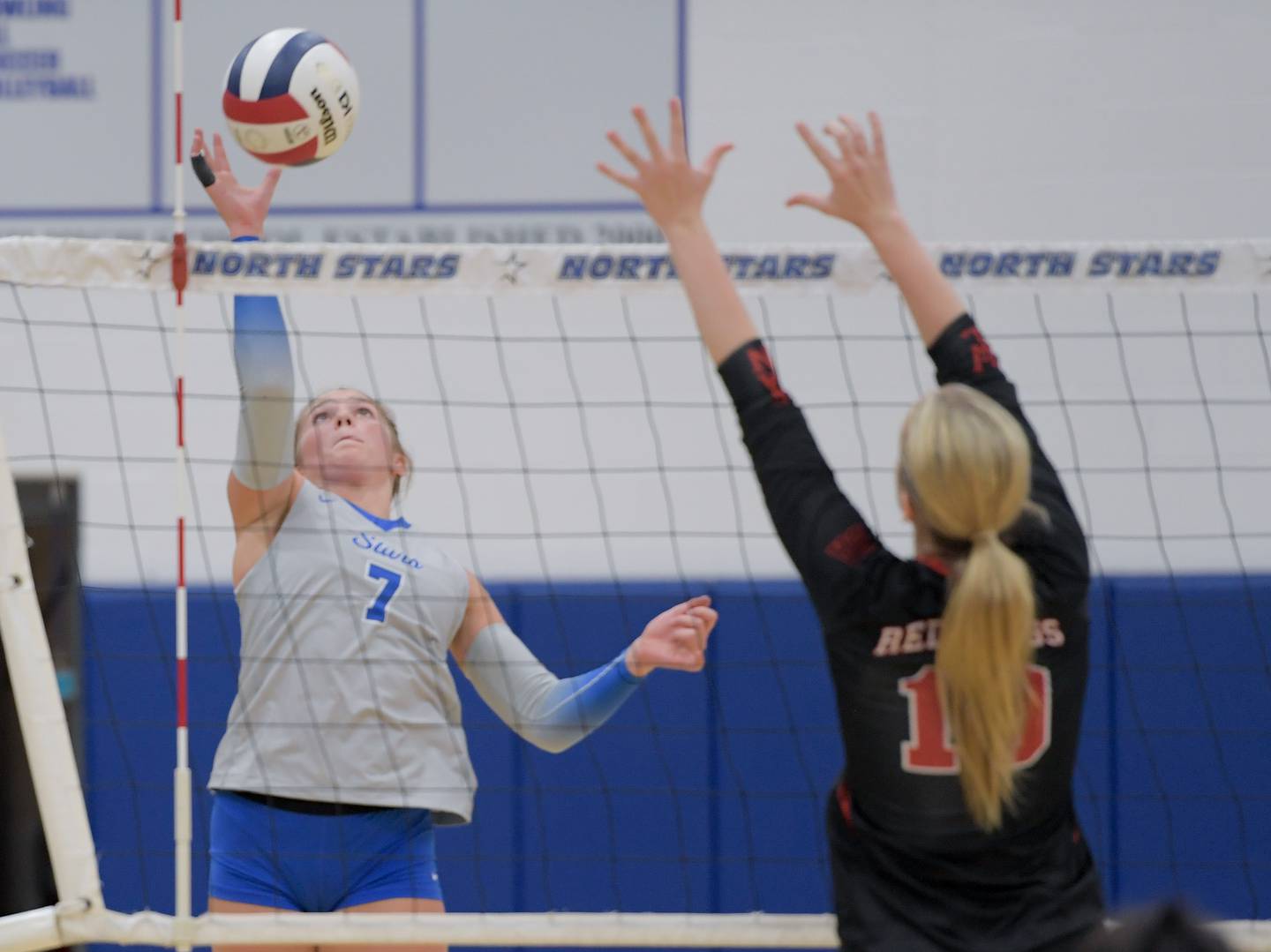 North Stars coach Lindsey Hawkins confirmed Scherer is done for the year. St. Charles North also was missing senior libero Jackie Ruder with an apparent lower leg injury, and senior hitter Adrianna Huptych, who suffered an apparent leg injury during warmups before the match.
The North Stars are fighting through a six-game losing streak.
"Our team has so much resiliency where we can just fight back on almost any ball," said North Stars sophomore outside hitter Haley Burgdorf, who had seven kills. "We just try and do our best, especially knowing now we have three starters down. We just try and keep going."
McCall, a sophomore setter, had six kills. Bardouniotis had four kills and an ace.
"Mia brings a lot of things. She knows how to run an offense," Burgdorf said. "And she plays right side great. She just really knows how to keep us all together. And gives us good sets, no matter out of system, in system, and just really brings the team together."