ROSELLE – A belief among some in Batavia's wrestling room regarding Kaden Fetterolf is undeniable.
Fetterolf, the DuKane Conference champion at 152 pounds after his 12-0 major decision over St. Charles East's Gavin Connolly on Jan. 21, brings a unique presence that resonates throughout the lineup.
"His leadership overall, man," Bulldogs teammate and 126-pounder Aiden Huck said at the conference meet hosted by Lake Park. "He's over us: Technique wise [and] strength wise. He's got it all there. He knows what to tell us. He's definitely a great captain on our team and I hope to see him win state."
On the mat, Fetterolf is well on the way to Champaign, with regionals and sectionals in the coming weeks. Fetterolf is 39-0 and is seeing his offseason work with his club Izzy Style pay off in a major way, particularly regarding footwork.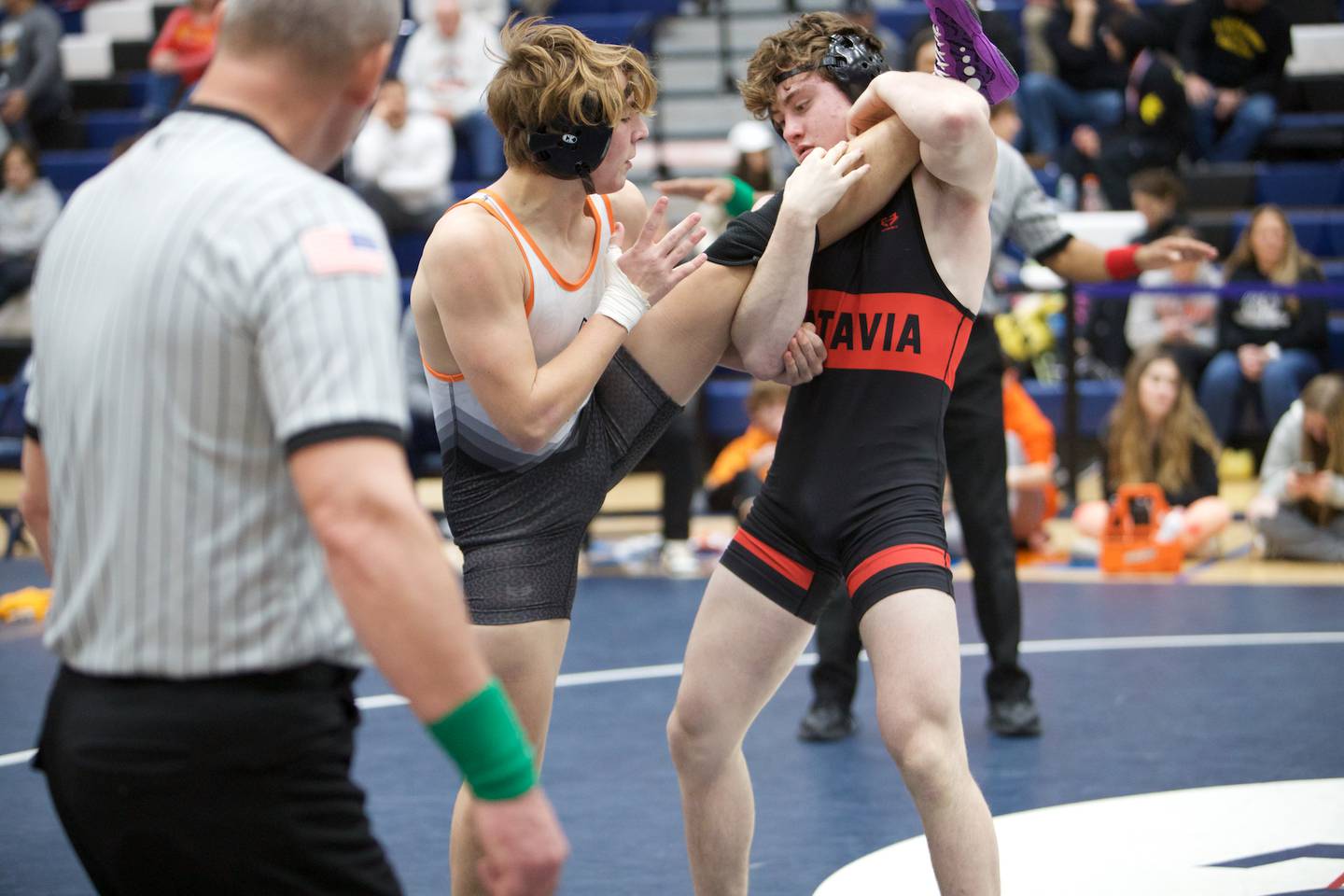 "I trust my training. I trust, really, I can beat anybody. ... I'm just having fun out here," Fetterolf said. "[This is my] last year just having fun with my team, just scrap as this is my last time in high school."
While Fetterolf was one of a few shining competitors for Batavia, St. Charles East proved to have plenty of firepower to win its second consecutive conference title with 324 team points. Glenbard North (224) and Batavia (178) were second and third, respectively.
Eight individual champions were crowned for the Saints – Dom Munaretto (106), AJ Marino (120), Ben Davino (126), Tyler Guerra (138), Jayden Colon (145), Anthony Gutierrez (160), Brody Murray (182) and Austin Barrett (285).
Munaretto and Davino have a combined 82-0 record this season.
In his high school career, Davino has 75 wins and only one loss.
"The kid has an arsenal," Huck said of Davino, who pinned Huck in the first period in the 126-pound final. "He's really powerful with getting those pin techniques. I feel like I need to be a little more powerful with my moves because I get in on a shot, but I feel like he scrambles his way out of there and powers through."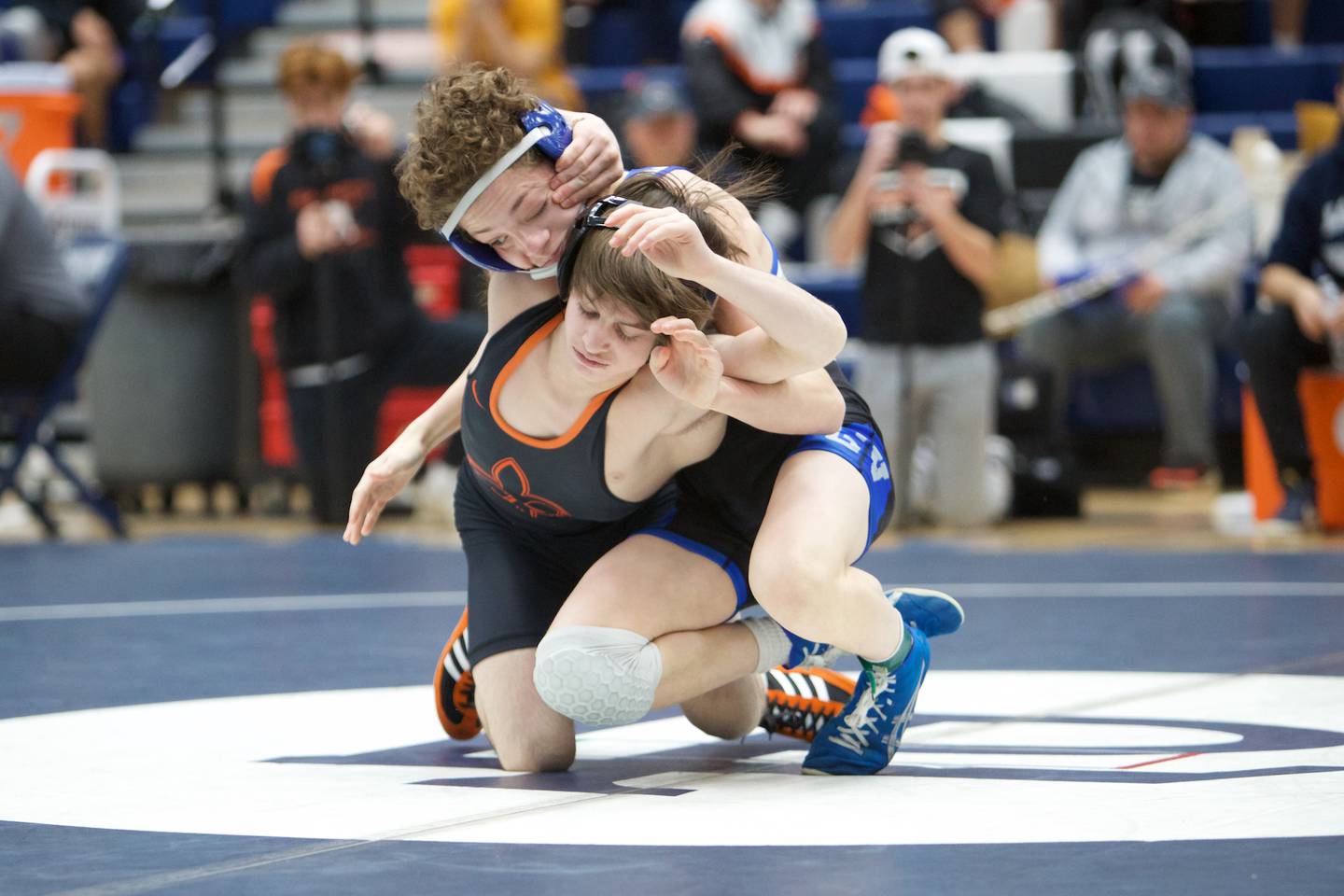 The Saints had second-place finishes from Ethan Penzato (132) and Connolly and third-place finishes from Christian Wilson (220), Lane Robinson (170) and Brandon Swartz (195). Wrigley Schroeder was fourth at 113 pounds.
"The talent has always been there and the hard work continues to grow throughout the season. [It's] kind of coming together as a team," the Saints' Barrett said.
Barrett, a senior and an Indiana football recruit, won by fall over Glenbard North's Octavio Morales.
"Wrestling an individual tournament [or] a dual is different," Barrett said. "I think all together as a team we've put that all together."
The Panthers had first-place finishes from Mikey Dibenedetto (132) and Blake Maday (220). Morales, Solomon Gilliam (138), Dominic Marre (120) and Kalani Khiev (113) were runner-ups.
"The majority of the season, I've been out," Dibenedetto said after his 10-2 major decision over Penzato. "I'm still getting the work in either way. Just running, time in the room ... just not a lot of mat time. This is definitely one of the bigger tournaments. It's a good stepping point to know where I need to be for the state series."
Batavia had first-place finishes from Fetterolf and Ino Garcia (113). Huck, Cael Andrews (145) and Asher Sheldon (220) took second.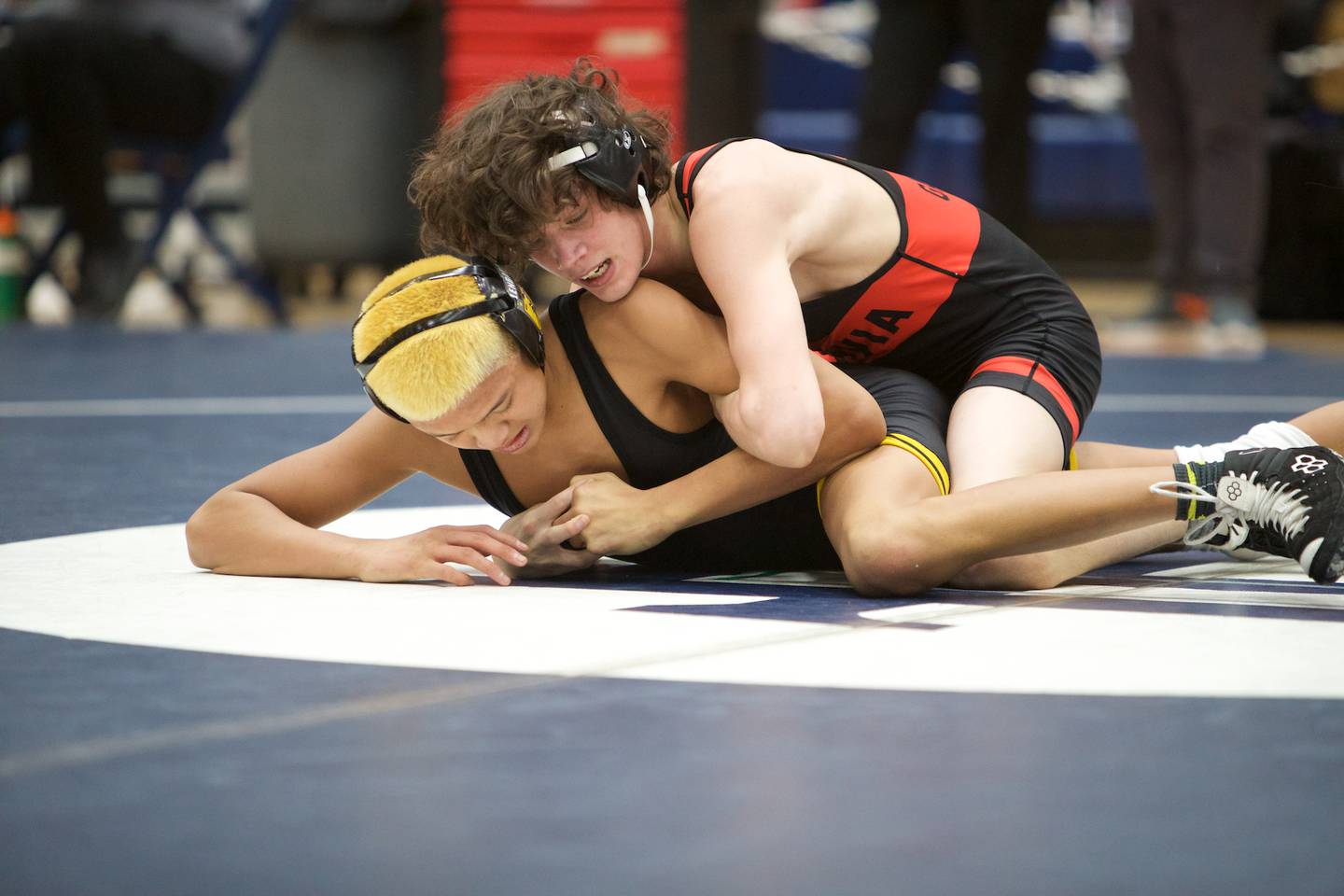 Garcia, who missed eight weeks of the season with a right knee injury, returned to the lineup before Christmas. Garcia has wrestled strongly of late, taking third at the Clint Arlis Memorial Tournament a few weeks ago and earning a conference title Saturday.
Garcia defeated Khiev 2-0.
"He's good. I know he likes to push the pace," Garcia said. "So if I can slow him down and wrestle my match, it works better for me."
Joey Sikorsky (106), Dylan Konkey (160) and John Schmidt (195) had second-place finishes for Geneva.
Drew Surges won the 195-pound championship match over Schmidt to lead St. Charles North.
For Wheaton Warrenville South, Sedeeq Al Obaidi won the 170-pound title over Wheaton North's Mikey Rosch in a 5-3 decision.