St. Charles officials updated City Council members on the construction progress of the First Street Plaza expansion project during the Government Operations Committee meeting Sept. 18.
City administrator Heather McGuire and public works director Peter Suhr presented the update and told council members that the development is on track to be "substantially" complete by the end of the year.
The redevelopment of First Street is a collaborative effort between the city and the St. Charles Initiative, an advisory committee of community leaders.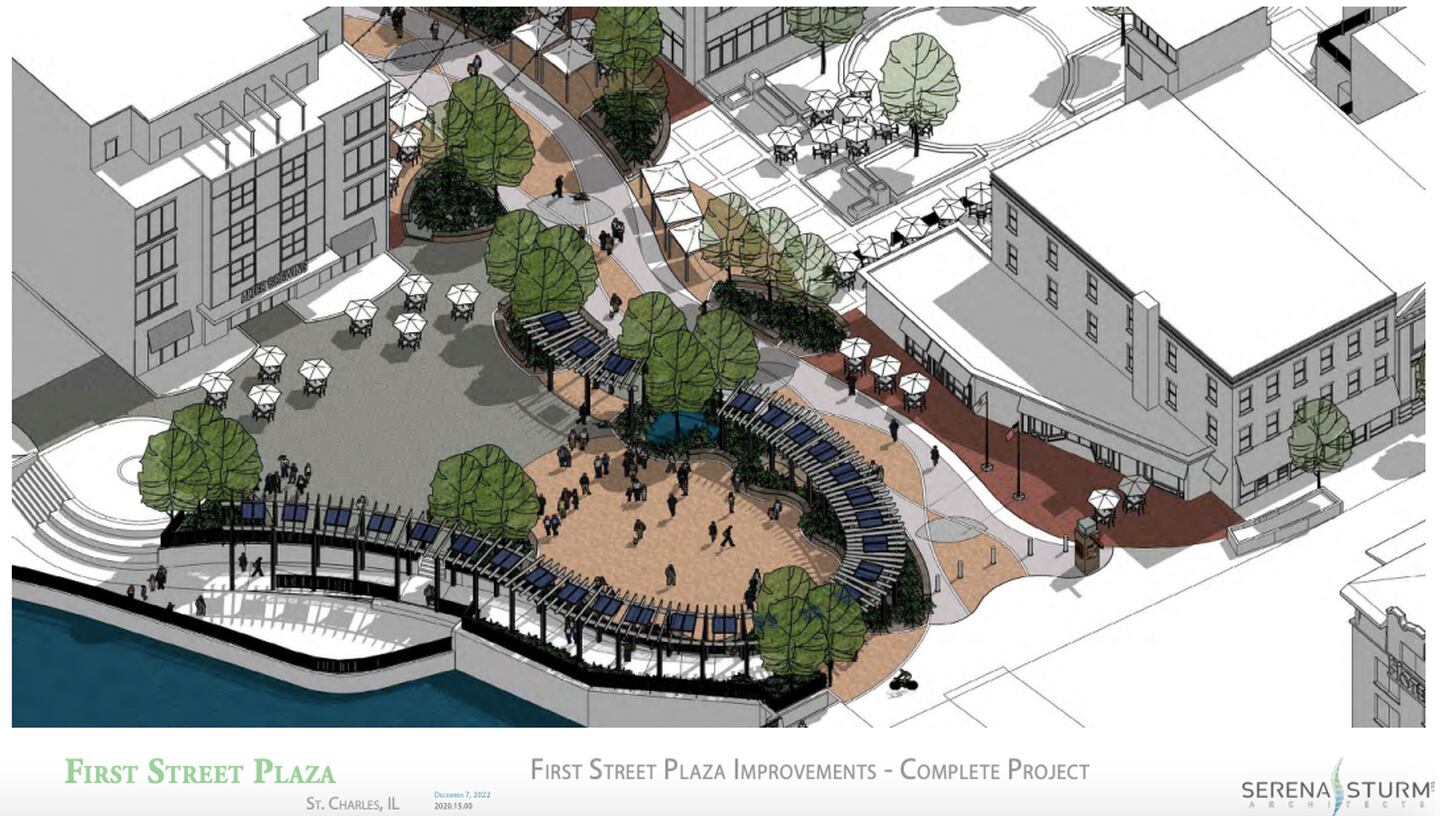 McGuire told the board that the St. Charles Initiative is accepting donations and offering sponsorship opportunities for residents to assist the development by buying naming rights or funding some of the furnishing elements. She said the additions that are made possible by sponsors will be outfitted with plaques that recognize those who donated.
McGuire said the initiative has raised $1,534,037 in donations, including a $600,000 grant from Exelon and a $56,153 riverboat grant from Kane County.
The project's first phase was completed in the spring, which included building a retention wall along the Fox River and filling the space left where the Manor Restaurant had been demolished. Phase one also included site acquisition, design and initial construction for a total cost of $2,042,707.
The second phase – the final phase – will cost $4,384,041. This includes construction, management, furnishings and landscaping until the project is complete.
"We are still accepting donations to offset the costs of the project, with any balance to be funded by the city," McGuire said in an email. "The total project cost is currently $6,426,748, with the St. Charles Initiative donations offsetting $1,534,037."
Suhr told council members that the underground work for the plaza is complete and they are laying the base concrete. Top surfaces and landscaping are expected in the next four to five weeks.
Three kiosks have been constructed and are waiting for electronic components and installation. Suhr said in the next month people will start to see the vertical elements of the plaza going up.
Suhr said the First Street Plaza is on track to mostly be complete by Jan. 1, in line with the original timeline, but some of the technology and final touches will be delayed because of supply chain issues.
"The schedule has always been Jan. 1 and I think we will be substantially complete by that time," Suhr said, "Meaning that the bulk of the project will be done."
The plaza will feature a solar pergola trellis walkway and public art installations. The project will permanently close the section of First Street to vehicles to create pedestrian walkways from the parking garage entrance north to Main Street.
Suhr said the biggest element to the project is the trellis, which is being fabricated and is expected to be installed by the end of October.