My favorite Paramount Theatre valet Scott always tips me off about the show I'm about to see (always trust the valet). This time, he proclaimed the current production "Little Shop of Horrors" as "just fantastic – you'll see."
Loosely based on a low-budget, 1960 Jack Nicholson film, "Little Shop of Horrors" premiered in 1982. The beloved doo-wop, R&B musical has been produced around the world ever since. (Wouldn't Audrey II be proud of that takeover?) The duo behind "Beauty and the Beast," "Little Mermaid" and "Aladdin" – librettist Howard Ashman and composer Alan Menken – adapted the B-movie sci-fi campy spoof into what some critics say is "arguably one of those near perfect musicals." In 1986, Frank Oz directed the cult film starring Rick Moranis, Ellen Greene, Vincent Gardenia and the unforgettable Steve Martin. In 2020, the hit off-Broadway revival won the Drama Desk, Outer Critic Circle and Drama League awards for best musical revival.
In case you're not familiar with the plot: It's the 1960s. Business is not good at Mushnik's skid-row flower shop – that is, not until nerdy shop assistant Seymour puts on display a strange and interesting plant he's been tending since the total eclipse of the sun. Named Audrey II (Seymour has a crush on shop assistant Audrey and wants to impress her), this plant only wants one thing in order to survive: human blood. Fame, fortune and anemia follow, but Seymour pays an awful price.
Opening the Paramount Theatre's 12th Broadway Series, this production of "Little Shop of Horrors" is quirky, a lot of fun and even touching, thanks to the exceptional direction of Landree Fleming, making her Paramount directorial debut, and an outstanding collaborative team of immeasurable caliber.
The choreography of Michael George and Mariah Morris is visually engaging, energetic and ranges from just plain fun to highly expressive. The 1960s-era costumes by Yvonne Miranda tell a story of skid-row characters, and showcase fringe, fur, headbands, short shorts, knee-high boots, paneled leather coats and bell-bottoms. Jeffrey D. Kmiec's scenic design is creative, colorful and suggests the style and tone of the entire production complemented by José Santiago's lighting and Adam Rosenthal's sound designs. The man-eating plants were designed by Skylight Music Theatre in collaboration with the Paramount prop department, and consultation by Simone Tegge and Mike Oleon.
Paramount favorite Kory Danielson serves as the music director and conductor; the pre-show announcement of full orchestration and a live five-piece band was awarded with audience cheers and applause.
With yet another phenomenal Paramount cast, fresh life has been breathed into these well-known characters.
Jack Ball's Seymour is a bespectacled, uncertain, meek character never given a chance to soar. He's eking out a living as an assistant at Mushnik's flower shop. Ball plays him clumsy and awkward, but sweeter and more innocent than many Seymours I've seen before. He is a charismatic performer. Ball steals your heart when he sings: "asking God what I am for and he says I'm not sure – I constantly pray I'll get out of here."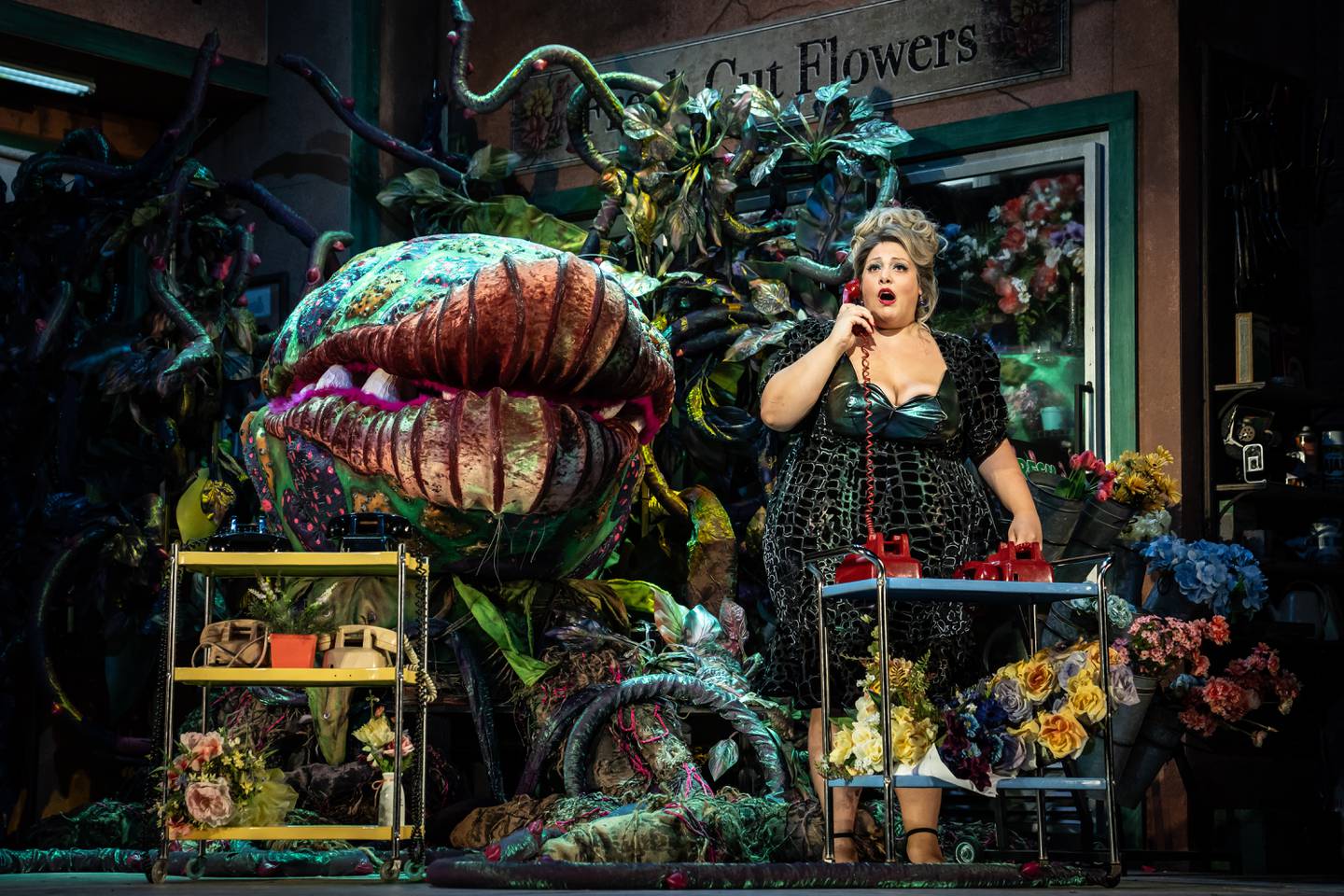 Teressa LaGamba is a remarkable Audrey. She has an intoxicating, magnificent vocal range, and portrays her character living her own horror story with a cruel and abusive boyfriend (Mushnik tells her: "You don't need a date, you need major medical") and dreams that ache. LaGamba and Ball have the needed chemistry, and deliver an incredible "Suddenly, Seymour."
Gene Weygandt is an anxious Mr. Mushnik. He took Seymour out of the Skid Row Home for Boys, and has a worrisome, fatherly understanding of his neighbors. Weygandt really shines in the comedic song-and-dance number "Mushnik and Son."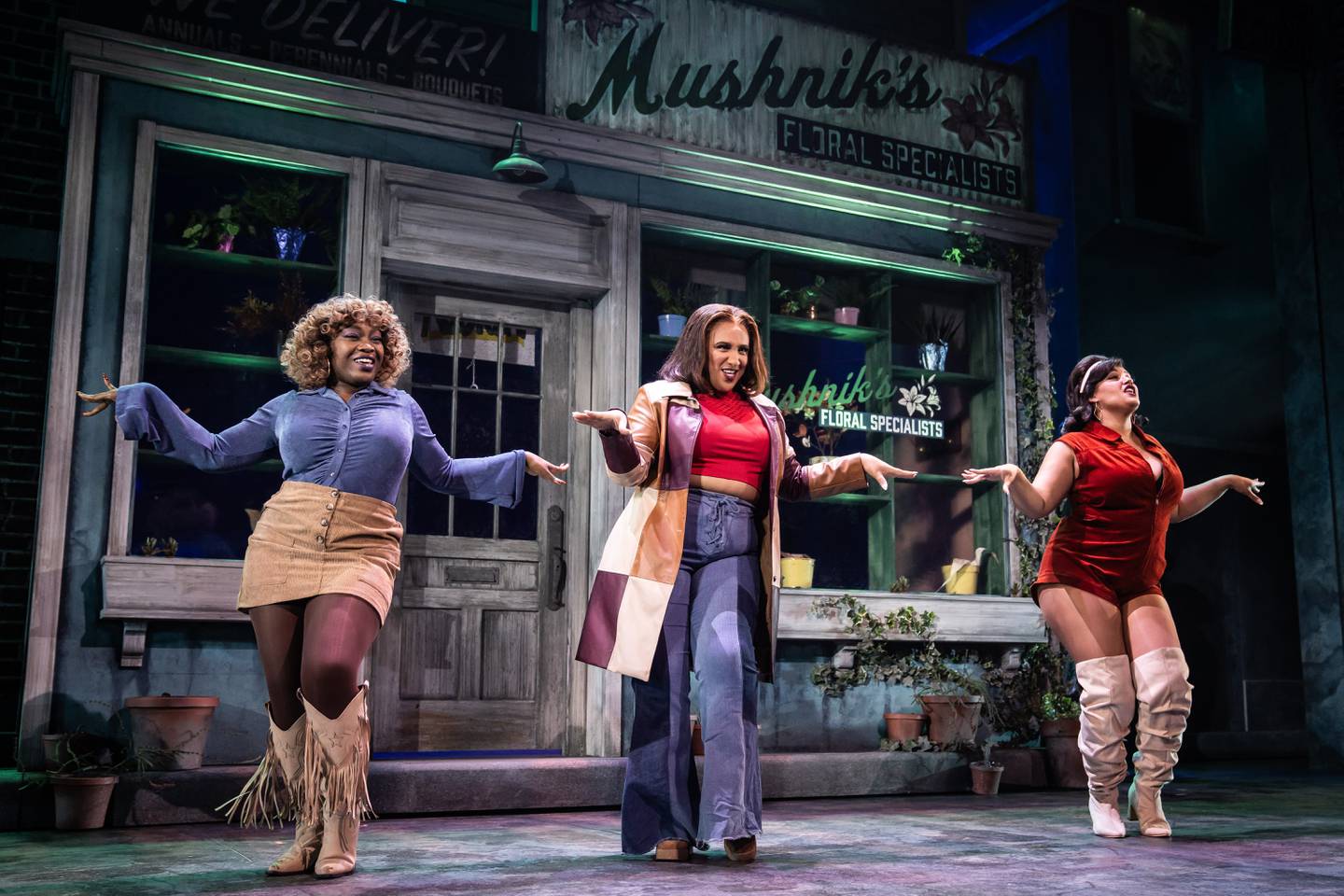 And then we have the trio of urchins, the doo-wop group inspired by the girl groups of the 1960s.
From the minute they hit the stage acting as a Greek chorus and narrators, three incredible singers of definite characterization maintain a vibrant stage presence: Tickwanya Jones (Ronnette), Lydia Burke (Crystal) and Marta Bady (Chiffon).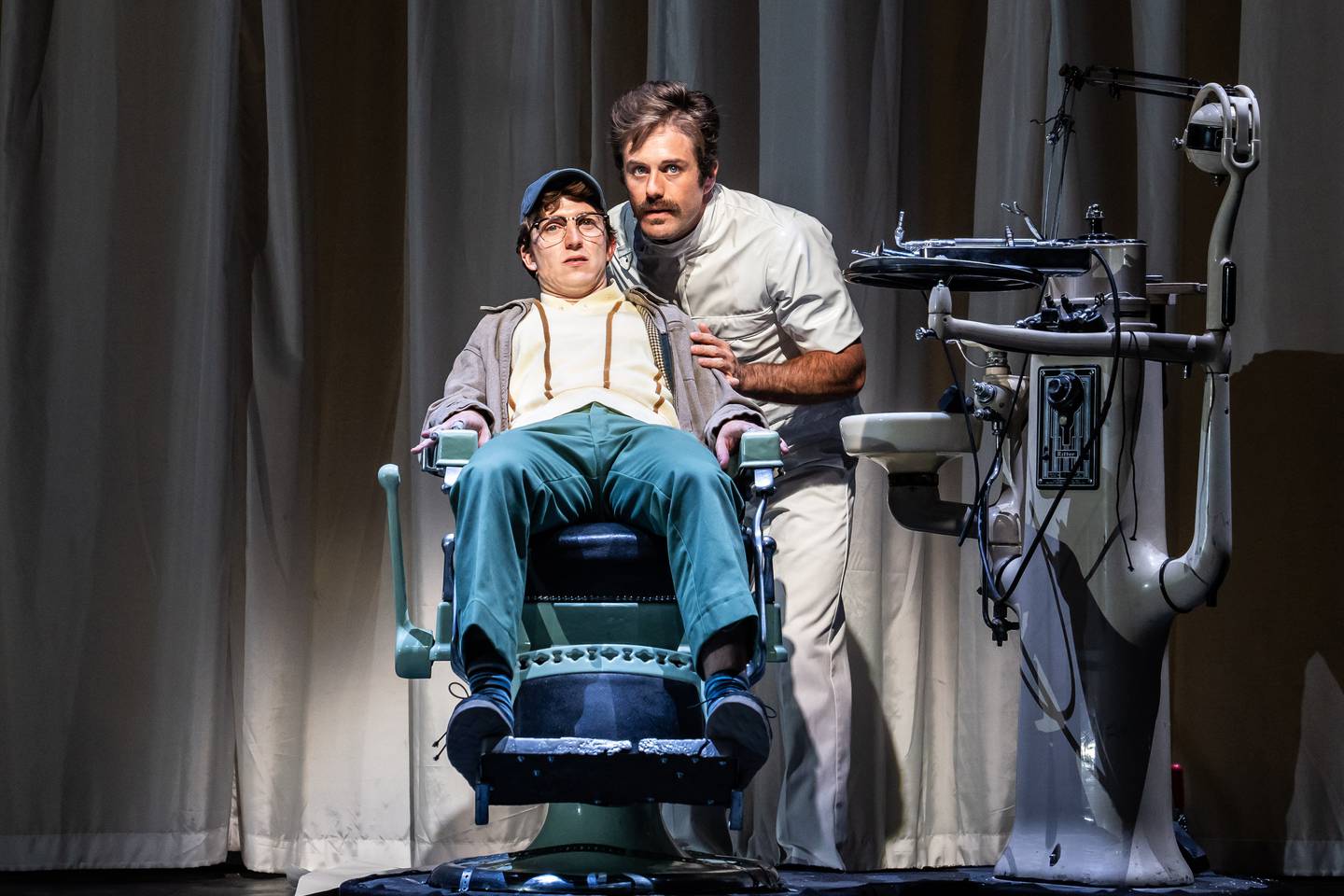 Russell Mernagh is the demented Dr. Orin Scrivello, D.D.S. He has a great handle on his character's fascination with pain. He plays Orin as a predator and goofy nitrous oxide addict. And you certainly believe he works on teeth in the style of the Marquis de Sade.
Je'Shaun Jackson is the voice of Audrey II. Jackson's deep vocals for the talking carnivorous plant are soulful and luxuriant, as you'll especially witness in the much-anticipated number "Feed Me (Git It)." Adam Fane is the primary puppeteer moving that unusual monster.
The ensemble residents of skid row radiate talent, charm and buoyancy: Brandon Acosta, Lexie Bailey, Ann Delaney, Sean Patrick Fawcett, August Forman, Darian Goulding, Jared David Michael Grant, Jeff Pierpoint and Shelbi Voss.
There is an especially poignant use of the voice of Hollis Resnik as "A Voice Not Unlike God." Resnik was a popular Chicago actress who died on Easter Sunday 2022.
Whether you're thinking of returning or catching "Little Shop of Horrors" for the very first time, just GO! The Paramount offers an entertaining, fast-paced triumph with this delightful musical. But remember: Please don't feed the plant.
[The show contains some mature language and violence. The Broadway Series includes three additional musicals, "Charlie and the Chocolate Factory," "Billy Elliot: The Musical" and "Beautiful: The Carole King Musical"; for new subscribers, season subscriptions start at $56.]
• Regina Belt-Daniels is a retired Reading Recovery and special education teacher who loves to direct and act; when not traveling with her husband, she can be found onstage, backstage and writing theater reviews somewhere.
IF YOU GO
WHAT: "Little Shop of Horrors"
WHERE: Paramount Theatre, 23 E. Galena Blvd., Aurora
WHEN: Wednesday through Sunday until Oct. 15
INFORMATION: paramountaurora.com, 630-896-6666