BATAVIA – Kodi Rizzo's change-up is can't-miss stuff.
The Batavia bats didn't find much luck chasing it, either.
Rizzo, the Newark junior, used it to perfection with her fastball to coax nine strikeouts Wednesday. The Newark bats did the rest in a 12-2 victory over Batavia in six innings.
"It's my out-pitch. It's my favorite pitch to throw," said Rizzo, who allowed three hits and two runs through four innings. "It's very off-speed from my fastball, and it's just my favorite pitch to ever throw."
The three-year varsity player's affinity for softball is one that has grown over the years. She followed in the footsteps of her mother. Now, her team and playing with her friends sustains it.
"Obviously, these girls really help with the motivation," Rizzo said. "I love playing with my friends, and they just bring a lot of fun to the field."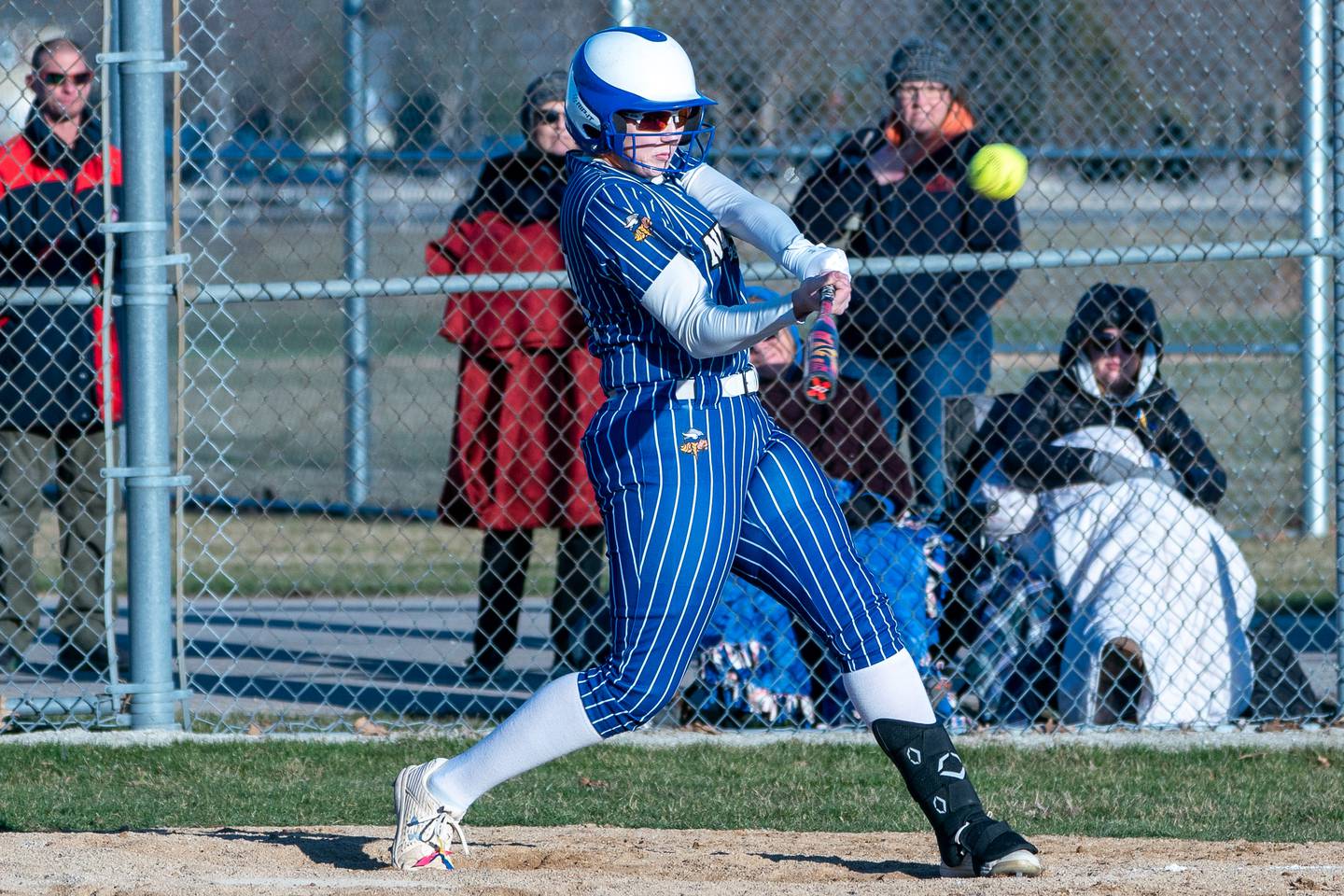 Coming off a fourth-place finish in Class 1A last year and a 10-3 record with 74 2/3 innings pitched, 130 strikeouts and a 1.60 ERA, Rizzo, – in addition to Kaitlyn Schofield and Taylor Kruser – are back in the circle and revved up for what could shape into another postseason run.
"They're all really effective. Kodi does really good," Newark coach Tim Schofield said. "The good thing is all of ours are different. Kodi has got the fastball and the spectacular change-up, and the other two, they give different looks, so it's effective for our team."
Newark (4-0) continued to pile on the runs, a development that has continued through the early part of the season. Including Wednesday's game, Newark has pushed across 45 runs and allowed only eight.
Kaitlyn Schofield got Newark rolling in the first inning with an RBI double three at-bats into the contest off freshman pitcher Kenzie Krauch, who was called up from junior varsity before the game and made her first career start.
Danica Peshia followed with an RBI single, and Ryan Williams pounded a two-run double to quickly make it 4-0 Newark with no outs. After a groundout, Kate Bromeland added an RBI single and scored on a rush home three batters later after a pickoff attempt skipped into center field to make it 6-0 Newark at the end of the first inning.
Batavia (1-5) responded with an RBI single from Grace Sartain, but Newark kept the pressure on with RBI singles from Peshia and Williams in the second inning for an 8-1 lead.
Williams added an RBI groundout in the fourth, which was countered by Batavia senior Avery Lundblad to make it 9-2. Newark added three more runs in the fifth, highlighted by a two-run blast from Bre Dixon, to finish the job.
"We return seven of our nine starters," Tim Schofield said. "So, obviously, our pitching is really strong and our bats, when they're alive, they're hard to keep down. We hit the ball a ton last year, too."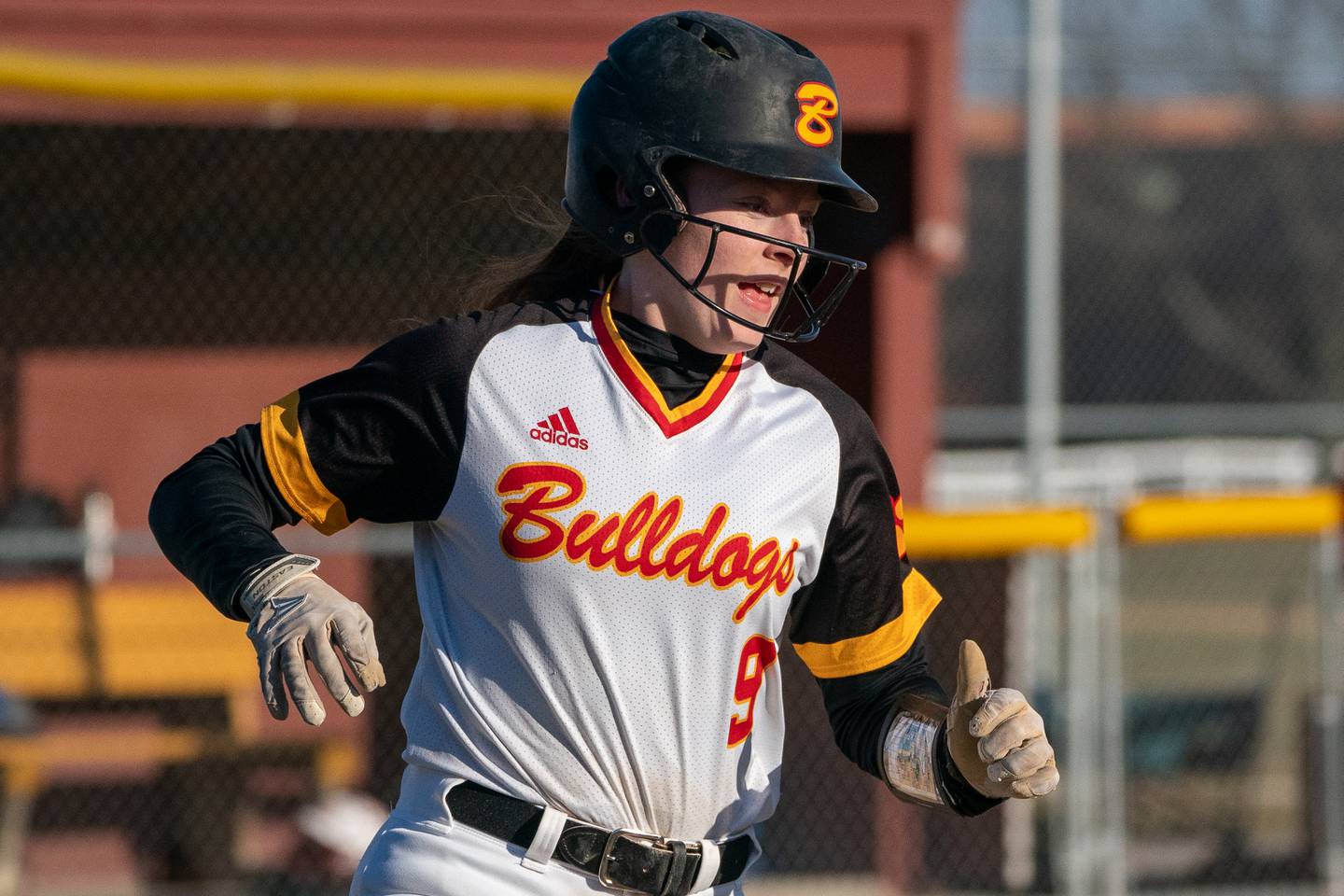 "They're battling," Batavia coach Torry Pryor said. "It's just always been one [troublesome] inning every game. Then we get it back under control, and we're fine after that. It's just always been one big inning that does us in."
Despite the difficult first taste of varsity softball, Krauch (14 hits, two strikeouts) has "that Bulldog mentality" in her. Batavia also committed four errors behind her.
"She's got a fastball, riseball, curve," Pryor said. "We're trying to figure out what's her best pitch."