GENEVA – The previous loss to Geneva almost two months ago didn't sit well with Batavia.
Jack Ambrose and the Bulldogs did their best to remind their rivals the 15-point loss wasn't their normal performance.
"I think they thought we were just a blow-over team, [that] they could come out here and beat us easily like last time," Ambrose said after Batavia's 48-37 victory over the Vikings on Feb. 3. "We came out stronger. We started hitting more shots than them. They were slow to start out. We've definitely got way better since that last game. We've shown it throughout our last couple games these last couple weeks."
Batavia (13-13, 5-6 DuKane Conference) was able to harass Geneva senior guard Mick Lawerence into foul trouble, forcing him to sit with four fouls in the game just mere seconds into the second half. That set the tone for the Bulldogs the rest of the way.
Finishing hustle plays, diving for loose balls and hitting timely shots filled in the rest of the equation to hand Geneva (22-5, 8-3) its first home loss since a Dec. 7 game against Wheaton Warrenville South.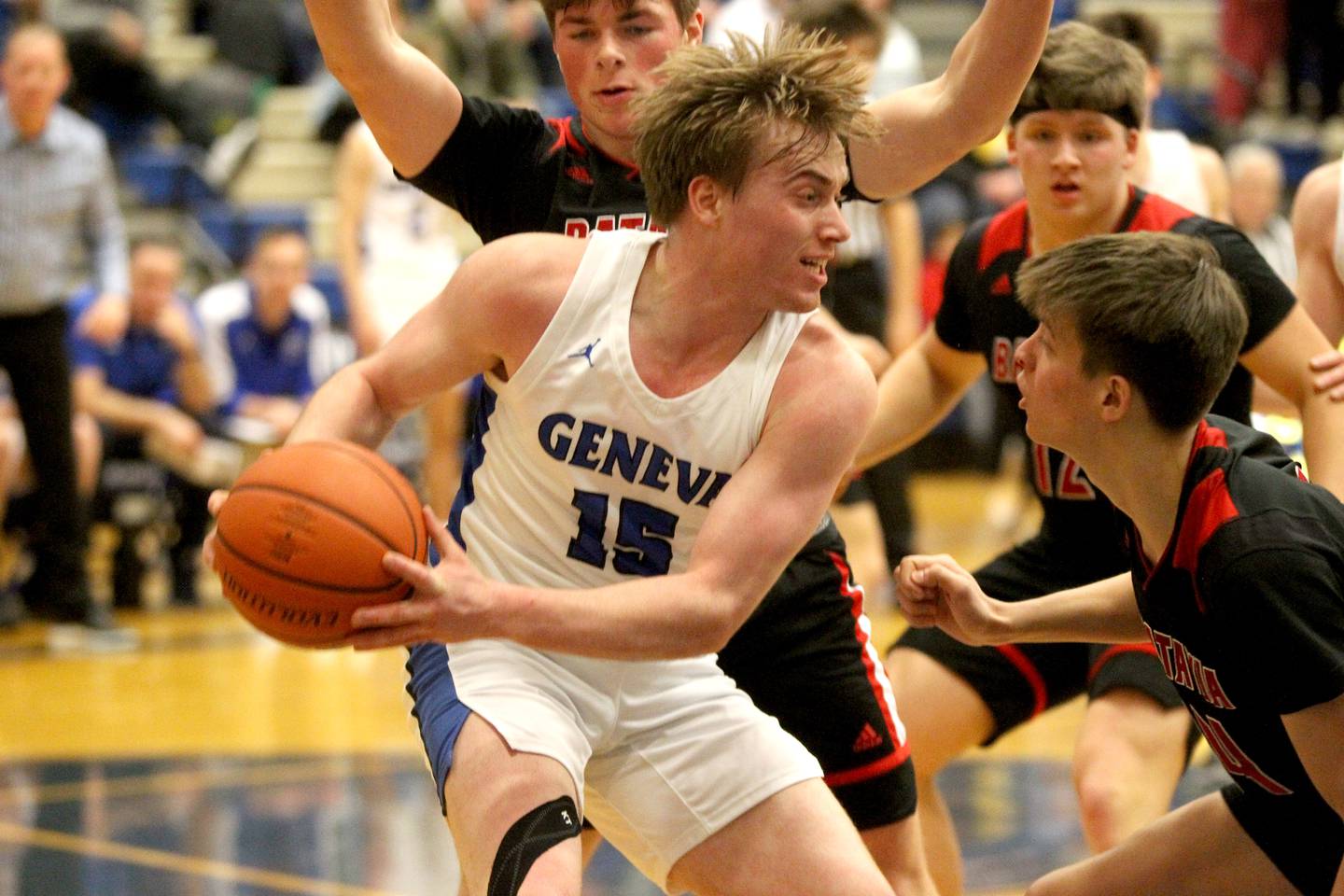 "[Rebounding and hustle] has been our focus the second half of the season," Ambrose said. "The first half, we had that, but second half, we've picked it up a lot, picked up the intensity and the offensive rebounding. The extra passes, the steals, and it helps us in the offensive play."
Ambrose certainly did his part with the Bulldogs taking a slim 29-28 lead into the final quarter.
JP Chaney led off the frame with 1 of 2 free throws and Nate Nazos followed with a 3-pointer. After CJ Valente got a charging call on a driving Jack Hatton, Ambrose rewarded the defensive effort with a 3-pointer for a 36-28 lead with 6:12 left.
Lawrence, who entered out of the timeout, hit a tough turnaround jumper for just his third point of the contest to make it 36-30 Batavia, but the Bulldogs kept in rhythm.
Nazos went 1 for 2 at the free-throw line and Valente converted a tough layup to put Batavia up 10 with 2:45 left and effectively ice it for Batavia.
"We made some second shots. We made some plays in the backcourt. We got a couple deflections and I thought last time we played them, it was hard," Batavia coach Jim Nazos said. "They're good. They're very good. Best team in a while here. They defend really well. They've got scorers. We caught some breaks with Lawrence getting in foul trouble and they kind of never got in a rhythm. We know what he can do.
"I think we've been a team that's getting better all year. We're getting better on both sides of the floor. There's a natural unselfishness in us and it's encouraging to see at this time of the year kind of the way we're going."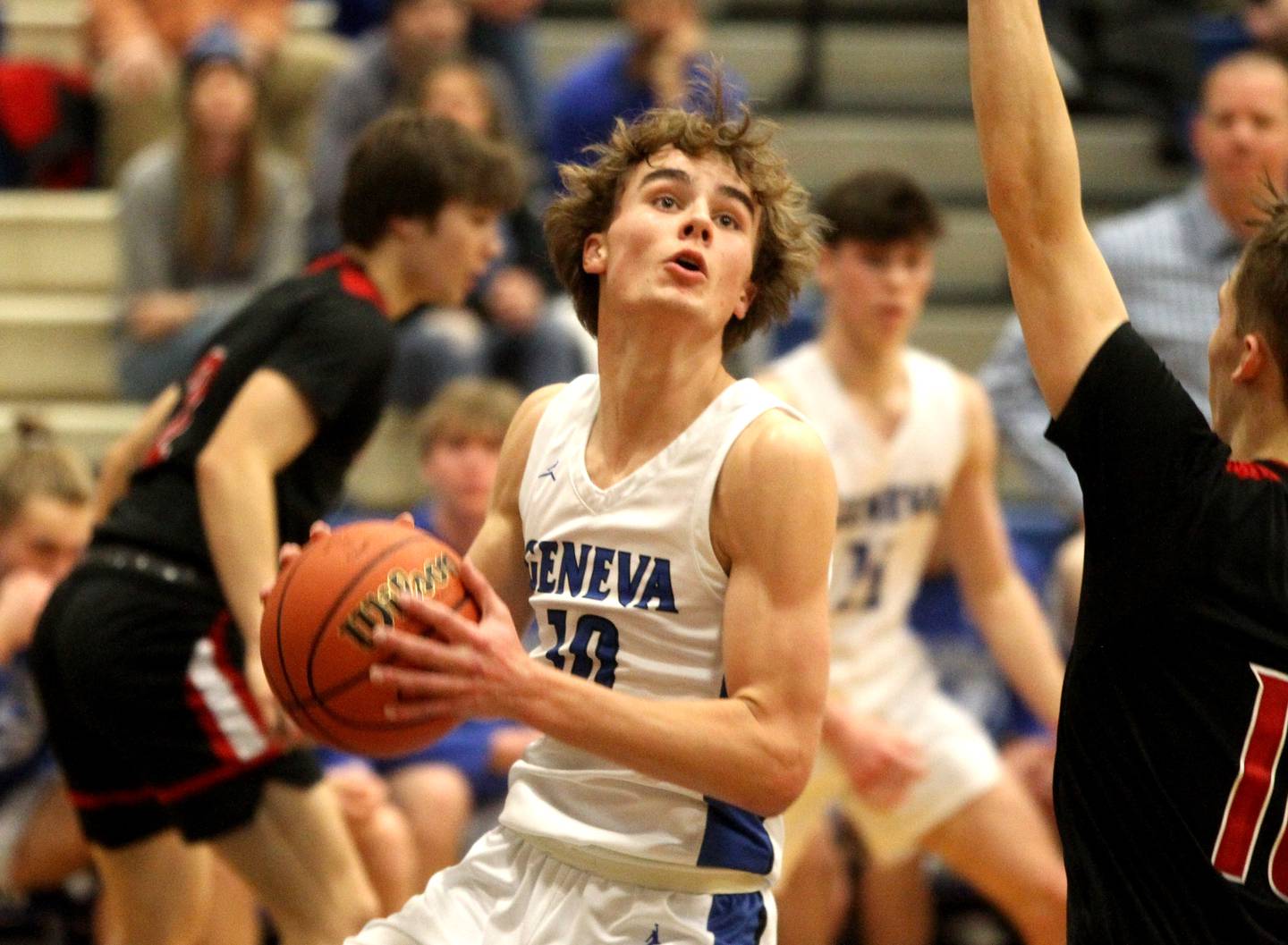 In addition to Ambrose's 17 points and seven rebounds, Nate Nazos finished with 10 points and two rebounds. Jacob Aseltine flashed with four rebounds and five points. Chaney had four points and four rebounds.
"[Aseltine] is a great player. He's the best shooter on our team and whenever he's got the ball, he's open, it's going to go down," Ambrose said. "He's always crashing the boards and getting offensive rebounds and getting extra steals. He's just the guy you need out there."
Geneva will regroup after just having started a small winning streak at three games. Lawrence finished with six points. Tanner Dixon led with 12 points and six rebounds. Tommy Diamond had four points and five rebounds. Jimmy Rasmussen had six points and four rebounds.
"[Batavia] beat us on the toughness plays, 50-50s. I think they beat us on free-throw offensive rebounds," Geneva coach Scott Hennig said. "They just played harder. We didn't play very well offensively. I didn't think our defense was that bad. I thought we turned them over a little bit, especially the start of the second half, we got five or six. Mick being in foul trouble hurt us, but I thought they just outplayed us on the hustle plays."