No. 2 seed St. Charles North will face No. 1 seed Edwardsville in the Class 4A state semifinal. Here's what you need to know:
When: 5:30 p.m. Friday
Where: Louisville Slugger Complex, 8400 N Orange Prairie Rd. Peoria, IL 61615
History
St. Charles North is in the state tournament for the first time since 2011. The North Stars lost 9-8 to Moline in the 2011 state championship game. It set a record in a 4A championship game with 17 combined runs in a title game.
Edwardsville returns to the state tournament for the first time since 2009, when it placed second that season. This season is the program's third time qualifying for the state tournament.
How did they get here?
St. Charles North defeated Whitney Young in the supersectional on Monday after rallying for four runs in the fifth inning. Ava Goettel pitched six innings and Paige Murray closed it out to advance.
Edwardsville defeated West Aurora 11-5.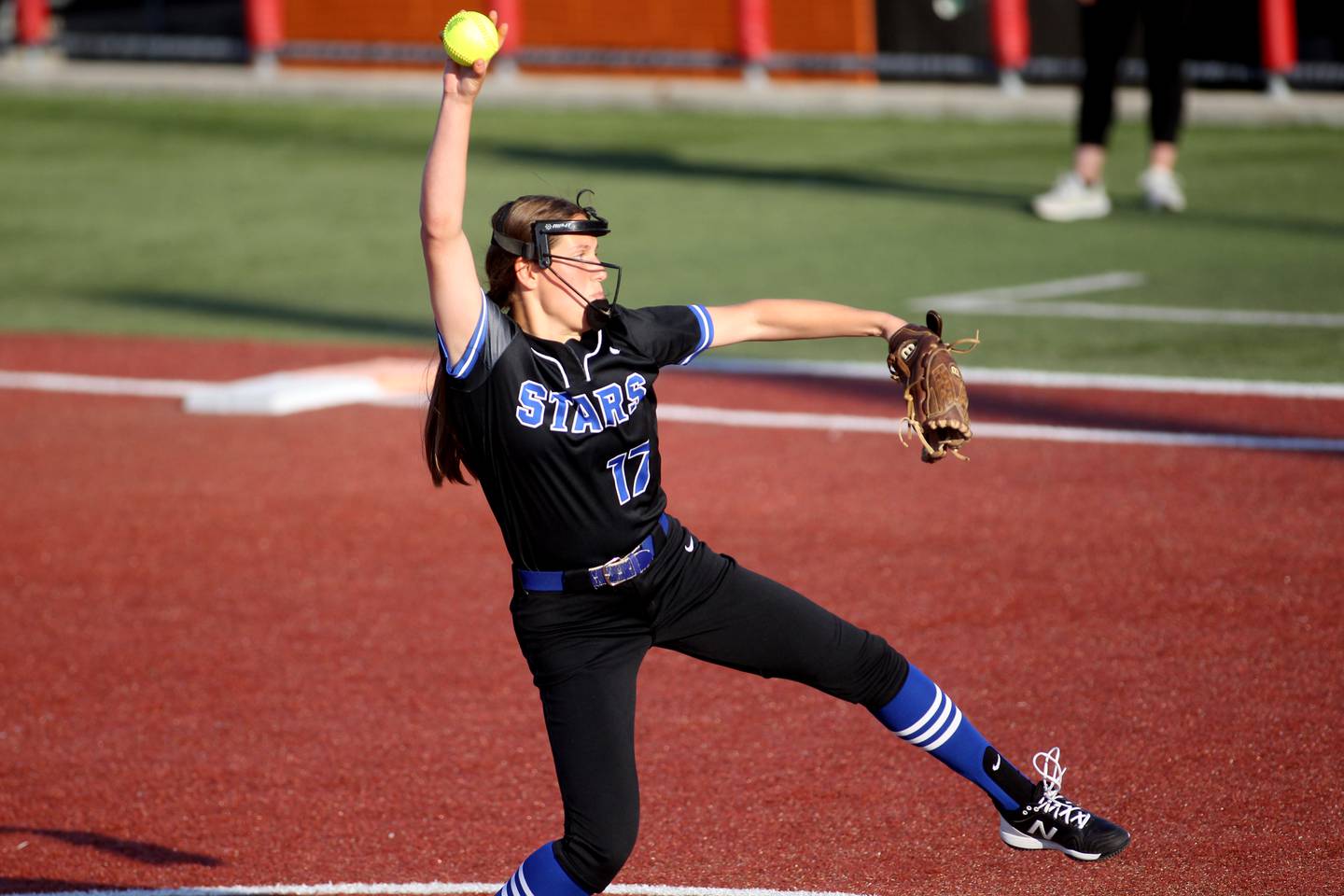 Who to watch:
Edwardsville:
Ryleigh Owens, pitcher, senior
Per the St. Louis Post Dispatch, Owens enters Friday's semifinal with a 19-1 win-loss record and sports an 0.57 ERA with 155 strikeouts. Owens also walked 22 batters over 134 innings and went 25 innings without surrendering a run over four starts before the supersectional.
Owens has a 32-4 career record and a 1.03 ERA in three seasons with 287 strikeouts in 265 innings.
Lexie Griffin, catcher, senior
Griffin, also a standout setter in volleyball, had three hits –including two home runs – and five RBI in their supersectional win. Griffin is a Parkland college softball commit.
St. Charles North
Ava Goettel, junior, pitcher
Goettel has answered the bell for the North Stars in the circle in both of her postseason appearances. Entering Monday's supersectional, in 94 innings pitched, Goettel threw 93 strikeouts and had a 1.803 ERA. Goettel has proven to pitch deep into games and works through the batting order the first few times rather quickly.
Leigh Vande Hei, junior, outfield
Vande Hei's speed at leadoff and defensively in the field could be a major factor on Friday. The Butler commit sported at .538 batting average, 1.230 on-base plus slugging percentage and 23 stolen bases entering Monday.
X Factors:
For the North Stars:
Forcing Owens to throw deep into the pitch count.
That was their game plan against Whitney Young's Shelby Jacobson in the supersectional and it ultimately paid off, as she threw over approximately 120 pitches. The North Stars weren't phased by Jacobson's 25-strikeout, 12-inning no-hitter from early in the postseason and have legitimate hitting potential up and down their lineup. Getting Vande Hei, Ashlee Chantos and Julia Larson going at the top of the order will be key.
Outfield defense
Meghan Nicastro, Vande Hei and Chantos from left to right field is arguably one of the top defensive outfields around, and each player has key moments and catches in the postseason where they have limited potential runs or squashed potential rallying moments.
For Edwardsville
Owens being Owens
The stats don't lie and she brought a 25-inning streak of allowing no runs into their supersectional win over West Aurora, per the Dispatch. Owens, by all appearances, is the real deal. While the North Stars have rallied late in games, particularly in the sectional and supersectional games, Owens appears to have the ability to make sure that may not happen.
Offense staying hot
Edwardsville scored 12 runs and allowed no runs in its regional slate and scored 11 runs and allowed no runs in the sectional slate. West Aurora was the first team to score a run on the Tigers in the postseason. It's an apparent testament to not only their pitching, but offensive potency.
What's next?
The winner will play either Barrington or Marist in the state championship game on Saturday at 3 p.m. The respective losing teams will see one another in the third place game at 1 p.m.