SouthWest Suburban Conference
Bolingbrook (4-1) at Homewood-Flossmoor (4-1)
When: 6 p.m. Friday
Last matchup: Homewood-Flossmoor 14, Bolingbrook 13 (2019)
About the Raiders: Bolingbrook once again couldn't clear the Lincoln-Way East hurdle in its first loss of the season in Week 4, but there were definitely some encouraging signs. The Raiders continue to make teams work hard for every yard. The offense was limited against Lincoln-Way East because of strong winds that made passing difficult. RB Jaquan Howard has been steady and is almost a lock to be around the 100-yard mark most nights.
About the Vikings: Homewood-Flossmoor's offense finally got on track in the second half of its Week 5 win over Bradley-Bourbonnais. WR Myles Walton and RB Kamrin Cox are dangerous players. Defensively, H-F has shown its mettle much of the season, but it will get another stern test this week against a diversified Bolingbrook offense.
Friday Night Drive pick: Bolingbrook
Bradley-Bourbonnais (2-3) at Lincoln-Way Central (2-3)
When: 6 p.m. Friday
Last matchup: Lincoln-Way Central 38, Bradley-Bourbonnais 20 (Spring 2021)
About the Boilermakers: After a 2-0 start against lesser competition, the Boilermakers have found the rigors of the SouthWest Suburban not to their liking. Overwhelmed in losses to Lockport and Homewood-Flossmoor, B-B needs to improve, particularly on defense, where it allowed H-F to run away after only a 7-0 deficit at halftime. QB Caige Williams is a dangerous run-pass threat for the Boilermakers.
About the Knights: The first half of the season hasn't gone according to plan for Lincoln-Way Central. The 31-7 loss to Andrew in Week 5 had to be particularly disappointing. The offense has struggled and is averaging about eight points a contest. The Knights have been held to a touchdown or less in all but one game. There may be an opportunity to right the ship in this one, but the defense will have to turn in a better effort.
FND pick: Bradley-Bourbonnais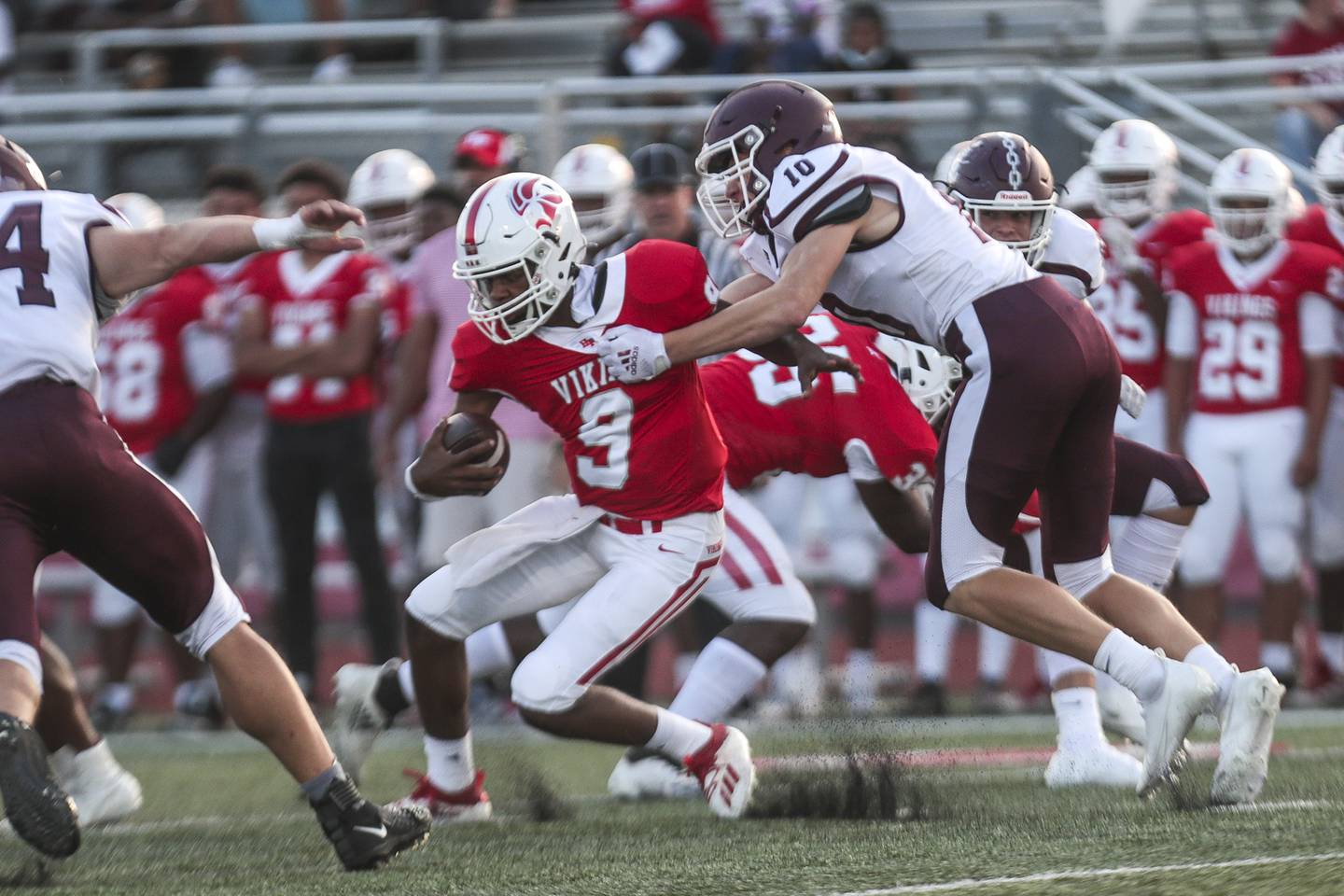 Lincoln-Way West (2-3) at Lockport (5-0)
When: 6:30 p.m. Friday
Last matchup: Lockport 14, Lincoln-Way West 7 (2016)
About the Warriors: Lincoln-Way West dominated Stagg, 42-6, in Week 5 to inch closer to .500. Both Jason and Justin Harris had huge games, each scoring three touchdowns. Sophomore QB Cole Crafton continues to grow into his role, completing about 70% of his passes in the Stagg victory. All of that offensive momentum will be tough to maintain against a stout Lockport defense, but at least the Warriors have a little wind under their sails.
About the Porters: The list of teams statewide playing better than the Porters right now is extremely short. Lockport performed an absolute blitzkrieg on Sandburg in Week 5, amassing a 35-0 lead before the first quarter expired. The defense routinely is pushing opponents back, and the offense is more than content to take advantage of the short fields. Lockport's defense has allowed only one touchdown this season and has four shutouts.
FND pick: Lockport
Sandburg (1-4) at Lincoln-Way East (4-1)
When: 7 p.m. Friday
Last matchup: Lincoln-Way East 34, Sandburg 0 (Spring 2021)
About the Chargers: Sandburg is making strides but ran into a buzzsaw known as Lockport in Week 5. As a whole, Sandburg has played one of the state's stronger schedules through six weeks. For the most part, the defense has been decent, but the offense has been spotty (32 points through five games).
About the Griffins: It's been a gradual progression for the young Lincoln-Way East core but an effective one as the Griffins are only a last-second field goal loss to Naperville Central (Week 2) away from their typical undefeated regular-season status. The offense seems to be rounding into form with an interesting development from its Week 5 win over Bolingbrook possibly setting up a running back duo that could be tough to contain. RB James Kwiecinski has been solid, but WR Tre Johnson was the backfield and fared quite well, notching 115 yards and a score in his debut at the position.
FND pick: Lincoln-Way East
Southwest Prairie Conference
Joliet West (0-5) at Romeoville (0-5)
When: 7 p.m. Friday
Last matchup: Romeoville 17, Joliet West 14 (Spring 2021)
About the Tigers: The Tigers put forth a valiant effort on limited preparation in a Week 5 loss to Plainfield Central, particularly on defense. It's understandable that Joliet West has struggled to find its rhythm on offense having playing only three games this season because of a two-week COVID-19 hiatus.
About the Spartans: Romeoville's upset win over Joliet West in the spring marked a highlight for the program, and maybe the rematch will provide an inspirational effort for the Spartans, who could use a lift. The defense is yet to allow less than 40 points to any opponent in its four games this season (it too lost a game to COVID-19 issues). The Spartans did show some spark on offense in a Week 5 loss to Plainfield South, posting 27 points.
FND pick: Joliet West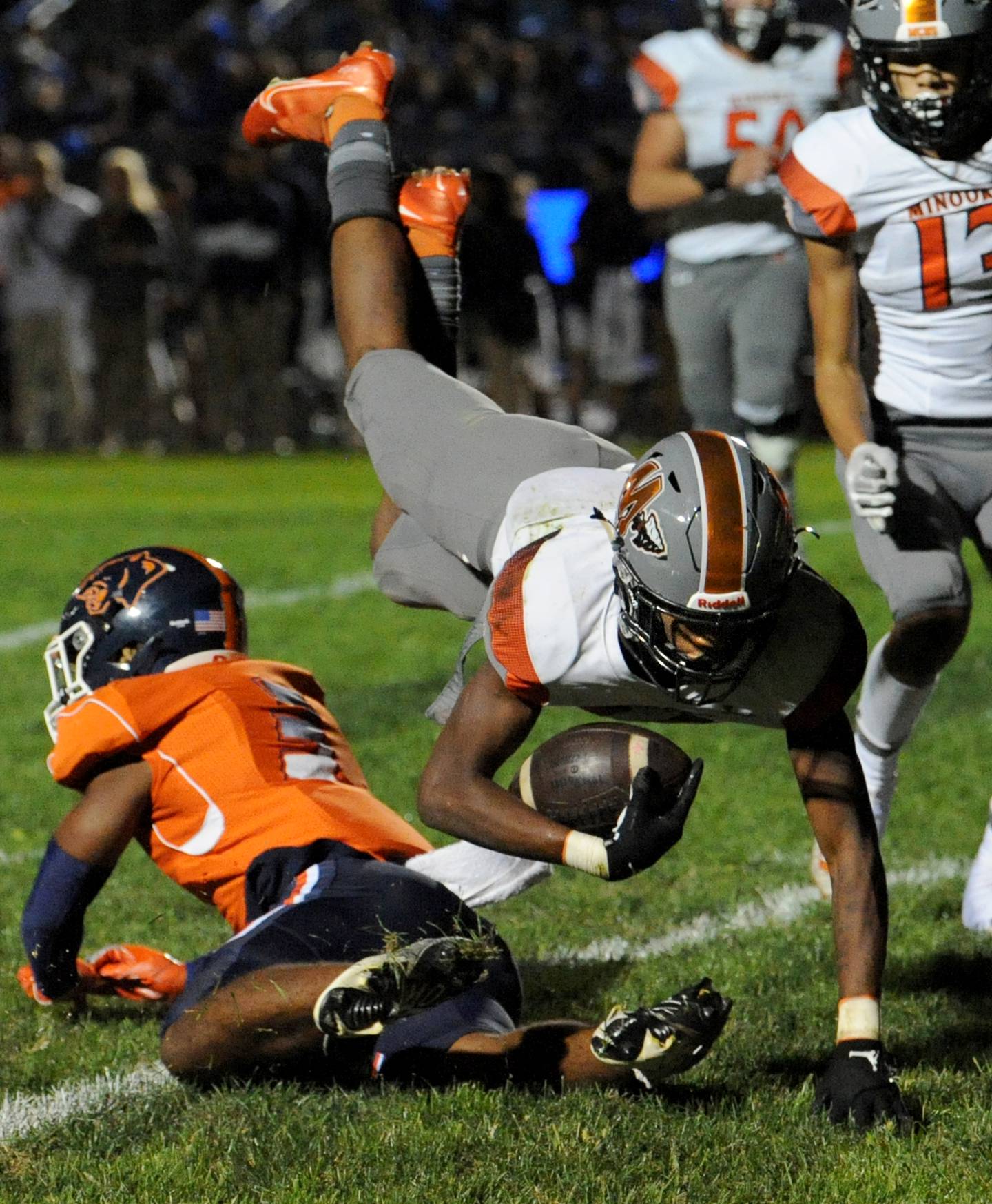 Minooka (2-3) at Oswego East (5-0)
When: 7 p.m. Friday
Last matchup: Minooka 34, Oswego East 27 (Spring 2021)
About the Indians: Minooka is slowly painting itself into a bit of a corner in regards to playoff eligibility. While this isn't exactly a must-win situation for the Indians, it is pretty close. The SPC West appears as deep as ever, and a loss would require Minooka to run the table in its final three games just to reach five wins. The defense needs more regular stops. It couldn't get those stops down the stretch in a Week 5 loss to rival Oswego. WR Malik Amstrong continues to have a strong season pacing Minooka's offense.
About the Wolves: Oswego East is one of the last undefeated teams, and it is largely still there because of its defense. The Wolves got a pair of defensive scores in a Week 5 win over West Aurora and have consistently reined in opponents all season. The offense hasn't been as prolific, but QB Tre Jones has proved to be a dangerous option, more as a runner than as a passer.
FND pick: Oswego East
Plainfield North (4-1) at Oswego (3-2)
When: 7 p.m. Friday
Last matchup: Oswego 20, Plainfield North 10 (Spring 2021)
About the Tigers: Plainfield North is playing stellar defense right now. When coupled with a strong running game, the Tigers are proving to be a tough team to beat. It got a quality pass-run effort from QB Harrison Klein in a Week 5 win over Yorkville, something it would like to continue for the stretch run. RB Jared Gumila is also proving to be a real bruiser, although he did leave the Week 5 game early because of injury.
About the Panthers: Oswego went over the .500 mark for the first time this season and has a three-game winning streak. The Panthers have used a strong running game to gain momentum, getting a four-touchdown, 200-yard plus effort from Mark Melton in a Week 5 win over Minooka.
FND pick: Plainfield North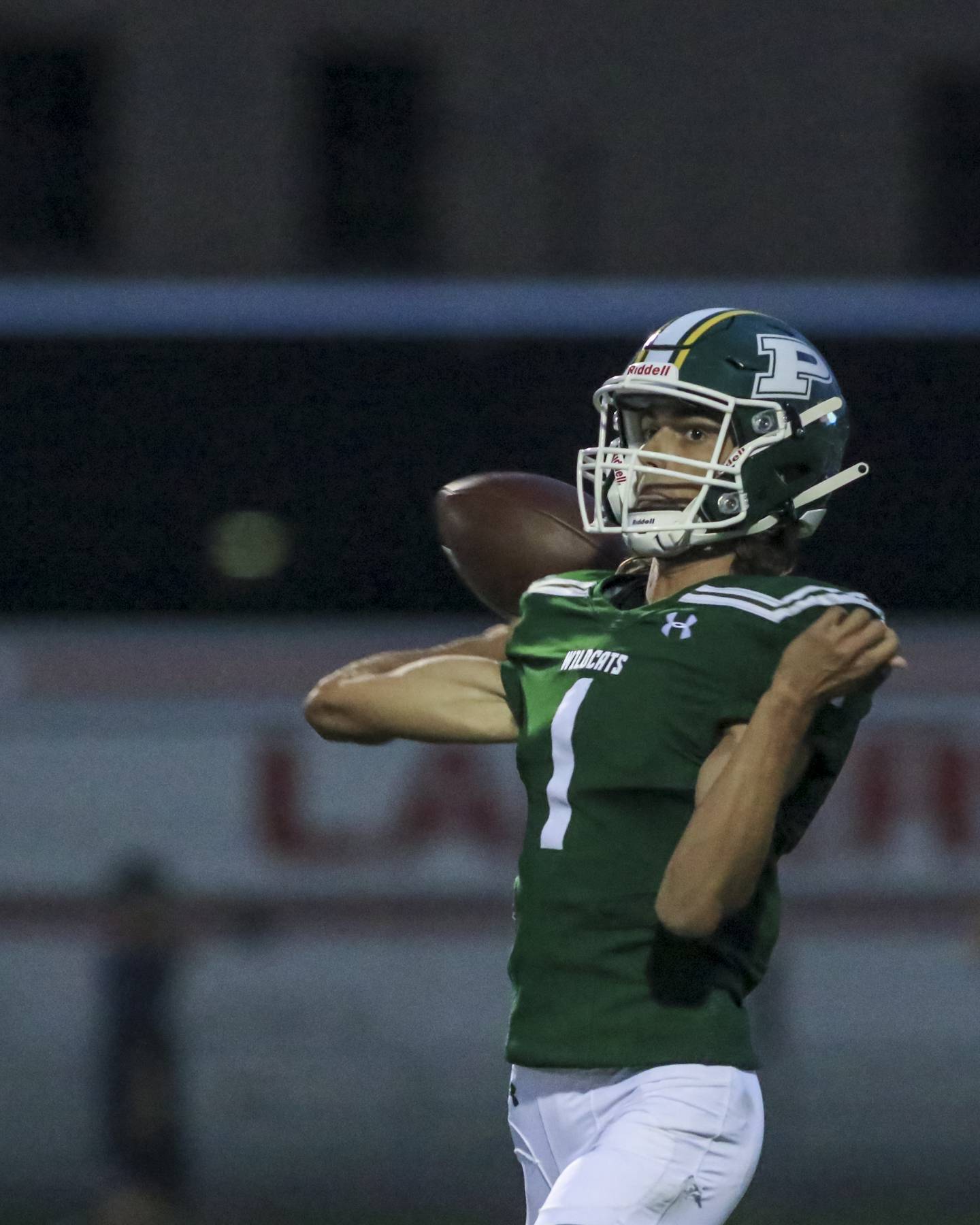 Plainfield East (2-3) at Plainfield Central (4-1)
When: 1 p.m. Saturday
Last matchup: Plainfield East 44, Plainfield Central 38 (Spring 2021)
About the Bengals: Plainfield East finally got all phases on the same page as it breezed to a win over Joliet Central in Week 5. The Bengals need to stay on task to extend the winning streak. WR Michael Morgan certainly will be a big part of the plan as he has been all season, but the biggest challenges likely will come on defense, where the Bengals have struggled to keep quality offenses in check.
About the Wildcats: Plainfield Central's win over Joliet West in Week 5 wasn't pretty, but it is the kind of win that an emerging program figures out how to get done. The Wildcats had experienced few problems on offense this season, but Joliet West figured out a way to make them work. Instead of folding, Plainfield Central ground out the win, piecing together a field goal, a defensive touchdown and a short rushing TD from Connor Huffman, that didn't come until late in the third quarter.
FND pick: Plainfield Central
Plainfield South (2-3) at Joliet Central (0-5)
When: 1 p.m. Saturday
Last matchup: Plainfield South 42, Joliet Central 6 (Spring 2021)
About the Cougars: Brian Stanton continues to pile up huge rushing totals, going for 217 in the Week 5 win over Romeoville to mark his second 200-plus yard rushing effort this season. It's been an up-and-down season for the defense, which usually is a hallmark of the Cougar program. Here they have an opportunity to shore up some areas of concern.
About the Steelmen: The Steelmen were able to get back on the field after missing their Week 4 game because of a variety of concerns within the program. It was a rough go in a loss to Plainfield East, but it's fairly understandable that the program is struggling to find its footing right now.
FND pick: Plainfield South
CCL/ESCC
Montini (2-3) at Providence (3-2)
When: 7:30 p.m. Friday
Last matchup: Providence 44, Montini 7 (Spring 2021)
About the Broncos: Montini has played one of the most difficult schedules in the state, especially for a school that will be in Class 3A for the postseason. While there have been good moments, such as a comfortable win over Sterling, there also have been moments of pause, including a Week 5 struggle to separate itself from Leo, an improving but still lower-tier team. Montini's schedule might be strong enough for it to qualify for the playoffs with four wins, but it's hard to tell if the Broncos will scuffle to get to four wins or possibly not make it at all.
About the Celtics: Almost everything Providence does turns into an adventure right now. Week 5 was no different. Providence appeared well on its way to an easy victory over Marian Central, carrying a 28-7 lead into halftime. But Marian stormed back within a 2-point conversion failing at the end of the game to help Providence secure a 35-33 win. It was the second time this season Providence won after a late, failed conversion attempt by an opponent.
FND pick: Providence
St. Laurence (3-2) at Joliet Catholic (5-0)
When: 7:30 p.m. Friday
Last matchup: Joliet Catholic 48, St. Laurence 0 (Spring 2021)
About the Vikings: When St. Laurence opened the season with losses to Moline and St. Ignatius, things looked pretty bleak. But upon further inspection, both of those losses came at the hands of better-than-expected teams. St. Laurence has regrouped nicely with back-to-back wins over Montini and DePaul. There's no time to rest as Joliet Catholic, Mount Carmel and Providence still lurk.
About the Hilltoppers: The score tightened at the end, but Joliet Catholic manhandled Crete-Monee while once again not at full strength. Standout RB Jordan Anderson sat out another game. As much as the Hilltoppers want him playing, they haven't missed him much with Vinny Iannantone, who had three rushing touchdowns last week, performing so well. The connection between QB Aidan Voss and WR Jake Fieldman is paying dividends.
FND pick: Joliet Catholic
South Suburban Conference
Bremen (3-2) at Lemont (5-0)
When: 7 p.m. Friday
Last matchup: Lemont 45, Bremen 14 (2019)
About the Braves: Bremen might be one of the better second-tier teams in the South Suburban, but a matchup against Lemont is a significant step up. The two teams don't have any common opponents, but Bremen has squeaked out two league wins. They were handled pretty easily by T.F. South, while Lemont's South Suburban slate has been a breeze to this point.
About Lemont: Lemont hasn't played a game until now where the opponent entered with a winning record. But that doesn't mean Lemont is playing down to the level of its competition. Lemont has outscored its past three opponents, 139-19.
FND pick: Lemont
Illinois Central Eight Conference
Coal City (3-2) at Manteno (1-4)
When: 7 p.m. Friday
Last matchup: Coal City 27, Manteno 0 (Spring 2021)
About the Coalers: The Ashton Harvey-led offense is doing a fair job of controlling tempo and field position, as the RB battered his way to more than 200 yards on 31 carries in the Week 5 win over Lisle. He also had 11 tackles on defense. But as much as the offense has leaned on Harvey, the Coalers appear destined to go as far as the defense takes them, and that might be pretty far.
About the Panthers: For the first time this season, Manteno's offense showed real signs of life in a Week 5 win over Streator. QB Carter Drazy accounted for about 250 yards of total offense, including 109 on the ground. Jack Prindeville was on the receiving end of all three of Drazy's touchdown passes. Manteno likely won't be able to roam the field as freely this week, but it is coming off an encouraging effort.
FND pick: Coal City
Reed-Custer (5-0) at Wilmington (5-0)
When: 7 p.m. Friday
Last matchup: Wilmington 26, Reed-Custer 21 (Spring 2021)
About the Comets: Reed-Custer is 5-0 for the first time since 1986 after a resounding win over Peotone in Week 5. The Comets have never been 6-0. For it to happen, they have to topple a team they haven't beat since 2006. In 42 meetings between the two schools, Wilmington has won 36. That being said, you can't dismiss the possibility of Reed-Custer claiming a watershed win here considering how well it has played this season.
About the Wildcats: Wilmington's defense looks like it's ready for the playoffs to start tomorrow. The Wildcats held Herscher to only 13 rushing yards and returned two interceptions for scores in a Week 5 win. Offensively, Wilmington hasn't been forced out of its comfort zone of running the ball on about every play, and until someone does it's hard to see a path on how to beat the Wildcats right now.
FND pick: Wilmington
Streator (3-2) at Peotone (3-2)
When: 7 p.m. Friday
Last matchup: Peotone 49, Streator 13 (Spring 2021)
About the Bulldogs: Streator is above .500 but seems to have missed a golden opportunity to put themselves in better position after a loss to previous winless Manteno in Week 5. The Bulldogs have been all over the map on defense this season, but they will at least have the advantage of knowing pretty much what Peotone will throw at them.
About the Blue Devils: Peotone learned the hard way that Reed-Custer's surge is a legitimate one as the Comets piled up yardage and points against a Blue Devil defense that until that point had been pretty solid. Peotone's powerful rushing attack didn't get anything going, and an inability to diversify (Peotone had negative passing yards) proved too much to overcome.
FND pick: Peotone
Interstate 8/Kishwaukee River
Morris (5-0) at Kaneland (3-2)
When: 7 p.m. Friday
Last matchup: Morris 35, Kaneland 30 (2019)
About Morris: Morris is a fan of the alliance between the Interstate Eight and Kishwaukee River Conferences as pretty much everything has gone its way. But that success will be put to the test here. Despite a spring-season win for Morris over Kaneland, the Knights have always been a thorn in Morris' side. Kaneland will have to deal with a diverse Morris offense and standouts RB Ashton Yard and QB Zach Romak.
About the Knights: Kaneland has had little trouble scoring points, even in back-to-back losses to Geneva and Sycamore. An offense keyed by QB Troyer Carlson is capable of quickly putting up points. This is a team that seems comfortable in shootouts. It already has been in several this season, but the Knights will need to get some more stops if they hope to beat teams in the tough heart of their schedule.
FND pick: Morris
Vermilion Valley Conference
Dwight (0-5) at Clifton Central (4-1)
When: 7 p.m. Friday
Last matchup: Clifton Central 40, Dwight 6 (Spring 2021)
About the Trojans: Dwight likely is still trying to get its feet underneath it after missing Weeks 2 and 3 because of COVID-19-related issues. The Trojans struggled in their first division game in the Vermilion Valley. Going on the road to play the conference favorite doesn't bode well for the Trojans.
About the Comets: Central had a bye week in Week 5 after long-time rival Watseka made the decision to finish the season as a junior varsity squad because of numbers issues. Central, which once again has established itself as the divisional favorite, used the week to get some of its banged up players ready for action, as a healthy Central roster probably is too much for most of the remaining Vermilion Valley teams on its schedule to match up with.
FND pick: Clifton Central
Seneca (2-4) at Watseka (1-5)
Watseka is no longer playing varsity football games this season. Seneca will receive a forfeit win.