Nate Kraus pulls no punches when assessing the stakes for Yorkville as it prepares for Friday's regular season finale against Oswego.
"The playoffs basically start this week," said Kraus, Yorkville's senior quarterback.
Indeed, the 4-4 Foxes are right on the playoff bubble going into the season's last week, after back-to-back close losses to Oswego East and Minooka.
Yorkville is one of 72 teams statewide at 4-4 still seeking the fifth win to become playoff eligible. A total of 213 teams have already locked up at least five wins, according to Shaw Media's Steve Soucie, leaving 43 spots open with playoff pairings set to be revealed Saturday night.
And while Soucie has estimated that there will be some four-win teams with enough playoff points to qualify, Kraus is not interested right now in entertaining that scenario and the 24 anxious hours it comes with should Yorkville lose Friday.
"I don't want it to come to that," Kraus said. "Either we're in, or we're not. I'm trying to win Friday."
That urgency has made it necessary for the Foxes to quickly put behind them a heartbreaking 20-17 overtime loss to Minooka. In that game Yorkville twice rallied from one-touchdown deficits, the second time on Kraus' 21-yard touchdown to John Swarn with 5:21 left in the fourth quarter. The Foxes eventually lost on the final play of the game, a one-handed TD grab by Minooka's Trevor Hudak, but Kraus said he pulled many positives from defeat.
"I was at least more encouraged with the Minooka game than Oswego East [a 14-7 loss the week before]," said Kraus, who ran for 31 yards and threw for 51 more. "As one of our sophomore coaches said this week, we are a team that he wouldn't want to play. I feel like we finally put stuff together. I felt personally we made fewer mistakes, we just didn't capitalize when we needed to."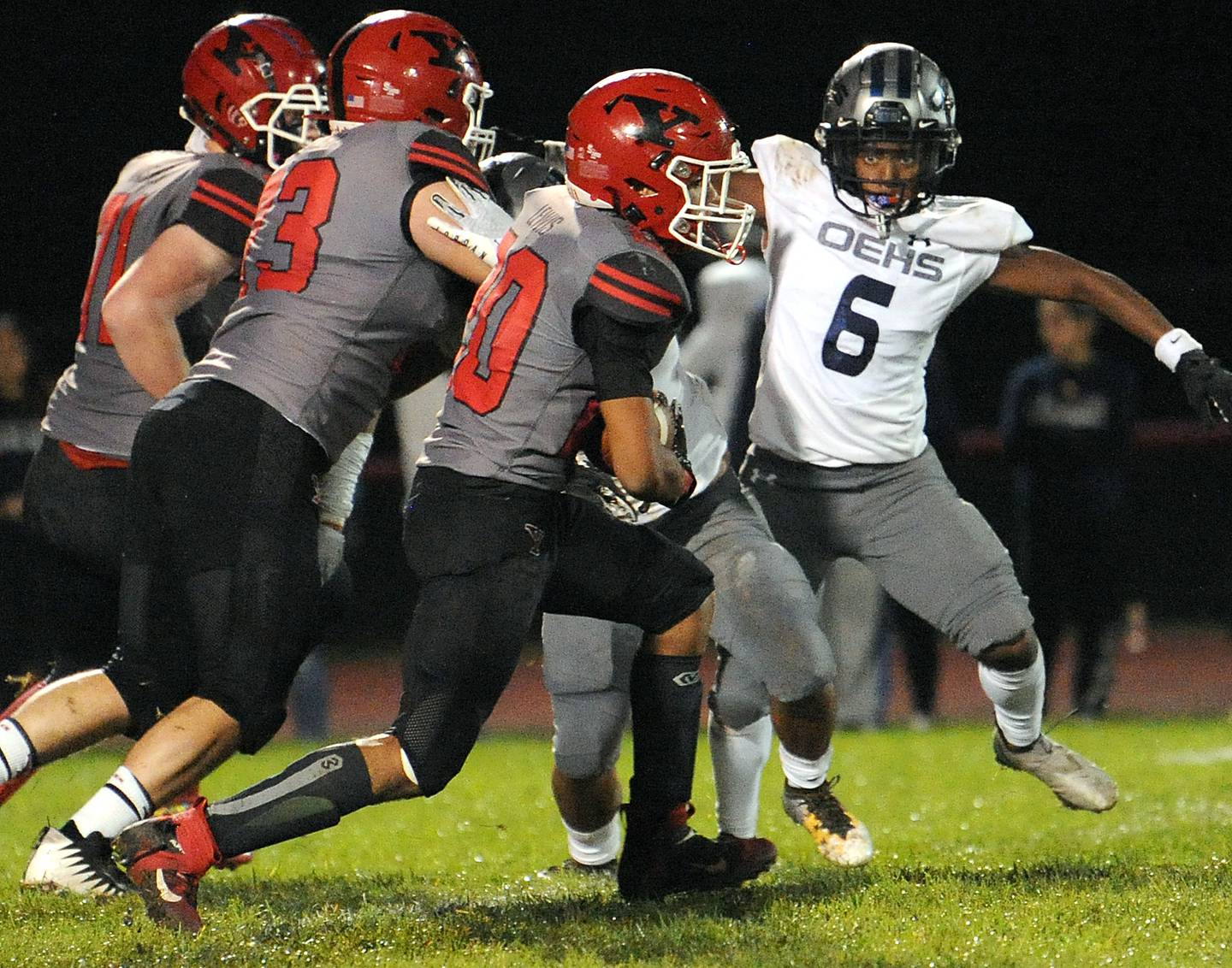 Yorkville's defense has been consistently strong throughout the season, impressive considering half the starters are juniors or sophomores. Foxes' coach Dan McGuire has noticed significant improvement from his offense from Week 1 to Week 8 in terms of limiting penalties and other mistakes. His team has shown that it can compete against very good teams, but needs to finish the deal.
"We talked about it the other day, we're not playing horseshoes. Close isn't what we want to do," McGuire said. "We need to win football games, the expectation is to get that fifth win and we still have some work to do."
While 6-2 Oswego presents quite a challenge for a team that has so much riding on Friday's outcome, Kraus is heartened by Yorkville's recent history in the series. The Foxes led into the second half of the 2019 meeting, a 28-20 Oswego win, and were also competitive in a 17-6 spring loss.
The teams from neighboring towns hold plenty of connections, too. Kraus said his best friend goes to Oswego, he knows Oswego's Deakon Tonielli, and played baseball with Panthers' quarterback Julian Toma and wrestled with linebacker A.J. Johnson. Yorkville running back Deajeion Lewis and Swarn are both Oswego natives.
"Last year for sure they came in thinking they would beat us, and we played a close game," Kraus said. "It's two physical teams with the same goals."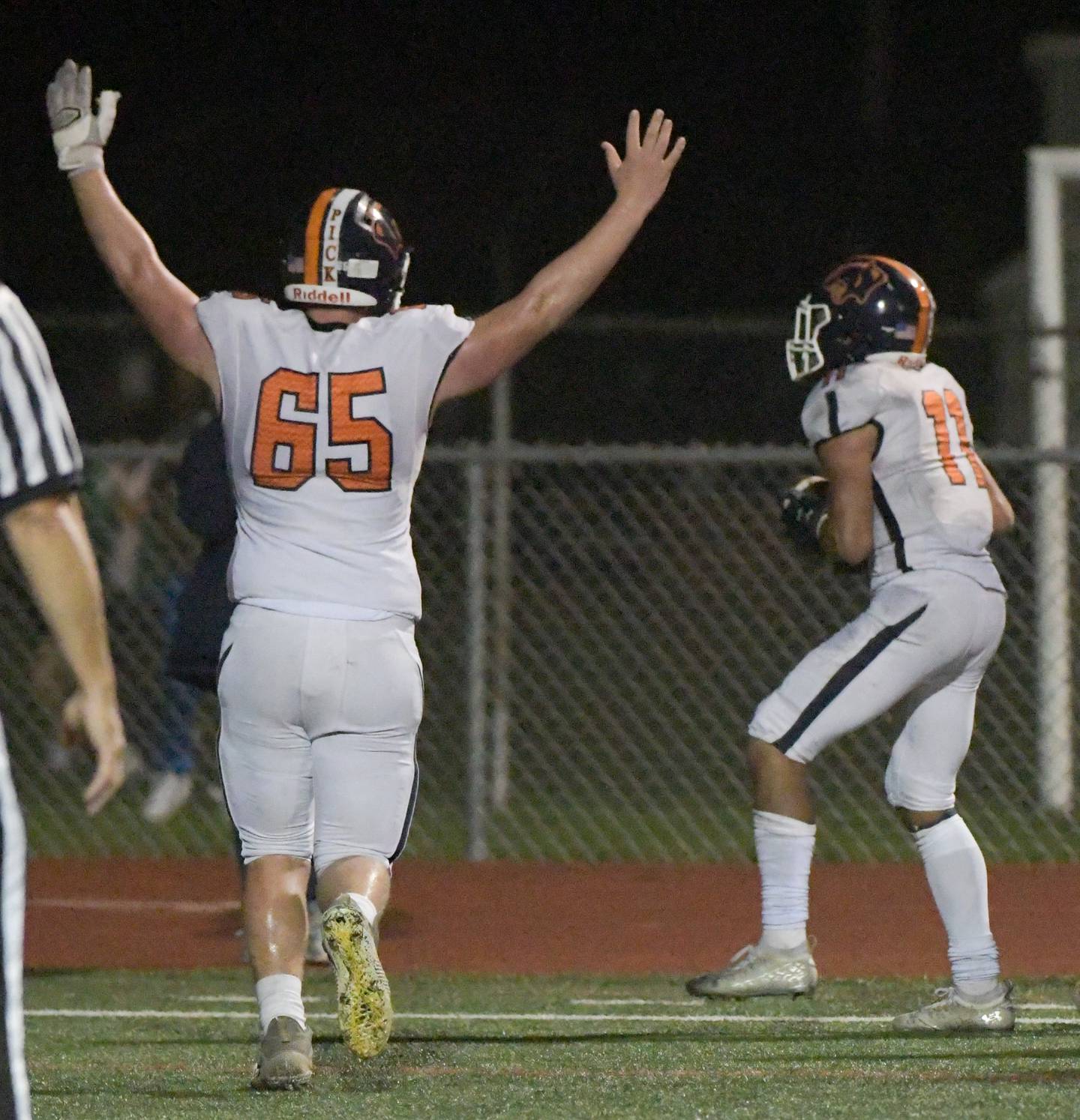 Max Castle finds home as Oswego left tackle
Max Castle's season started with a surprise.
The Oswego senior, who played sparingly in the spring at defensive end, was preparing for a role at that spot again until he came back from vacation in August with the news that he was going to be tried offensively at left tackle.
"I didn't think it was a permanent thing," Castle said.
Castle has stuck there, though, an important piece of an Oswego offensive line that has made great strides over the course of the season.
Oswego is averaging 191 rushing yards per game, and 6.5 yards per carry. Mark Melton has rushed for over 600 yards combined in games the last four weeks against Minooka, West Aurora and Oswego East. It's a far cry from Week 2, when Oswego rushed for just 58 yards on 2.6 yards per carry against Batavia, its last loss.
"We have come together, and we're more natural," Castle said of the O-line as a unit. "The chemistry was off at the beginning. I know me and the left guard [Nolan Muellner], we just moved to offense this year. We're used to playing with each other now and we know what we're doing."
Indeed, Oswego had to replace four of its five offensive linemen this season, an overhaul that didn't come without growing pains during a difficult non-conference schedule. But as the season has worn on the Panthers are back to the ground-and-pound style they're known for.
"The ability to scheme block has always been something we do here; we put an emphasis on inside zone and outside zone," Oswego coach Brian Cooney said. "We have two offensive line coaches who do a phenomenal job; that group [the O-line's] level of growth throughout the course of the season has been exponential."
While Castle's best opportunity to get on the field in the spring was at defensive end, the need was on offense this season. He still comes in defensively on substitution packages, but has found a home at left tackle.
"It really was just need-based," Cooney said. "For a kid who did not play that position junior year he has really come on. He absolutely loves football, loves everything about it. It's easy to coach kids who are willing to go the extra distance to do what they have to do."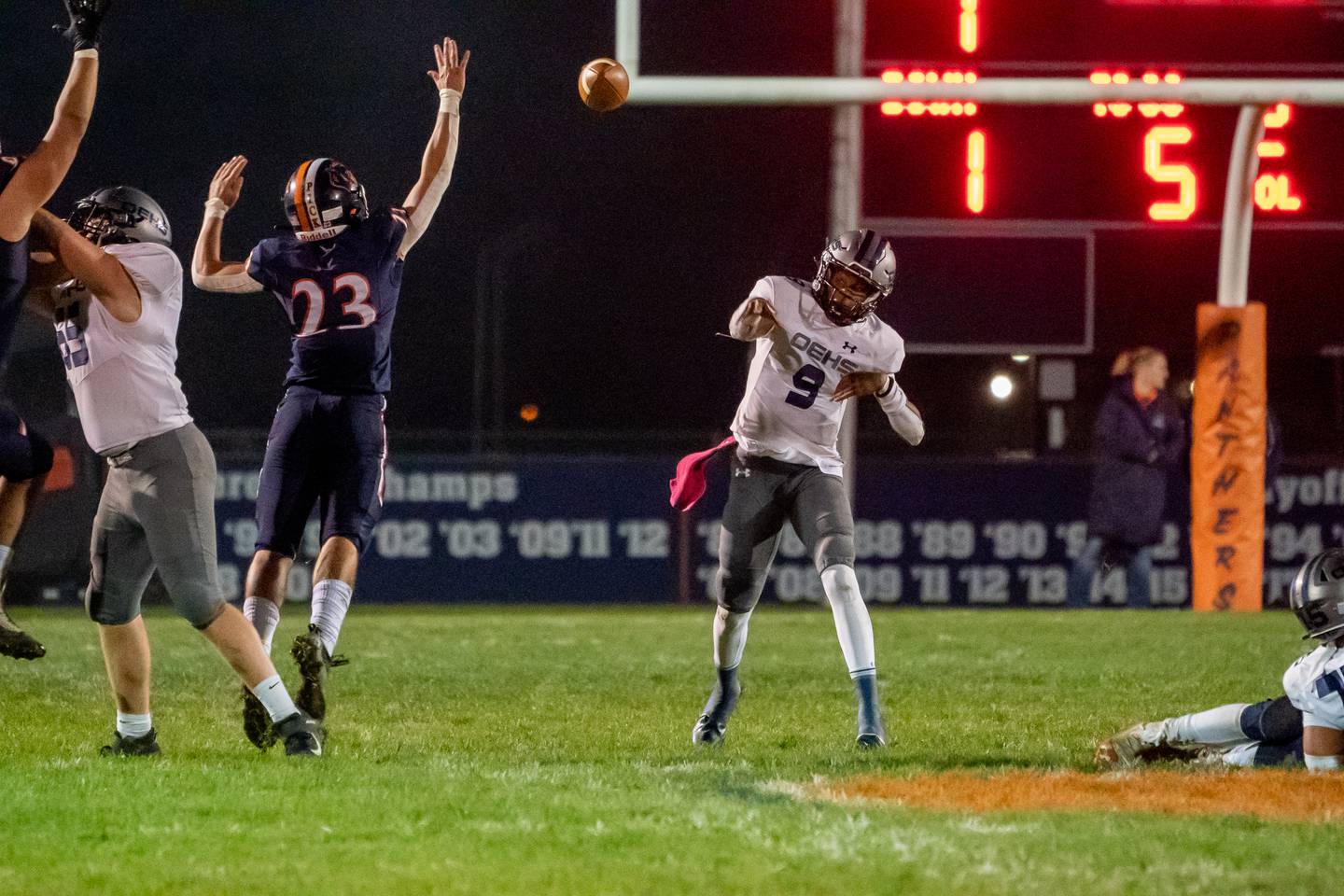 Oswego East healthy, moving on
Oswego East coach Tyson LeBlanc reported a good piece of news Monday – his guys are good to go physically.
Quarterback Tre Jones did not play in the second half Friday against Oswego after taking a shot to the chest, and running back Darquel Sanders rolled an ankle late. LeBlanc said both are OK.
That is good news, as the Wolves must lick their wounds from a 38-14 loss to the Panthers and get ready for a Plainfield North defense that's allowed just 66 points all season.
"You have no option but to move forward," LeBlanc said. "Plainfield North is another high-quality opponent. We have always said that the team we play next doesn't care what happened the week before. You have to find a way to overcome."
While Oswego East continued to showcase the big play against Oswego, a familiar theme re-emerged – an inability to sustain drives. LeBlanc chalks at least part of that up to youth.
"You look at our offense, we're juniors with the exception of Ty [Carlson], Darquel and Austin [Johnson]. Last week the Oswego game we had two sophomores, two juniors and a senior on the line a big portion of the game, Tre is still only a junior. We're young," LeBlanc said. "It comes down to being able to execute and minimize the self-inflicted wounds and teams like Oswego and Plainfield North make it difficult to execute."
Sandwich's Seven Tornga running wild
Sandwich remains winless on the season – but junior running back Seven Tornga has been coming on during the season's home stretch.
Tornga, a second-year varsity player, ran for 165 yards and two TDs on 24 carries in Week 7 against Harvard, and also caught a TD while recording six tackles defensively. Tornga followed that up by running for 181 yards and two more TDs on 29 carries in last Friday's 43-21 loss to Marengo.
Tornga has had three of his best game statistically since Sandwich was shut down for Weeks 3 and 4 because of COVID issues.
"Being quarantined really set us back, it sucked, but I spent that time getting better and focusing on the things I struggled with the first few games," said Tornga, who has put on 20 pounds since his sophomore year. "The line is creating some holes and I'm running the ball a lot better."
Tornga said the Indians still have plenty to play for in Friday's home finale against Rochelle. He was encouraged by Sandwich's showing against Marengo.
"A lot of important things," he said. "It's Senior Night, guys the last two games have been pushing ourselves. We had a great week of practice, they wanted it more and they pushed ourselves It proves how good Sandwich football can be."