AURORA – Tyler Threat was the last Waubonsie Valley player left on the field Friday, on his back screaming while two teammates held his gold shoes high to stretch out a cramp.
It never hurt so good.
Threat, on a lingering groin injury, ran wild in the second half, going for 186 yards and three touchdowns after halftime. His breakout performance broke open a scoreless halftime and the Warriors – winless last season – went on to a 28-7 win over visiting Oswego East.
[ Photos: Oswego East vs. Waubonsie Valley ]
"Good thing that cramp came at the end of the game," Threat said. "I was a little sore, I had a lingering groin injury since last season but during the game I felt good until the end when I started cramping. But it was good."
Threat, a senior, is listed as a wide receiver and defensive back on Waubonsie's roster. He only had one carry in the first half Friday, for minus three yards on his team's first play from scrimmage.
But he looked the part of a star running back before it was over.
Threat broke off a 32-yard run on the first play of the second half, and capped off the drive with a 10-yard TD run around left end. After the Warriors recovered an unintentional pooch kick on the ensuing kickoff Threat's 19-yard run on a reverse set up Chrisjan Simmons' 3-yard TD for a 14-0 lead.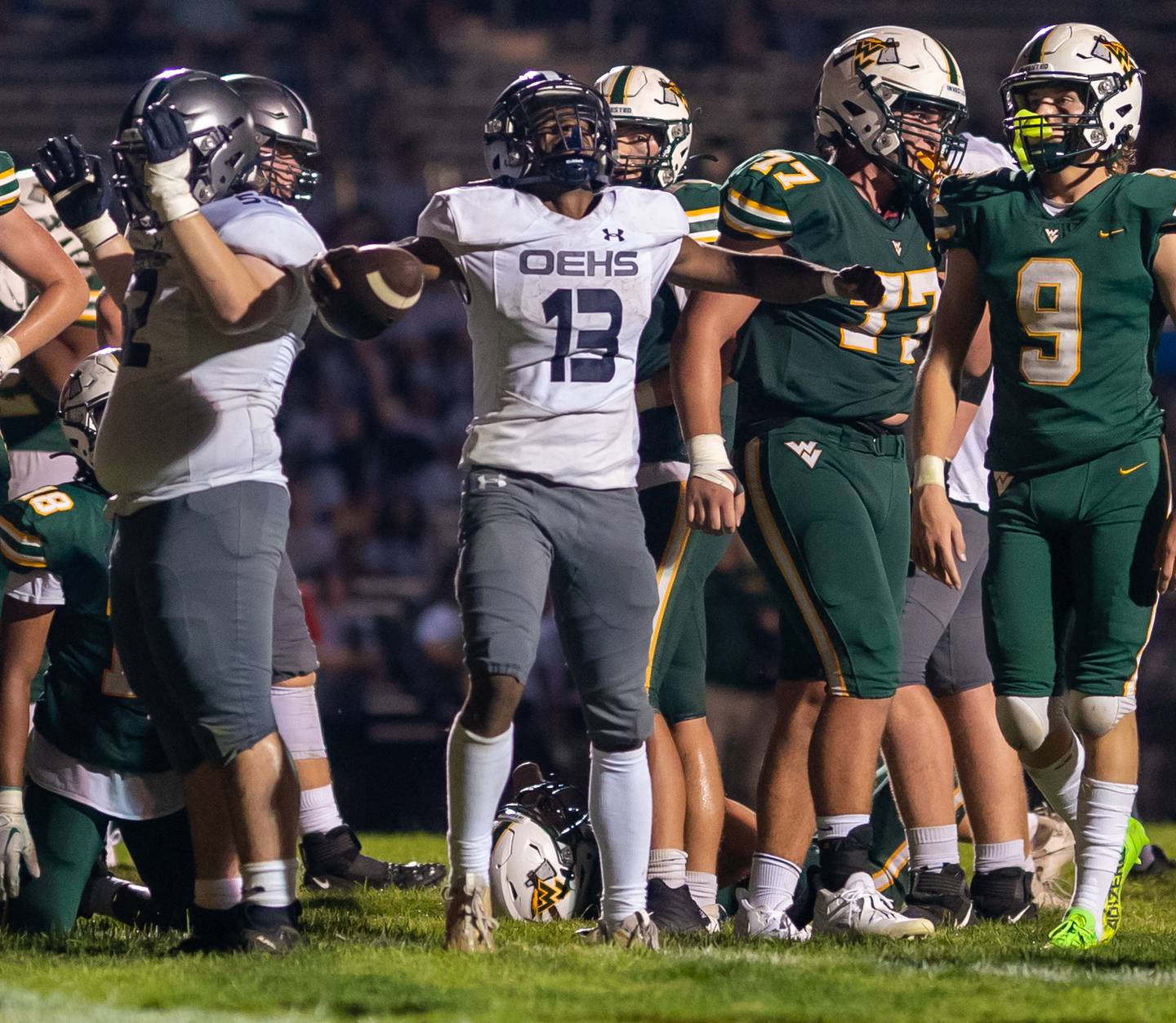 Threat later added TDs of 72 and 25 yards in the fourth quarter, the first one a backbreaker for Oswego East after the Wolves had closed to within 14-7.
Have the Warriors found a new running back?
"I feel I can play anywhere," Threat said. "That's where coach needed me today so that's where I played. I feel I can do any position he wants me to play. Coach told me the first play of the second half I was getting the ball, but I kept breaking them so he kept feeding me."
Waubonsie coach Tom Baumgartner, while paying mention to his offensive line for their work, didn't dispute what he has in Threat.
"I love Tyler, he's a threat, but for me it starts up front – that's the biggest improvement we've had since last year," Baumgartner said. "We were young last year, had a lot of injuries, but tonight our O-line opened up holes – and Tyler, he's pretty special. He can do it all. He's an athlete."
Oswego East itself is quite young at some key positions. The Wolves started a sophomore at quarterback in Niko Villacci, and another sophomore Jasiah Watson received the bulk of the carries.
The growing pains, predictably, came.
Oswego East committed seven of the game's 12 penalties in the first half, didn't cross midfield after its first drive until the fourth quarter and Villacci (9-for-21, 28 yards) threw two late interceptions.
But Watson showed a little wiggle, and promise.
He had 64 of his 94 yards on Oswego East's lone scoring drive, Watson's 5-yard TD run with 9:57 left in the fourth quarter.
"He can play – he's just a tough kid," Oswego East coach Tyson LeBlanc said. "He's got good vision, he runs hard. He's a good every down running back."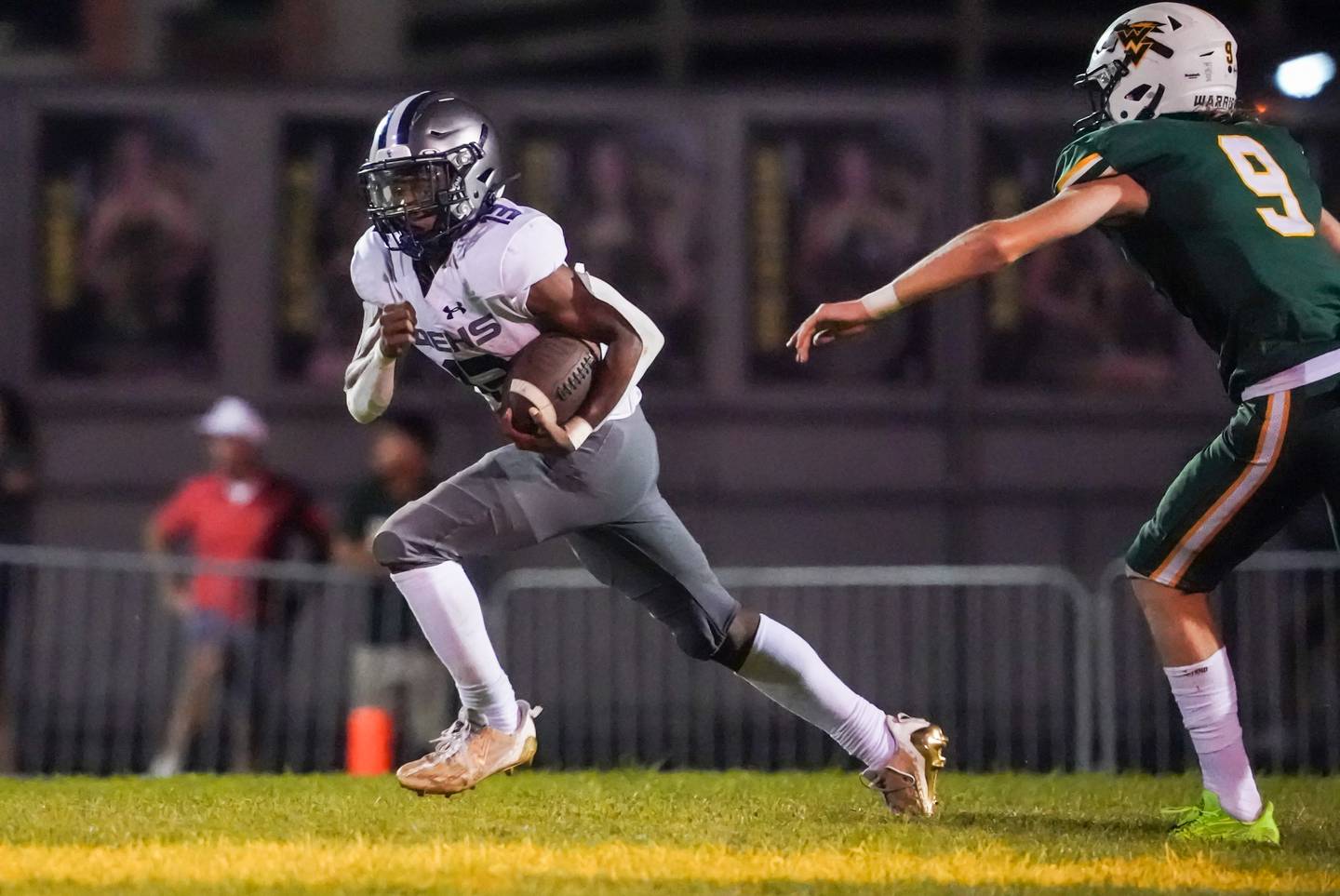 Threat showed the same, shredding the Wolves' usually stout defense. LeBlanc didn't believe they wore down in the heat in the second half.
"I think we had some bad tackling that led to some big plays," LeBlanc said. "We played like an inexperienced offensive team, second half got ourselves in a hole. We're going to look at the film. It's never as bad as you think or as good as you look."
Luke Elsea was 12-for-16 for 139 yards and Josh Hung had both of the interceptions for Waubonsie. The feeling of victory after an 0-9 season was a sweet one for a senior like Threat, but he was hardly content.
"It feels good, but this isn't our goal – we're trying to make the playoffs," Threat said. "This is one step in the right direction."