DeKALB – Democratic Gov. JB Pritzker touted his proposal to increase state funding for higher education and keep more students in Illinois during a stop Tuesday at Northern Illinois University in DeKalb.
Pritzker said funding higher education institutions such as NIU and increasing need-based financial aid opportunities for students will help curb what some have called a mass exodus of Illinois high school graduates leaving the state for college.
"Four years ago when I first took office, going to college in Illinois seemed more unaffordable than ever before," Pritzker said at a news conference in NIU's Barsema and Alumni Visitor's Center. "Funding for higher education had been cut so badly that out-of-state tuition in other states was more affordable than in-state tuition for Illinois students. That's a fundamental failure of state government."
As part of his $49.6 billion fiscal 2024 budget, Pritzker asked the General Assembly for a $100 million increase in funding for Illinois Monetary Award Program, which would bring the total amount to $701 million and mark a 75% increase compared to the year Pritzker took office. The governor's budget office has said that such an increase — when combined with federal Pell grants — would allow nearly every community college student and 40% of public university students whose household incomes are at or below median income levels to attend college for free.
The governor also asked lawmakers for a 7% increase in basic operating funds for community colleges and public universities which, if approved, would mark the largest higher education funding boost in 20 years.
Pritzker's visit to NIU on Tuesday was part of the governor's planned statewide tour at higher education institutions looking to muster support for his plan. Pritzker was in Joliet last month and was headed to a Rockford elementary school later Tuesday.
At NIU, Pritzker was joined by Republican and Democratic lawmakers, including Rep. Jeff Keicher, R-Sycamore, Rep. Lance Yednock, D-Ottawa, Sen. Sue Rezin, R-Morris, NIU president Lisa Freeman and DeKalb Mayor Cohen Barnes. After the November election and statewide redistricting, Rezin and Yednock's territories now include the city of DeKalb. Yednock and Keicher also are NIU graduates.
In Pritzker's 2024 budget, funds for increased higher education funding would in part come from his $2.8 billion Rebuild Illinois program to aid infrastructure at universities and community colleges, and an increase in MAP funding for lower-income Illinois students.
Pritzker said the majority of high school students who attend college elsewhere often don't return to Illinois.
Pritzker said freshmen enrollment trends at Illinois public universities show an increase, contrary to overall lower enrollment that's plagued the state for decades. When asked what percentage of incoming freshmen would quality for state financial aid including MAP funding, Pritzker said 48% at NIU.
The grants are aimed at ensuring those of median-income levels can attend college, the governor said.
"I would like to make it free," Pritzker said.
Of that $2.8 billion in Rebuild Illinois funds, more than $130 million is earmarked for NIU's Center for Community Sustainability and NIU's Health and Information Technology Center.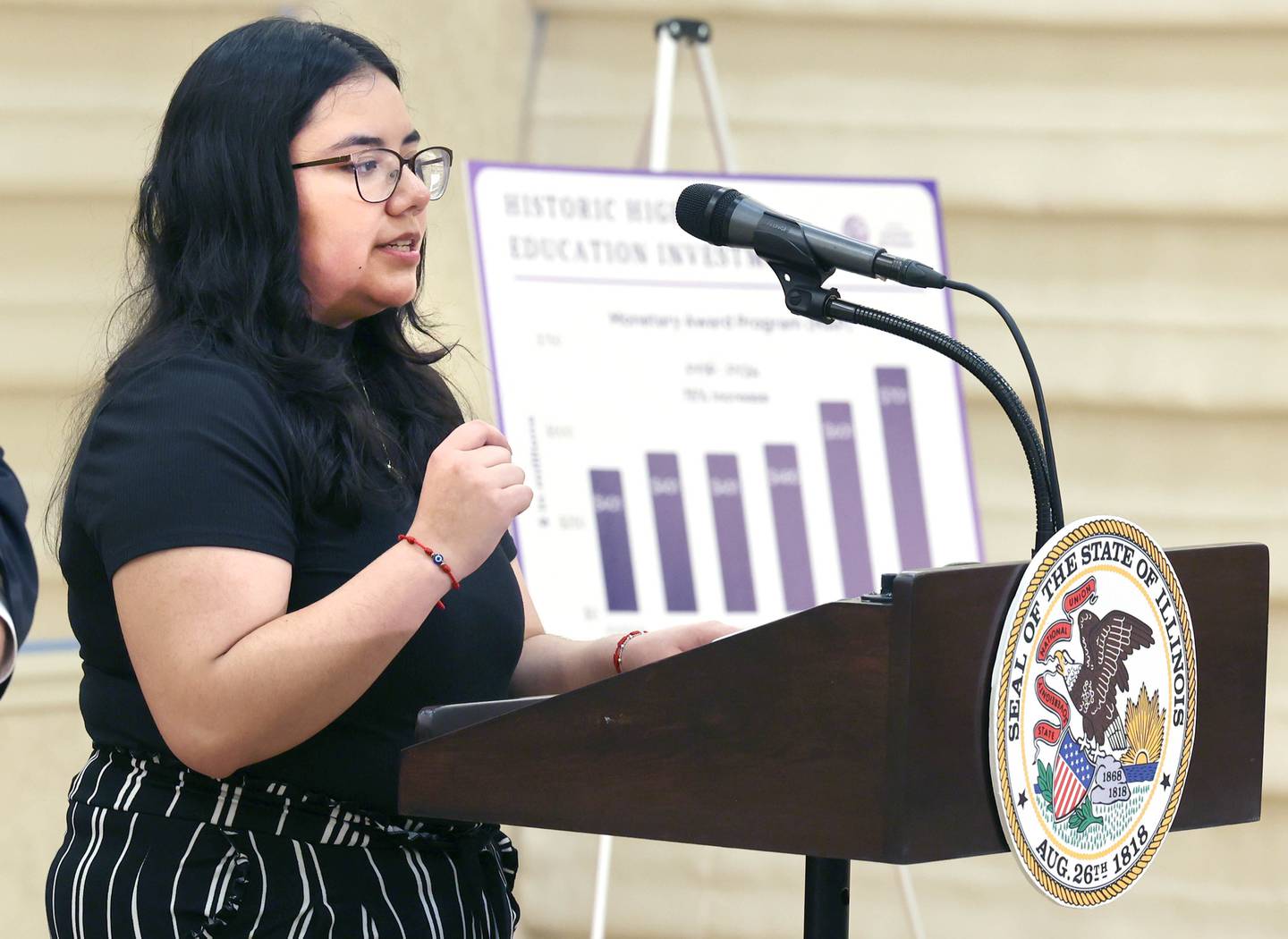 NIU sophomore Brittany Hernandez, 19, of Aurora, said MAP grants and financial aid were the only way for her to pursue higher education. As a first-generation college student, she's studying to become a math education teacher.
"I am very proud to come from immigrant parents ... who constantly encouraged me and my sister to go to college," Hernandez said. "On low income, I know they could never afford to send both me and my sister to college. I realized that if I wanted my dreams to become a reality, I would need to find a way to cover the cost of college."
In an interview after the news conference, Hernandez said she's lived in DeKalb on NIU's campus since she enrolled, and likes that her family isn't too far away. She said NIU appealed to her directly because it offered her a substantial amount of financial aid. The faculty and staff are what kept her in town, she said.
Hernandez's story is one that officials on Tuesday said they hope to encourage more of by making higher education accessible to all.
Freeman said Pritzker's funding proposal reaffirms his administration's value in higher education as a public good.
"With an historic commitment to public universities it promotes access, affordability and opportunity for all Illinoisans and acknowledges the critical connections among higher education, social mobility and economic prosperity," Freeman said.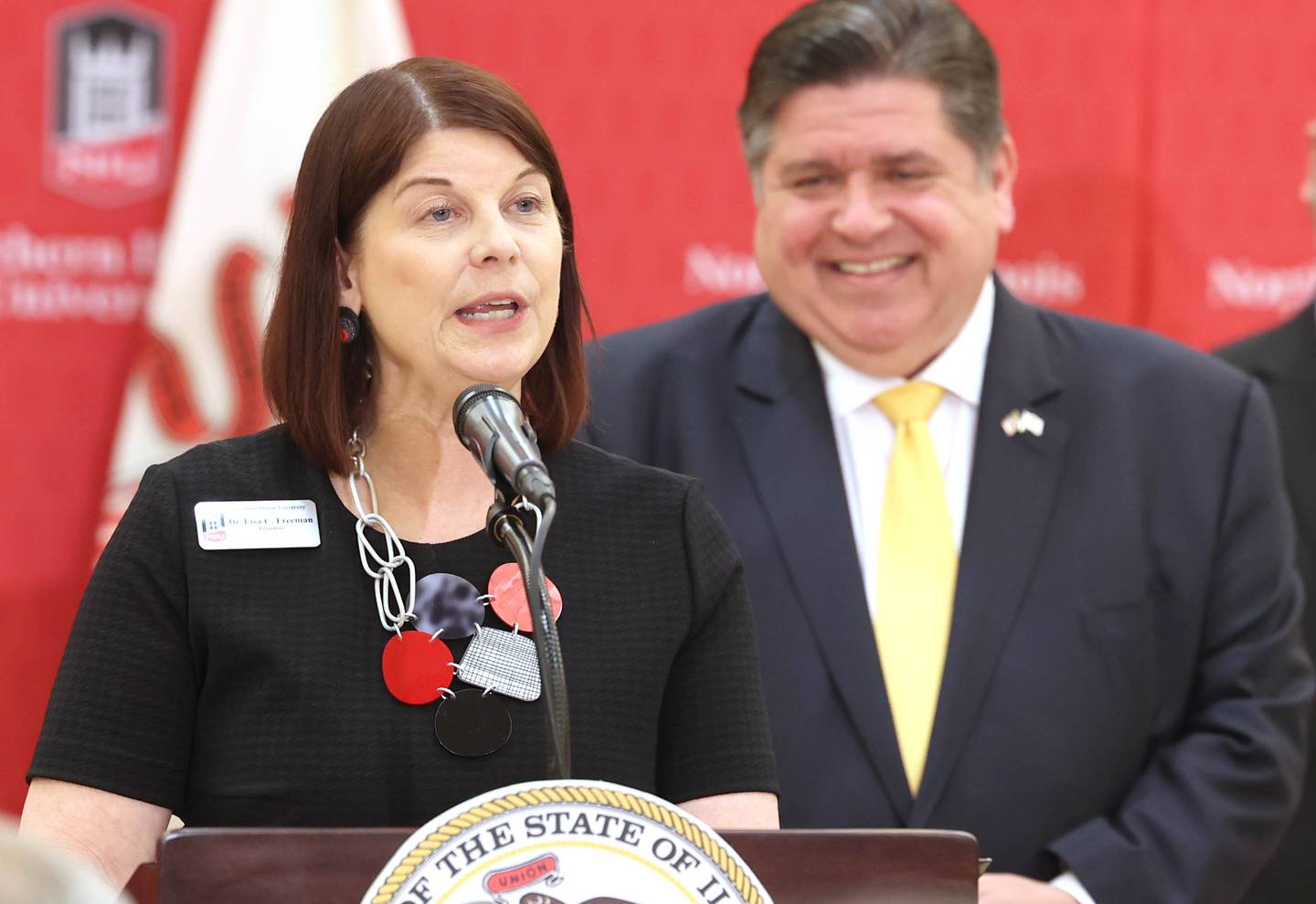 According to NIU's website, an average undergraduate four-year degree at NIU would cost $112,000 under the current tuition rate. One year's worth of general tuition fees for a full-time undergraduate student cost $27,822, including $9,790 for tuition, $11,420 for room and board, and the rest going toward fees, travel, books and supplies and other personal expenses. Some degrees, such as full-time engineering students, are costlier, while others, including a nursing degree, are about $9,600 in tuition.
Pritzker issued a friendly plea to NIU trustees in attendance Tuesday, saying it's important for universities to keep Illinois students' tuition rates reasonable. The governor said an increase in state funding for public institutions also would alleviate the need to raise tuition.
Student fees also go toward the university's Huskie Bus line, which also services the greater DeKalb area in partnership with the city of DeKalb.
DeKalb's mayor on Tuesday also touted Pritzker's plan, saying it would help grow the local economy and NIU's enrollment as the city aims to entice a Metra rail commuter train line to extend from Chicago to DeKalb.
"Here in the city of DeKalb, education is where we come from, it's foundational to the success that we've had," Barnes, also an NIU alum, said.
Barnes said NIU has been valuable in the application process for a potential Metra expansion. In January, the DeKalb City Council approved a $98,379 contract with Chicago-based Sam Schwartz Consulting LLC for the city to undergo a Metra feasibility study. The city also has taken other steps, including devoting a downtown lot to free parking for those wishing to take the transit bus to Elburn instead of parking at the Elburn train station. Elburn bus trips also have increased in frequency.
"In initial results that we're getting, this looks like a higher probability that we're going to have the ridership that we need to make that happen," Barnes said. "And I know we have the partnership of the governor's office in order to help drive that commuter rail here because NIU is the only state in the university to not have that."