DeKALB – Nearly 2,000 DeKalb County residents are without power as of just after 9 p.m. Wednesday as an ongoing freezing rain storm brought a mix of ice and wind, causing downed power lines and debris in the roadways.
A citywide DeKalb alert was issued Wednesday afternoon as the day's freezing rain caused downed power lines and a large tree branch to briefly block a portion of East Lincoln Highway.
The alert was issued around 4:45 p.m. Wednesday reporting that East Lincoln Highway was closed between Ninth and 11th streets due to a large tree branch blocking the roadway and live wires down.
As of 9:22 p.m., ComEd reported nearly 2,000 DeKalb County residents are without power. According to ComEd's outage map, 1,986 DeKalb County residents are without power due to 138 outages reported.
A downed power line also closed a section of Illinois Route 64 in Sycamore, an Illinois Department of Transportation official said Wednesday night.
Sycamore Patrol Sgt. Justin Kness said he was just starting his shift when he heard about the situation around 6 p.m.
A day long deluge of rain froze over trees and power lines in northern DeKalb County Wednesday, and though slick roadways were a cause for concern, Kness said downed power lines were a much more important issue.
"As always, slick spots, people should watch out but the bigger concern so far tonight is trees and wires that are down," Kness said. "And of course those are the kind of things that if it's dark you may not notice right away."
The section of Route 64 closed by the downed power line extends from just past the entrance of Circle K Gas Station in Sycamore to the corner of Kishwaukee Drive.
A portion of DeKalb Avenue near Washington Place was also blocked off by Sycamore police Wednesday evening for downed debris in the roadway caused by the ice storm.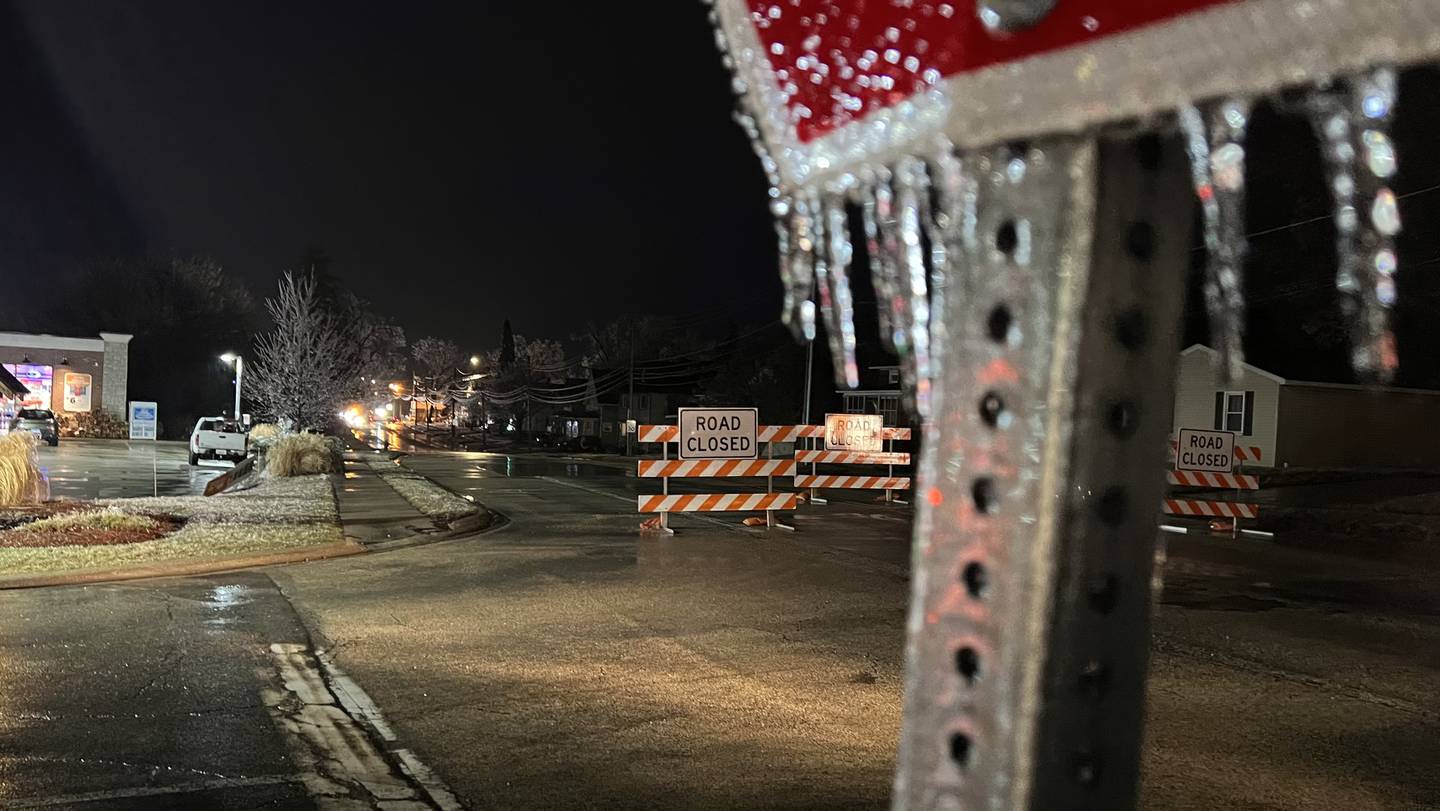 An Illinois Department of Transportation official said he encountered the downed power line and called ComEd around 4 p.m. At 6 p.m. both the IDOT worker and Kness said they were unable to estimate when the less than a mile stretch of road will be opened.
DeKalb County remains under a winter weather advisory through 6 a.m. Thursday, according to the National Weather Service.
A mix of rain and freezing rain is expected to continue Wednesday night into Thursday morning, becoming all rain around 11 p.m., forecasts show. Due to temperatures in the mid and lower-30s, little to no ice accumulation is expected.
Thursday's high will be around 36 degrees, while Friday's high is forecasted at 26, with 20% chance of snow forecasted before midnight Friday.