WATERMAN – Family and friends are remembering Waterman resident Benton Coulter, who died Monday after a farming accident this month, as a generous community and family man who always put others first.
Those organizing his funeral service set for 2:30 p.m. Saturday at Nelson Funeral Home in Waterman, 1001 E. Garfield St., are encouraging attendees to ride their tractors to the service in tribute of Coulter, whose life dream was to own his own farm, according to his obituary. Loved ones also set up a GoFundMe to aid the family.
Friends are permitted to visit from 10 a.m. until the hour of service, according to the obituary. An internment will follow in Northern Clinton Cemetery in Waterman.
Described as a lifelong Boy Scout and a man who could make anyone smile, all while giving service to those in need, Ben Adam Coulter, 40, was known for his charitable efforts in DeKalb County and the region.
Chuck Coulter, Ben's brother, said his brother was always giving his time to others.
"If someone needed help building a deck or installing a bathroom or needed an extra set of hands, Ben was there," Chuck Coulter said. "Ben never told people no. He was very giving and would give you the shirt off his back if you needed it. That's just the kind of person he was."
Ben's wife, Christi Coulter, told the Daily Chronicle, through a close friend, that Ben was the love of her life. She said Ben not only had an impact on their family but on every person he met.
The two married May 17, 2003, and spent almost 20 years together, according to Ben's obituary. The pair also raised children Emily Coulter and Jacob Coulter.
Those who knew Ben said he and his wife believed in giving back to their community and supporting others. One of those ways was through their work on the DeKalb Corn Fest Board, helping plan DeKalb's biggest end-of-summer festival.
"Ben and his wife, Christi, have served on the Corn Fest board for the past five years and have volunteered for many years prior," said Lisa Angel, chairman of the DeKalb Corn Fest Board and a close friend of the family.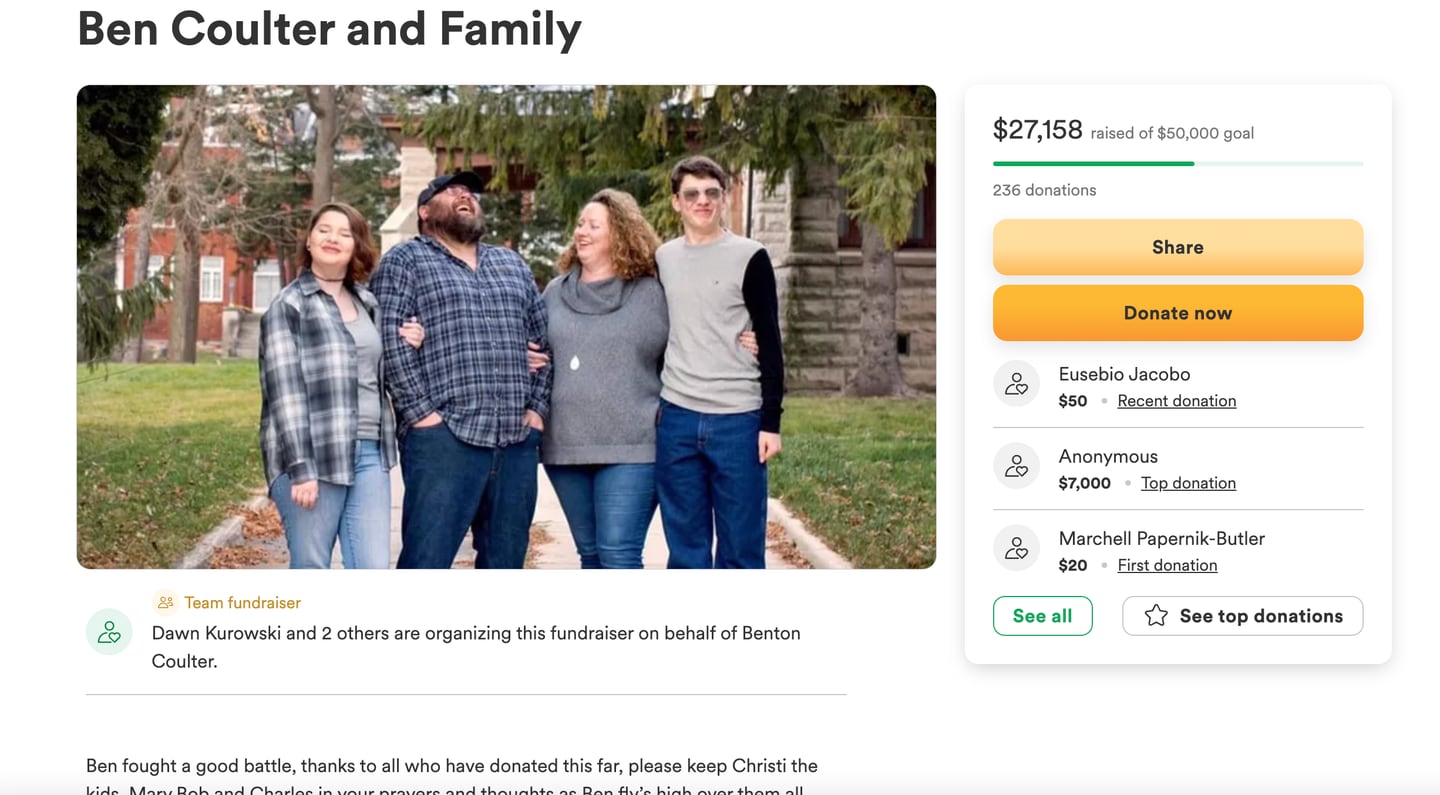 Chuck Coulter said his brother – who he called a lucky, simple guy who was always looking for the positive side of things – "was living his dream" before he passed.
"I don't know anyone that didn't like my brother," Chuck Coulter said. "He said what he meant and meant what he said, and if he said it he followed through. That was his simple way of life and it worked for him, and it had a profound effect on a lot of people."
The day after his brother's death, Chuck Coulter said he'd heard more stories showcasing his brother's goodwill than he'd ever heard before – and he already was used to hearing plenty.
Ben had helped his friend build a deck. Ben made sure a young family member had a roof over their head and a car to go places in. Ben drove intoxicated individuals home from beer gardens to make sure everyone got home safely.
"He just surprised my nephew with a brand-new truck for his birthday," Chuck Coulter said. "He just always was giving of himself, and it never mattered if it was his last dime or if he had a hundred, he would give you what he could and that's something he did for his family."
Ben's integrity, work ethic and commitment to helping others was also what made him an unrivaled part of Corn Fest.
"Our Corn Fest family is heartbroken as we have lost our dear friend and board member Ben Coulter," DeKalb Corn Fest organizers wrote in a social media post earlier this week. " Ben and his wife Christi have given so much to our community. Please keep them in your prayers."
Angel said Ben was an important player in the festival's growth.
"Ben was the heart of our fest and played an integral part in making Corn Fest the success it is today," Angel said. "He will be tremendously missed by his Corn Fest family."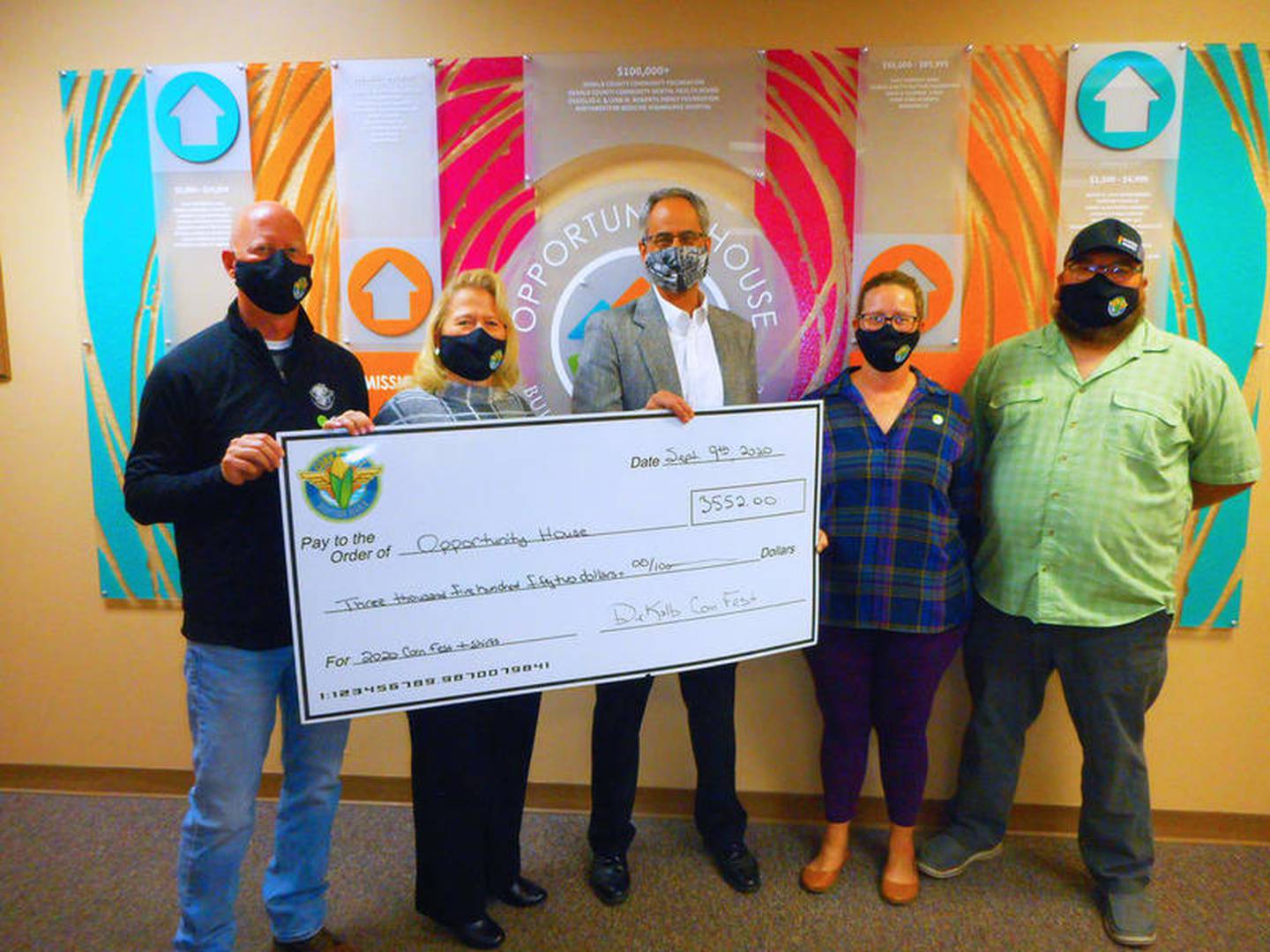 Ben also is remembered as an avid outdoorsman, his brother said, who had a knack for catching turtles on father-sons fishing trips. There was a running joke in the family, Chuck Coulter said, that while he and their dad would still be working with their live bait, Ben would already be reeling in a 30-pound turtle.
"It was always Ben catching a turtle," Chuck Coulter said. "It was just one of those things that you get used to and now it's nothing more than a memory now."
Those fishing trips are what he'll recall fondly to help remember his brother, Chuck Coulter said.
"Even as young adults, we'd go fishing with dad and we just got to be kids again. Whether we were in our 20s or 30s, we just got to be kids, and it was one of those things that we looked forward to every spring," Chuck Coulter said. "And then dad moved over to Oregon [Illinois] on the river and we'd go fishing with him then and we just got to be ourselves, no work, no family, it was just the three of us. We got to be kids again."