SYCAMORE – Weeks after the DeKalb County Board voted to sell its struggling nursing home to a private buyer, key employees have already put in their resignation, including DeKalb County Rehabilitation and Nursing Center administrator Maggie Niemi.
To offset the churn, the county government will consider a bonus program to retain those left at the center, though the resolution is unable to include unionized workers.
During a meeting on the county's Health and Human Services Committee Monday, the committee voted to move forward with a proposal to offer a bonus program aimed at improving worker retention and the nursing center. The Executive Committee is expected put the resolution on the agenda for the DeKalb County Board meeting on Aug. 17.
"I'd rather those dollars that we're going to spend, whether we spend them on a program like this or with agency staffing, I would much rather spend those dollars on county employees, our employees at the DCRNC than I would spend those dollars to bring agency staff in," County Administrator Brian Gregory said.
Niemi told the board committee this week multiple people had put in their resignation that very day, Aug. 1. Niemi submitted her notice of resignation early in the morning on July 21, the day after the board voted 17-5 to accept a letter of intent to sell the facility for $8,300,100 to Evanston-based Illuminate HC, a private healthcare company which specializes in operating skilled nursing facilities. The vote came after months of tense back and forth, with Niemi along with the center's employees pushing starkly against a private sale.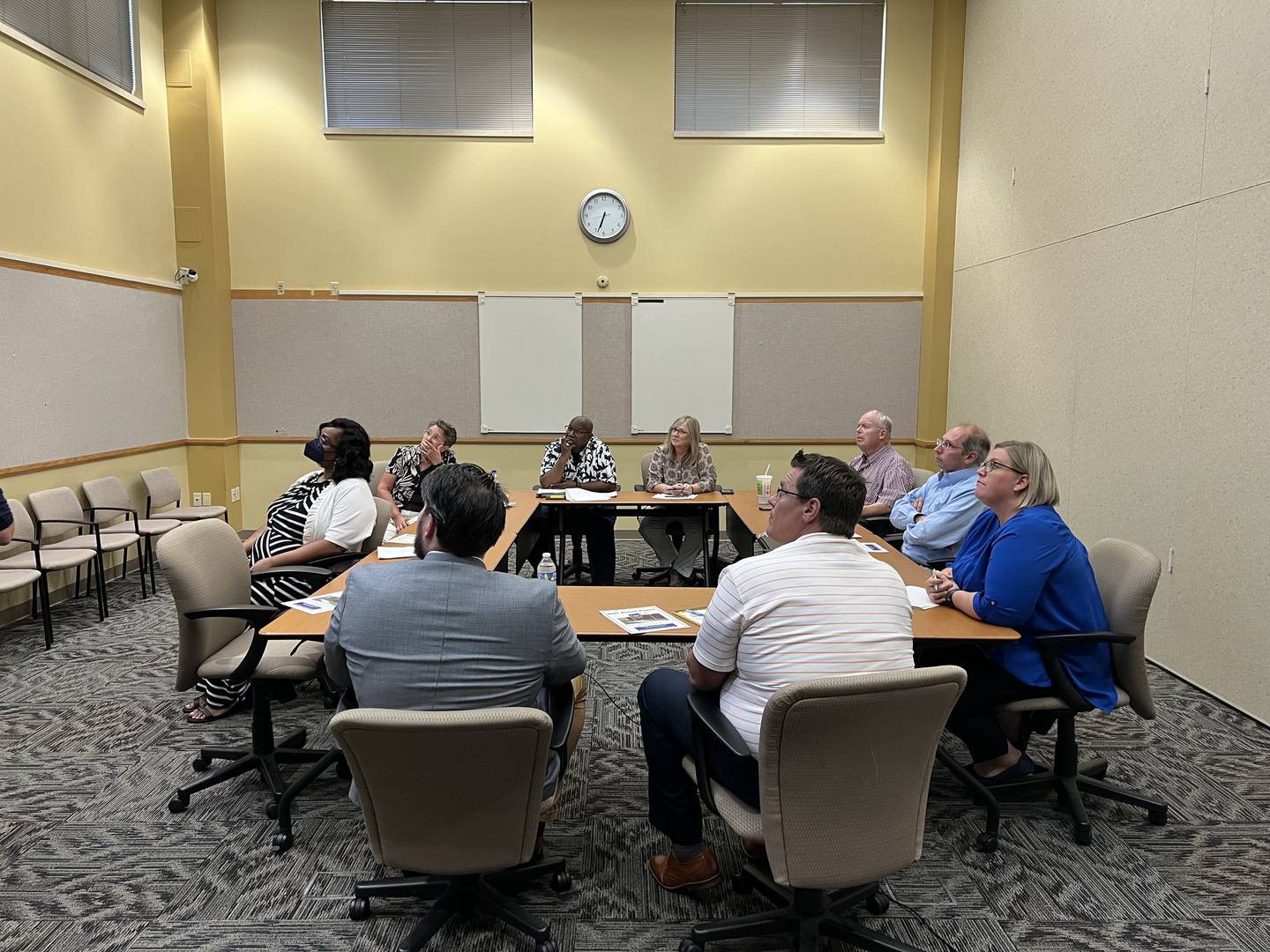 County officials argued prior to the sale, that change was needed at the nursing home to maintain its operations, more than the near-monthly extra financial support the county board had authorized to the center over the past year.
The center – which has been the subject of more than a year of fiscal debate – faces more than $7 million in debt due to what county officials have alleged was mismanagement, delinquent billing and ailing resident numbers.
Niemi, who has been DCRNC's administrator since Oct. 1, 2021, penned a letter to let the center staff know of her resignation hours before presenting committee. The Daily Chronicle obtained a copy of the letter through a Freedom of Information Act request.
"My decision was done with careful thought and consideration," Niemi wrote in her resignation notice. "I have enjoyed working at DeKalb County Rehab and Nursing Center and will very much miss the staff and the residents."
Gregory notified the DeKalb County Board of Niemi's departure on Aug. 1, according to an email obtained by the Daily Chronicle.
"I wanted to share with you that Maggie Niemi has tendered her resignation as Administrator of DCRNC. We are working with Jordan Healthcare to identify an interim to serve in the Administrators role upon Maggie's departure," Gregory wrote.
The county has utilized the consulting services of Jordan Healthcare Group throughout the past year, to help right delinquent billing and provide direction.
A resolution to bring forward a candidate for the vacated position is expected to be put before the Executive Committee on Aug. 10. If moved forward, the county board could vote to appoint an interim as early as Aug. 17.
"So we're hoping to have a candidate recommended on the seventeenth," said Gregory.
Staff exits after sale vote, records show
County documents show that seven other employees have also tendered their resignations since the sale vote July 21 and Monday. Niemi said this wave of resignations are coming from important roles.
"The director of certain departments are leaving. We've had two directors resign, this is since Monday [Aug. 1]," Niemi said Friday.
Of the seven resigning workers, five are non-union employees and two are represented by American Federation of State, County and Municipal Employees No. 3537, documents show.
Among those resigning is the President of AFSCME Local 3537, Chuck Coulter, a maintenance worker at the facility who was a frequent and vocal attendee at county board meetings leading up to the vote. Coulter often spoke out in opposition to a private sale, voicing concern for its impact on current employees and benefits.
The nursing center's maintenance supervisor, Steve O'Bryan, informed Niemi, Gregory and nursing center employee Janet Kuttnauer of Coulter's resignation on Aug. 1, documents show.
"Chuck has turned in his resignation letter effective 8/19/2022," O'Bryan wrote. "Copies will be turned in today. Need an ad run on indeed ASAP."
Coulter did not respond to requests for comment.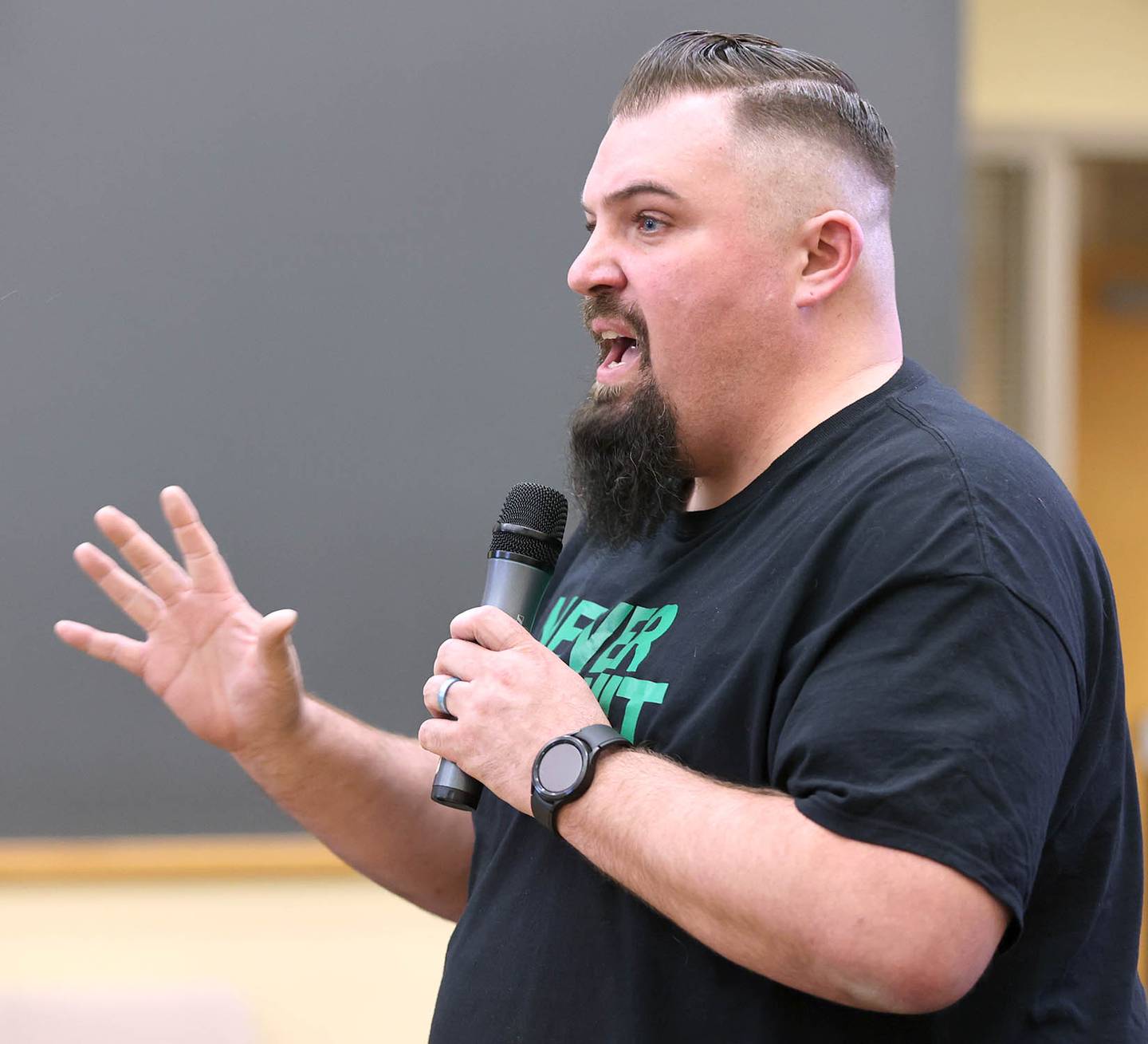 Gregory has said the county government can't unilaterally extend any bonus offer to union workers but has reached out to work with them.
"We've got to make sure we're following the right steps in bargaining with the AFSCME group, but we're hopeful to get it, to create the same or very similar for all of them, all of our employees," Gregory said.
Gregory said the proposed retention program aims to show the employees they are valued and appreciated, especially for staying and continuing to provide services to the residents of the enter, both under the county's ownership and then as it transitions to private ownership.
Gregory also said one of the goals of the retention program is to maintain quality care levels for nursing center residents during the ownership transition.
"If they have the same people taking, caring for them on the day before the transition and the day it transitions to Illuminate, that's something we'd like to see," said Gregory.
Niemi also told the county board committee this week that the DeKalb County Rehabilitation and Nursing Center's federal star rating has improved since April.
"We are now five stars overall," Niemi said. "We're the highest in DeKalb County. We've gone up two stars since April overall. We went from a three to a five."
The DeKalb County Rehabilitation and Nursing Center is listed with 5 stars, according to data released by the U.S. Centers for Medicare and Medicaid Services updated July 27. Star ratings for skilled nursing facilities are populated over three years' worth of data, according to medicaire.gov, and assess health inspections, staffing and quality measures.
The DeKalb County Rehab and Nursing Center has five stars for quality measures, five stars for staffing and three stars for health inspections, bringing the facility back to a five star rating. Niemi congratulated the staff in her Aug. 1 letter.
"We have come up two stars for the overall rating, one star for Health Inspections and one star for Quality Measures," Niemi wrote in her resignation letter to the staff.
"And we have not gotten any recognition from the county, from the county administrator, no formal recognition of a good job," Niemi said Friday.
"Personally, I kind of celebrated a little bit with our staff with some star cupcakes, you know some donuts," Niemi said. "You know, thanking them, for trying to recognize the fact of the hard work for that five star rating."
DeKalb County Board member Bill Cummings, a Republican who represents District 8, said he was impressed the facility had jumped to a five star rating. During the committee meeting, board member Scott Campbell, a Democrat who represents District 7, congratulated Niemi on the achievement.
"Hopefully that'll put some pressure on Illuminate to maintain the quality of services," Campbell said. "A fall from a five to a two is much greater than from a three to a two."
According to the Centers for Medicare and Medicaid Services, Illuminate HC operates 11 long-term care facilities out of Michigan and one out of Toledo, Ohio. According to county documents, the management company is in talks to buy 10 more Ohio facilities, and CNA staff under Illuminate-owned facilities are offered $17 per hour.
Illuminate-owned facilities in Michigan and Ohio scored an average of 1.8 stars among six facilities in Michigan and one in Ohio, according to July 27 medicare.gov star ratings. A 159-bed Illuminate-owned facility in Bloomfield Hills, Michigan, reported 1 star, as did a 92-bed facility in Wyoming, Michigan and a 90-bed facility called Point Place in Toledo, Ohio. Two Illuminate-owned facilities – a 101-bed facility in Plymouth, Michigan and a 69-bed facility in Grand Rapids, earned 3 stars – with the rest garnering one or two stars, according to the federal listings.
The center's director of nursing, Amy Larson, said the nursing center's new five-star ratings compared to Illuminate-owned facilities doesn't fit well with staff.
"That's hard for staff to grasp. All the hard work we did despite what was going on with the sale, and that worry, and trying to fix the manmade problem within the business office, and the pressure from county to be able to do those things and then to still be able to achieve the five star rating with those outside pressures," Larson said.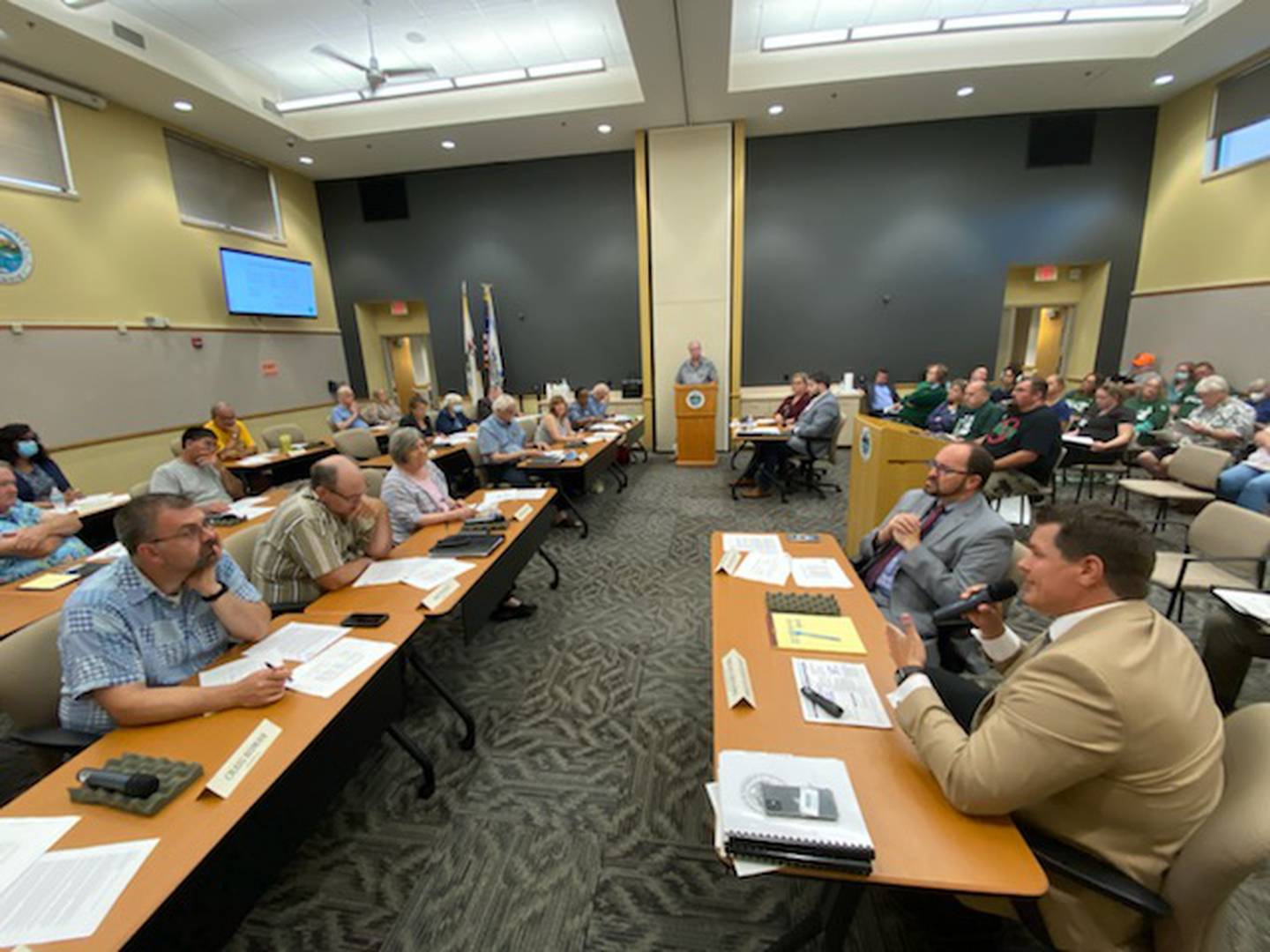 Bonus program proposal
The nursing facility rating has gone up because of the efforts of the staff in recent months, officials said, but key employees – union and non-union – have begun leaving the facility since the county board voted to initiate a sale of the county owned center to Illuminate HC last month.
In response, a resolution that would authorize a retention bonus program for employees during the transition of DCRNC will be put before executive committee on Aug. 10. The committee will have the ability to put the resolution on the agenda for the board during the Aug. 17 meeting.
While the resolution would not extend to union workers, Gregory said the county isn't trying to separate the two types of workers and hopes a similar effort can be made for the unionized workers. He said in a perfect world the county would seek to get everything lined up and then bring it forward for approval, but in this case, he said that would take until mid September.
"We wanted to bring to the board the idea of this program and then work to implement it for our non union and union employees," Gregory said. "It's definitely not something that is meant to be for just one group, but there are certain processes and we want to respect the processes."
According to county documents, the program would pay every employee that maintains employment with the county to the date of transition $1.50 extra per hour worked from the date the resolution goes into effect until the ownership transition.
That bonus would be accrued during the transitional period and will be payable in lump sum on the payroll for the period covering the date of the transition. The program will run through Dec. 31 or the date of the sale, whichever comes first.
"What this would do, it recognizes that there's been a lot of uncertainty through the months, trying to figure out the status of DCRNC," Gregory said. "We've had a lot of loyal employees that have continued to give great service to our residents."
Niemi said she's heard staff at the county nursing center say the $1.50 an hour bonus is insufficient, noting the bonus would only mean an additional $60 per week.
"The retention bonus, at this point, even the talk of it is not, is not well received," Niemi said.