Jamie O'Brien said she first started giving blood a few years ago after her boss talked her into making regular whole blood donations.
The 44-year-old Genoa resident did so again on Tuesday at the Versiti Blood Center of Illinois location in DeKalb.
"Four of us came in one day and [now] two of us are the only ones still doing it," O'Brien said.
After several regular donations, O'Brien said one of the nurses "sweet talked" the two of them into doing power red blood donations, which allows donors to donate two units of red blood cells during one donation by returning plasma and platelets to the donor.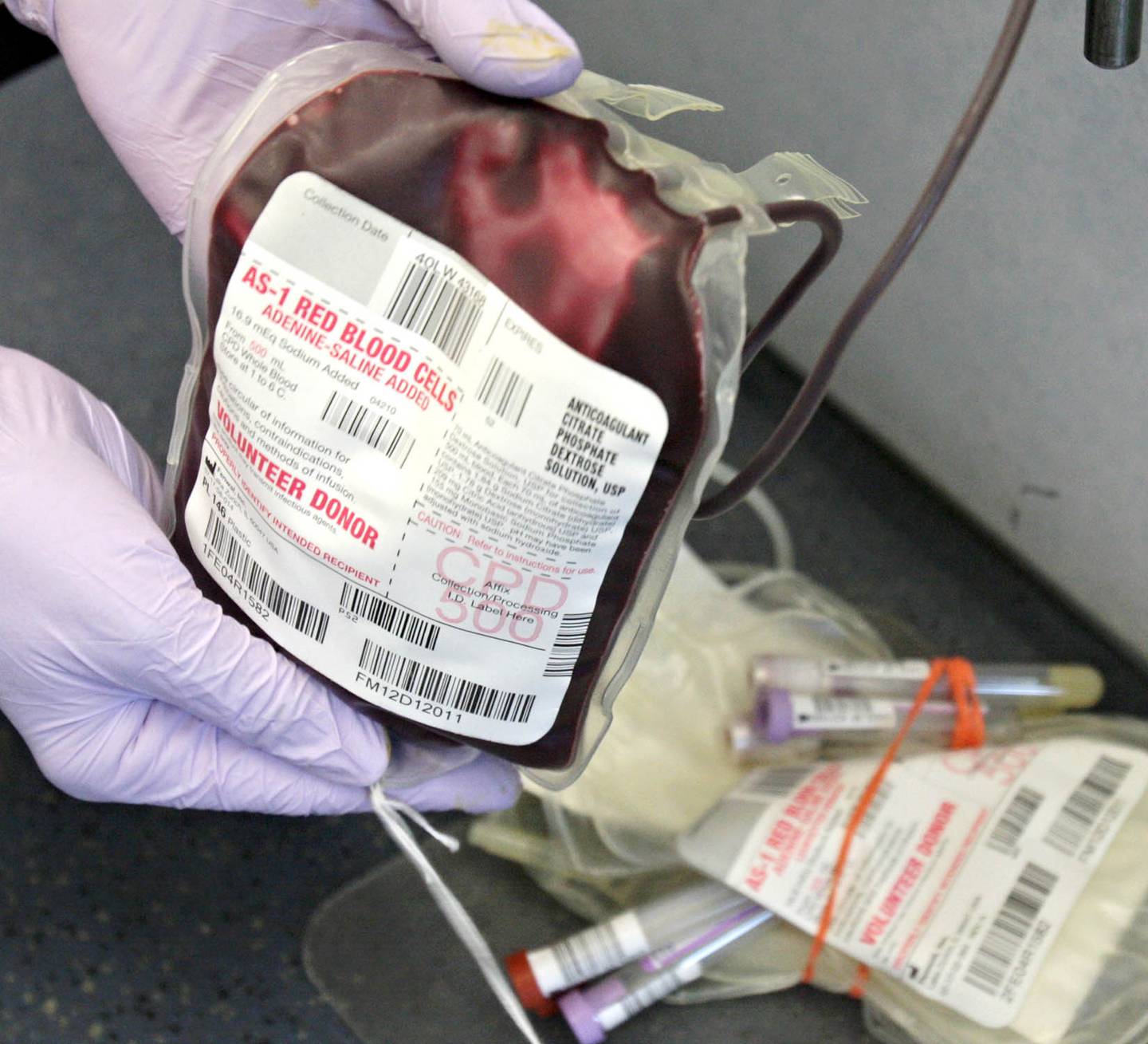 "Now here we are, every four months," O'Brien said. " … I continue to donate because while I do not have an abundance of wealth to donate, I will always have blood."
Organizations including the American Red Cross are reporting historically low blood donation supplies and a need for more donations than usual.
American Red Cross spokeswoman Joy Squier said the organization provides 40% of the country's banked blood. Busy holiday schedules, school breaks and winter weather generally contribute to decreased blood and platelet donations around this time of year, she said.
Squier said the COVID-19 pandemic is only part of the reason for why the nation's blood supply is the lowest it has been in about a decade. Namely, people are busy and still consumed with living life amid the pandemic, she said.
"So they're not thinking of it — blood is not top of mind," Squier said. "But hospitals are getting back to normal with procedures and do need blood and are looking for blood."
Squier said there is no blood donation waiting period for those who have received a flu shot or a Moderna, Pfizer or Johnson & Johnson COVID-19 vaccine or booster
"As long as you're feeling good, you can come out and donate," Squier said.
Squier said the statistic that continues to stick out in her mind is that only three out of 100 people donate – and yet, people expect the blood supply to be there in times of need. She added blood cannot be manufactured and can only be donated.
"You never know if you're going to have an accident or someone in your family is gonna need cancer treatment, or somebody will have a chronic blood condition like sickle cell or blood diseases like that," Squier said. "And you know, these individuals all need regular donations — transplant patients, birth trauma — there are so many reasons for people to need blood. And it's only up to the individual to make our blood supply whole."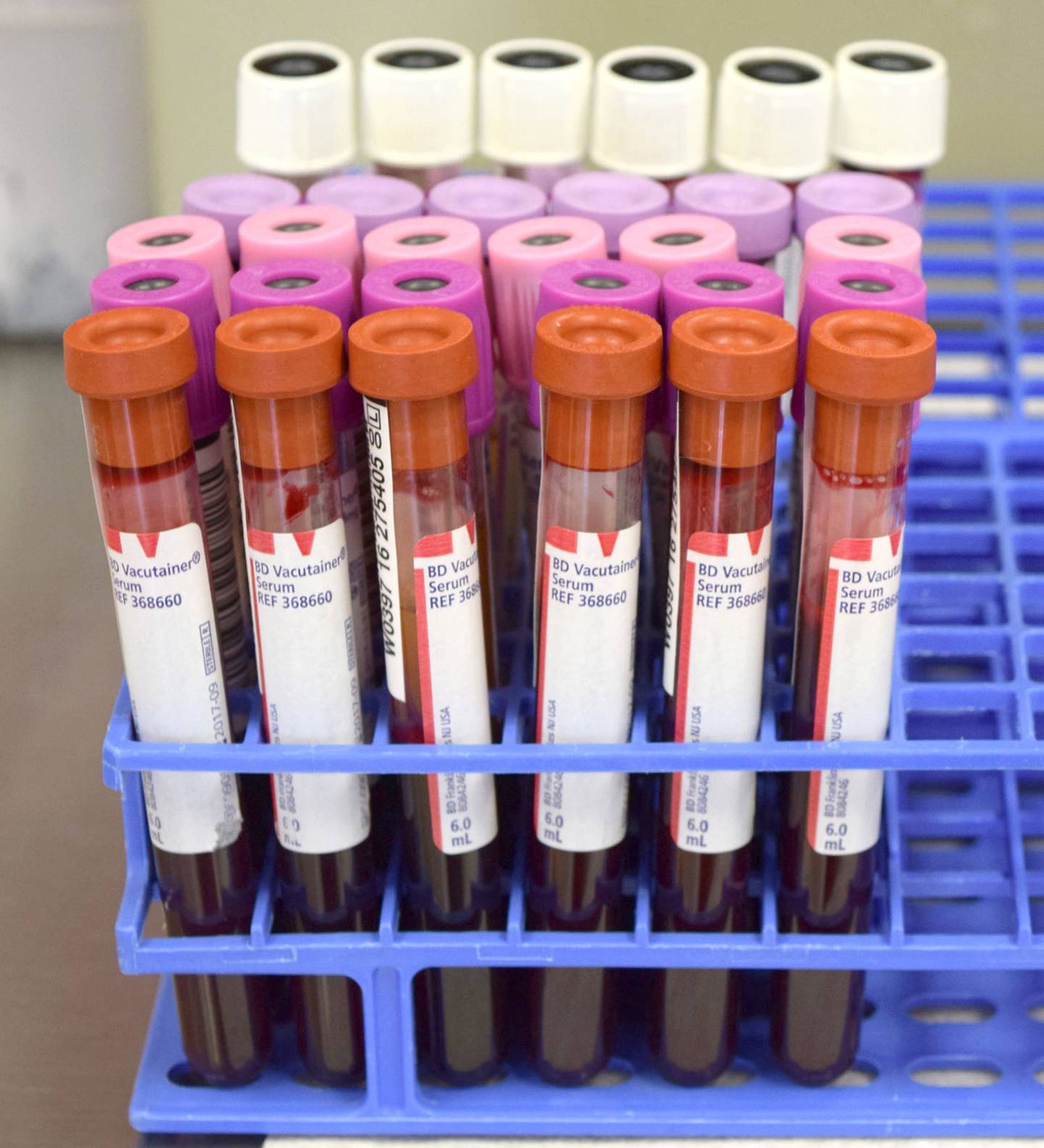 Rich Arsenault, 53, of Genoa said he has donated blood before as a universal donor, blood type O-. He said he began to donate as an added incentive for being exempt from barrack checks while he was enlisted in the U.S. Navy.
Arsenault said he recently was compelled to donate blood after coming across a social media post about two children in need of blood transfusions. He said he later found out his red blood cell donation ended up going to the Edward Hines Jr. VA Hospital — where he also happens to receive healthcare as a veteran form time to time.
"My conscience reminds me, 'Okay, you know what, I'm always gonna be in demand for this,' so I'll go do it," Arsenault said.
Although many don't like needles, Arsenault said he wanted to assure people there's nothing to be afraid of when it comes to donating blood.
"It's uncomfortable for two seconds and then you're just sitting there," Arsenault said. " ... There's no reason to not do it if you're able."
Arsenault reiterated there remains a real need for blood donations.
"Medicine and science has come a long way — but there's still no replacing blood," Arsenault said.
Carrie Futchko, a donor recruiter for Versiti, said each person has about 8 to 9 pints of blood and one donated unit of blood usually amounts to one pint. In serious cases, however, a person may need up to 100 units of blood at one time.
Versiti always hosts blood drives throughout the year to keep the blood supply stocked. If the supply runs low, people who need procedures or help may not be able to get what they need in an appropriate amount of time.
"Until you need that transfusion or know someone who does, a lot of people don't recognize that need is constant," Futchko said. "As much as we struggle for donations, somehow they're still stepping up to the plate."
Each time a person donates blood they can save up to three lives, Futchko said.
Blood is in constant need almost every second of the day, according to Versiti. A person requires blood every two seconds, leading to 29,000 units of red blood cells getting used every day.
One in 7 people who are admitted to the hospital will need a blood transfusion. If 1% more Americans donated blood, shortages of blood would disappear, according to Versiti.
Not everyone can donate blood, according to the American Red Cross. About 37% of Americans are able to donate, but common reasons a person would not be eligible include travel to countries where malaria is present, certain medications, low iron levels or illness.
People also must wait certain periods of time before donating depending on what kind of blood donation in which they participate.
Futchko said she especially wants to encourage younger people to donate to replace donors who are aging.
"It's a free opportunity to give back to your community," Futchko said.
Face masks and photo identification are required to donate blood with the American Red Cross and Versiti Blood Center of Illinois. Donors are encouraged to eat a healthy meal and drink plenty of water before donating blood.
Donors can find blood drives near them by visiting RedCrossBlood.org and searching by ZIP code. Versiti also is hosting a blood drive from 3 p.m. to 7 p.m. Thursday at 311 S. Washington St. in Genoa and donors for that event, along with donors who visit Versiti's DeKalb location, can schedule appointments at versiti.org/IL.
Travis Hughes, 26, of Genoa, said he was about 16 years old when he first donated blood through a drive hosted by his high school student council. He said he has noticed the organizations he has donated blood through in the past have been reaching out to him more than usual and that there seems to be a larger need for blood donations than normal.
Hughes, chaplain of the Genoa Fire Department and a practicing Christian, said he encourages those who can donate blood to do so.
"Because they never know, it might end up being them one day that needs it, or one of their loved ones, their friends or family members," Hughes said. "We're called to love our neighbor, so this is a good opportunity to practice that."