DeKALB - Tents filled with hot chocolate and coffee for excited football fans who arrived early Friday morning at Northern Illinois University's Huskie Stadium in DeKalb to cheer on their favorite high school teams vying for state titles.
"We back all of our sports 100%, football just seems to make us proud of where we are from," Jeff Friddle, of Wilmington, said.
This year marks the fifth time NIU and DeKalb County hosts the state's high school football championship games. The University of Illinois at Champaign-Urbana hosts the event every other year. Throughout the weekend, there will be eight games of football played total, with Classes 1A through 4A playing Friday, Nov. 26, and Classes 5A through 8A playing Saturday, Nov. 27.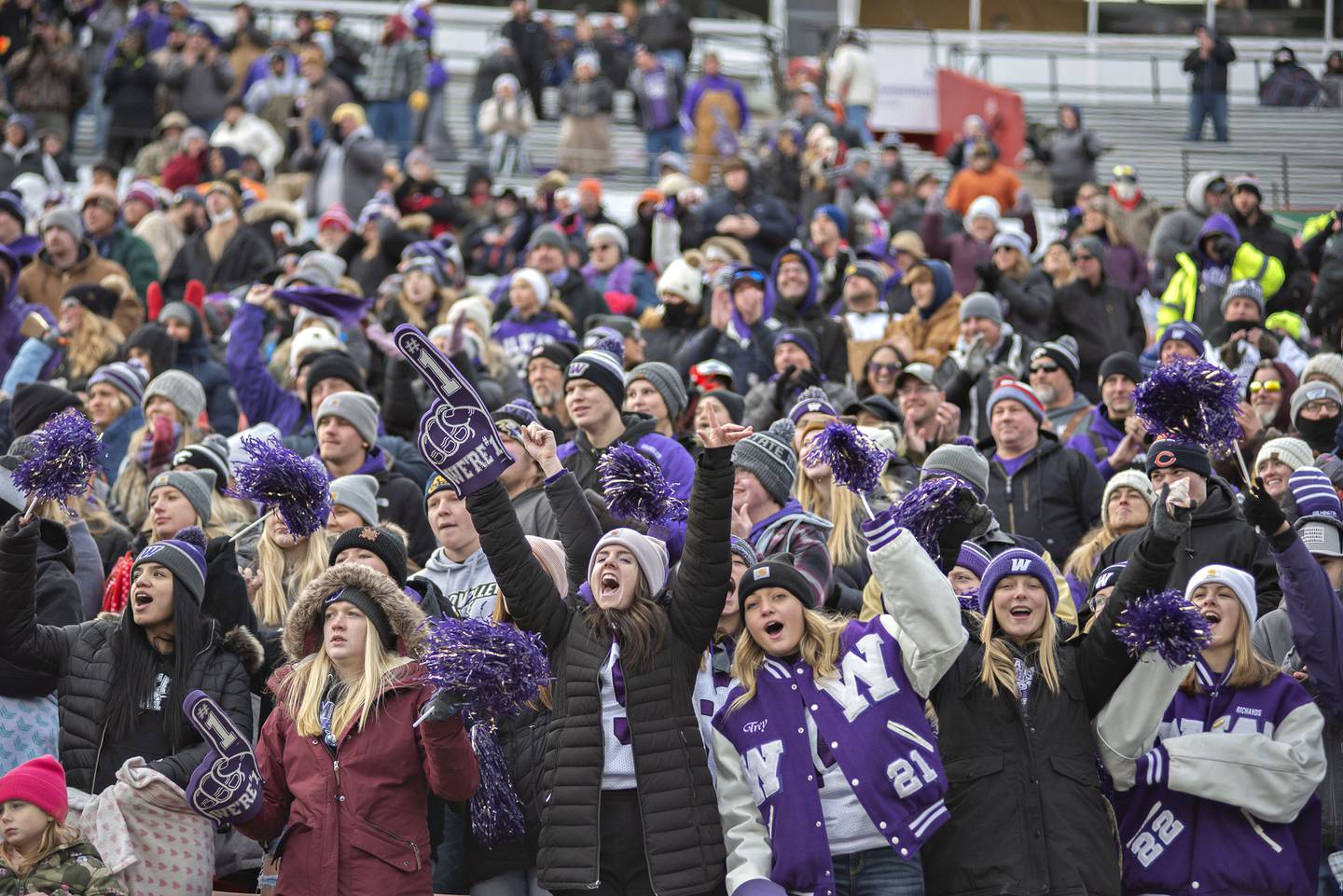 When it comes to playoff football, the games mean just a little bit more to others than most, including the Friddle family who trekked from Will to DeKalb county to cheer on their player. Friddle was at Huskie stadium bright and early Friday morning before his son, Jacob, a do-it-all type of player for Wilmington (13-0) took the field at 1 p.m. looking to bring home a 2A state title for the Wildcats.
In the first quarter of Friday's game, Jacob Friddle scored a 22-yard touchdown, the first of the game, for the Wildcats. Wilmington won the 2A final 24-7 over Nashville.
"This is a big deal for the town of Wilmington, we are just a small town and it means a lot to us and the community," Friddle said. "It just makes us all very proud of all the boys, and all of their hard work."
High school football is a family legacy, as Friddle himself played for Wilmington from 1984 to 1988.
"These boys are much better than we were," Friddle said. "There is no doubt about it."
On the opposing sideline making their third trip to the state playoffs looking to finally break through are the Hornets (12-1) from Nashville, a town almost five hours south of DeKalb.
The junior and senior group that friends, family and the rest of those in attendance will see on the field for Nashville this afternoon have been very tight from a young age, said fans.
"The core group of this team all started in the little Hornet program in the 3rd and 4th grade," said Randy Schwartzkopf, of Nashville, one of the coaches who helped start the program years ago. Hornet supporters said they're hoping this year's team can finally bring a state title back to the small town of Nashville.
The football state championships attract about 25,000 visitors to DeKalb County and contribute between $800,000 and $1 million to the local economy during the state championship weekend.
For more information about the state championships at Huskie Stadium, visit www.ihsadestinationdekalb.com.