Editor's note: This is Part 1 of a two-part series looking inside the worker shortage crisis in DeKalb County, a byproduct of many realities including the COVID-19 pandemic. Over the next two days, the Daily Chronicle will tell the stories of some workers in industries hit particularly hard during this time. To read the full series, go to www.shawlocal.com/daily-chronicle, or look out for Part 2 in the Friday, Nov. 26, print edition.
For healthcare workers across the country, and in DeKalb, working on the front lines of the coronavirus pandemic has been stressful – to say the least – ever since the phrase COVID-19 became a household term in America.
Ask Shelly Stanley, a certified nursing assistant at the DeKalb County Rehab and Nursing Center in DeKalb. The long-term care facility was hit particularly hard by the pandemic. Whether it's residents unable to comprehend that the blame for their lack of visitors falls on the virus to confusion over the need for wearing masks, the added stress has exacerbated any staffing shortages. And, it's fallen on workers such as Stanley and her colleagues to help make up the difference.
"The residents need us," said Stanley, who primarily works the day shift but will fill in second shift if needed. "We're here for them. We're not here for us."
The county-run nursing home and rehabilitation facility fought several viral outbreaks in 2020 that took the lives of 13 residents and saw 140 cases among employees and residents, according to the Illinois Department of Public Health. As of Nov. 14, the facility reports 92.6% of residents are fully vaccinated, as are 67% of staff.
Health care workers are not alone when it comes to facing staffing shortages in the age of the pandemic. Across the country – whether it's in health care, manufacturing, retail or hospitality – employers are having difficulty retaining employees and recruiting new ones to fill positions that opened up during the pandemic.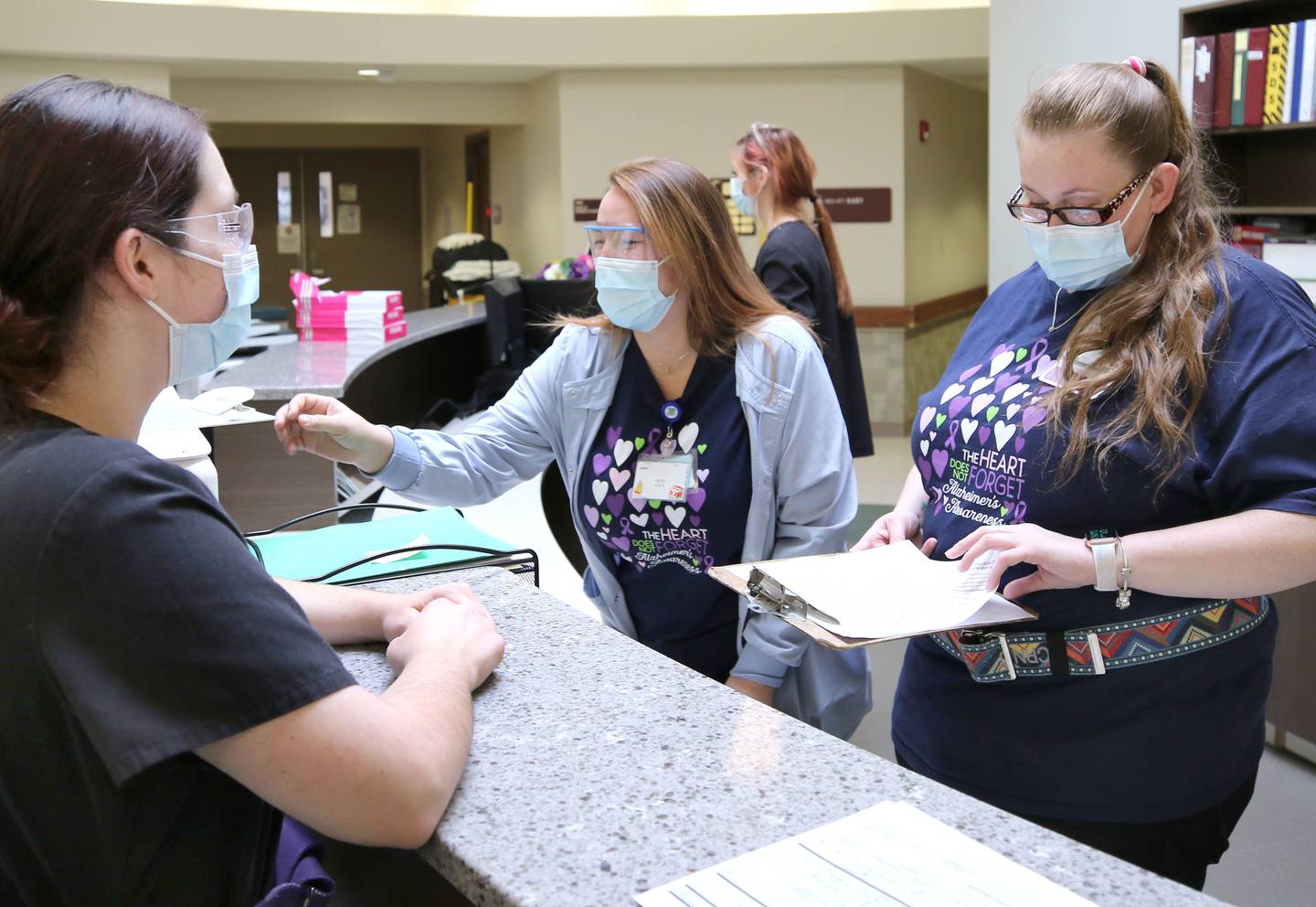 All across America, businesses of all shapes and sizes are looking for employees. Current employees, especially in the service industry, are working extra hours to make up for the labor shortage, while some businesses have reduced their hours because no employees are available to fill those hours.
"It's a lot of factors running together," said Todd Maisch, CEO of the Illinois Chamber of Commerce.
Many people lost their jobs during the pandemic, received financial assistance and chose to stay home longer, Maisch said. Now, as pandemic restrictions on businesses have ended, people are more selective about where they work, weighing external factors such as child care or choosing not to participate in the labor market.
Labor challenges have beset industries across the nation for many reasons, Northern Illinois University economics professor Carl Campbell said. Campbell, who also is chairman of NIU's economics department, said there is a significant difference between blue-collar and white-collar workers when it comes to job departures.
Blue-collar workers have been leaving at a much higher rate than those in white-collar jobs, Campbell said.
For those who remained in their jobs, especially among industries with frontline workers or labor-heavy positions, another significant factor comes into play – worker burnout, Campbell said.
"We see a lot of quits in the health profession in particular," Campbell said.
Residents where Stanley works need care, whether there's enough staff or not, she said. One way she and her colleagues make sure shifts are properly staffed is they rally each other and pick up double shifts together, Stanley said.
That includes Jordan Wyatt of Ashton, who has worked at the county nursing center for two years, and Sara Coy of DeKalb, who has been at the center for six months.
"It's easier if we're all here," Stanley said, with Coy and Wyatt agreeing. "We can just make the most of it."
All three CNAs continue to try to maintain residents' morale with activities. Recently, they organized a monthly birthday party for everybody in the ward. They said the theme for November happens to be purple themed because it's Alzheimer's Awareness Month.
Wyatt said the pandemic brought staff closer with residents in a more familial sense, since no family members were able to come in and visit their loves ones. All three CNAs laughed as they recounted trying to familiarize patients with FaceTime during the height of the pandemic.
"So we kind of got connected with them and got a little closer," Wyatt said. "Like it's a family back here."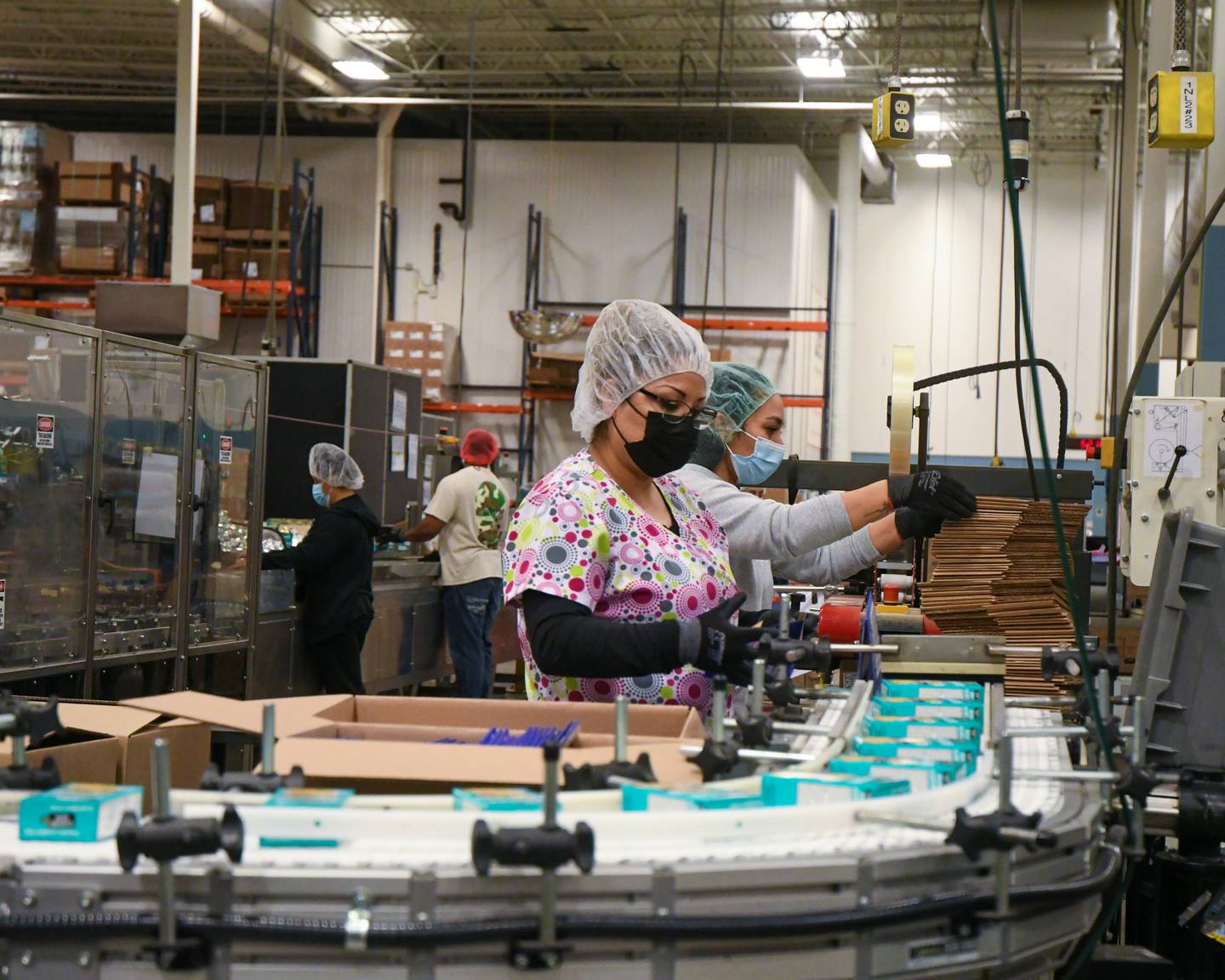 Labor lost
Manufacturing companies, many of which the government deemed essential during the peak of the pandemic, also are facing significant hiring challenges.
The Suter Company, for example, has manufactured prepared food products since 1925. Hundreds of volunteers recently packaged meals for those in need at the Sycamore plant on Bethany Road, part of the annual Feed Our Starving Children campaign organized by Tim Suter, the company's president and CEO.
For the manufacturer's everyday operations, labor is still low. 'NOW HIRING' signs are posted on the lawn outside the company, which in November marked its 1-year anniversary of being 100% employee owned.
Team leader Miriam Tellez, however, stuck around despite COVID-19 challenges. One reason, she said, was the company's plan for providing personal protective equipment which was paramount to retaining workers.
"[In] 2020 for example, we did a lot of COVID package giveaways, when the pandemic started it was hard to get hand sanitizer," Tellez said, saying the company adopted a model to ensure "employees were taken care of first."
The food manufacturer adapted to the pandemic-era changes very early, such as implementing mask-wearing for employees and social distancing, and having full-time employees do nothing but go around the plant and clean and disinfect everything.
"We were able to get some [hand sanitizer] and handed them out to all our employees," Tellez said. "And I feel as if that helped them feel a bit more safe, that we were taking this seriously."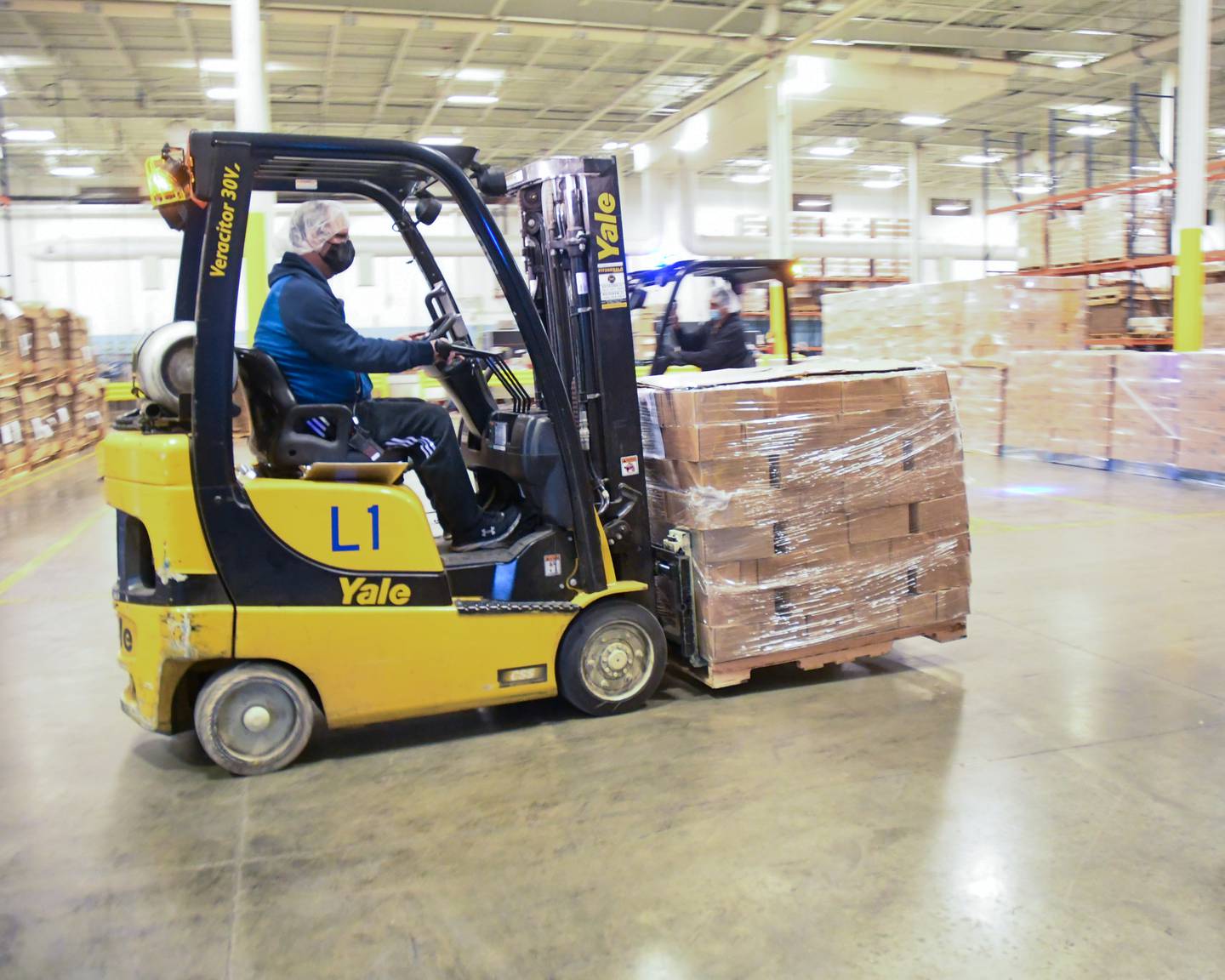 Suter said other changes were made to address employee safety on the floor, including adding air filtration units and GPS ionization units, which help reduce certain airborne viruses and bacteria to improve indoor air quality.
"We were growing before COVID hit and have grown more since COVID; our business has remained very strong throughout this entire time," Suter said.
As in most areas during viral surges, COVID-19 outbreaks were inevitable, and when they happened, the Suter Company pulled labor from area temp agencies to fill the need, Suter said.
"From an employee standpoint, we have amazingly dedicated employees who work hard every single day," Suter said. "And because we are growing, we would definitely hire more people for many different roles."
• The Northwest Herald contributed to this story.