SYCAMORE – A yearslong bid by the Prairie Band Potawatomi Nation to seek the DeKalb County Board's support to reclaim land near Shabbona Lake State Park was stalled again this week by a partisan line vote.
In a 12-11 partisan split during Wednesday's meeting, the DeKalb County Board voted to table a plan which would have included creating a letter for support for the Potawatomi Nation, a request which also was tabled last month. DeKalb County State's Attorney's Office and county administrative officials confirmed Thursday that means the motion is now dead and "at a future date, it could be brought back after going through committee."
DeKalb County Board Chairman John Frieders said before the vote the matter was a "non-discussable item," since it was previously tabled a month ago. However, he provided additional comment immediately following the vote.
"I will once again state that, in the future, when there is legislation, we look forward to bringing it back to the county board and discussing it and hopefully … issuing a letter of support," Frieders said.
Joseph Rupnick, chairman for the Prairie Band Potawatomi Nation, was not physically present for the Wednesday meeting. He declined comment to Daily Chronicle on Thursday.
Terri Mann-Lamb – who represents District 7, including DeKalb Township – is part of the Ramapough Lenape Nation, a band of the Munsee people who originally settled in New Jersey thousands of years ago. As someone who has previously been vocal about land acquisition rights for Native Americans, she said she "was shocked" at the vote but the partisan split didn't surprise her.
"They're not going to go anywhere," Mann-Lamb said, referring to Shabbona residents who she said won't be displaced if the land is returned to the Potawatomi Nation. "And I'm just a little confused on why [board members] want to wait for legislation when the land is rightfully theirs [Potawatomi]."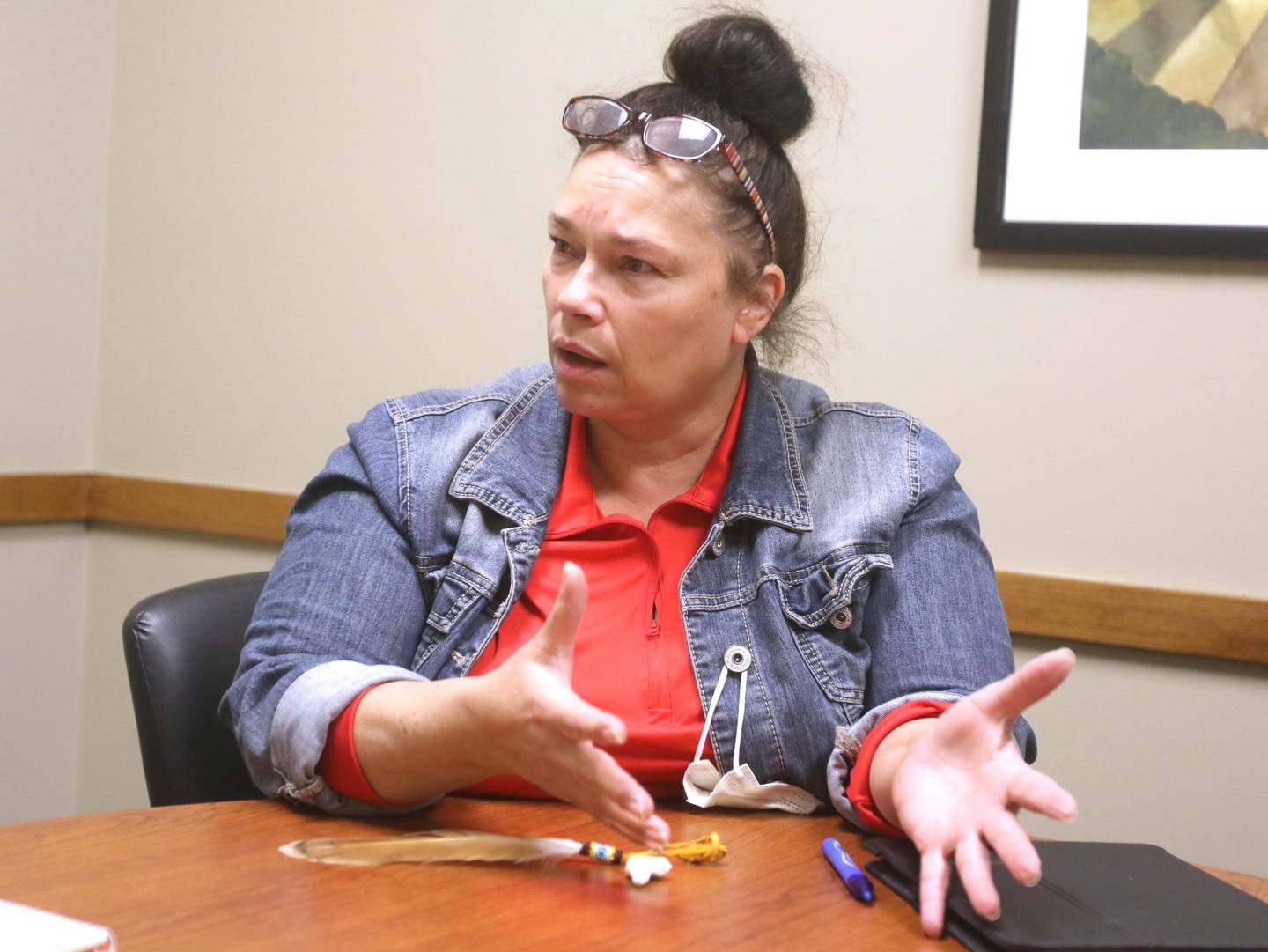 According to county officials, the partisan vote was: County Board members Kathy Lampkins, Dianne Leifheit, Maureen Little, Jerry Osland, Roy Plote, Tim Bagby, Karen Cribben, Bill Cummings, Laurie Emmer, Tim Hughes, John Frieders and Patrick Deutsch – all Republicans – voted no. Kiara Jones, Jim Luebke, Terri Mann-Lamb, Craig Roman, Linda Slabon, Ellingsworth Webb, Suzanne Willis, Scott Campbell, Mary Cozad, Rukisha Crawford and Steve Faivre – all Democrats – voted yes.
Board member Larry West, a Republican, was absent from the meeting Wednesday.
Rupnick previously said the nation's Chief Shab-eh-nay, Rupnick's fourth great-grandfather, was given land near Shabbona in 1829 under the Treaty of Prairie du Chien. However, the land illegally was sold without the chief's consent in 1849 and the land title was then passed to non-Native Americans.
Since 1849, several individuals, the state of Illinois, the DeKalb County government and corporate entities assumed ownership of the reservation. Only the U.S. Congress can extinguish the Native American land title under the Federal Non-Intercourse Act, however.
Since the mid 1800s, Rupnick said the nation has been working to get the federal government to recognize it is still a reservation and the Potawatomi people still have claim to the land.
The reclamation efforts have been pursued by the nation for years. In 2015, the Prairie Band Potawatomi Nation approached the County Board for its blessing to open a Class 2 casino, which would include only bingo, in Shabbona. Rupnick has said the request is not related to the casino and is an attempt to "correct the land issue."
Mann-Lamb said Thursday she didn't understand why those who voted against revisiting the letter of support weren't looking to research more about the points that concerned them.
"I just don't know what they're afraid of," Mann-Lamb said.