DeKALB – A DeKalb elementary school teacher and several parents are speaking out about what they're calling "extreme behaviors" by students in classrooms, which they said is causing significant negative impact and traumatizing students.
Amanda Angelo, a first grade teacher at Founders Elementary School in DeKalb, brought her concerns before the DeKalb District 428 school board Tuesday. Angelo, who's been with the district for seven years, said that students have told her verbally and in writing they do not like school because of behavior patterns some of their peers display. She said she already shared her frustrations with district administration.
"I am speaking out tonight in regards to the extreme behaviors that are prevalent and have been present in our school for years," Angelo said. "I want to make it clear that these extreme behaviors have been in our schools prior to COVID."
It's not the first time members of local school communities have expressed qualms about student behavior this school year. Over the fall semester, amid a third school year impacted by the ongoing COVID-19 pandemic, several online challenges through social media app TikTok made headlines across the country. Many encouraged students to commit acts of vandalism in school buildings, or in December threatened violence against schools, spurring districts across the state to beef up security measures.
[ Increased police presence, student absences as DeKalb County schools responded to national TikTok threat ]
Angelo said poor behavior has trended in several grades, from kindergarten to fifth grade, and was witnessed for years prior to the pandemic. She listed off several for the school board Tuesday:
"Having to teach over screaming children that can last for hours, students taking off clothes … so they are completely naked, a student slapping a teacher across the face, students throwing tables and desks across the classroom, destruction of school property, physically assaulting assistants, teachers and other students in class, choking other students in class and having students [inappropriately touch themselves] in class," Angelo said.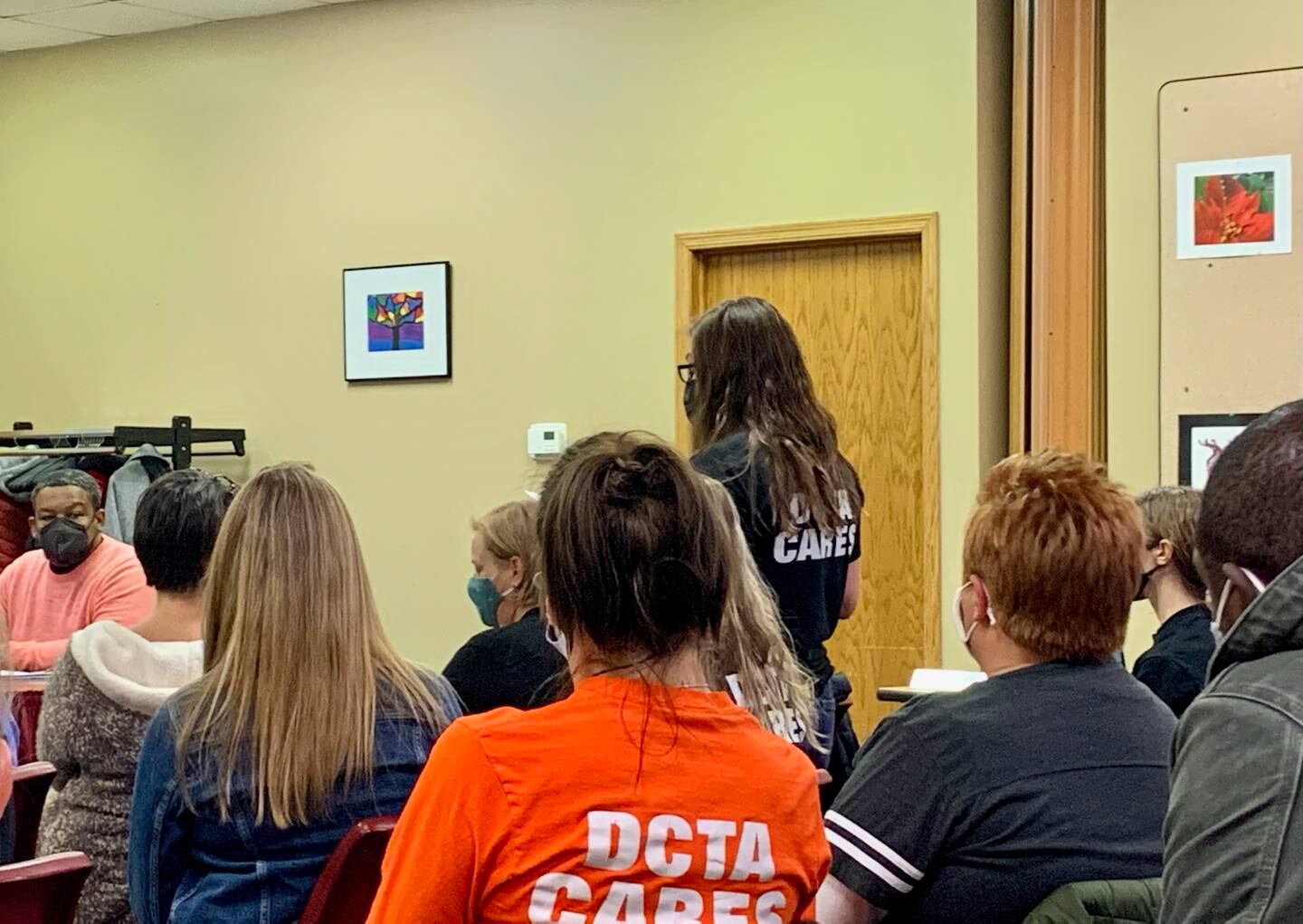 Angelo said dealing with extreme behaviors of students has led to hours of lost instructional time and classrooms having to be rearranged outside of school hours to ensure safety.
"Teachers are having to evacuate the rest of the students at a drop of a hat on a daily basis and teach in an alternative place, that includes hallways, libraries or outside that can last for hours," she said. "Teachers have personal materials destroyed...We are not reimbursed for them."
She said teachers have had to remove such items, including educational materials that teachers purchase with their own money, from the classroom. That means other students who'd use the materials properly aren't able to do so, Angelo said.
Several parents of students in Angelo's first grade class attended the school board meeting to support the teacher, they said. Michelle Gedye and Amanda Jubeck both have daughters in Angelo's class.
"I'm here because children are coming home concerned and afraid of actions in their classroom," Gedye said. "This behavior is taking the teacher away from the other students and taking class time away from the rest of the class."
Jubeck said that her daughter was standing and reading aloud in class to the teacher when a student threw something at her.
"My daughter comes home and tells me she's scared," Jubeck said. "This behavior has become too normalized. We have to make sure our children know that it's not OK to act that way, and we have to put an end to it. It has to stop now."
Gedye said she worries that such behavior is being swept under the rug, and called on the district to address the issues in a disciplinary way.
"There needs to be better protocols in place because nothing is getting done," Gedye said.
After the school board meeting, Superintendent Minerva Garcia-Sanchez said that acting out and behavioral issues are a nationwide issue, not just a local one.
"We're all going through an additional layer of social-emotional problems especially because of the pandemic," Garcia-Sanchez said. "It's a way to get attention. We're all feeling anxiety, and the way it comes out is different in every child. Some bite their nails, some pull their hair, some turn those emotions into physical actions against others."
Garcia-Sanchez said that DeKalb school district administration and counselors are formulating plans to address student behavior.
"It's important to let these children and their families know that there is support for them," she said. "We know that it's not just happening in within school walls or on buses. These behaviors are happening everywhere."