SYCAMORE – Hundreds of people gathered outside Sycamore Middle School Tuesday in a candlelight vigil to stand in solidarity with the Sycamore teachers' union, whose members have been working on an expired contract since the school year began.
Negotiations between the Sycamore Education Association and Sycamore School District 427 are still ongoing, and no agreement has yet been reached. Their previous contract expired July 31, according to district documents.
Jenn McCormick, a member of the union's press committee and instructional coach at South Prairie Elementary School, said that the contract represents stability.
"The contract sets the expectations of educators and administrators," McCormick said. "It's definitely impactful on our working conditions."
Lynnae Ihm, union president and special education teacher at West Elementary School, said that not having a contract for the past 137 days is unprecedented for Sycamore.
Union members and district officials Tuesday declined to reveal details regarding the negotiations, including what teachers are requesting under a new contract.
There are 280 members in the SEA, and Ihm said that majority of the teachers union members were at Tuesday evening's vigil. Other local teachers unions, including representatives from DeKalb, Kaneland, Genoa-Kingston, Hinckley-Big Rock and Burlington school districts, were in attendance.
The vigil started an hour before the Sycamore Board of Education meeting. Union members then crowded into the school board meeting to urge the district to address the contract.
A bargaining committee of six union members have been in discussions with the school district to agree upon a contract.
"[The vigil is] a demonstration of the strength, unity and dedication of Sycamore's educational staff," said Jake Brens, a language arts teacher at Sycamore Middle School. "We're thrilled at the turnout, but not really surprised. Part of our strategic design, the mission of the district, is that people are our greatest asset and students are our greatest priority."
The union members did not address the Sycamore Board of Education during the public comment section of Tuesday's meeting.
"We attended with a quiet presence which speaks volumes," Brens said.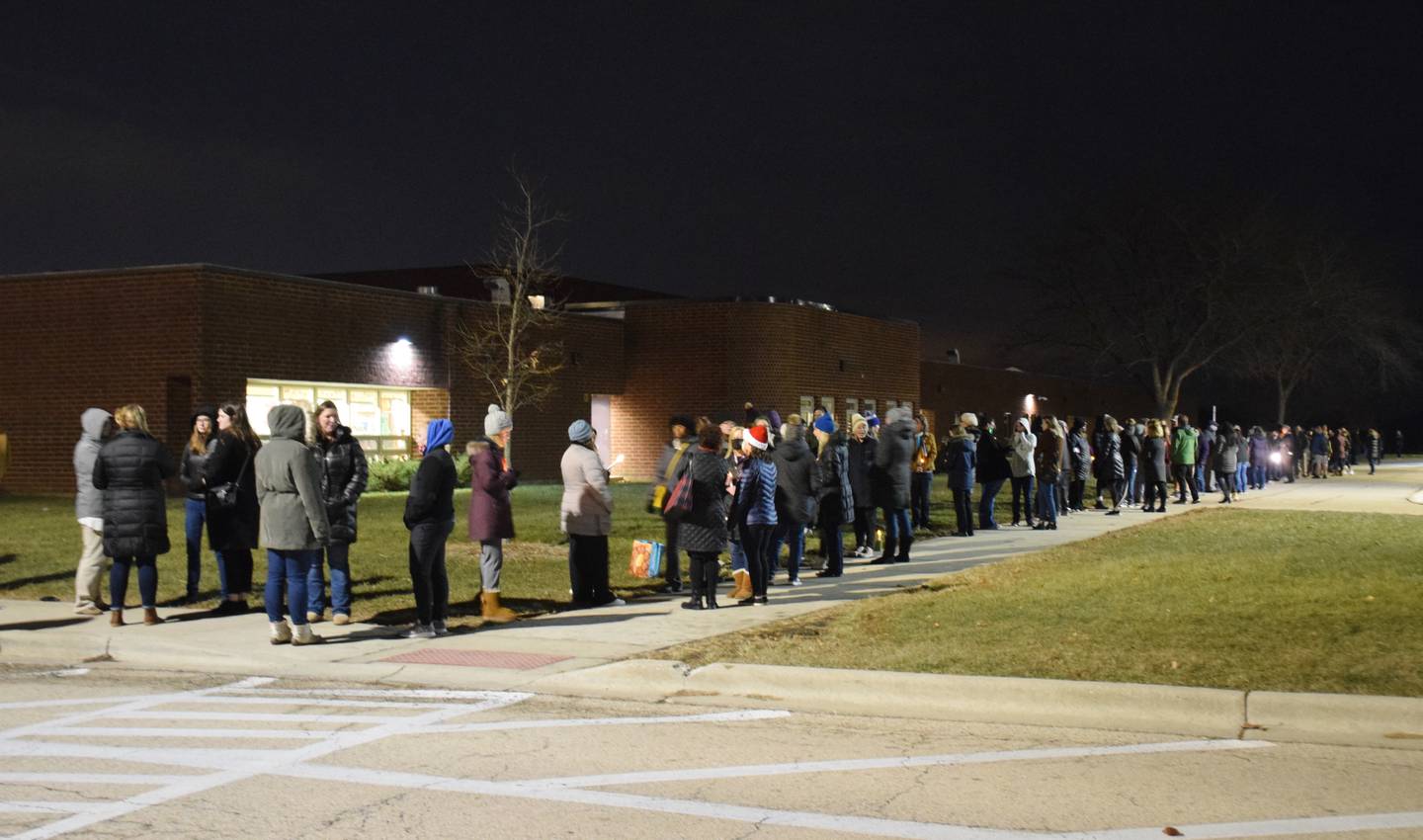 After the meeting, Superintendent Steve Wilder said that although the union did not speak, their made a powerful statement.
"The teachers union is looking for exactly what [the administration is] looking for: a fair and reasonable agreement," Wilder said. "Nobody is happy that the expired contract has lasted as long as it has. We understand the teachers' concern, and our hope is to get to an agreement as soon as possible. Discussions are ongoing."
Brens said that there is the status quo remains, the school board can count on another significant union presence at the next meeting set for Jan. 11.
"We'll be going into our second semester without a contract," Brens said. "This is my 18th year teaching, and not having a contract is unique. This is unprecedented, and we hope it's solved and a contract is negotiated soon."