SYCAMORE - Janesville-based Mercyhealth President and CEO Javon Bea called a years-long tax evasion and fraud scheme concocted by Sycamore business owner Ryan Weckerly and an executive for a Janesville hospital to defraud the health system of $3 million a "betrayal," in a correspondence sent to employees Thursday.
Bea's letter obtained Thursday by the Daily Chronicle, referenced Wednesday's news that Ryan Weckerly, 46, of Sycamore, owner of MorningStar Media Group in Sycamore, took part in a five-year scheme with Janesville-based Mercyhealth's former vice president of marketing and communications, Barbara Bortner, 57, of Milton, Wisconsin. Mercyhealth is a regional healthcare provider based in Janesville, Wisconsin, that has hospitals in Rockford and Harvard and another in the works in Crystal Lake.
Federal prosecutors said that Weckerly, in partnership with Bortner, falsified tax documents and sent inflated invoices, shuffling large sums of money throughout multiple bank accounts for years.
Weckerly agreed to plead guilty Wednesday to federal charges of wire fraud, tax evasion and aiding and abetting a false income tax return. Bortner was charged with wire fraud and tax evasion. Court records show prosecutors had been setting up the plea deal since early August, and both Bortner and Weckerly agreed to plead guilty. Bortner was fired from the health system before the charges were announced Wednesday, Sept. 1, Bea said in his letter.
"The charges are an important step forward in helping us heal from the betrayal we felt on Aug. 16, 2021, when I told you that Bortner had been terminated," Bea said in his letter.
[ Feds charge Sycamore-based MorningStar Media owner in $3M kickback scheme with ex-hospital executive ]
For five years, Mercyhealth unknowingly paid out millions of dollars to Weckerly and Bortner for inflated invoices. The fraudulent money was shuffled across the Illinois-Wisconsin state line and involved bank accounts they used to hide their activities, according to court records.
Weckerly was unable to be reached for comment. His lawyer, Chicago-based attorney Steve Greenberg, said this week that Weckerly was a "super person" and "just messed up a little bit."
Bortner's lawyer, Patrick Knight, did not respond to requests for comment.
According to federal court records, the two devised the scheme in February 2015 in which Weckerly would submit inflated invoices for marketing work at Mercyhealth and Bortner would receive kickbacks in return. They also agreed that Bortner would continue using Morningstar Media Group as the health system's primary ad agency, according to court records.
U. S. Attorney's Office for the Western District of Wisconsin located in Madison, Wisconsin, said that as part of the guilty plea, Weckerly and Bortner have agreed to make restitution immediately to Mercyhealth in an amount to be determined by the court at a sentencing hearing, which has not yet been scheduled.
"This is a sad and unnecessary case," Bea said in his letter. "Bortner faces imprisonment, must repay Mercyhealth and has ruined her career. Like many of you, I asked myself, 'Why?'"
Bea said it's important to note the $3 million scheme did not involve patient care or medical supplies, and that in addition to the court-ordered restitution, the health system will "take all necessary steps to protect the interests of the organization, including the recovery of all improperly expended funds."
"As we make our way through this difficult chapter, I am grateful for your willingness to pull together," Bea said.
According to the proposed plea agreements outlined in federal court documents, Bortner agreed she owes the Internal Service Revenue more than $777,000 in restitution. Weckerly has agreed he owes the IRS $30,419 in restitution, according to court records. They both agreed that the total amount of the scheme came out to about $3.14 million in total from February 2015 to mid-2020.
Federal wire fraud charges carry a sentence of up to 20 years in federal prison, and fines up to $250,000. Weckerly and Bortner have also both agreed to pay an additional amount in restitution that has not yet been determined, according to court records. At their sentencing, both will be required to pay the IRS back taxes immediately, including through asset seizure, records show.
Both Weckerly and Bortner waived their rights to indictment by a grand jury, records show, and in turn agreed to plead guilty to the wire fraud and tax charges.
Illinois business records show that Weckerly also co-owns, along with his wife, Karen Weckerly, local coffee shop Coroco Coffee Roaster Collective, 224 S. California St., located next door to MorningStar Media.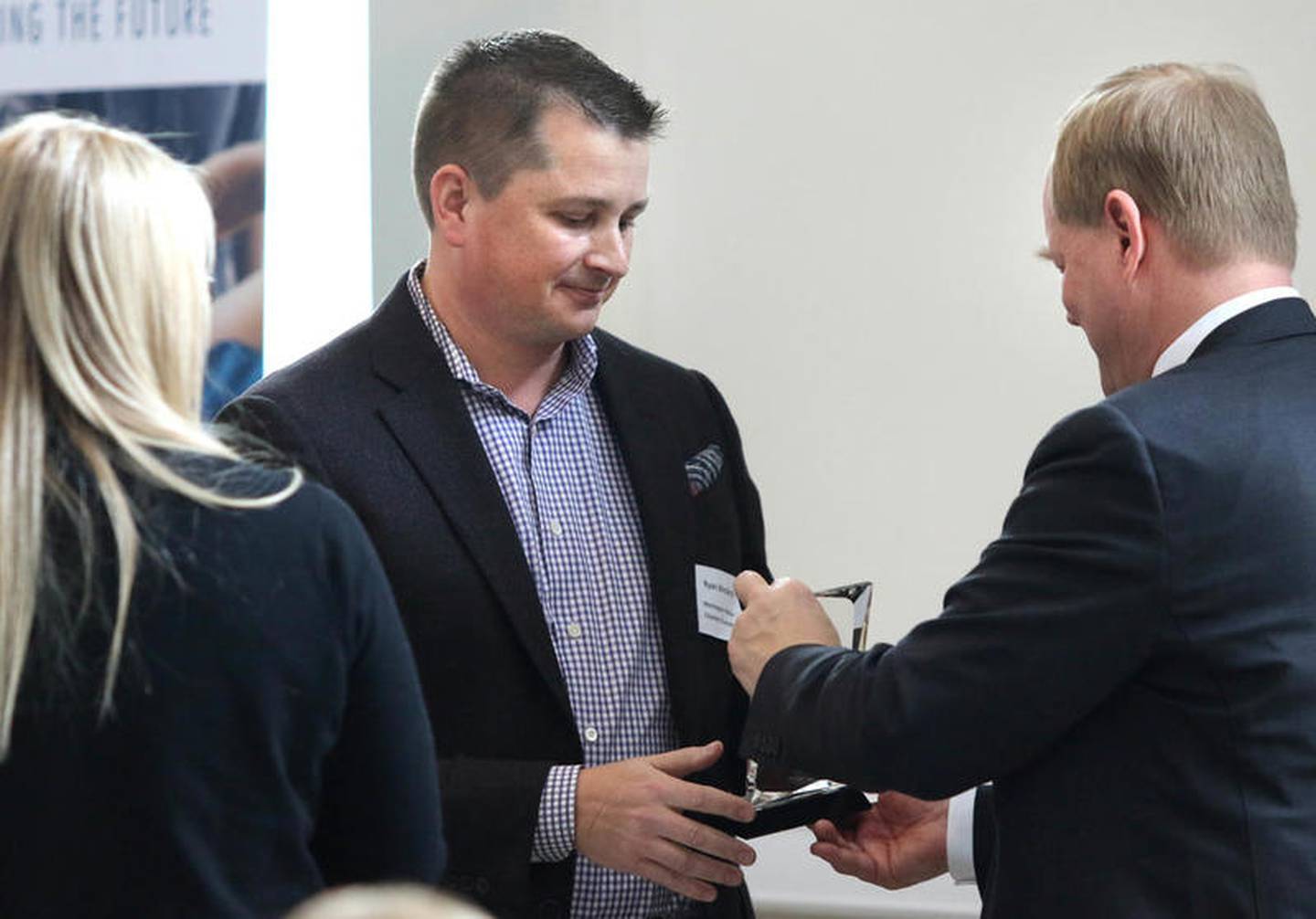 MorningStar
Weckerly's company, MorningStar Media Group, did not appear to be open for business midday Thursday.
An attempt to reach employees of MorningStar Media to determine if the company remains operational and the status of Weckerly's employment with them was unsuccessful Thursday, as the doors to the 220 California Street office in downtown Sycamore were locked as of about 1:45 p.m. Thursday, though weekday business hours listed online say the company office is open from 8 a.m. to 5 p.m. Monday through Friday.
Neighboring Coroco Coffee Roaster Collective remains open, though the owners, Weckerly and his wife, Karen Weckerly were not there as of about 1:50 p.m. Thursday.
When reached Thursday evening, Karen Weckerly, who operates the coffee shop and has not been accused of wrongdoing, declined comment.
In 2019, the Weckerlys announced they were moving MorningStar Media Group to downtown Sycamore at 220 S. California Street, and purchasing the space formerly owned by Knodles Appliance Store for the family's growing company. The space next door was made into Coroco.
According to business records from the Illinois Office of the Secretary of State, Ryan Weckerly is listed as a co-owner, along with Karen Weckerly, to Coroco Coffee, which was made an LLC on July 9, 2018.
Weckerly's ad agency has, over the the years, developed a known name and reputation across DeKalb County, doing business with local entities, building websites for local businesses and contracting for work with the City of DeKalb and the City of Sycamore, among others.
Sycamore acting City Manager Maggie Peck confirmed the City awarded a $5,000 facade improvement grant in March of 2019 to the Weckerly's when they moved to California Street, but she said the City has no current contracts with MorningStar Media. She declined additional comment on behalf of the City regarding the matter.
The city of Sycamore's facade improvement program grant is funded through hotel/motel tax revenue, which uses funds that come from visitors to the community for downtown economic development.
DeKalb City Manager Bill Nicklas said he was surprised to hear about the indictment and guilty plea by Weckerly. He said city finance staff did a quick search Thursday for contracts between the media company and the city. Going back to the city's digital records system since 2018, Nicklas said, "They're not listed as a vendor at all."
During the years-long fraud scheme, Weckerly and Bortner agreed upon an exclusive marketing contract through Mercyhealth and MorningStar Media Group, which prosecutors said before 2015 had been a legitimate working relationship.
According to prosecutors, they agreed Weckerly would send Bortner inflated invoices that she'd have paid through Mercyhealth. Weckerly then deposited the money — some into a legitimate MorningStar bank account, and some into a new bank account he'd created in August of 2015 through a new company he started that he called Blank Slate Media. Writing 103 checks totaling just over $2 million, and withdrawing cash, Weckerly then paid Bortner her share through fake invoices sent to her for work she claimed she was doing for MorningStar's publication, Invironments Magazine, according to court records.
Editor's Note: An earlier version of this story incorrectly stated that Ryan Weckerly and Barbara Bortner had already pleaded guilty to the charges. It was corrected on Oct. 12, 2021. According to court records and a news release from the U.S. Attorney's Office in the Western District of Wisconsin, the pair agreed to plead guilty to the charges. Both are scheduled to appear before a federal judge this week, Oct. 14 for Bortner and Oct. 15 for Weckerly, for a plea hearing, court records show.