SYCAMORE – The owner of Sycamore-based MorningStar Media Group was charged in federal court Wednesday in connection with a $3 million kickback scheme that prosecutors said he conducted for more than five years in partnership with a now-former Wisconsin hospital executive.
Ryan Weckerly, 46, of Sycamore was charged by federal prosecutors in Wisconsin with wire fraud, tax evasion and aiding and abetting a false income tax return.
Federal prosecutors also charged Barbara Bortner, 57, of Milton, Wisconsin, with wire fraud and tax evasion. Bortner is a former vice president of marketing at Mercyhealth, a regional health care provider based in Janesville, Wisconsin, that has hospitals in Rockford and Harvard and another in the works in Crystal Lake.
According to federal court records, the two concocted the scheme in February 2015 in which Weckerly would submit inflated invoices for marketing work at Mercyhealth and Bortner would receive kickbacks in return. They also agreed that Bortner would continue using Morningstar Media Group as the health system's primary ad agency, according to court records.
Weckerly was unable to be reached for comment. His lawyer, Chicago-based attorney Steve Greenberg, said Weckerly was a "super person" and "just messed up a little bit."
"We're going to put this behind him, and he's going to get on with his life," Greenberg said.
Bortner's lawyer, Patrick Knight, did not respond to requests for comment.
According to the proposed plea agreements outlined in federal court documents, Bortner agreed that she owes the Internal Service Revenue more than $777,000 in restitution. Weckerly has agreed he owes the IRS $30,419 in restitution, according to court records. They both agreed that the total amount of the scheme came out to about $3.14 million in total from February 2015 to mid-2020.
Federal wire fraud charges carry a sentence of up to 20 years in federal prison and fines up to $250,000. Weckerly and Bortner have both agreed to pay an additional amount in restitution that has not yet been determined, according to court records. At their sentencing, both will be required to pay the IRS back taxes immediately, including through asset seizure, records show.
Both Weckerly and Bortner waived their rights to indictment by a grand jury, records show, and in turn agreed to plead guilty to the wire fraud and tax charges.
The fraud
For five years, Mercyhealth in Janesville unknowingly paid out millions of dollars to Weckerly and Bortner for inflated invoices. The fraudulent money was shuffled across the Illinois-Wisconsin state line and involved bank accounts they used to hide their activities, according to court records.
The yearslong scheme went like this: Weckerly and Bortner agreed upon an exclusive marketing contract through Mercyhealth and MorningStar Media Group, which prosecutors said had been a legitimate working relationship prior to 2015.
Prosecutors said the two agreed that Weckerly would send Bortner inflated invoices that she'd have paid through Mercyhealth. Weckerly then deposited the money – some into a legitimate MorningStar bank account, and some into a new bank account he'd created in August 2015 through a new company he started that he called Blank Slate Media. He then paid Bortner her share through fake invoices sent to her for work she claimed she was doing for MorningStar's publication, InVironments Magazine, according to court records.
On Jan. 30, 2015, Bortner created WeInspire LLC based in Milton, which she claimed to be using for work for InVironments Magazine. She would send Weckerly invoices to cover the transfer of funds. She also created a bank account for WeInspire on Feb. 18, 2015, which she used as part of the scheme.
Weckerly then withdrew money for him and Bortner, writing 103 checks over the years, totaling just over $2 million, according to court records. They also withdrew cash to move the money around, records state.
Federal court documents noted Bortner attempted to deposit a $70,000 check in her Milton, Wisconsin, bank account around April 30, 2019, which was written out to WeInspire from Invironments Magazine.
The U.S. Attorney's Office for the Western District of Wisconsin, located in Madison, Wisconsin, is handling the case.
The tax charge for Bortner involved her failure to report the proceeds of the kickback scheme, as gross income on her federal tax return for the calendar year 2018, prosecutors said.
A 2019 tax form used for tax filers who work for themselves and earn income, often through contractual work, was flagged by federal officials, documents state. That form had been sent to Bortner for tax filing purposes by Weckerly through MorningStar for work Bortner claimed she'd done for Invironments Magazine.
Weckerly's aiding and abetting charge stems from him providing the hospital executive with that false 1099 tax form for the calendar year 2019.
The charges came down after Weckerly and Bortner were the subject of an investigation by the IRS's Criminal Investigation team, according to the release, as well as through U.S. Assistant State's Attorney Aaron Wegner.
Wegner's office declined comment.
Known in the community
As MorningStar Media Group's president and CEO (although his business profile is no longer listed on the website as of Wednesday), Ryan Weckerly became a known name in DeKalb County, in business and local initiatives.
In 2019, he ran a failed bid for Sycamore School District 427 Board against then-board President Steve Nelson. He ran on being fiscally responsible, saying the district needed to pay down debts and be "lean and frugal with the dollars we are provided." During his 2019 campaign, he touted being a homegrown Sycamore resident, raising his family in the community, owning a business and said at the time he felt "strongly that it's my responsibility as a leader to devote my time and resources to making our community a better place."
Also in 2019, Ryan and his wife, Karen Weckerly – who did not respond to request for comment Wednesday – announced they were moving MorningStar Media Group to downtown Sycamore at 220 S. California Street, purchasing the space formerly owned by Knodles Appliance Store for the family's growing company.
The pair also set up Coroco Coffee Roaster Collective in the space, at 224 S. California St., which is operated by Karen Weckerly.
On behalf of MorningStar Media, Ryan Weckerly also accepted the Chamber Champion Award from the Sycamore Chamber of Commerce on Jan. 31, 2019.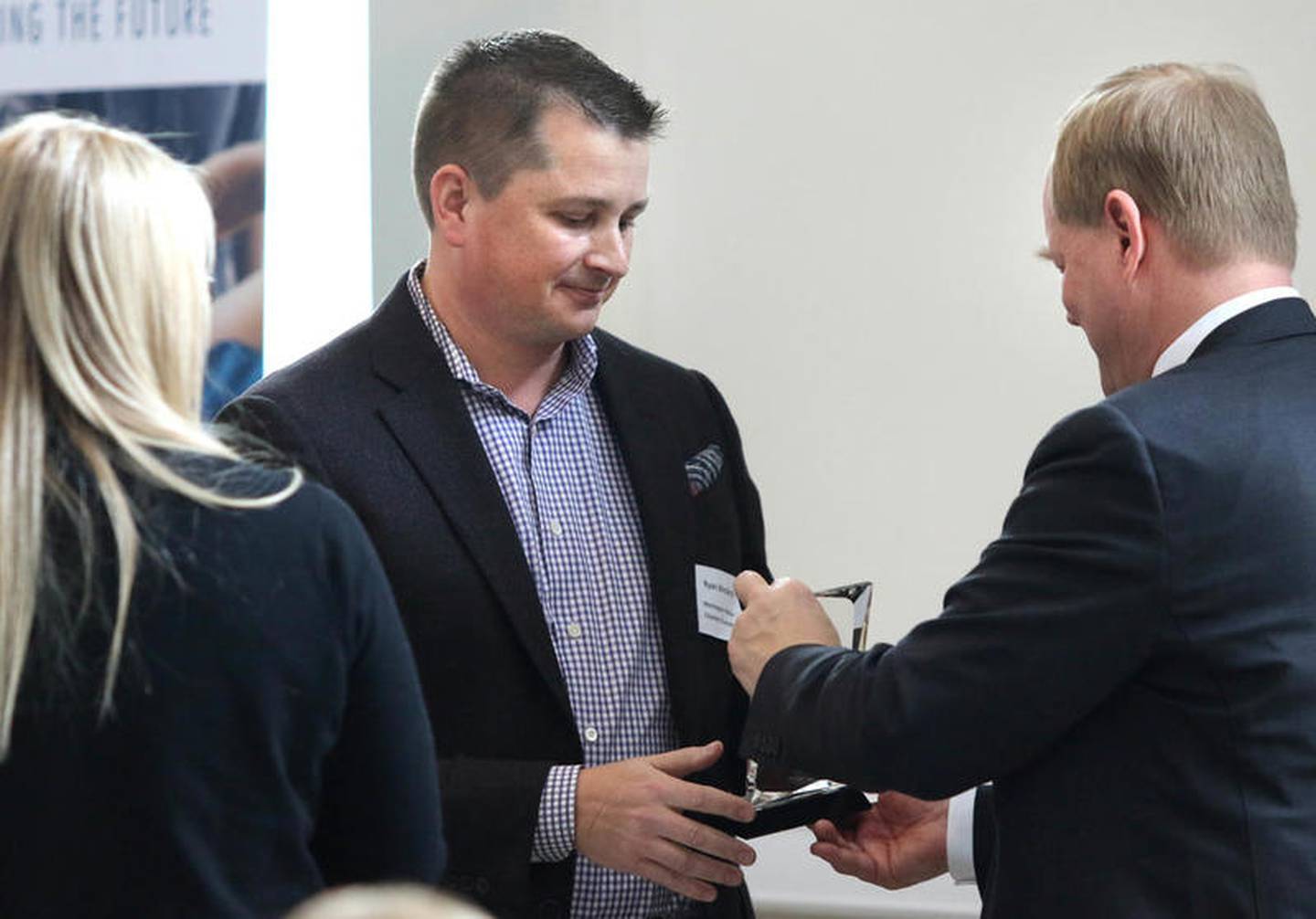 It was unclear whether Ryan Weckerly still works with MorningStar Media Group, and a phone call to the company Wednesday was not returned. The company's website remains live, but the social media accounts, including Facebook, LinkedIn, Twitter, YouTube and Instagram, which are linked through the company website, were not active, as of Wednesday. The last public post on the company's blog was dated Jan. 19, 2021.
A page that listed Weckerly as the company's president and CEO is no longer live, but the former page dubbed Weckerly the company's "fearless leader."
MorningStar Media Group lists among its portfolio the forging company Anchor Harvey, St. Charles-based credit card manufacturer Perfect Plastic Printing, MidJersey Orthopedics, Sauber Manufacturing, Turner & Sackett, Vintage Electrical Group.
This story has been updated.