DeKALB – School resource officers in DeKalb School District 428 say that while a typical workday may vary, their job isn't just about keeping students and staff safe.
School Resource Officer Tony Densberger, who works with sixth, seventh and eighth grade students, said interacting with students is another big part of the job.
"I spend the lunch periods out there with the staff because that's when I wander around to see my kids," Densberger said. "I like to talk to the kids who are kind of alone. … There are some kids with … behavioral issues sometimes, so I check on them regularly. [I'm] just available in case staff needs me."
District 428 officials began drafting a plan earlier this spring to enlist two new school resource officers. The efforts, district officials said, were meant to bolster safety of students and staff and address a rise in behavioral issues reported in school buildings.
Densberger and Officer Josef Gordon were hired in August after the DeKalb City Council in June approved a contract with the school district to add two more resource officers hired through the DeKalb Police Department.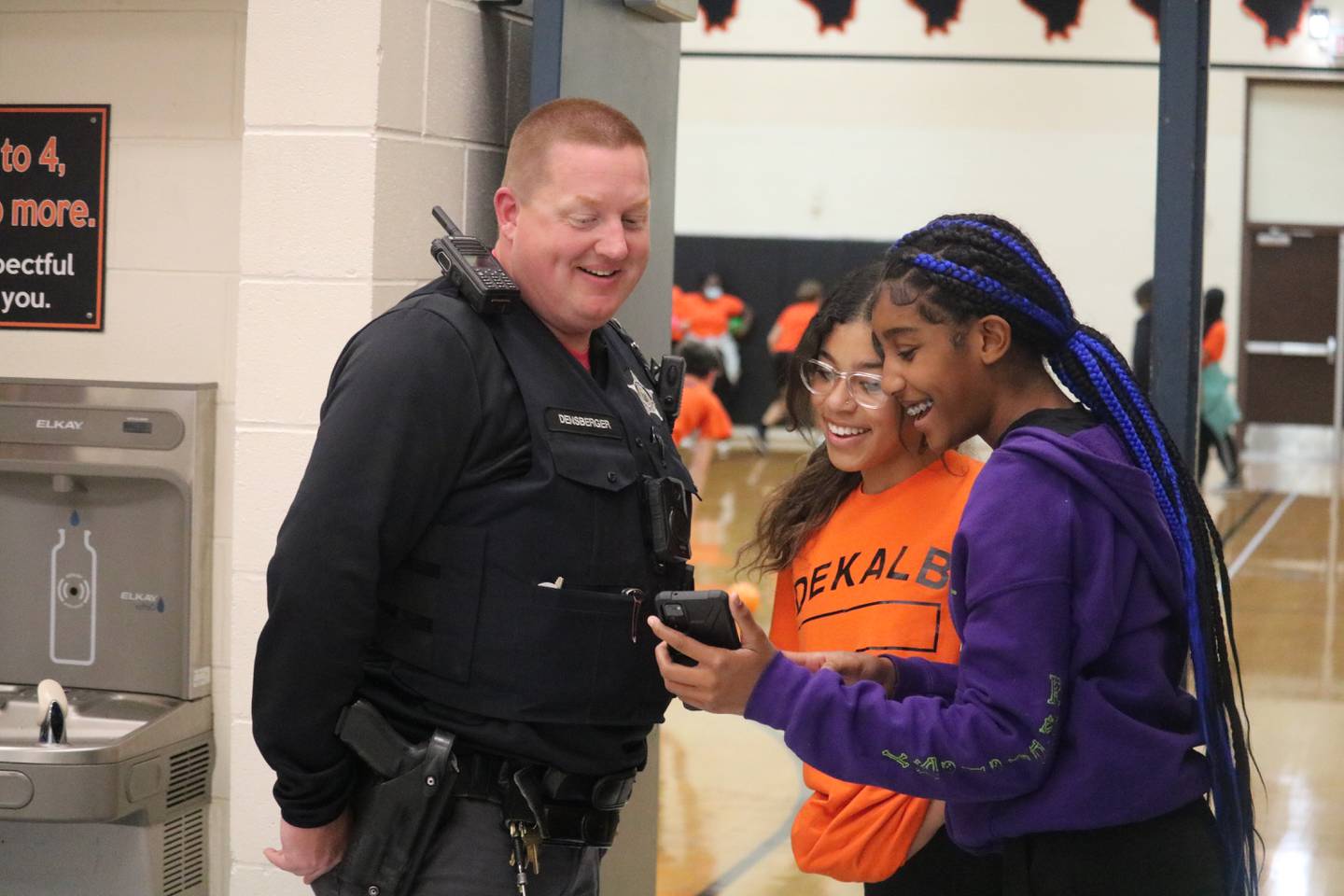 Densberger said a large part of his job includes being visible for the district community.
"I walk the building," Densberger said. "I know my primary role, like I'm security for the schools. It's a safe environment number one, so that's always. I've got my patrol radio, so I can hear what's going on around the whole area, but a typical day I'm visible in schools and available for the kids."
Last school year, District 428 parents and community members raised concerns about school safety and lobbying for the school board to take action.
The two new hires make five full-time school resource officers split between District 428 buildings.
The school district previously had one resource officer stationed at DeKalb High School, one split between its two middle schools and a third split between its eight elementary schools. The school district has an intergovernmental agreement with the DeKalb Police Department to share costs of their salaries and benefits at a rate of 75% of their contract, according to the documents.
Tammy Carson, the district's facilities operations and safety director, said that bolstering support for the district's school resource officer program was paramount for student and staff safety. She said the hires will help the district be proactive in its efforts to support student success.
"Our school resource officers are very important in that effort and in their work to create and build relationships with students from grade school through high school," Carson said in a statement. "Adding two more officers means more support for our students and families, makes our buildings safer, and increases our officers' ability to provide more mentoring and programs that help students learn how to make good choices."
Densberger has become a bit of a celebrity at Clinton Rosette Middle School. It is there that students call him "Officer Cheese."
"They come to me for fun stuff," Densberger said. "They come to me when they have questions. They come to me when they have problems. I'm approachable. The door's open."
Densberger said the secret to connecting with students is simple.
"[It's] not being too serious," Densberger said. "There's a time and a place."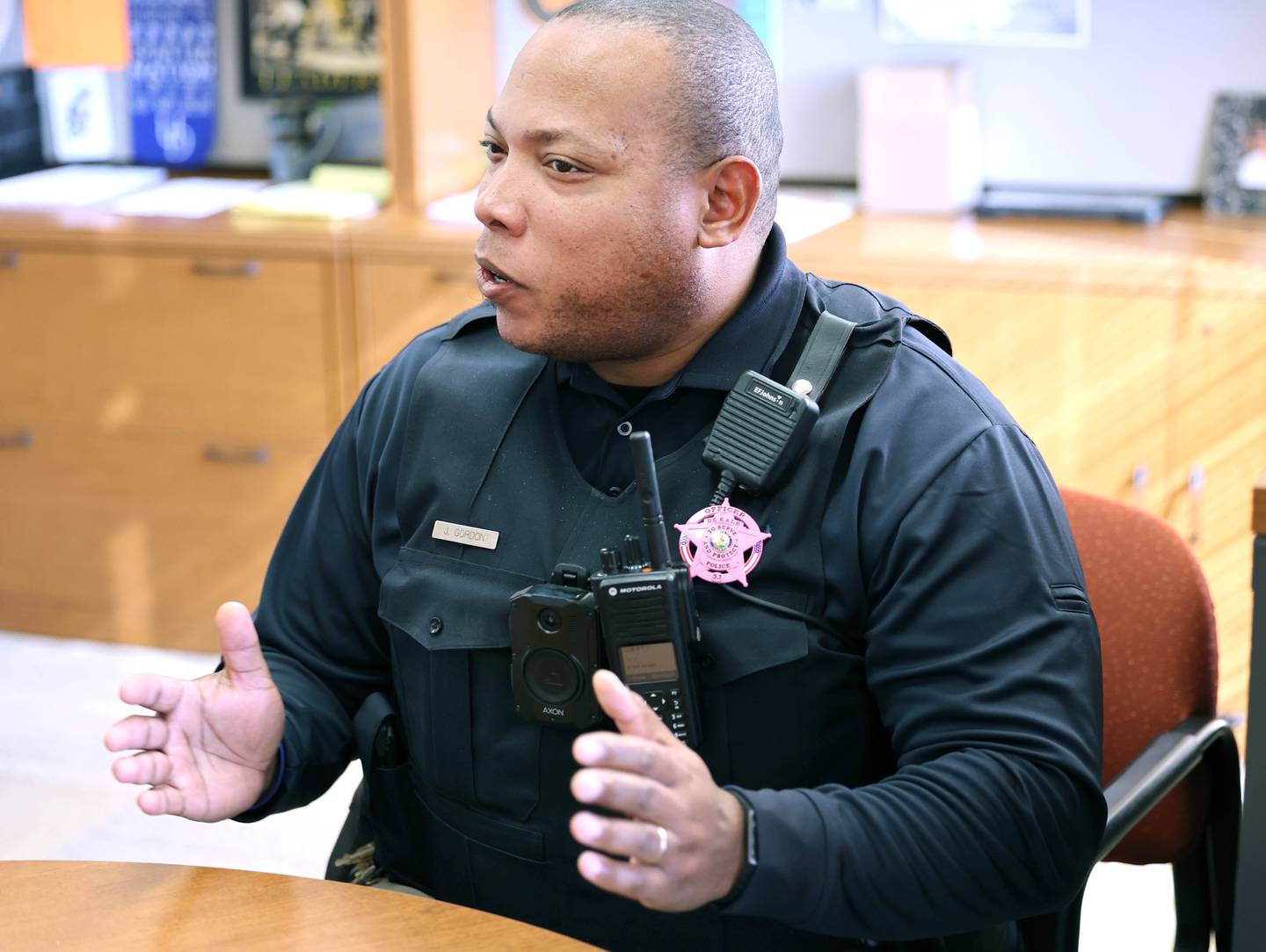 At DeKalb High School, School Resource Officer Josef Gordon said he is known to greet students when they enter the building at the start of the day.
Gordon said his favorite part of the job is easy to pinpoint.
"Being here and getting to see kids be kids," Gordon said. "You know, thinking back to those times when you were a teenager and how do you see adults in our lives and being able to have that impact from this side of it."
Gordon said he's faced his share of challenges in his first few months on the job as a school resource officer. But he said he's managed to overcome them.
"I don't think there is any challenges that have come about that are any different than being on the street," Gordon said. "A lot of remediating. Sometimes kids are emotional. … They get angry. So, there's a lot of remediating is what we do. We try to help between the school handling it on their end and us just being there to remediate the situation."