In her Sycamore basketball career, Faith Feuerbach ended up among the program's career leaders in most categories.
But over the past couple weeks, she helped the Spartans set a single-season win mark and win a sectional for the first time. And then she became a champion, winning the Class 3A Three-Point Showdown.
"It was a goal of mine, so obviously I was very excited," Feuerbach said. "I went to state my sophomore year but didn't do great there. I was hoping to at least do better. It was just very exciting to me."
Feuerbach averaged 15.7 points and shot 41.1% from long range this year, helping the Spartans to their most successful season in school history and earning the Daily Chronicle 2022 Girls Basketball Player of the Year award.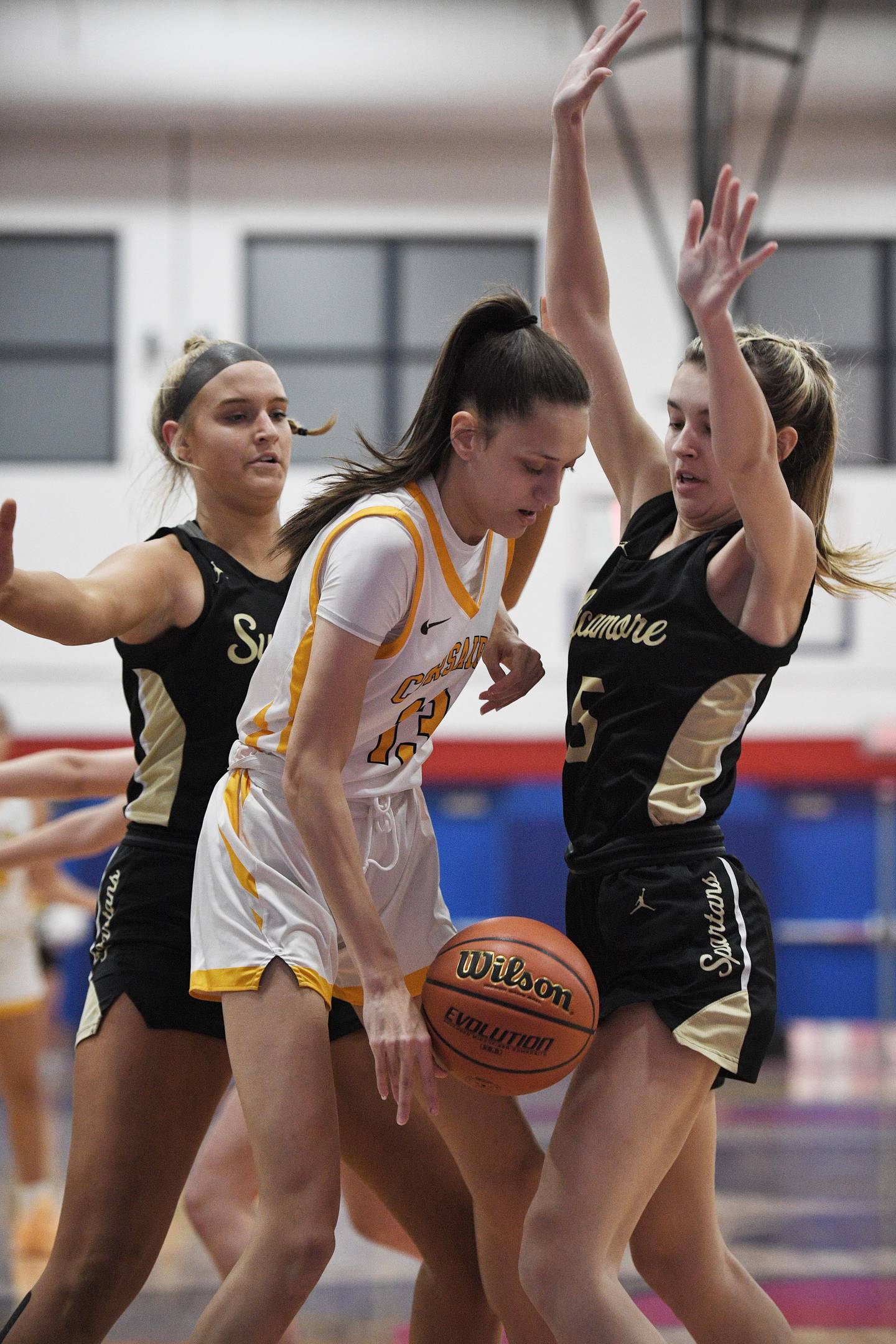 The forward spent three years as a starter for the Spartans and was a varsity player all four years in high school. This season she was the conference MVP and MVP of two different tournaments, finishing with more than 1,400 career points.
"She really wanted to make sure this year was ending with an exclamation point for her individually," Sycamore coach Adam Wickness said. "I think she did a really good job of that. She hit a lot of big shots for us over the course of the season and had some really big moments. I think when she looks back on it, she'll be very happy with how her senior season went."
The Spartans fell to Carmel in the Dundee-Crown Supersectional, with Feuerbach tasked with guarding Michigan State recruit Jordan Wood and held her to just two points. Carmel went on to win the state title over Nazareth, a team Sycamore beat earlier in the year.
The Spartans finished their historic season with a 32-3 record.
"I feel like on the court and off the court we were just so successful this year," Feuerbach said. "I'm very proud of how we played."
Feuerbach said the entire postseason run was one to remember. The team brought huge crowds with it on the road, especially to the sectional at Kaneland and the final game at Dundee-Crown.
"It was a totally amazing experience," Feuerbach said. "If I could just play one more game with this team I would. Just because the team was fun, winning was fun, the community showing up was so fun. Our community really showed up for us and the team played great. Obviously we wanted a better outcome in the supersectional game but it wasn't meant to be. And that's OK. We had a great run and I'm very proud of how we ended and how we played. And I'm thankful for anyone who showed out and supported us."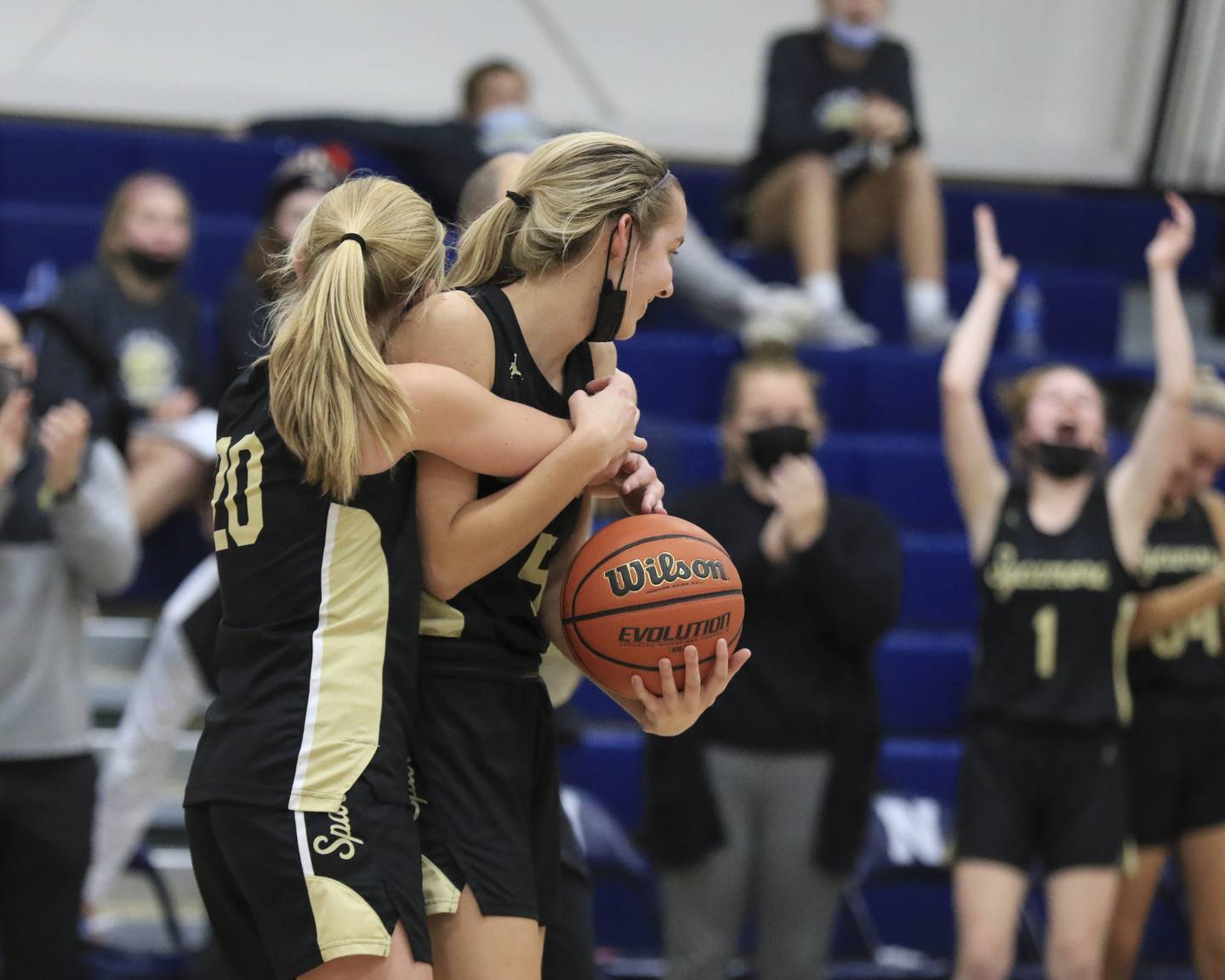 Feuerbach committed to St. Thomas, which just finished its first year playing NCAA Division I women's basketball. Under coach Ruth Sinn, the Bobcats were 7-21 and 4-14 in the Summit League.
"It felt like I could see myself there so I was super excited," Feuerbach said. "The coaching staff is amazing. They were a huge part of my decision. I love the head coach, the assistant coaches. Everybody I've met, I loved."
Wickness said with her work ethic, sharpshooting and stingy defense, Feuerbach should fit in at the next level.
"She's pretty much your classic 'D and 3′ kid," Wickness said. "She's going to give you really good perimeter defense. She's a smart player. She's going to be able to step up and make 3s. You know she's going to keep getting better because she has the work ethic of a champion."
Wickness said even though she is graduating, Feuerbach will have a lasting impact on the program with the effect she had on younger players who watched her not just play but practice.
"It wasn't a thing they saw at a game, but when they're heading to their Fury practice and they're seeing the shooting machine is up and she's still working, that resonates with people," WIckness said. "We had some freshmen this year who stayed after and they were like, 'Can anybody do this at any time?' Yeah, you can stay after any time you want to. It's one of those things. She's lighting fires under the next wave and being an inspiration to them that way. It's been very cool to see."
Feuerbach said the chemistry the team had this year was special and something she will always remember.
"Whenever I think back at my time at Sycamore, I can only think of anything positive," Feuerbach said. "I can't think of anything negative. I think this year, personally, I tried to be the best person I could be, best shooter, best player. Whatever my team needed me to be, I would try to be. Every year I had a great time with them and every year we performed well, played well."