DeKALB – A recreational and medical cannabis dispensary with a state license already in hand wants to set up shop in downtown DeKalb, and if approved, it would be the county's first.
If approved by the DeKalb City Council, the dispensary would be the city and DeKalb County's first since nonmedical consumption of marijuana became legal in Illinois. Several attempts to set up shops in DeKalb have not been successful, as previous petitioners have received city backing but stalled awaiting state licensing.
The latest proposal is DeKalb's first cannabis business that's already received a state conditional use permit.
Project leaders behind the proposed Excelleaf Dispensary, a recreational and medicinal pot dispensary operated by Canndid Spirit Too LLC, are eying the former Vibrant Credit Union site at 305 E. Locust St. in downtown DeKalb.
City leaders so far have expressed support for the proposal, documents show, and the City Council previously issued strong support for the industry to find its way to town.
"It's a definite need that a lot of residents have expressed support in that I've heard over and over again," DeKalb Mayor Cohen Barnes said Friday. "As well as from a tax revenue perspective, it'll be great to have that revenue for the city of DeKalb in order to bring more resources to the city that in turn is going to help with the general fund and help provide more services to our residents."
The city estimates that the dispensary would generate about $200,000 a year, officials said.
The special use permit request by petitioner Crystal Anderson of Canndid Spirit will head first to the DeKalb Planning and Zoning Commission for review. The meeting is set for 6 p.m. Monday in the Yusunas Meeting Room at the DeKalb Public Library, 309 Oak St.
The site has been vacant since July 2021, officials said.
A state conditional permit to operate the dispensary remains active until July, City Planner Dan Olson said. Under the state license, the dispensary is permitted to acquire cannabis from licensed business establishments and can sell or dispense cannabis, cannabis-infused products, cannabis seeds and paraphernalia, documents show.
[ New marijuana dispensary is 'wonderful asset': Crystal Lake city officials, chamber welcomes Ivy Hall to town ]
No one younger than 21 – including any shop employees – would be allowed on the shop's premises, document show.
Excelleaf Dispensary would be open from 6 a.m. to 10 p.m. under the proposal submitted by Anderson Jan. 2, city records show.
Should a permit be approved, city staff are requiring it come with a security plan developed with the DeKalb Police Department, documents show. On-site consumption of cannabis also would be prohibited unless updates to the existing code were made.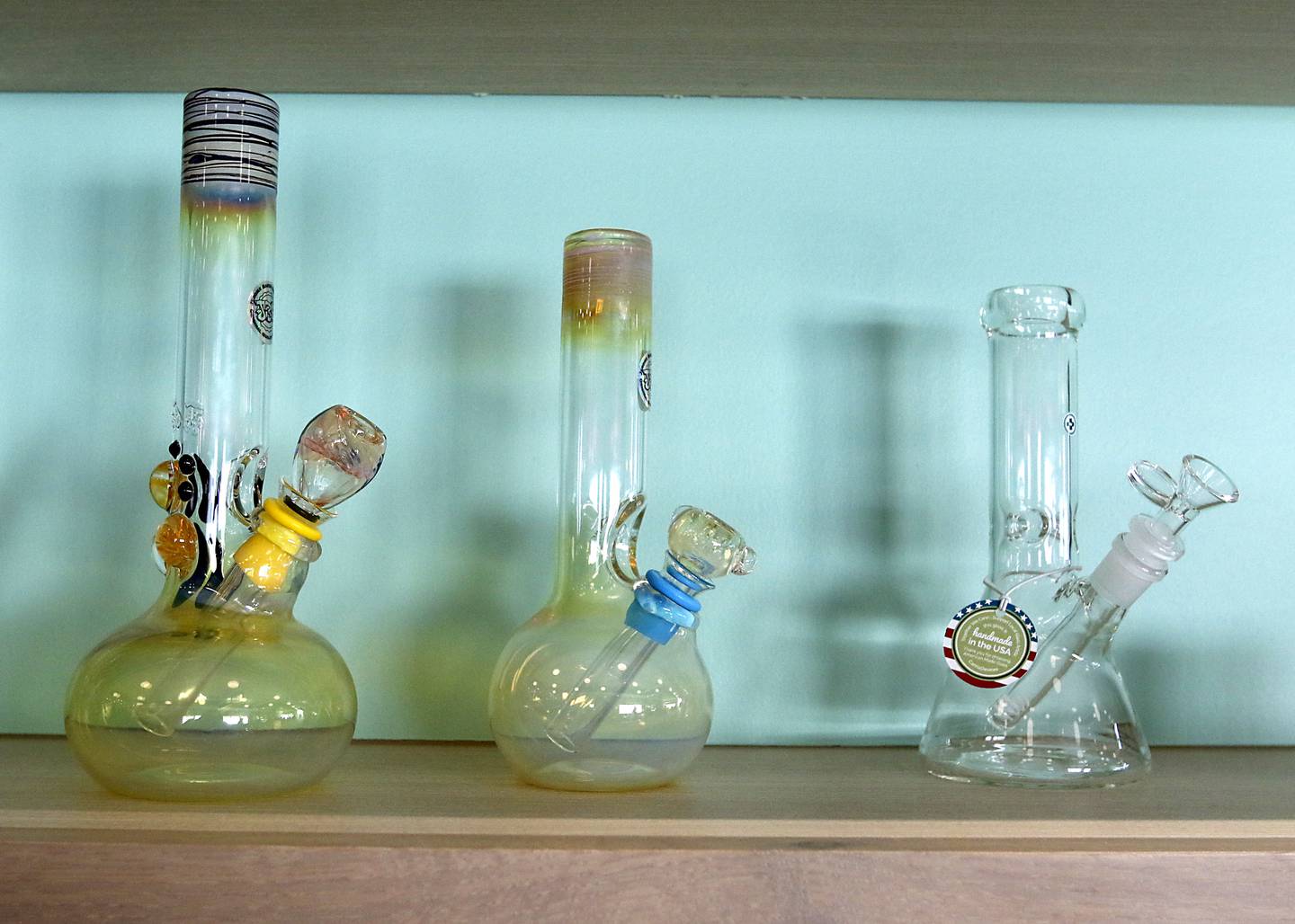 City Manager Bill Nicklas said another pot dispensary on Lincoln Highway never materialized because the petitioner didn't have a conditional permit from the state. NuMed Partners LLC had petitioned the city to set up a dispensary in the Junction Shopping Center at 818 W. Lincoln Highway.
At 3,700 square feet, the proposed Excelleaf Dispensary would be expected to take up 75% of the floor space capacity, and a future retail use would make up the southeast portion of the building, according to city documents.
Nicklas said the city is pleased with the business and its potential plans to bring new life to a vacant site.
"They've picked a good site," Nicklas said. "It's a solid building. It will have plenty of access."
In March 2022, the city amended the unified development ordinance to accommodate cannabis businesses as a special use in the central business district.
Olson said the city's action at the time made it easier for cannabis businesses to locate downtown.
"We just previously allowed them as special use in light commercial, general commercial and light industrial [districts]," Olson said. "We felt a use like that could go in a downtown location. It'd be good."
The dispensary, if approved, will satisfy the city's setback requirement, as it is located at least 250 feet from a nursery school, preschool, primary or secondary school, day care center, day care home, or an academic building or residence hall of a state university, according to city documents.
The William R. Monat Building to the south across Locust Street is owned by Northern Illinois University and is considered a research and outreach facility. The building also houses the Center for Governmental Studies and other offices, documents show.
The city is requiring that a security plan be approved as a condition of approval, according to city documents.
Nicklas negated the idea that a pot dispensary would raise concerns for crime in the city's downtown area.
"In our case, we're talking about areas that have been set aside that's not known as a high-crime area," Nicklas said. "In fact, they're [dispensaries] so heavily regulated by state law and also by local law that that would not be possible."
Barnes said he doesn't believe pot dispensaries generate increased crime.
"Right now, people in order to purchase marijuana are purchasing it in the city of DeKalb or in DeKalb County from people that aren't licensed to sell," Barnes said. "They're purchasing illegally. That in and of itself is a crime. Here they'll be able to go to a store and purchase marijuana that's regulated by the state of Illinois and do so in a safe environment. I think it'll have the opposite effect on crime."