PORT BYRON - Rivers Jordan knew how important his shot was when he stood over an 8-foot putt on hole No. 10, his last hole, in Tuesday's Three Rivers Conference golf tournament at Byron Hills Golf Course.
The Hall senior calmly sank the putt to put the Red Devils in the top 3 and teammate Josh Scheri chipped in with the fifth-man tiebreaker as Hall claimed third place over St. Bede in the 14-team field, both finishing at 336.
"I knew what was at stake, and I'm not gonna lie, I was very nervous," Jordan said. "Not only did I want to help the team achieve our goal of a top 3 finish, but I also really wanted to beat our rival (St Bede). I just focused on making a good stroke, and the putt ended up going in with perfect speed. I was pretty pumped."
"One of our team goals going into the season was to get top 3 in the conference tournament, and we knew it would be tough since during the regular we lost some close matches to teams like Sherrard, Newman, Rockridge and Monmouth-Roseville," Hall coach Mason Kimberley said.
"The conditions were tough today, but we knew if we could grind it out for all 18 holes we would have a chance. The leaderboard was tight between second and sixth place all day, and we had some very clutch finishes by our top 4 players."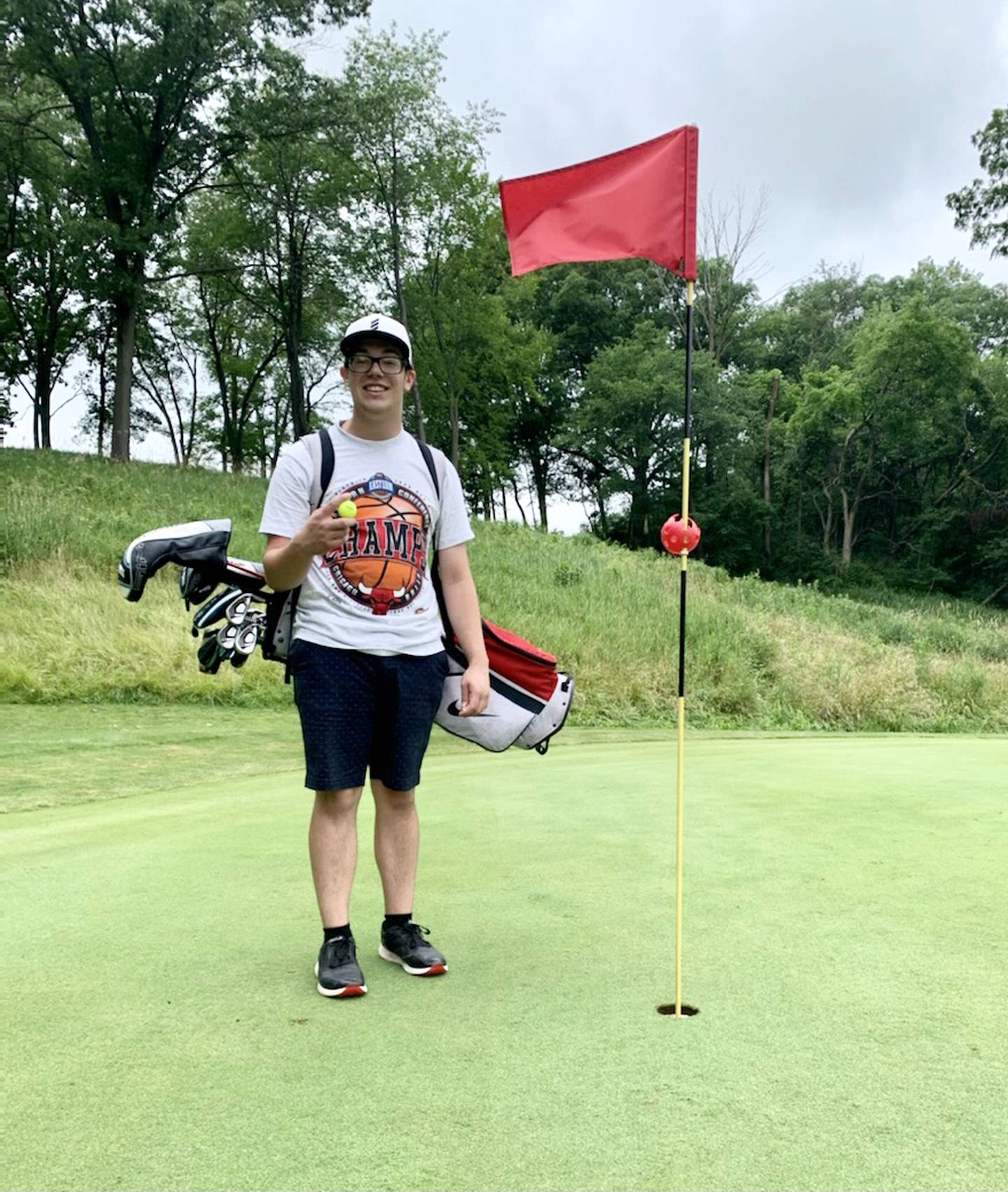 Freshmen Landen Plym led Hall with an 80, tying for seventh place. His cousin, Grant Plym, tied for 11th (82) and Nick Arrate tied for 18th (85).
"This is definitely a confidence-booster going into regionals. We will be playing the same course, and the players are feeling comfortable on that track," Kimberley said. "We're ready to work as hard as we can the next week so that we can hopefully get another top 3 finish and advance to sectionals."
For St. Bede, Brendan Pillion tied Landen Plym for seventh at 80 while Jake Delaney was ninth at 81.
Ethan Hanaman shot an 82 to place 11th and lead Mendota (362) to seventh place.
Jaden Eggers placed 15th (83) for Princeton, which finished eighth (363) as team.
Bureau Valley finished ninth at 365.
Riverdale took the team championship at 305 with Sherrard (333) second. Riverdale senior James Moorhusen shot a 72 on his home course to take medalist honors.