LAKE FOREST – The Bears wrapped up their offseason program with the final practice of veteran minicamp Thursday. The players will disperse for five weeks before returning to Lake Forest for training camp in late July.
While it's hard to get a clear read on depth charts or strategy when there's still three months until Week 1, there's plenty of insight to be gained from watching practices in June.
The big news this week was off the field. The Bears confirmed they have placed a bid for the 326-acre Arlington International Racecourse site in Arlington Heights.
[ Chicago Bears submit bid to purchase Arlington Park site ]
[ Hub Arkush: The Bears have interest in Arlington, but how would the money work? ]
But on the field, looking at the 2021 Chicago Bears, here's some takeaways from veteran minicamp:
The QB situation isn't changing soon
The quarterback reps look like this: 1. Andy Dalton, 2. Justin Fields, 3. Nick Foles. Head coach Matt Nagy said that isn't changing anytime soon and it likely won't change in training camp. Dalton is here to start and, barring an injury, he will most likely start in Week 1 against the Los Angeles Rams.
The rookie Fields is learning how to command a huddle. It's something he didn't need to do at Ohio State, where play calls came from the sidelines. Fields' job right now is to learn, and he knows that.
"These last few weeks have been a big help for me just to get around the veteran guys, learn from them, learn from guys like Andy, guys like Nick, Nick taught me a lot," Fields said. "And just getting around my teammates, getting reps with them. I think the more reps that I get ... the more I'll grow."
[ Bears training camp begins in late July. What can Justin Fields do to prepare between now and then? ]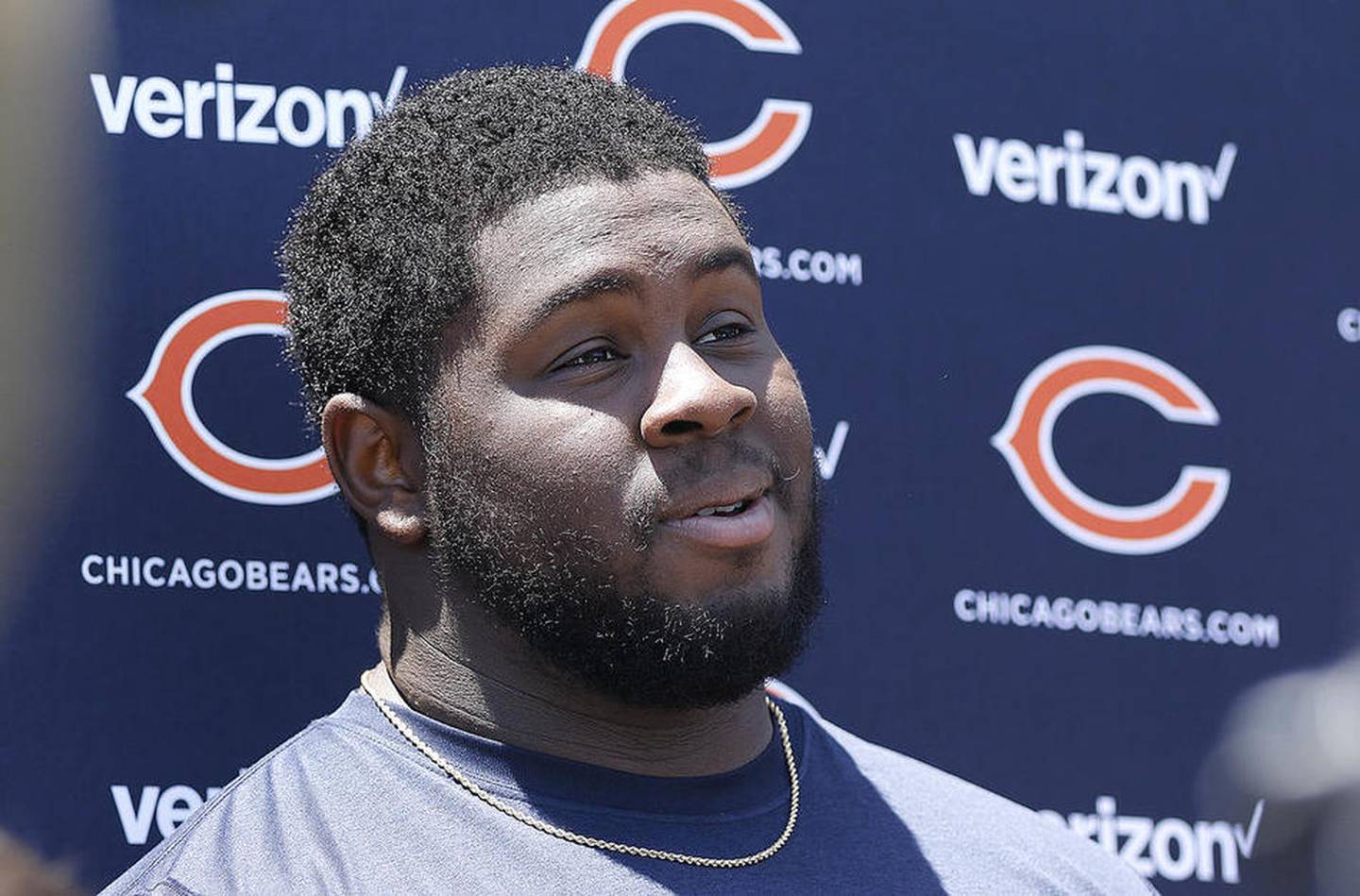 Eddie Goldman's status is anybody's guess
The Bears on Friday announced that they have signed veteran defensive tackle Mike Pennel to a one-year contract. That transaction might say more about Eddie Goldman's situation than anything the Bears said this week.
Goldman didn't show up for veteran minicamp. He opted out of the 2020 season and hasn't been seen since the 2019 season ended. The defensive tackle, who was a Pro Bowl alternate in 2019, would be a huge boost to the defense.
But his status for training camp is anyone's guess. Bears linebacker Danny Trevathan believes Goldman will be in camp.
"He's one of the guys that does his job, doesn't talk too much, but he works his tail off," Trevathan said. "I've been communicating with him as much as possible — he's a tough guy to get in contact with — but he loves us. He loves the Bears organization."
[ Bears tackle Eddie Goldman remains absent ]
The Bears have options at wide receiver
The good news is receiver Allen Robinson said this week that he has no intentions of holding out for a contract extension. With Robinson under the franchise tag, he and the Bears have until July 15 to work out a long-term contract. If no agreement is reached, they can't negotiate again until after the 2021 season.
With Robinson on board, the Bears have assembled a nice group of receivers. Free agents Marquise Goodwin and Damiere Byrd have been impressive so far.
"Those are guys that obviously bring a lot of juice to the room when it comes to sheer playmaking ability," Robinson said.
Goodwin opted out of the 2020 season, but there has been zero concern about his conditioning. Remember, this is a guy who qualified for the 2012 Olympics in the long jump. He keeps himself in immaculate shape.
"Anytime you have an Olympic mentality, you are different," Nagy said. "That's a minute-by-minute, hour-by-hour regime that you are keeping your body in shape."
Goodwin showed that speed this week during veteran minicamp, pulling in a deep ball from Dalton.
Jimmy Graham debated retiring, but isn't done yet
Tight end Jimmy Graham thought about retiring briefly after the 2020 season, but ultimately he had "a lot of unfinished business."
"It was very difficult for me to go back in the dome and especially to lose," said Graham, referencing the playoff loss to his former team the New Orleans Saints. "I'm a pretty fiery person. I'm a pretty enthusiastic person. And I hate losing, simple as that."
Graham caught a touchdown on the final play of that game and, quite literally, exited the building – running up the visitors tunnel with the ball still in his hands. It could've been a fitting end to a stellar career.
Graham still feels he can be a useful player in the NFL, and in this Bears offense. While Graham holds plenty of accolades from his career, he still has never hoisted the Lombardi Trophy. The Saints drafted him the spring after they won Super Bowl XLIV.
"That's the only thing he cares about," Nagy said. "So for him to decide to come back here and continue to play, he's not doing it for records. He's not doing it because he just wants to play a little bit more or get one more year in. He's doing it because he believes we have the ability to be really good."
[ Hub Arkush: If Jimmy Graham were a cat he'd have no more than eight lives left ]