NAPERVILLE – Even though no team wants to be the one that loses twice at the state finals and comes home with the fourth-place trophy, there were no tears being shed by the Lincoln-Way East girls soccer team Saturday after the Griffins' fourth-place finish at the Class 3A state finals.
That is because it was the first time a soccer team – boys or girls – has brought home a state trophy.
And at Lincoln-Way East, that's saying something.
Ever since it opened, East has been a force in the athletic world. The Griffins have never missed the football playoffs. The softball program won a state championship in its first year of playing varsity competition. The Griffins are at state competitions so often that their school motto should just be, "Lincoln-Way East: We win things."
But, up until Saturday, they hadn't won a soccer state trophy. They have seven boys gymnastics trophies, six in boys volleyball, two in boys water polo, seven (all titles) in cheerleading, five in football, (three titles), one in girls cross country, six in girls track and field, (five titles) and four in softball (one title). When there were still only two classes in soccer, the Griffins advanced to state twice (2004, 2006), but lost in the quarterfinals each time and did not win a trophy.
Now girls soccer has entered the trophy chat, and the rest of the state might want to stand up and take notice. The Griffins not only arrived on the scene, but they did it with a young team that had only four seniors – Brooklyn Mortell, Olivia Desjardins, Avery Gast and Madison Dzeidzic – on the roster, only Mortell and Dziedzic in the starting lineup.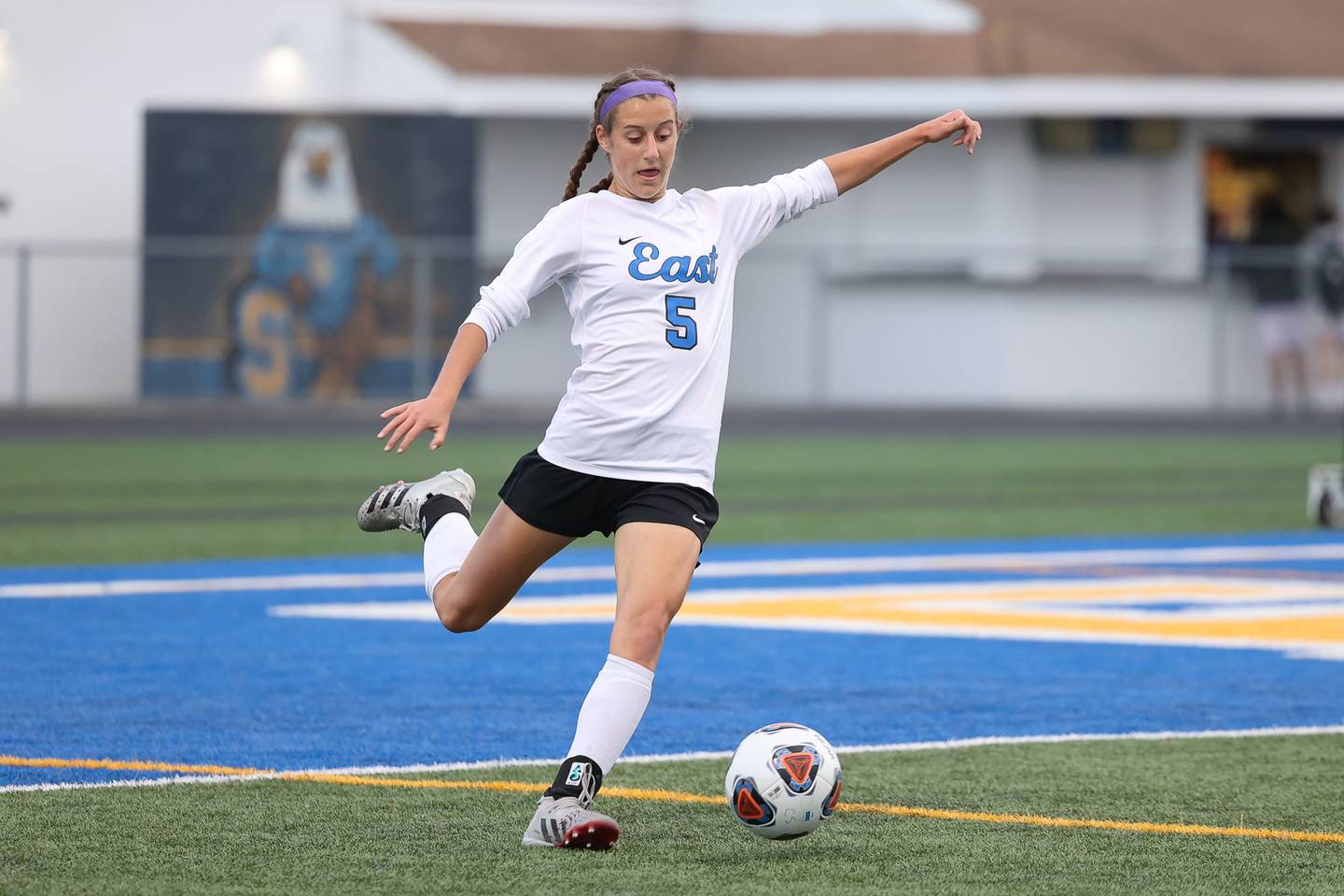 The rest of the roster can return next season, including leading goal scorers Cami Butler and Ellie Feigl, who each scored 17 times for the Griffins this year. Also returning will be sophomore Payton Lucitt, who had the only goal in the 2-1 loss to Libertyville in the third-place match.
"It was amazing to get here," Lucitt said. "I am so proud of this team and to be a part of it. We had never been to state and won a trophy before, so this season is a success no matter what."
Mortell was more than happy to be a senior and a leader for the team that broke the state trophy ice.
"I think you learn more from your losses than you do from your wins. After that, it depends on what you do with what you learned from your losses that's important."

—  Brooklyn Mortell, Lincoln-Way East girls soccer
"There's no way to be sad," she said. "I got to play at state with my best friends, and I am proud to be a part of something that had never been done before. To be upset would just seem wrong.
"I feel very fortunate to be a leader on this team and show the younger girls what they need to do in order to be where they want to be, just like the older girls did for me when I was a younger player. I think you learn more from your losses than you do from your wins. After that, it depends on what you do with what you learned from your losses that's important."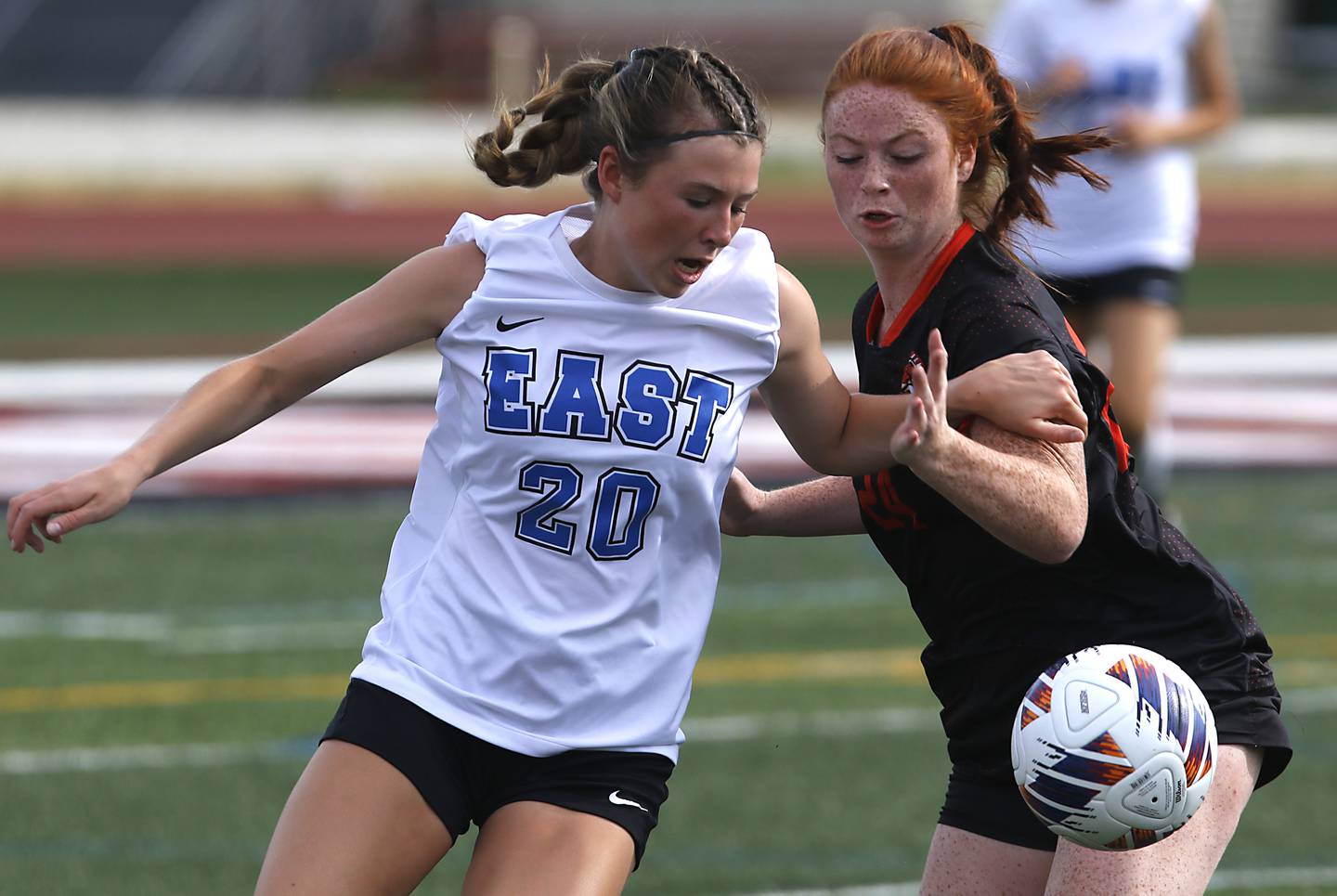 East coach Mike Murphy already had a state trophy under his belt as the girls coach at Lincoln-Way North in 2014 when he came to East in 2017 after North closed.
He was happy to bring the first soccer trophy back to East and has high hopes for the future.
"This is history," Murphy said. "Yes, it stinks to get fourth once you are here, but if you would have told me and all the girls on the team before the season that we would finish fourth in the state, we would have taken it.
"These girls competed all year, and they competed well against two very good teams [O'Fallon in the semifinals, Libertyville in the third-place match]. That lets them know that they can compete with the best in the state and what it takes to be in that group. And that's not even mentioning the great teams that were in our sectional and supersectional that we beat to get here.
"Brooklyn and Madison were great leaders. Brooklyn would give pregame or halftime speeches to motivate the girls, and both will be sorely missed. Their leadership was so valuable. We were a junior-heavy team, with some freshmen and sophomores thrown in there, too.
"We hope this is just the first trophy of a lot more to come."