PLAINFIELD – Getting back to basics was the key for Yorkville on Friday night during a 53-47 Southwest Prairie Conference win over Plainfield North.
The Foxes (20-4, 9-3 SPC) were not switching on every screen in the first half. That resulted in some confusion, and it left Plainfield North players, most notably Jeffery Fleming and Drew Czarnik, with open looks for 3-point shots.
And the Tigers (13-10, 6-6) converted.
Fleming went 6 of 7 from the field, including 3 of 3 from beyond the arc, to finish the first half with 18 of his game-high 22 points, while Czarnik was 3 for 5 from deep and scored 11 of his 16 in the first half. The two helped give North a 31-28 lead at halftime.
After halftime, Yorkville went back to switching on every screen, and the results showed. The Foxes limited Plainfield North to 16 points in the second half, and the combination of Jason Jakstys and LeBaron Lee controlled the boards. Jakstys finished with team highs of 18 points and 10 rebounds, while Lee had 16 points and nine boards, including 12 points in the second half.
"They couldn't miss in the first half," Jakstys said. "It was [Fleming] and [Czarnik] that were doing most of the scoring. We wanted to shut them down in the second half, and we did a pretty good job of that.
"Offensively, we were able to pound it in the paint with LeBaron. He pulls a lot of defenders to him when he has the ball. He can either kick it out to someone for a jump shot or take to the hole, and I can come in from the wing to try for a putback."
That plan worked well for the Foxes as Lee opened the second half by getting fouled on consecutive possessions and making 4 of 4 free throws for a 32-31 lead. Czarnik and Fleming sandwiched a basket each around a dunk by Jakstys – his third of the game – to put North ahead 35-34, but it was the last lead the Tigers had.
Lee scored on a putback before a driving basket by Jakstys. Sean Schlanser made a pair of free throws to draw North to within 38-37. Lee and Michael Dunn each scored for Yorkville to give the Foxes a 42-39 lead entering the fourth.
"We have played well in the first half lately, but for some reason we have struggled in the second half," Plainfield North coach Bob Krahulik said. "Playing teams like Joliet West and Yorkville might have something to do with that. Yorkville made some adjustments, but in the end, we missed too many open looks.
"Jeffrey Fleming has been playing great lately. He is averaging 18 [points] and 10 [rebounds] in his last five games. You aren't going to find too many 6-[foot-]2 kids that can rebound like him."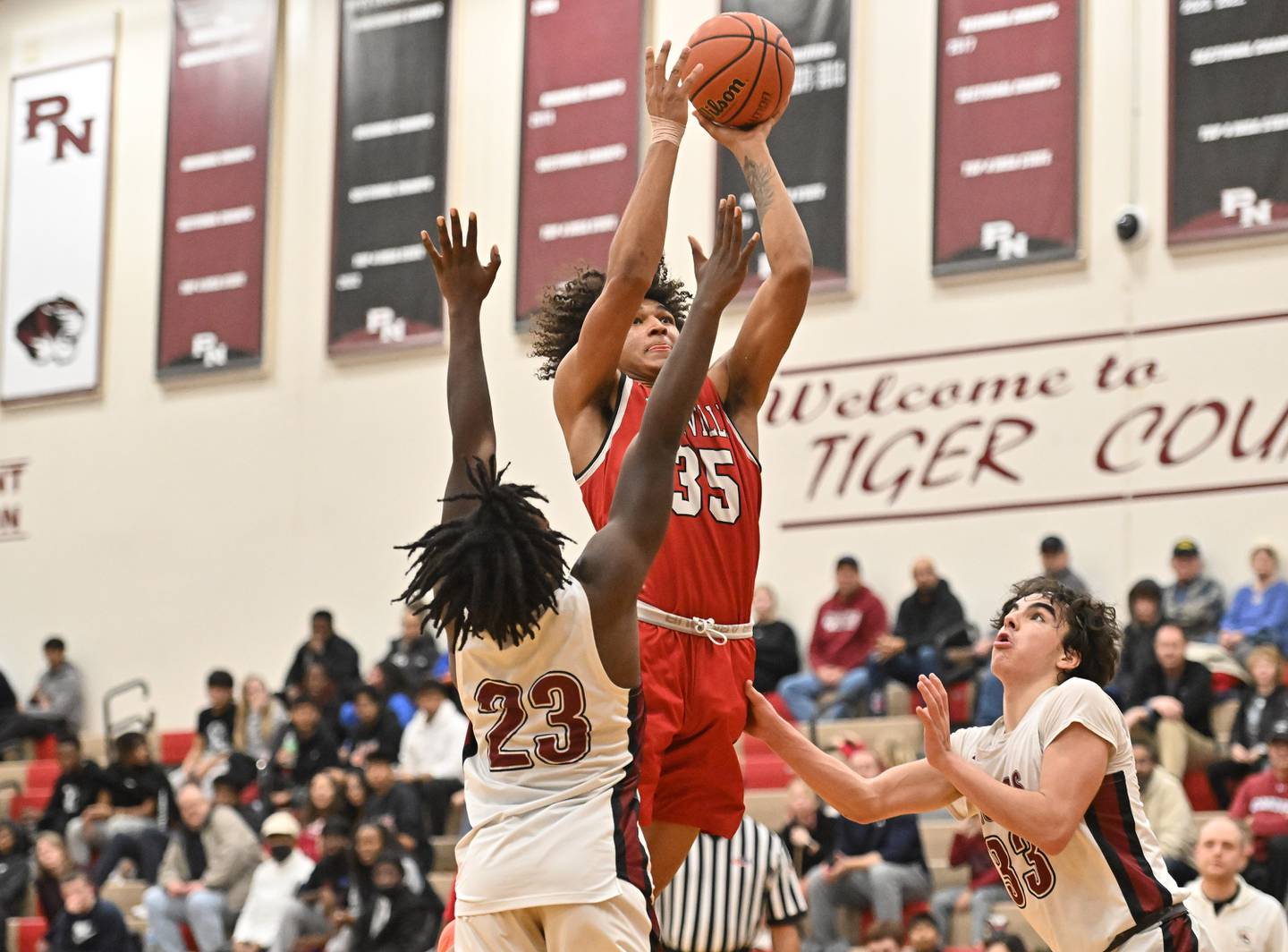 With Yorkville's rebounding limiting Plainfield North to one shot on most possessions in the fourth quarter, the Foxes were able to extend the lead, at one point taking a 51-43 lead on a basket by Jory Boley.
"Our bread and butter is to switch on every screen," Yorkville coach John Holakovsky said. "We changed things a bit against Joliet West, and actually it worked better against them. We decided to keep things simple in the second half and just switch on every screen and that seemed to slow them down at the 3-point line.
"Jason and LeBaron are a great tandem underneath. Jason had some great takes tonight, and LeBaron is just the same every game. Bryce Salek [six points, eight rebounds] did a good job as well. We just played our brand of basketball, especially in the second half."