Part of the African American Business Association's vision for Will County is to "spearhead collective impact for our communities," according to ABBA board president Christopher Parker.
With that vision in mind, ABBA hosted the 2023 MLK Brunch & Celebration on Saturday at the International Brotherhood of Electrical Workers 176 hall in Joliet.
The event's theme was "Cultivating Action Through Collective Impact." ABBA's overall goal is to ensure "equity across the board," "access to a better quality of life" and that the "playing field is equitable," Parker said.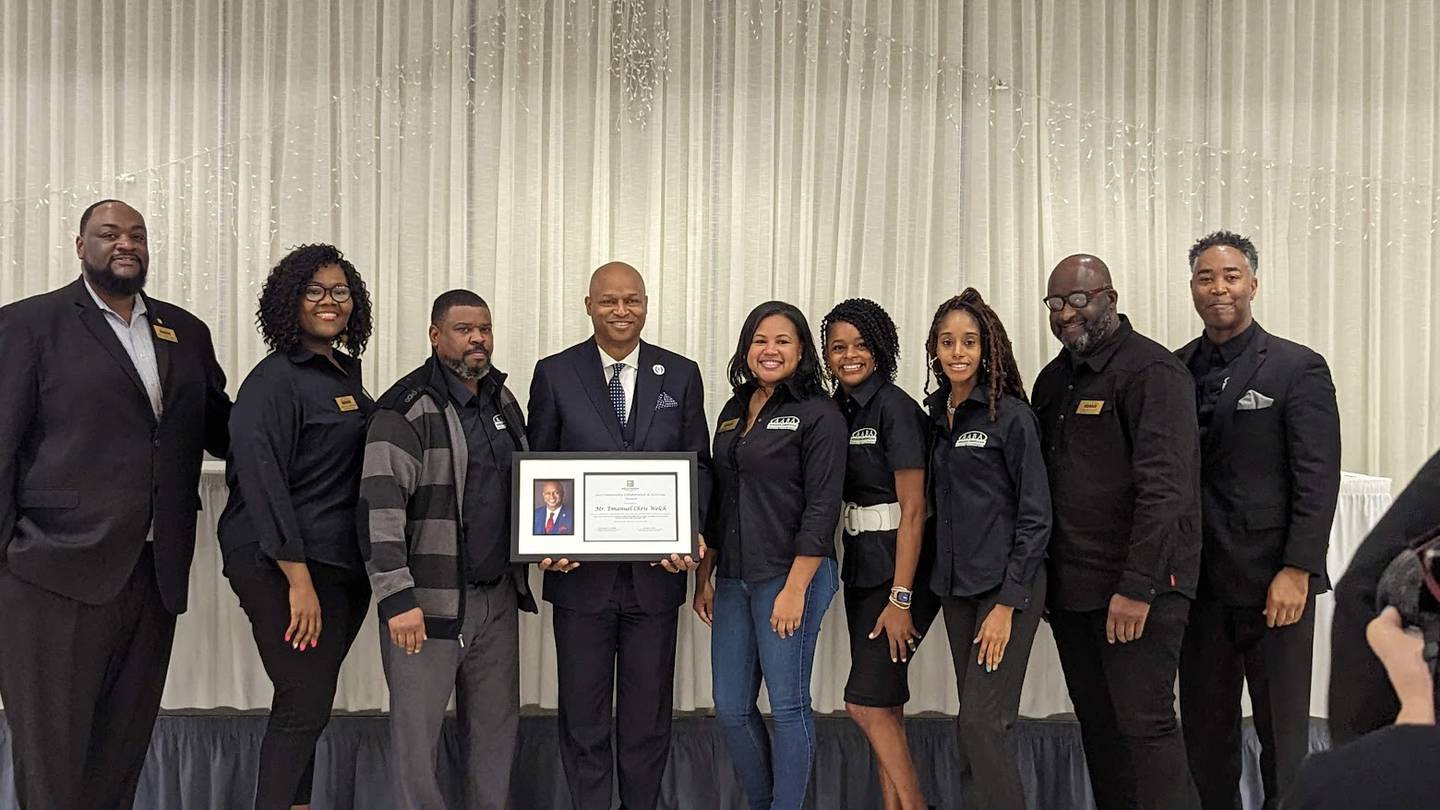 "Our vision is to make sure that the African American businesses are represented not only in the African American community but in the business community," Parker said. "It all goes hand in hand…we believe a lot of people helped Martin Luther King Jr. get to where he was to cultivate a collective impact. It comes down to everybody being a leader in their own right."
The idea of collective impact was examined through a four-person panel consisting of Illinois House Speaker Emanuel "Chris" Welch joined Yolanda Farmer, executive vice president at Joliet Junior College; Will County Circuit Court Judge Vincent Cornelius; and Lorraine Guerrero Neumayer, senior trauma therapist with the Will County Children's Advocacy Center.
Author and community activist Ernest Crim III moderated the panel.
During the event, Crim asked the panelists to discuss the people who most impacted their lives, the experiences that inspired them to serve, the accomplishment of which they are most proud and their dreams going forward.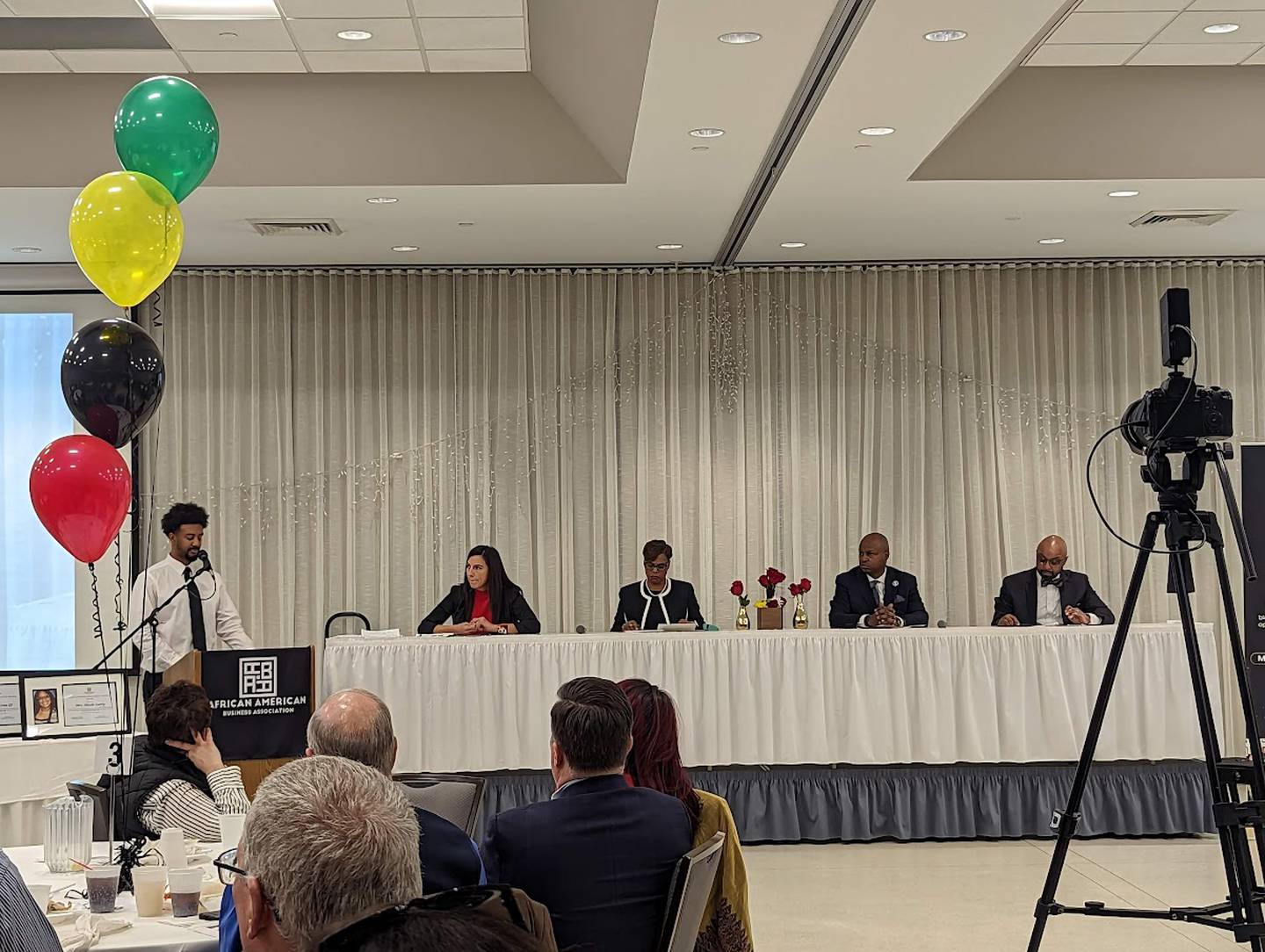 Emanuel "Chris" Welch
A number of people and experiences collectively impacted Welch, he said.
A fourth grade teacher told him he'd do "great things" after he gave a speech in a class play.
His family doggedly helped him find "the right clothes" to emcee a two-day talent show when Welch was in the eighth grade, he said.
Welch's high school teacher helped transfer him from the "lowest classes" to the highest once the teacher realized his poor test-taking skills didn't reflect his true abilities, he said.
His baseball coach who insisted if you "practice like champions" you will play like champions and that "winners do the work," Welch said.
Welch even credited the people who suggested Welch run for his local school board and then as a state representative for the 7th District of Illinois.
But perhaps the biggest impact on Welch was Welch's young son, who was awed when Welch became the first Black speaker for the Illinois House of Representatives.
"There was nothing but pride on his face," Welch said. "There was a Black boy looking at his Black father because he had made history."
Lorraine Guerrero Neumayer
Neumayer, who grew up in a home with many siblings and with a parent battling addiction, said she's able to help people today because of the teachers, social workers and "the lunch lady on the playground" who helped her.
"All these people taught me that our life is service and service is joy," Neumayer said.
Neumayer said King was indefatigable when it came to fighting for equity and access. She dreams of the day when people won't need to struggle through "10 mountains of red tape" for children to get their needs met.
Vincent Cornelius
Cornelius said his mother Lorrayne Cornelius and her friends, all teachers in Joliet Public Schools District 86, taught him the value of "being the village for our children even the children are not our biological child."
Lorrayne Cornelius taught at Washington High School for 34 years. She also earned a master's degree in human development from Governor's State University in 1974, and received numerous awards and honors, according to a 2013 Herald News story.
Vincent Cornelius said he was born May 1, 1964, but the Civil Rights Act was not passed until July 2. At the time, Lorrayne Cornelius was a college student; Vincent Cornelius' father died in a car accident before Vincent Cornelius was born, Vincent Cornelius said.
Lorrayne Cornelius was one of several African American teachers recruited to teach in District 86, and she left Vincent Cornelius in Pine Bluff, Arkansas, in the care of his grandmother until he was 5, Vincent Cornelius said.
From Lorrayne Cornelius and her friends, also teachers, Vincent Cornelius said he learned the value of education, presentation, discipline, correction and that he benefitted from their counsel, advice and commitment to service. Of all his accomplishments, Vincent Cornelius is mostly proud of making his mother proud, he said.
He said King's "I have a dream speech is most effective when paired with King's "I've Been to the Mountaintop" speech.
"We all have dreams and we all have aspirations," Vincent Cornelius said. "But we all have to climb our mountains."
Yolanda Farmer
Farmer credited Bobby E. Thompson (dead) as a major influence in her life. Thompson as elected the first Black mayor of North Chicago – Farmer's hometown, she said – in 1983. Farmer said Thompson valued education. listening to the community's voice and grassroots efforts.
In addition, Farmer's grandmother, who never attended school past the third grade, also stressed the importance of a good education. Farmer's grandmother often said that people can take away one's material goods but they can't take away one's education, Farmer said.
"It is a part of your life your work hard for and something that is with you forever," Farmer said.
Farmer said she dreams of the day when education becomes equitable and accessible for all students.
"Until we start placing students first at the center of every single decision we make – political, educational – we will continue to be challenged in that area," Farmer said.
'We are the ones who dream'
Dellanise Wright-Catchings of Joliet, owner of the home-based 2 Wonderful Things jewelry company, said she attended the event because she's an ABBA member and wanted to network with other attendees.
Larry Crawford, truancy specialist for District 86 and strong admirer of King, said he attends a Martin Luther King Jr. event every year.
"We are the ones who dream of a world where there are no victims at anyone's expense," Crawford said.
Parker said net proceeds from the event went toward ABBA's newly formed Michael Austin Clark Upward and Onward Certificate Scholarship.
Clark, who died Oct. 19 at the age of 41, was an ABBA founder and served as board director for more than five years, Parker said. Each year the scholarship will help two African American business owners be certified through the state of Illinois BEP program , according to ABBA.
In addition, five people received Abba recognized five people with its 2023 Community Collaboration and Activist Award.
Welch and Crim received awards along with Debra Upshaw, executive director of the Joliet chapter of the National Hookup of Black Women; Warren Dorris Jr., pastor of the Prayer Tower Church of God in Christ in Joliet and bishop with the Church of God in Christ; and Nicole Lurry, who has been active in police reform efforts in Joliet and founded the 501(c)3 nonprofit organization Justice For Wives.
Recording artist Chrysann Moore sang the Black National Anthem: "Lift Every Voice and Sing."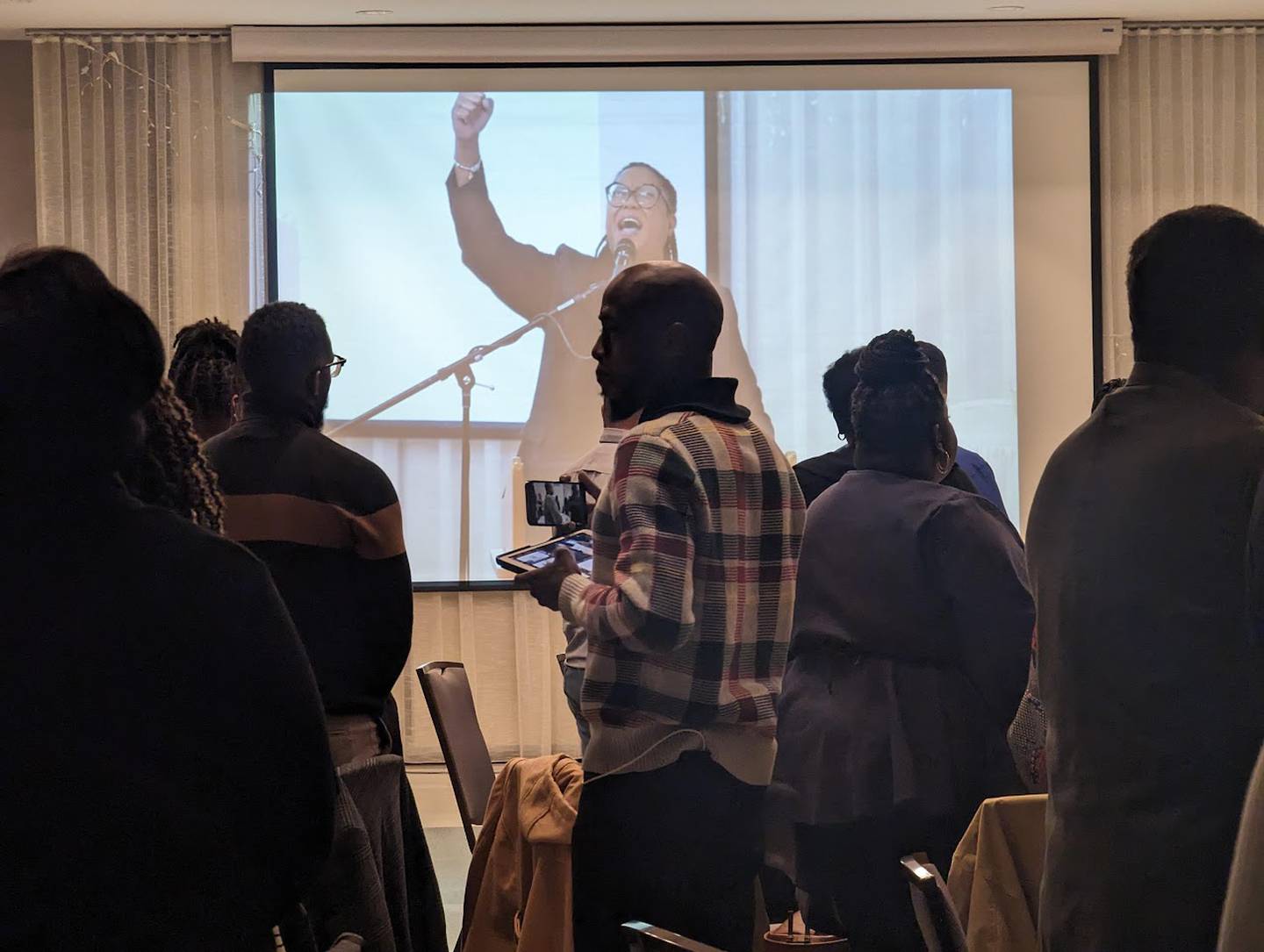 AABA is a Joliet-based nonprofit that was affiliated with the Joliet Region Chamber of Business & Industry before becoming independent on Dec. 1. The MLK Day event was ABBA's first public event as an independent nonprofit.
For more information, visit aabaconnect.org.