If you're looking for a great sandwich, head over to Silver Cross Hospital from 11 a.m. to 1 p.m. Thursdays for "George's Pork Sandwich."
I first learned about this pork tenderloin sandwich from a news release Silver Cross emailed to me in November.
George Funches, 38 of Crest Hill, created the sandwich. Funches has worked in the cafeteria on the hospital's lower level for eight years, according to the news release.
"I took a pork tenderloin and deep fried it, then I slide on my secret, spicy mayo, grilled onions, American cheese and warm up a sesame seed bun," Funches said in a Nov. 21, 2022, new release from Silver Cross Hospital. "It wasn't even on the menu yet. I prepared 90 tenderloins and sold 78 the first day. It's been really successful."
Right away, I knew I didn't want to simply write about the sandwich. I wanted to buy the sandwich and eat it.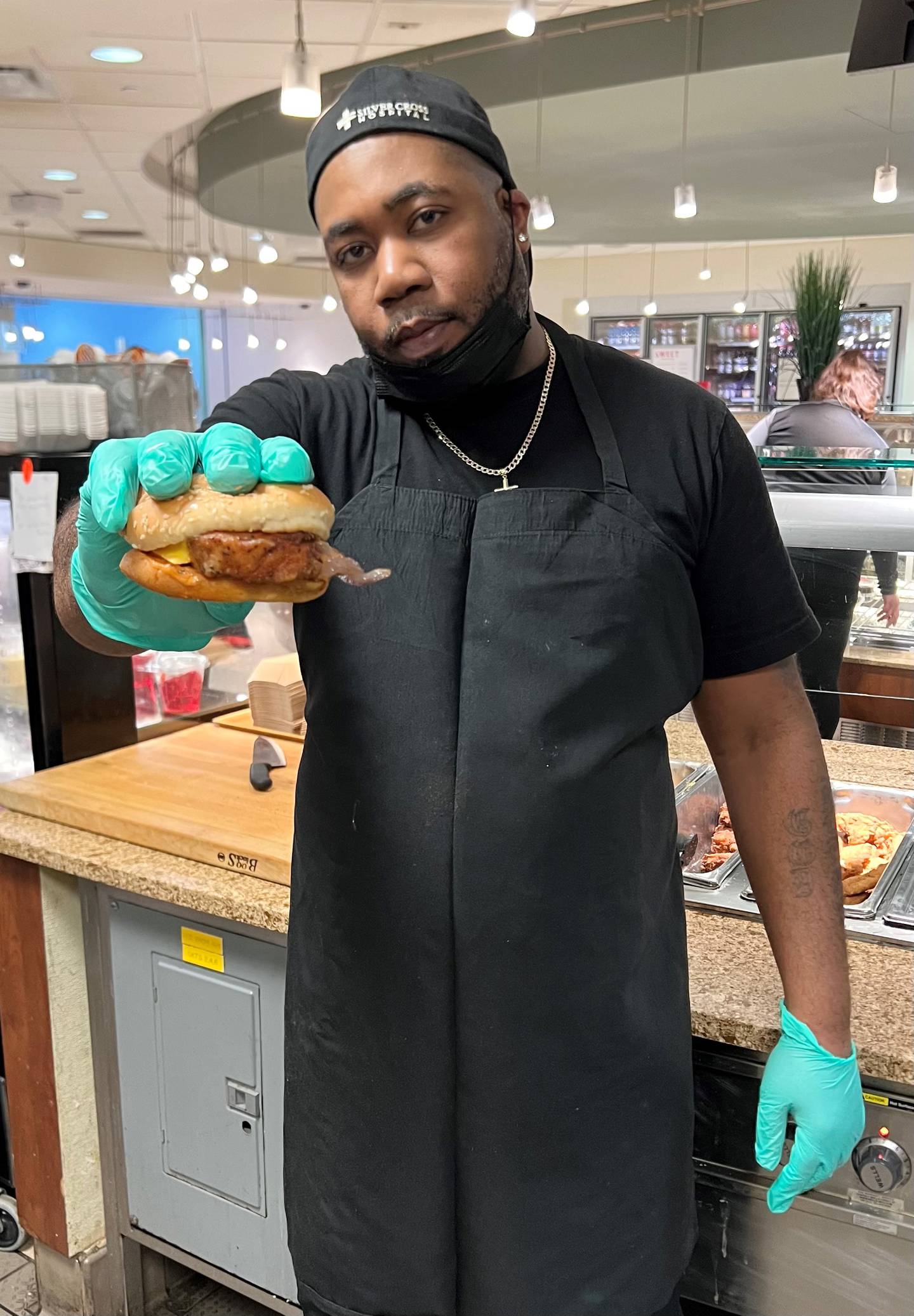 I have an especial fondness for pork tenderloin anyway. My maternal grandmother used to prepare it all the time. But she died suddenly in 1968, shortly after I turned 7.
The sandwich especially impressed Funches' boss, the release said.
"He tried to say something, but he would just keep taking bites," Funches said in the release. "Finally, he said, 'This is the best sandwich I have ever had in my life.' And he's been around for 55 years. So, that's pretty good."
I finally head a chance to zip over to Silver Cross on Thursday with my son Timothy Baran, a corporate chef. The sandwich was so popular in the cafeteria, people were simply ordering "a George."
Timothy and I ordered our "Georges" with fries, and to go, since we both had meetings within the hour. And yes, we both loved the sandwich, which we ate on the road.
The breading on the fried pork tenderloin is light and crispy and the pork itself is the perfect thickness for a sandwich.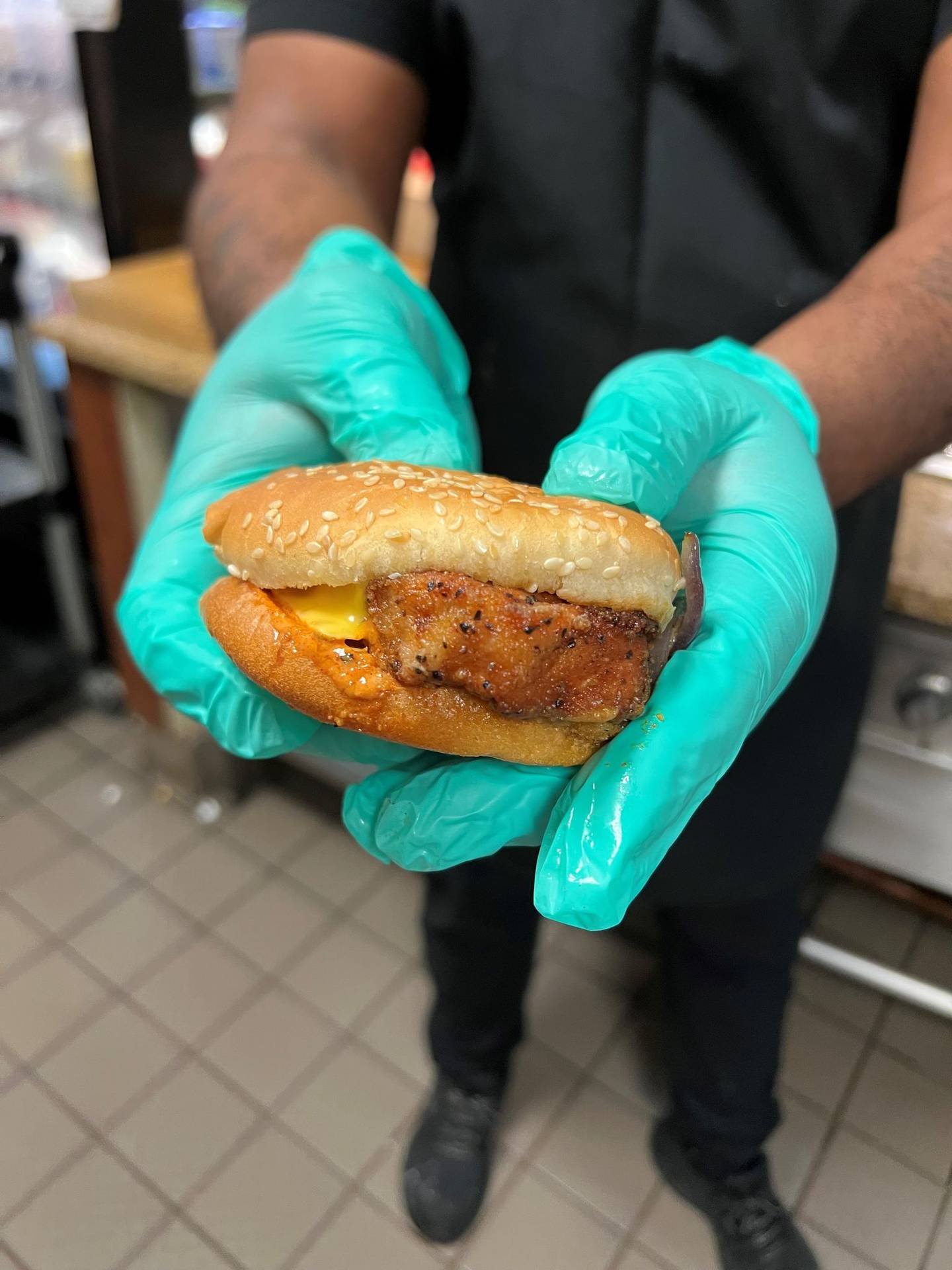 The spicy mayonnaise is hot – but not too hot. As Timothy said, the spicy mayo had a refreshing acidity. And if you don't like spicy, Funches will substitute regular mayonnaise. He'll even leave off the cheese, if you like.
The grilled onions were tender, sweet and subtle. And be sure to order fries with your "George." The fries were good, too - crispy on the outside, tender on the inside and served hot.
Where did Funches gain his great love for preparing good food?
The release said that Funches, the father of three young boys, learned to cook from watching his mother Gwen Black, a certified chef. He later worked under her at several locations, including a Crest Hill childcare facility. He now lives with Black, who has "some health issues," he said in the release.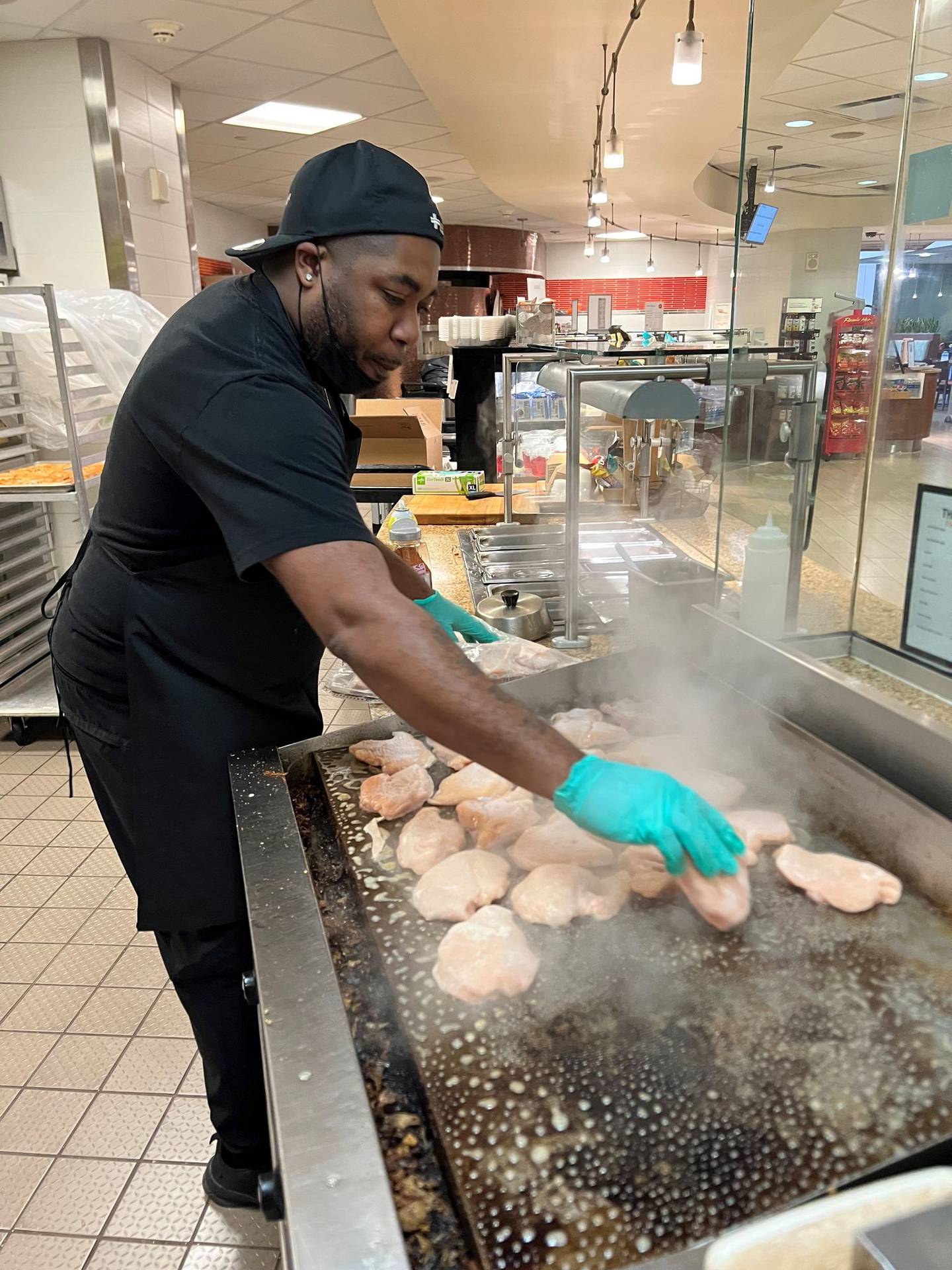 Funches mentioned another sandwich in the release that's selling well, a spicy chicken sandwich. But that sandwich wasn't available on Thursday.
But I'm definitely going to find out when it is. And then I'm going to order one for myself.
Denise M. Baran-Unland is the features editor for The Herald-News. Contact her at 815-280-5122 or dunland@shawmedia.com.