WOODRIDGE – Elyssa Abdullah of Hinsdale Central had mixed emotions going into the first-place playoff at the Class 2A Hinsdale South Sectional at Village Greens of Woodridge on Monday.
She was delighted on one hand because she had to scramble from under a tree to make par on the par-4 18th hole.
The junior was unhappy on the other because the playoff would be against her teammate, Sarah Thornton, who also shot 3-under-par 69 on the 5,048-yard course immediately in front of her.
"I kinda wanted us both to win," Abdullah said. "But I'm pretty happy about how I played. And she played great."
It would be Abdullah triumphing via a pitch to 7 feet to set up a birdie putt against Thornton's par.
But to Abdullah, who also was the sectional medalist here last year, the best part was the Red Devils advancing to this weekend's 2A championship weekend as a unit. They dominated the sectional, scoring 3-under 285 as a team, with the 1-over 73 of Carolina Owens and the 2-over 74 of Toral Blatt also counting.
"It means a lot," Abdullah said. "We have the potential to win state."
Abdullah tied for fourth individually last year, and the Red Devils finished fourth as a squad, behind Barrington, Stevenson and Loyola Academy.
Neuqua Valley and Benet Academy also advanced with identical scores of 321.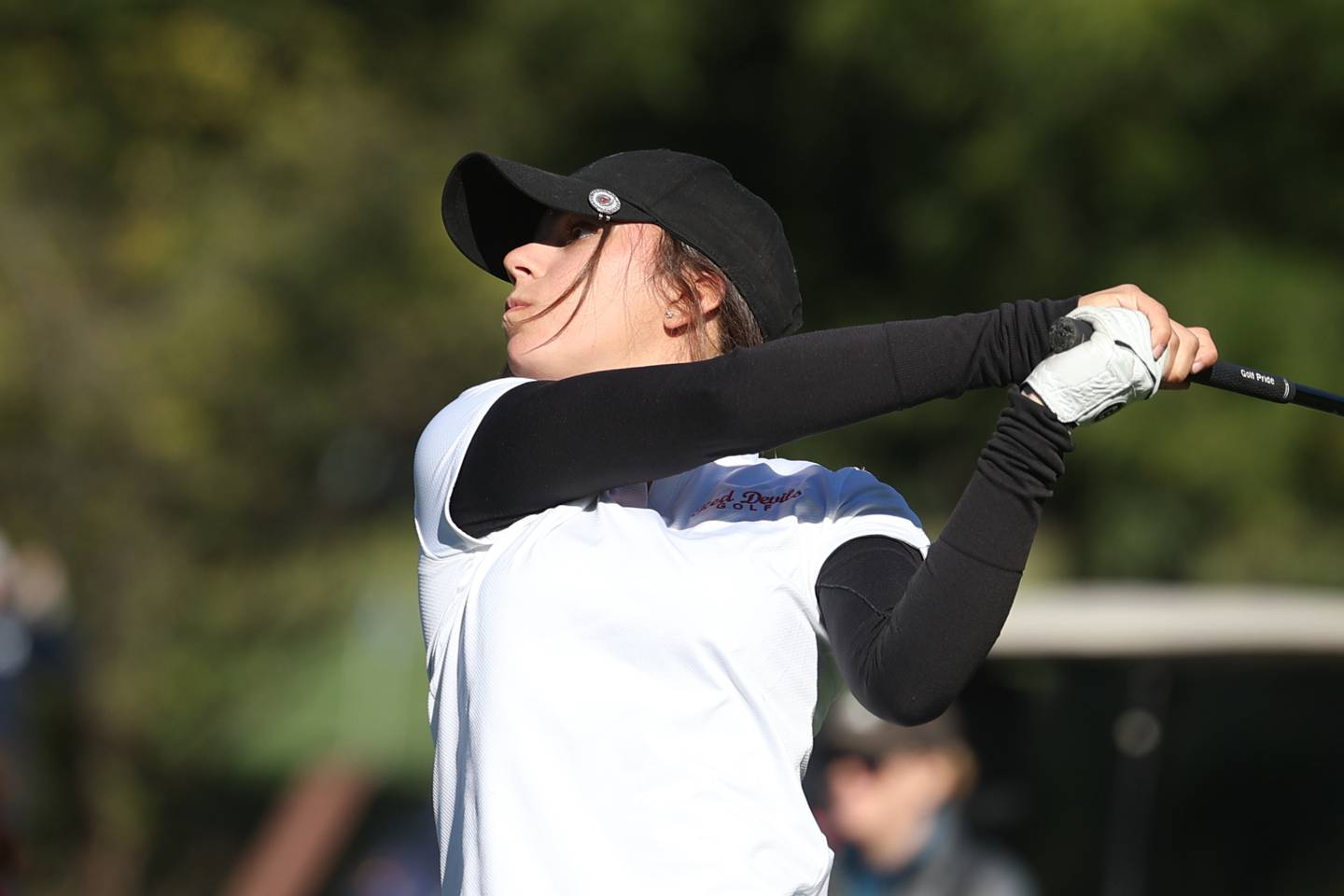 Abdullah scattered five birdies across her card for the 69, but said, "I wasn't too happy with my putting overall. I had two three-putts."
As delighted to advance was Macey Martin, a Metea Valley senior, was the first to advance from a four-for-two playoff with a 12-foot left-to-right birdie putt on the third hole.
"This means the world to me," Martin said. "This is what I've worked for. I got a little emotional [when it went in]. I had a few putts like that today. I felt pretty confident with it and able to give it a good stroke because it was uphill."
Mayan Covarrubias of Riverside-Brookfield also advanced to the finals, moving forward on the fourth playoff hole. She eliminated Grace Boyd of Andrew and Maeve McDougal of Lyons Township, whose birdie attempts on the first three holes of the Robert Bruce Harris layout burned the edge of the cup.
Addison Watanabe, McDougal's teammate, worried she'd be in a playoff after firing a 6-over 78 with one birdie, but advanced without extra play.
"I was hitting my driver really straight," Watanabe said. "I did not think I was going to shoot 78. I was thinking more like 85. But the course is pretty straightforward. Stick to your game and you'll be all right."
Lockport's Gianna White shot 1-under 71 to squeeze into a three-way tie for third with Benet's Jenna Shilts and Sandburg's Jillian Cosler, easily advancing to Decatur. Her 148-yard gap-wedge to 10 feet on the par-3 17th lifted her into the tie.
"I just tried to stay in the moment and play shot by shot," White, a junior, said. "I was hitting it well off the tee, so that set me up well."
White, a senior, came to Village Greens doubly motivated. The Porters qualified for the state championship in 2020, but because of COVID-19, play ended at sectionals. And last year, she teed it up at Village Greens and played horribly by her standards, scoring 84 and missing by five strokes.
In contrast to White's finish, Oswego Co-Op junior Katelyn Hong had a big start, with birdies on the first two holes setting up her round. She carded 4-over 76. Yorkville senior Mia Natividad, who tied for second at state last year, was one shot ahead of Hong with a 75.
"My putting was a lot better than usual, and I got my ball-striking back," Hong said. "I was kind of in a rut. I just kind of improved my mood, [deciding there was] less pressure. I just thought, no matter what, everything is going to be just fine.
"After the birdies, it was, 'Just keep the good vibes going.' "
Lincoln-Way East's Olivia Martin led the Griffins with a 10-over 82. The Griffins finished 10th as a team with 355. Lemont was last at 369, Reagan Russell's 86 leading the quarry town team. Kaneland's Katharine Marshall qualified with a 76.